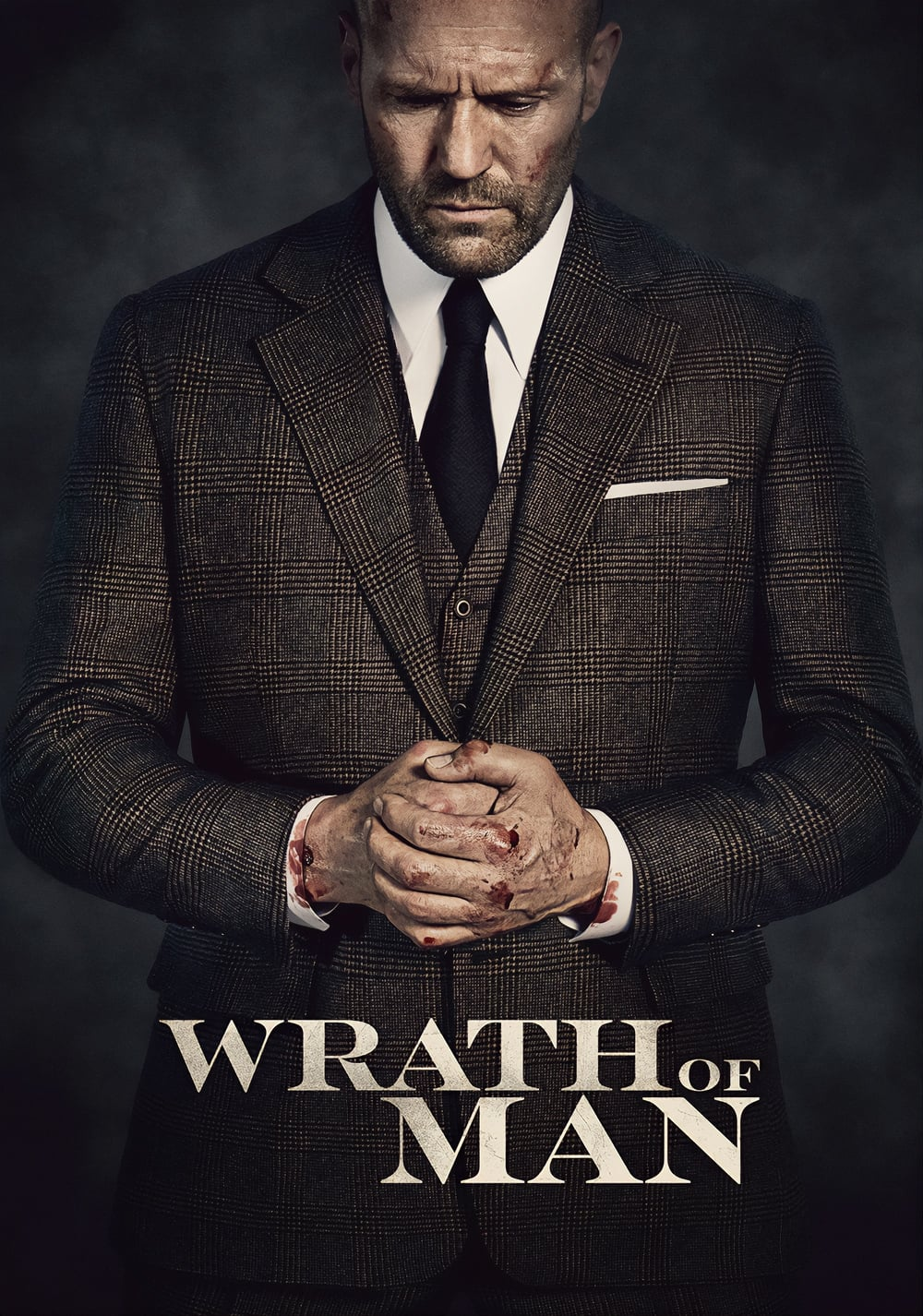 Source
English
Español
---
Action movies were my favorite ones when I was much younger but as time went on, I started to prefer other genres that could tell more complex and deep stories. However, that doesn't mean I don't enjoy a good action film from time to time because I certainly do.
I try to avoid films that might seem generic or incapable of delivering a sufficient amount of entertainment. There are many action films that are supposed to be pop-corn films, meaning that they are supposed to be watched without thinking too much and just enjoying the action.


There is also another type of action film with much more substance and a story that can produce intrigue in the viewers. Wrath of Man is one of those, this movie doesn't only provide good action scenes but we also wonder about what are the incentives of one key character. What drives him?


It wasn't a surprise to find this film particularly enjoyable thanks to the work of some key individuals who are known for making great movies. Let's briefly mention them:
Main names associated with the film
The director and main writer of the film is Guy Ritchie. If you like the action genre with an interesting story you will probably have watched films from this guy before, if not, then you will certainly love watching them. Some of his best previous productions are The Gentlemen, RocknRolla, and The Man from U.N.C.L.E.


There are 2 other writers who also contributed to the screenplay. One of them is Ivan Atkinson, whose experience writing films has always been working together with Guy Ritchie. He has only participated in 2 films so far and both are Ritchie's projects, The Gentleman and the film I am writing about today, Wrath of Man. The other writer is Marn Davies, who has the exact same experience as Ivan. I guess Guy Ritchie formed a team with these 2 guys and they assist him in the creation of the story for his films.


The main character is obviously played by Jason Statham, a very talented actor who we all known is great in action movies. The amount of action movies this actor has participated in is incredibly large, there are a couple of Fast and Furious films, The Expendables trilogy, the Transporter trilogy, and many others. He even participated in a great action-comedy called Spy, where he played a completely badass but kind of clumsy and a bit of an idiot secret agent. In Wrath of Man, his character is a guard protecting an armored truck, but as the film advances, we will learn much more about him.
Las películas de acción eran mis favoritas cuando era mucho más joven, pero a medida que pasaba el tiempo, comencé a preferir otros géneros que pudieran contar historias más complejas y profundas. Sin embargo, eso no significa que no disfrute de una buena película de acción de vez en cuando porque ciertamente lo hago.
Intento evitar películas que puedan parecer genéricas o incapaces de ofrecer una cantidad suficiente de entretenimiento. Hay muchas películas de acción que se supone que son películas cotuferas, lo que significa que se supone que deben verse sin pensar demasiado y simplemente disfrutando de la acción.


También hay otro tipo de película de acción con mucha más sustancia y una historia que puede producir intriga en los espectadores. Wrath of Man es una de esas, esta película no solo proporciona buenas escenas de acción, sino que también nos preguntamos cuáles son los incentivos de un personaje clave. ¿Qué lo impulsa?


No fue una sorpresa encontrar esta película particularmente buena gracias al trabajo de algunas personas clave que son conocidas por hacer grandes películas. Mencionémoslos brevemente:
Nombres principales asociados con la película
El director y guionista principal de la película es Guy Ritchie. Si te gusta el género de acción con una historia interesante, probablemente hayas visto películas de este tipo antes, si no, seguro que te encantará verlas. Algunas de sus mejores producciones anteriores son The Gentlemen, RocknRolla y The Man from U.N.C.L.E.


Hay otros 2 escritores que también contribuyeron al guión. Uno de ellos es Ivan Atkinson, cuya experiencia escribiendo películas siempre ha sido trabajando junto a Guy Ritchie. Hasta ahora solo ha participado en 2 películas y ambas son proyectos de Ritchie, The Gentleman y la película sobre la que estoy escribiendo hoy, Wrath of Man. El otro escritor es Marn Davies, que tiene exactamente la misma experiencia que Ivan. Supongo que Guy Ritchie formó un equipo con estos dos hombres y lo ayudaron en la creación de la historia de sus películas.


El personaje principal, obviamente, es interpretado por Jason Statham, un actor muy talentoso que todos sabemos que es genial en las películas de acción. La cantidad de películas de acción en las que ha participado este actor es increíblemente grande, hay un par de películas Fast and Furious, la trilogía The Expendables, la trilogía Transporter y muchas otras. Incluso participó en una gran comedia de acción llamada Spy, donde interpretó a un agente secreto completamente rudo pero algo torpe y un poco idiota. En Wrath of Man, su personaje es un guardia que protege un camión blindado, pero a medida que avanza la película, aprenderemos mucho más sobre él.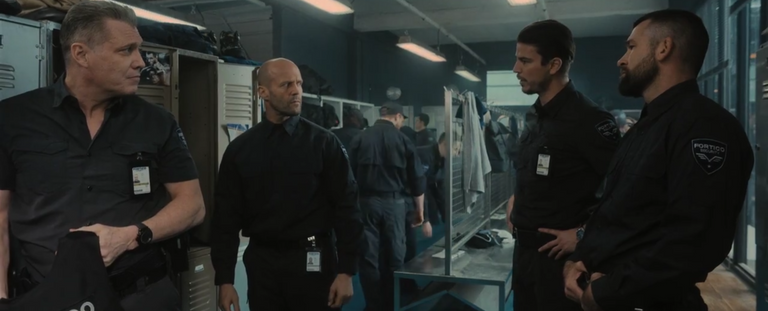 My own screenshot | Mi propio pantallazo
His boss in the company that protects the trucks called Fortico is played by the actor Holt McCallany. His most important role of recent years was playing one of the main characters in the Netflix series Mindhunter, he also worked in the recently released movie The Ice Road, and in many other good films such as Jack Reacher: Never Go Back, and Sully.
One of the workers in the Fortico company is played by Josh Hartnett. This actor has had a very active career since the late 90s and I believe most people have seen him in films at least once. Some of his previous films are Black Hawk Down, The Black Dahlia, Lucky Number Slevin, and more recently he had an important role in the fantasy series Penny Dreadful.


Finally, we have Jeffrey Donovan. This actor plays the leader of a criminal gang who is planning to rob the trucks. He has worked in many good films such as Changeling, the Burn Notice series, and the 2 Sicario movies.


In summary, we have a great director and writer who always does a good job with his film, and a great cast led by Statham who is one of the best action actors in the world, if not the best. With so much talent there is no doubt why this film turned out to be so good.
What was the movie about?
The movie begins and in a couple of minutes, we are already seeing a robbery of an armored truck taking place. What happens during this robbery will be very important for the future events of the film so if you want to pay a lot of attention that would be good.


Something I quickly noticed while watching this film, is that it gave me the impression the armored trucks were constantly under the threat of being robbed. I mean, dangerous situations happened several times and I wonder if the guards who protect these trucks really risk their lives that many times because if they do, then ending up dead is a very high probability.


If you wanna see a real-life attempt at robbing one of these trucks, you can do so here. The video can get quite intense, and even though the driver wasn't as badass as Jason Statham in this film, he was badass enough for real-life standards.
Su jefe en la empresa que protege los camiones llamada Fortico es interpretado por el actor Holt McCallany. Su papel más importante de los últimos años fue interpretar a uno de los personajes principales de la serie de Netflix Mindhunter, también trabajó en la película recientemente estrenada The Ice Road, y en muchas otras buenas películas como Jack Reacher: Never Go Back y Sully.
Uno de los trabajadores de la empresa Fortico es actuado por Josh Hartnett. Este actor ha tenido una carrera muy activa desde finales de los 90 y creo que la mayoría de la gente lo ha visto en películas al menos una vez. Algunas de sus películas anteriores son Black Hawk Down, The Black Dahlia, Lucky Number Slevin, y más recientemente tuvo un papel importante en la serie de fantasía Penny Dreadful.


Finalmente, tenemos a Jeffrey Donovan. Este actor interpreta al líder de una banda criminal que planea robar los camiones. Ha trabajado en muchas buenas películas como Changeling, la serie Burn Notice y las 2 películas de Sicario.


En resumen, tenemos un gran director y escritor que siempre hace un buen trabajo con su película, y un gran elenco liderado por Statham que es uno de los mejores actores de acción del mundo, si no el mejor. Con tanto talento no cabe duda de por qué esta película resultó tan buena.
¿De qué trataba la película?
Empieza la película y en un par de minutos ya estamos viendo el robo de un camión blindado. Lo que suceda durante este robo será muy importante para los eventos futuros de la película, así que si quieres prestar mucha atención sería bueno.


Algo que noté rápidamente mientras miraba esta película, es que me dio la impresión de que los camiones blindados estaban constantemente bajo la amenaza de ser robados. Quiero decir, situaciones peligrosas sucedieron varias veces y me pregunto si los guardias que protegen estos camiones realmente arriesgan sus vidas tantas veces porque si lo hacen, terminar muertos es una probabilidad muy alta.


Si quieres ver un intento real de robar uno de estos camiones, puedes hacerlo aquí. El video puede volverse bastante intenso, e incluso aunque el conductor no era tan impresionante como Jason Statham en esta película, fue lo suficientemente impresionante para los estándares de la vida real.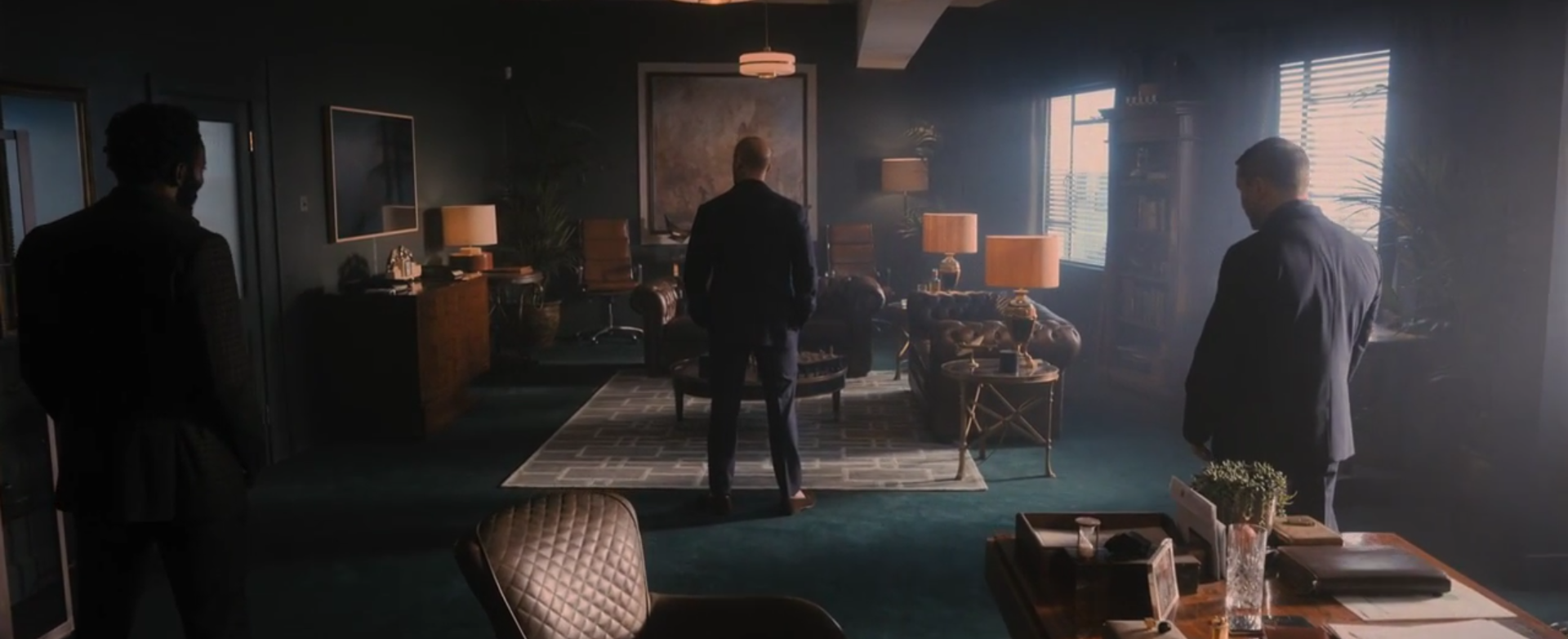 My own screenshot | Mi propio pantallazo
The first robbery in the film is shown without any context but as the movie advances, we will learn more about what happened there. Statham's character will eventually apply for a job in the Fortico company. He appears to be just a regular man with the necessary skills to work this type of job, but his coworkers will soon realize he is much more than that.
Statham doesn't play the villain in this film though, but that doesn't mean he is a good guy either. He is a guy on a mission, that's all. His shooting and fighting skills are better than anyone else's but he first disguises his true abilities when applying for the security job. However, his coworkers will soon realize this guy is a real badass when the first robbery is attempted with him protecting the truck.


The film is divided into 4 parts and the events aren't always in chronological order. There are several groups of characters, the guards that protect the armored trucks, a group of former military guys who are having trouble due to a lack of money and decided to become criminals, and there is a third group that I prefer not to mention in order to not spoil the movie. This third group only has 1 key member in it, the rest are not that important.


The movie has a lot of action and violence, it will show corruption, lies, and betrayal between the characters, and all of this results in a very entertaining plot that will leave most of the viewers happy with the film. It completely met my expectations and most people would probably think the same.
How were the performance from the cast, the settings and the camera work?
The performance of the cast was great. Statham did a great job as always playing the most badass of all, and the rest of the cast also played their roles in a satisfactory manner. There isn't much to say about the settings, because the scenes don't really take place in exotic places, but it doesn't matter that much because the action and the plot were good enough.


The camera work was nicely done, for example in the first robbery attempt of the truck protected by Statham's character, the camera work remarks how easy it is for him to defeat his enemies during a shooting.
Final thoughts
Wrath of Man is a worth watching crime thriller, in fact, it is one of the best crime films I have watched in the past few months. We see both Ritchie and Statham doing what they do best and the end result was an excellent film. So, if you are in the mood for this type of movie, you should definitely watch this one.
El primer robo de la película se muestra sin ningún contexto pero a medida que avanza la película, conoceremos más sobre lo que sucedió allí. El personaje de Statham eventualmente solicitará un trabajo en la compañía Fortico. Parece ser un hombre normal con las habilidades necesarias para realizar este tipo de trabajo, pero sus compañeros de trabajo pronto se darán cuenta de que es mucho más que eso.
Sin embargo, Statham no interpreta al villano en esta película, pero eso tampoco significa que sea un buen tipo. Es un tipo con una misión, eso es todo. Sus habilidades de tiro y lucha son mejores que las de cualquier otra persona, pero primero esconde sus verdaderas habilidades cuando solicita el trabajo de seguridad. Sin embargo, sus compañeros de trabajo pronto se darán cuenta de que este tipo es un verdadero loco cuando se intenta el primer robo con él protegiendo el camión.


La película está dividida en 4 partes y los eventos no siempre están en orden cronológico. Hay varios grupos de personajes, los guardias que protegen los camiones blindados, un grupo de ex militares que están teniendo problemas por falta de dinero y decidieron convertirse en delincuentes, y hay un tercer grupo que prefiero no mencionar para no estropear la película. Este tercer grupo solo tiene 1 miembro clave, el resto no es tan importante.


La película tiene mucha acción y violencia, mostrará corrupción, mentiras y traiciones entre los personajes, y todo esto da como resultado una trama muy entretenida que dejará contentos a la mayoría de los espectadores con la película. Cumplió completamente con mis expectativas y la mayoría de la gente probablemente pensaría lo mismo.
¿Cómo fue la actuación del elenco, la ambientación y el trabajo de cámara?
La actuación del elenco fue genial. Statham hizo un gran trabajo como siempre interpretando al más rudo de todos, y el resto del elenco también interpretó sus papeles de manera satisfactoria. No hay mucho que decir sobre los escenarios, porque las escenas en realidad no tienen lugar en lugares exóticos, pero no importa mucho porque la acción y la trama fueron lo suficientemente buenas.


El trabajo de cámara se hizo muy bien, por ejemplo en el primer intento de robo del camión protegido por el personaje de Statham, el trabajo de cámara destaca lo fácil que es para él derrotar a sus enemigos durante un tiroteo.
Reflexiones finales
Wrath of Man es un thriller con crimen que vale la pena ver, de hecho, es una de las mejores películas de crimen que he visto en los últimos meses. Vemos a Ritchie y Statham haciendo lo que mejor saben hacer y el resultado final fue una película excelente. Entonces, si estás de humor para este tipo de película, definitivamente deberías verla.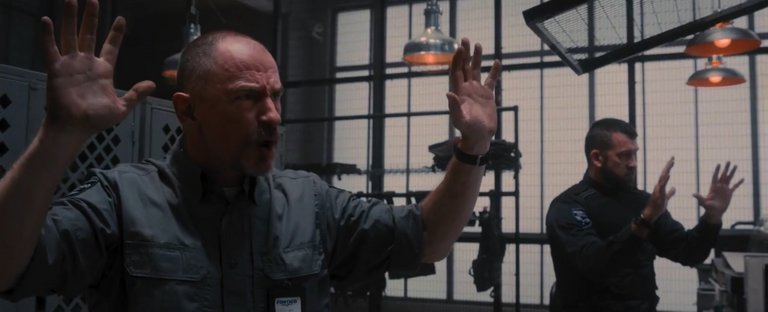 My own screenshot | Mi propio pantallazo
The Best
Lo Mejor
Entertaining film with good performance by the cast and cool story.
Película entretenida con una buena actuación del elenco y una historia genial.
---
The Worst
Lo Peor
---
The dialogue in some scenes could have been better.
El diálogo en algunas escenas podría haber sido mejor.
---

Review: AAA
In numbers: 8/10

Crítica: AAA
En números: 8/10