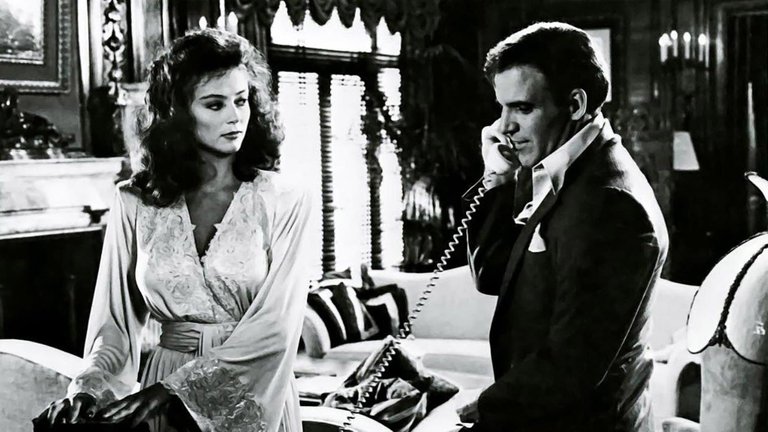 One of the most practical applications of modern deepfake technology is in its ability to resurrect old film stars and make them appear seamlessly as characters in new, modern films. Similar feats were, however, achieved even before the advent of CGI with more primitive techniques, and one such example could be found in Dead Men Don't Wear Plaid, 1982 film noir parody directed by Carl Reiner.
The protagonist, played by Steve Martin (who also co-wrote script with Reiner and George Gape) is Rigby Reardon, tough, cynical and street smart private investigator living in late 1940s Los Angeles. One day his agency is visited by Juliet Forrest (played by Rachel Ward), beautiful daughter of Dr. John Hay Forrest (played by George Gaynes), brilliant scientist who recently died in car accident. Juliet believes that her father's death was murder and that it had to do with the strange lists of names titled "Friends of Carlotta" and "Enemies of Carlotta". Rigby begins investigation that makes him interact with former friends, associates, lovers and members of Los Angeles undeworld, while he is at the time aided by old friend and mentor Philip Marlowe (played by Humphrey Bogart).
Dead Men Don't Wear Plaid is, just like any iconic film noir, shot in black-and-white, while famous composer Miklos Rozsa provides soundtrack that sounds exactly like the soundtracks for film noir classics, including some which had soundtracks provided by Rozsa himself. Another example of care for authenticity are costumes by Edith Head, famous costume designer from Classic Hollywood who died during the production of the film. Such care for details becomes understandable when it becomes obvious how Reiner managed to make old film noir stars appear in his film. The answer is relatively simple – simple editing of famous scenes from the old films (19 of them) into the new film, with props, costumes and stand-ins make them "interact" with character of Rigby. The script was written around those scenes and old character's lines, with Rigby's voice over narration explaining to modern audience who those characters are and what is their importance for the plot. The most successful result of such approach is Humphrey Bogart, who appears as Philip Marlowe (character whom he played in 1946 version of The Big Sleep), but whose appearances are edited out of three different films in which he played three different characters (The Big Sleep, I Walk Alone and Dark Passage).
This gimmick is both this film's greatest strength and its greatest weakness. While many cinephiles would probably appreciate Reiner's great love for Classic Hollywood and film noirs, many of the scenes in which their star appear are too short and serve no narrative purpose. In many ways those scenes needlessly interrupt the plot in which Steve Martin shows great comedic talent and almost perfect parody of tough hard-boiled private detectives. Rachel Ward, simply by appearing with Martin's character longer than any other actress in the film, makes much better impression than the old iconic stars this film was supposed to give homage to. In the end, scriptwriters seem to be out of inspiration and they seem to simply recycle/remake 1949 film The Bribe. Impression is somewhat improved by "pulpish" revelation of villains at the end, but Dead Men Don't Wear Plaid, although very funny and entertaining at times, could be recommended mostly to the most fanatical admirers of classic film noirs.
RATING: 6/10 (++)
Blog in Croatian https://draxblog.com
Blog in English https://draxreview.wordpress.com/
Leofinance blog https://leofinance.io/@drax.leo
Cent profile https://beta.cent.co/@drax
Minds profile https://www.minds.com/drax_rp_nc
Uptrennd profile https://www.uptrennd.com/user/MTYzNA
Hiveonboard: https://hiveonboard.com?ref=drax
Rising Star game: https://www.risingstargame.com?referrer=drax
1Inch: https://1inch.exchange/#/r/0x83823d8CCB74F828148258BB4457642124b1328e
BTC donations: 1EWxiMiP6iiG9rger3NuUSd6HByaxQWafG
ETH donations: 0xB305F144323b99e6f8b1d66f5D7DE78B498C32A7
Movie URL: https://www.themoviedb.org/movie/9442-dead-men-don-t-wear-plaid
Critic: AA