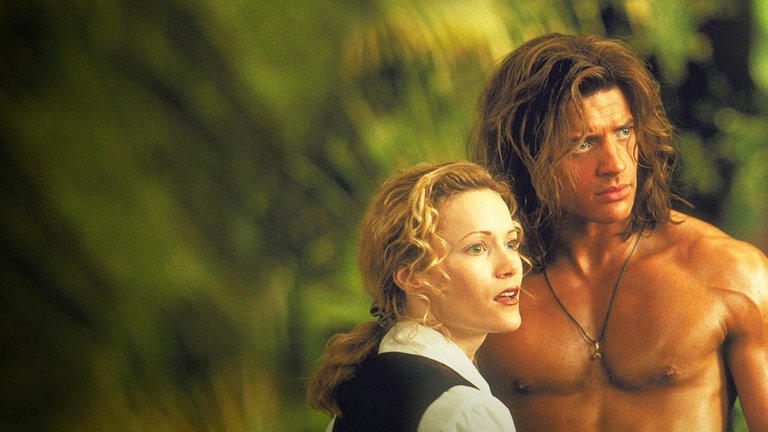 Even the films that, at first glance, look forgettable might at the end of the day be successful if they manage to deliver the goods for their targetted audience. Many such examples can be found in the realm of light-hearted family entertainment and one of them is George of the Jungle, 1997 film directed by Sam Weisman.
The film is based on the eponymous animated television series which originally ran in 1967 and, despite lasting for no more than a single season, apparently left enough good impression for nostalgic audience to warrant live action remake three decades later. The plot, which is, like the originally series, obviously intended to parody Tarzan films begins in Africa where Ursula Stanhope (played by Leslie Mann), wealthy San Francisco heiress, goes on a tour with her fiance Lyle van de Groot (played by Thomas Haden Church). Along the way they hear legends about mysterious "White Ape", but when Ursula learns about basis for that legends, it turns out that it is George (played by Brendan Fraser), young man who was, following a air traffic accident, raised by apes and other animals in the jungle. George saves Ursula from a lion and brings her to his tree house where he lives with Tookie, toucan-like bird; Shep, elephant who thinks he is a dog and Ape, actual talking ape (voiced by John Cleese). After a while Ursula and George fall in love and Ursula later brings him to San Francisco where he would take part in many unusual adventures.
George of the Jungle was produced by Disney and, as such, it contains all the ingredients for quality family films that studio was famous for in 20th Century. It is short enough to keep the attention span of the younger viewers and the humour is, apart from few references to certain bodily functions, within family-friendly standards. Scriptwriters Dana Olsen and Audrey Wells also take somewhat unusual approach in parodying not only Tarzan and its lore, but also original series and, finally, the film itself in couple of scenes that break the fourth wall. Atmosphere of surreal humour is kept through pompous narration by Keith Scott, which is well matched by John Cleese voicing the character of well-educated refined ape who serves as protagonist's butler. The story is, however, at times very thin and some jokes, like those dealing with clumsy protagonist hitting the trees, are little bit repetitive. Brendan Fraser, who was just starting his ascent to stardom, is almost perfectly cast as George, with his impressive physique, charm and talent for comedy. Leslie Mann, although charming, isn't the actress of his calibre but two of them function well as a couple. Thanks to their efforts, George of the Jungle rises above its limitations and provides audience with hour and half of simple, unpretentious fun, something that Hollywood had problems delivering in recent times. In 2003 predictably inferior sequel George of the Jungle 2 was made with Angus T. Jones playing the protagonist's son.
RATING: 6/10 (++)
Blog in Croatian https://draxblog.com
Blog in English https://draxreview.wordpress.com/
Leofinance blog https://leofinance.io/@drax.leo
Unstoppable Domains: https://unstoppabledomains.com/?ref=3fc23fc42c1b417
Hiveonboard: https://hiveonboard.com?ref=drax
Bitcoin Lightning HIVE donations: https://v4v.app/v1/lnurlp/qrcode/drax
Rising Star game: https://www.risingstargame.com?referrer=drax
1Inch: https://1inch.exchange/#/r/0x83823d8CCB74F828148258BB4457642124b1328e
BTC donations: 1EWxiMiP6iiG9rger3NuUSd6HByaxQWafG
ETH donations: 0xB305F144323b99e6f8b1d66f5D7DE78B498C32A7