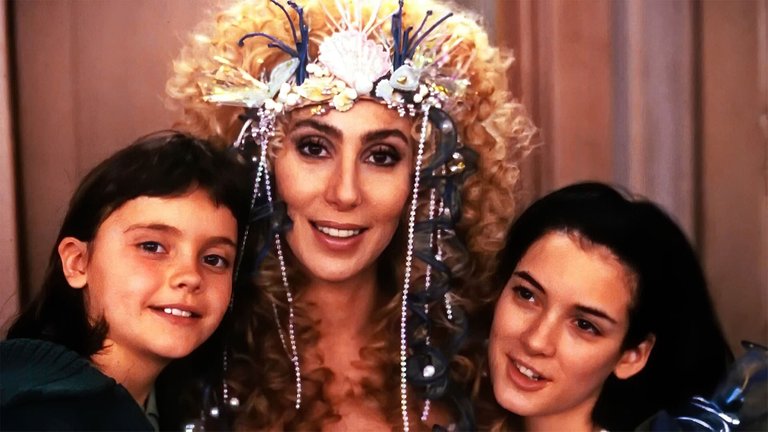 Boomer nostalgia was powerful force in 1980s and early 1990s Hollywood, resulting in plenty of films set in times when Boomers were children or teenagers. Some of those films were better than others and good example can be found in Mermaids, 1990 comedy directed by Richard Benjamin.
The film is based on the eponymous novel by Patty Dann. Plot begins in 1963 and the protagonist is Charlotte Flax (played by Winona Ryder), 15-year old girl who lives her mother Rachel (played by Cher) and 9-year old swim-obsessed sister (played by Cristina Ricci in her film debut). Rachel is free-spirited and promiscuous which often results in moving away with daughters to another town whenever her romantic relationships become too serious. The latest place she comes is Eastport, small town in Massachusetts. Charlotte has become increasingly unhappy of the nomadic lifestyle and found her own form of teenage rebellion by embracing Catholicism and desire to become nun despite family's Jewish background. She is pleased to know that their new home is next door to a convent, but she also finds that the convent's caretaker and town's school bus driver is Joe Peretti (played by Michael Schoeffling), young and attractive man whose presence begins to fill her with "impure thoughts". In the meantime, Rachel begins relationship with Louis "Lou" Landsky (played by Bob Hoskins), local shoemaker who wants to bring some stability and normalcy to Rachel's life and become father figure to her family.
Mermaids had more than decent results at the box office and good reviews among critics. That success was unlikely considering chaotic circumstances of the production. Emily Lloyd, British actress who had been hired to play Charlotte, was fired from the set at the behest of Cher who had considered her look too different for someone playing her daughter (Lloyd later sued producers and won lucrative settlement). Her fate was shared by two directors – Lasse Halström and Frank Oz – who were fired after creative differences with cast and producers. Their replacement, former actor Richard Benjamin, however, managed to wrap up production efficiently and was good choice because family and period comedies had been his specialty. In Mermaids Benjamin keeps quick pace and puts Massachusetts locations, as well as various period details, to good use. But even more impressive is replacement for Emily Lloyd. Winona Ryder delivers very interesting performance in complex role of young woman torn between conservatism as form of teenage rebellion and her own raging hormones. Her character is very likable and presents foundation of the film. Cher is also very good in role of "hip" woman who embraces hedonism and free love before those concepts were made "cool" later in 1960s. Bob Hoskins is also wonderful in somewhat unusual role of romantic lead; despite his looks, who would suggest otherwise, he is quite convincing in the role of man who would not only seduce Cher's character but also lead her to begin questioning her lifestyle.
Mermaids is good, but hardly perfect film. Script by June Roberts tries to add some humour, especially in the first part, but that humour relies less of gags and humorous situations and more on general quirkiness of characters. Some of its might be on the edge of "political correctness", like the idea that the audience should laugh at someone merely contemplating conversion to different religion. In the second part script tries to take more dramatic and darker tone, but the attempt is melodramatic and unconvincing plot development near the end. Same can be said for the scene depicting aftermath of JFK assassination on the protagonist and people around her, which serves no purpose apart from indulging nostalgia for mythical "Camelot" among Boomer viewers. Actor and model Michael Schoeffling has the proper looks for the character Charlotte would be mad about, but he lacks proper acting skills and chemistry with Ryder for their scenes to properly work. However, good selection of period pop hit, including "The Shoop Shoop Song" which would be covered by Cher in end titles, makes Mermaids quite likable, while solid acting and generally positive tone make this film recommendable even to viewers that don't care much about early 1960s.
RATING: 6/10 (++)
Blog in Croatian https://draxblog.com
Blog in English https://draxreview.wordpress.com/
Leofinance blog https://leofinance.io/@drax.leo
Cent profile https://beta.cent.co/@drax
Minds profile https://www.minds.com/drax_rp_nc
Uptrennd profile https://www.uptrennd.com/user/MTYzNA
Unstoppable Domains: https://unstoppabledomains.com/?ref=3fc23fc42c1b417
Hiveonboard: https://hiveonboard.com?ref=drax
Bitcoin Lightning HIVE donations: https://v4v.app/v1/lnurlp/qrcode/drax
Rising Star game: https://www.risingstargame.com?referrer=drax
1Inch: https://1inch.exchange/#/r/0x83823d8CCB74F828148258BB4457642124b1328e
BTC donations: 1EWxiMiP6iiG9rger3NuUSd6HByaxQWafG
ETH donations: 0xB305F144323b99e6f8b1d66f5D7DE78B498C32A7