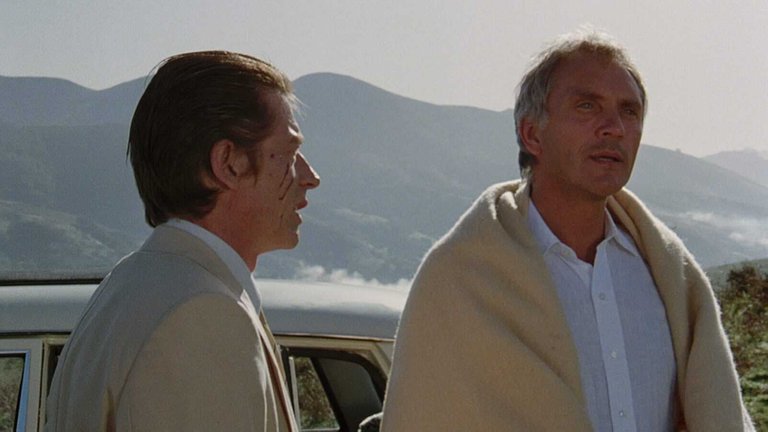 British cinema is not exactly known for the road films. So, when one of them actually gets made, it tends to stand out. The Hit, 1984 film directed by Stephen Frears, stands out, but not only because of somewhat unusual genre, but because it is also a very good gangster film at the same time.
The plot begins in 1970s London when bank robber Willie Parker (played by Terence Stamp), in exchange for immunity, gives evidence at court against his former friends, colleagues and boss. They express their feelings and future plans about Parker in courtroom by singing macabre rendition of Vera Lynn's popular song "We'll Meet Again". Ten years later Parker lives apparently good life in villa at Spanish countryside, with police bodyguard as the only reminder of his former career. But the past finally catches with Parker when he gets kidnapped by gang of local youths and handed over to the team of British contract killers – older and more experienced Mitchell Braddock (played by John Hurt) and his young novice Myron (played by Tim Roth). Their plan is to smuggle Parker over the French border and deliver him to Paris to be personally dealt by his former boss who recently left jail. The plan soon begins to go wrong – the Madrid apartment kidnappers have meant to use is unexpectedly occupied and young Spanish girl "Maggie" (played by Laura del Sol) is forced to tag along with them. Kidnappers are also increasingly rattled by surprisingly calm and laid back demeanour by their victim who apparently developed fatalistic attitude towards his upcoming execution. As they drive northwards, Spanish authorities led by an old police investigator (played by Fernando Rey) are hot on their trail.
Script by Peter Prince was partially inspired by Bertie Smalls, real life British criminal who made spectacular immunity deal in exchange for testifying against his partner and, just like Willie Parker, got serenaded with Vera Lynn's song in courtroom (and, unlike his fictional counterpart, he never saw those threats actually carried out). Director Stephen Frears, on the other hand, didn't seem to enthusiastic about providing ultra-realistic crime drama set in bleak landscape of 1970s Britain. Thankfully, those scenes were used only in prologue and the plot was taking place in sunny Spain where the diverse and picturesque landscapes provided nearly perfect background for unusual but believable tale which is at the same time a crime thriller, existential drama and black comedy.
This combination works very well mainly due to the excellent cast. Terence Stamp, star of Swinging Sixties, here looks aged before his time, but the role of Parker is one of the most memorable in his career. Under his brilliant performance, a gangster turned into wannabe intellectual and amateur philosopher remains enigmatic character until the very end, and the audience is never sure whether his calm acceptance of death is genuine or very clever game of manipulation directed against kidnappers. John Hurt, character actor who until that time usually played victims of weaklings here obviously enjoys playing violent but intelligent thug who is able to kill people without any second thought and whose professional attitude gets compromised only due to unfortunate set of circumstances. Tim Roth, in one of his early roles, is also brilliant as his inexperienced partner who is, despite machistic bravado, deeply insecure in his ability to actually carry out the killings. Spanish actress Laura del Sol is also great as the seemingly young woman who hides deep inner strength and ability to do literally anything in order to survive, in the end making strong impression even at seemingly cold-blooded Braddock. Australian actor Bill Hunter is also good in relatively small role of a gangster who, faced with the prospect of upcoming execution, reacts quite differently from Parker.
The Hit is a very good film, but there are some flaws that prevent it from becoming undisputed classic. They could be seen mostly in inconsistent musical score, divided between opening rock theme written by Roger Waters and Eric Clapton and flamenco score by Paco de Lucia. The nearly perfect ending is compromised by not so convincing survival of one of the characters. That, however, shouldn't discourage people from watching The Hit, film that could be recommended even to those don't find oddball gangster films to be their cup of tea.
RATING: 7/10 (++)
Blog in Croatian https://draxblog.com
Blog in English https://draxreview.wordpress.com/
Leofinance blog https://leofinance.io/@drax.leo
Cent profile https://beta.cent.co/@drax
Minds profile https://www.minds.com/drax_rp_nc
Uptrennd profile https://www.uptrennd.com/user/MTYzNA
Hiveonboard: https://hiveonboard.com?ref=drax
Rising Star game: https://www.risingstargame.com?referrer=drax
1Inch: https://1inch.exchange/#/r/0x83823d8CCB74F828148258BB4457642124b1328e
BTC donations: 1EWxiMiP6iiG9rger3NuUSd6HByaxQWafG
ETH donations: 0xB305F144323b99e6f8b1d66f5D7DE78B498C32A7
Movie URL: https://www.themoviedb.org/movie/19621-the-hit
Critic: AA