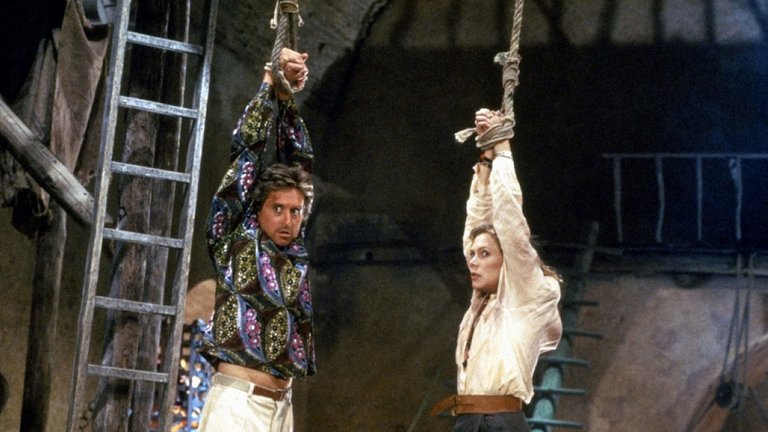 Any rushed project is under risk of ending as failure, and sequels of 1980s Hollywood hits weren't exception. Probably few examples are as spectacular as The Jewel of the Nile, 1985 adventure film directed by Lewis Teague.l
The film represents sequel to Romancing the Stone, 1984 adventure film which proved to be surprise hit. Kathleen Turner reprises her role of Joan Wilder, author of best-selling trashy romance novels. At the beginning of the plot she is on a yacht with her boyfriend, adventurer Jack Colton (played by Michael Douglas). Although the pair is supposed to enjoy good time, Joan is frustrated with her inability to finish another novel. So, when North African dictator Omar Khalifa (played by Spiros Focás) offers to have her write his official biography and invites her to palace, she agrees. Jack is unhappy and decides to leave her, but afterwards he is contacted by Tarak (played by Paul David Magid), Omar's political opponent, who claims that Omar's intentions are actually quite sinister and that he must be stopped. Jack is talked into joining Tarak and his friends where they search for mysterious "Jewel of the Nile" which its owner power to unite and rule Saharan tribes. Ralph (played by Danny DeVito), swindler and Jack's old acquaintance from Colombia, also joins the quest that would bring protagonists to vast desert expanses of North Africa.
Kathleen Turner and Michael Douglas (who would also produce a film) originally didn't want to make the film, and Turner even almost abandoned the production, apparently displeased with the poor quality of script. Their reluctance is somewhat understandable, because Romancing the Stone, despite its commercial success and decent reviews, was hardly an undisputed classic. What worked well in the first film worked mostly because of the script by Diane Thomas which mixed adventure, romance and comedic interplay between two protagonists. Thomas died in car accident few weeks before the production of The Jewel of the Nile and her absence is quite visible in the script by Marc Rosenthal and Lawrence Konner which relies mostly on action instead of humour. There are some interesting and effective action scenes, mainly the escape via ground-based F-16 jet, but Turner and Douglas look tired and uninspired. Unlike the first film, during which their characters were learning to know and like each other, in The Jewel of the Nile Joan and Jack seem to lack chemistry while the crisis in their relationship seems forced. Greek actor Spiros Focás, looking very much like younger version of Omar Sharif, seem wasted in the role of one-dimensional villain. Vaudeville performer Avner "the Eccentric" Eisenberg is much more effective in the role of local mystic Al-Jauhara and serves as a very good comic relief. That, in the end, makes DeVito's character, who had apparently written with the same task, look irritatingly redundant. Despite large amount of money spent on pyrotechnics and at times attractive Morrocan locations, The Jewel of the Nile looks uninspired, boring and much longer than its actual running time. The film did end as modest box office success and predictably got savaged by critics. When the end credits, featuring mega-hit song "When the Going Gets Tough, the Tough Get Going" by Billy Ocean, finally arrive, most audience won't be surprised to learn that next sequel was never made.
RATING: 4/10 (++)
Blog in Croatian https://draxblog.com
Blog in English https://draxreview.wordpress.com/
Leofinance blog https://leofinance.io/@drax.leo
Cent profile https://beta.cent.co/@drax
Minds profile https://www.minds.com/drax_rp_nc
Uptrennd profile https://www.uptrennd.com/user/MTYzNA
Unstoppable Domains: https://unstoppabledomains.com/?ref=3fc23fc42c1b417
Hiveonboard: https://hiveonboard.com?ref=drax
Rising Star game: https://www.risingstargame.com?referrer=drax
1Inch: https://1inch.exchange/#/r/0x83823d8CCB74F828148258BB4457642124b1328e
BTC donations: 1EWxiMiP6iiG9rger3NuUSd6HByaxQWafG
ETH donations: 0xB305F144323b99e6f8b1d66f5D7DE78B498C32A7
Movie URL: https://www.themoviedb.org/movie/10303-the-jewel-of-the-nile
Critic: AA