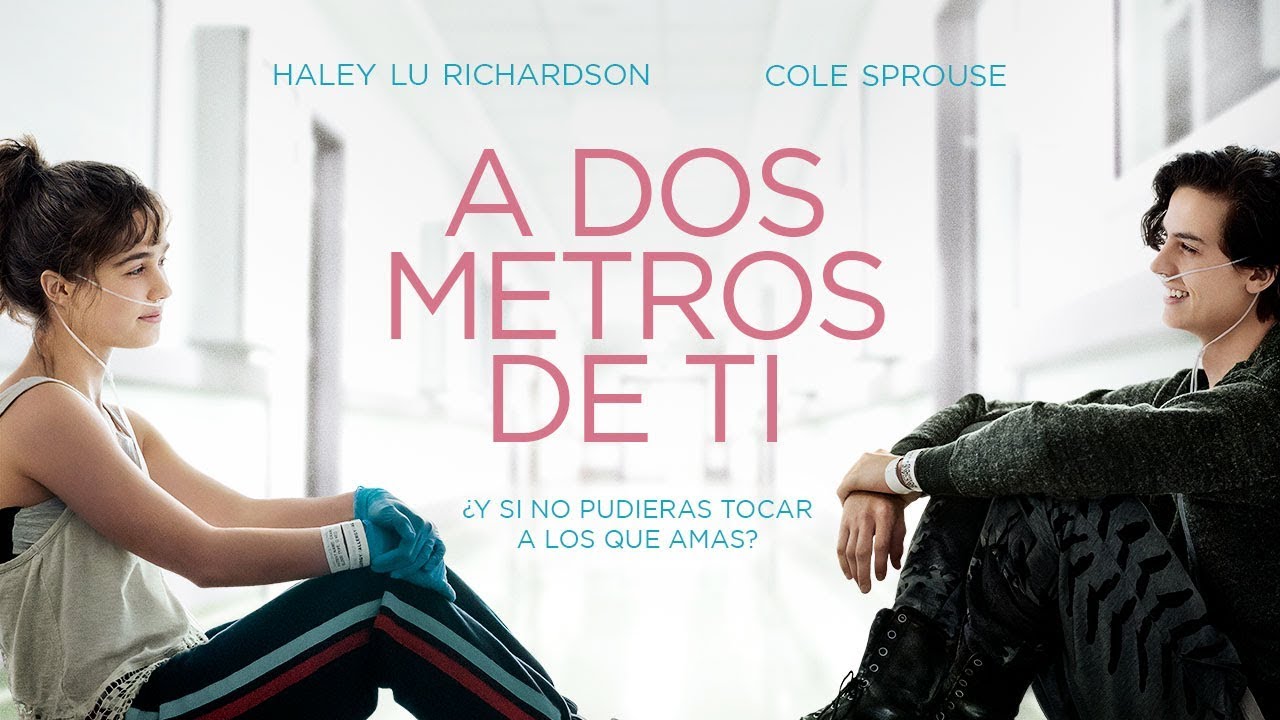 Source/Fuente
What if we couldn't express ourselves through a hug, a kiss or a caress? Can you imagine having a six-foot wall between us and our loved ones? This is what happened to Stella and Will.
¿Qué pasaría si no pudiéramos expresarnos a través de un abrazo, un beso o una caricia? ¿Te imaginas tener un muro de dos metros entre nosotros y nuestros seres queridos? Pues esto es lo que les ocurrió a Stella y Will.
Technical specifications
The film is directed by newcomer Justin Baldoni, with a screenplay by Mikki Daughtry and Tobias Iaconis, both co-writers decided to adapt the successful novel of the same title by Rachael Lippincott. Music is by Brian Tyler and Breton Vivían and photography by Frank G. De Marco.
Ficha técnica

La película está dirigida por el debutante Justin Baldoni, con un guión de Mikki Daughtry y Tobias Iaconis, ambos coguionistas decidieron adaptar la exitosa novela del mismo título de Rachael Lippincott. La música es de Brian Tyler y Breton Vivían y la fotografía de Frank G. De Marco.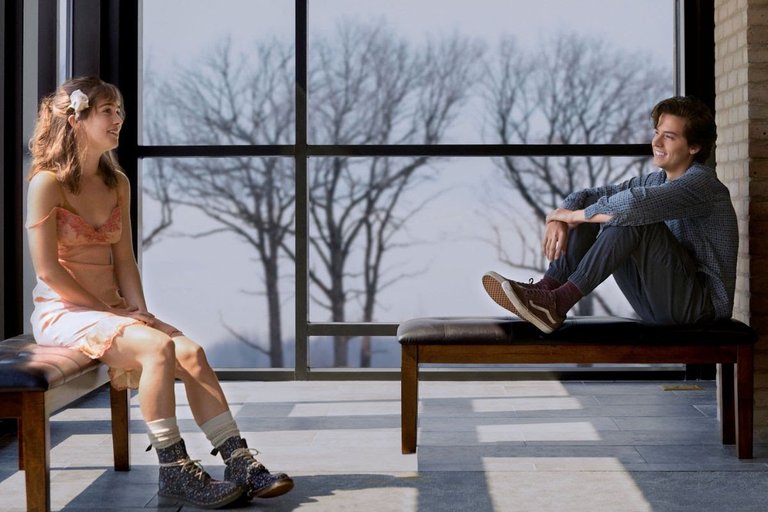 Source/Fuente
Five Feet Apart
This drama tells the story of Stella Grant (Haley Lu Richardson) and Will Newman (Cole Sprouse), two young people doomed to an impossible love. Stella and Will suffer from a disease called Cystic Fibrosis (CF) for which they must maintain a minimum distance of two meters, since any cross-infection could be harmful to both (especially for Stella, who opts for a donation of new lungs). This pathology affects her respiratory capacity critically shortening her life span, which could be extended if she receives a transplant, but even then it would only last 5 years, after that time her lungs will suffer the same disease again.
A dos metros de ti

Este drama cuenta la historia de Stella Grant (Haley Lu Richardson) y Will Newman (Cole Sprouse), dos jóvenes condenados a un amor imposible. Stella y Will padecen una enfermedad llamada Fibrosis Quística (FQ) por la que deben mantener una distancia mínima de dos metros, ya que cualquier infección cruzada podría ser perjudicial para ambos (especialmente para Stella, que opta por una donación de nuevos pulmones). Esta patología afecta a su capacidad respiratoria de forma crítica acortando su tiempo de vida, que podría alargarse si recibe un trasplante, pero aun así solo duraría 5 años, después de ese tiempo sus pulmones volverán a sufrir la misma enfermedad.
Main characters // Personajes principales
Stella Grant (Haley Lu Richardson)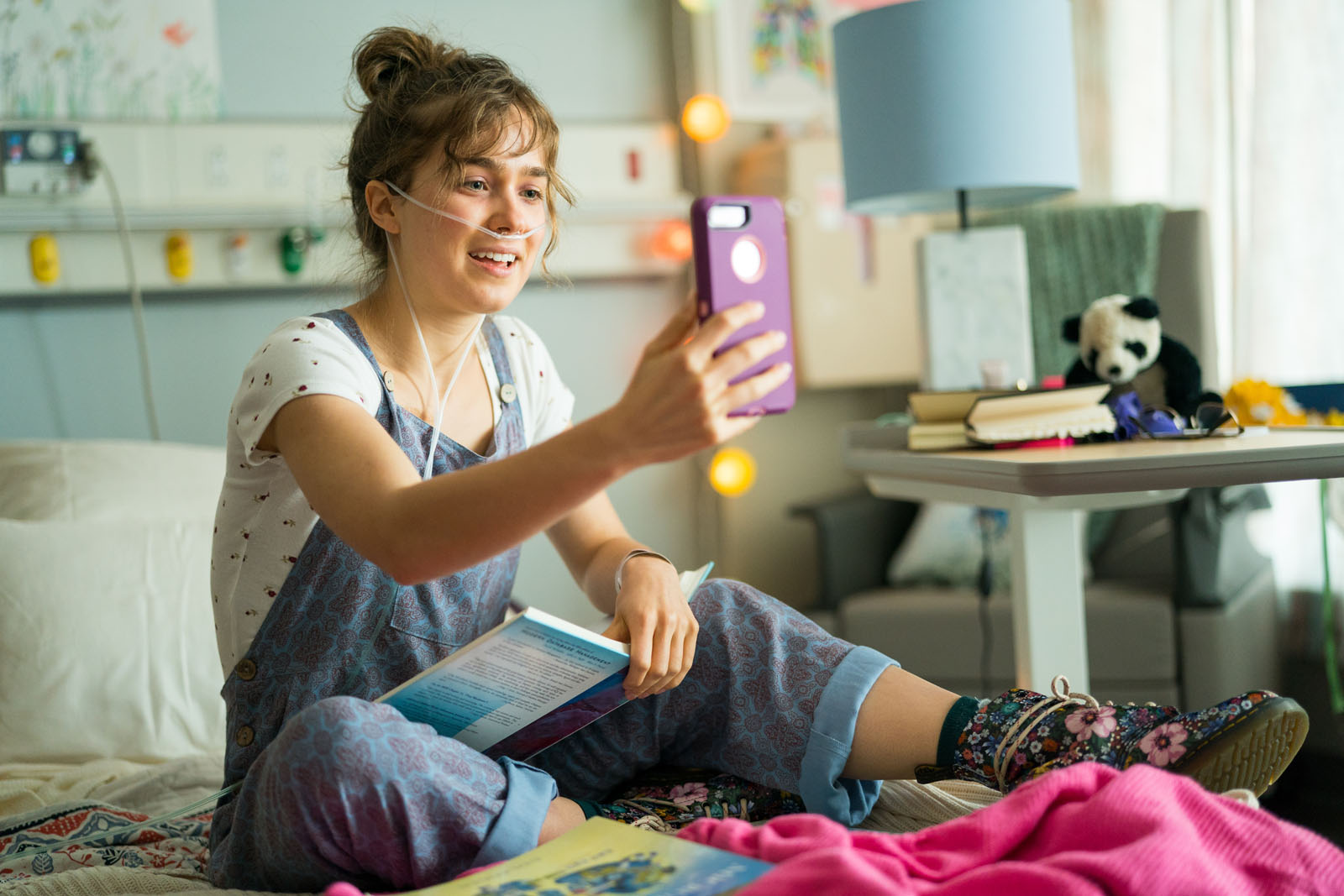 Source/Fuente
Stella has lived in a hospital for most of her life, her days are filled with routines, restrictions and self-control, She has to stay away from anyone or anything that could transmit an infection and jeopardize her lung transplant. She has one rule: two meters away, no exceptions. But her determination is tested when she meets a charming patient named Will Newman, a boy who has the same disease as her but doesn't mind following the clinical trial treatment and just wants to get out of the hospital.
Stella ha vivido en un hospital la mayor parte de su vida, sus días están llenos de rutinas, restricciones y autocontrol, Tiene que mantenerse alejada de cualquier persona o cosa que le pueda transmitir una infección y poner en peligro su trasplante de pulmón. Tiene una regla: Dos metros de distancia, sin excepciones. Pero su determinación se pone a prueba cuando conoce a un encantador paciente llamado Will Newman, un chico que tiene la misma enfermedad que ella pero al que no le importa seguir el tratamiento del ensayo clínico y sólo quiere salir del hospital.
Will New man (Cole Sprouse)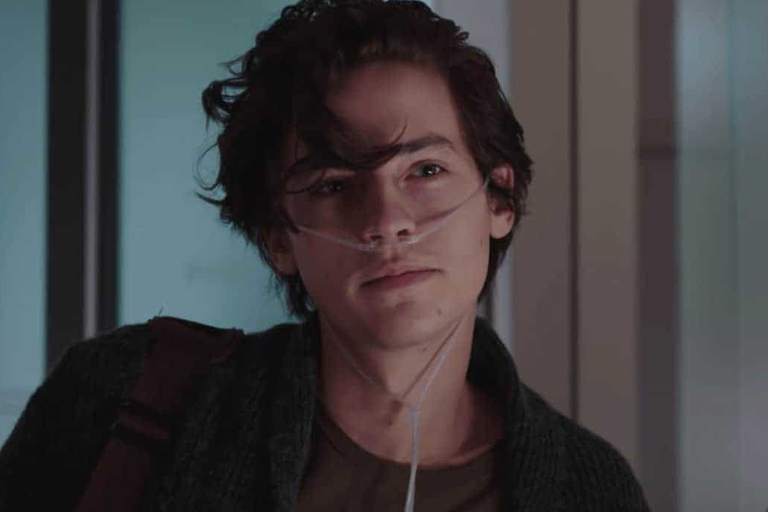 Source/Fuente
Unlike Stella, Will has already given up. He contracted B cepacia 8 months ago and antibiotics do nothing for him. He just wants to get out of his confinement, forget about treatments, medications and be free like any other young man his age. He just hopes to turn 18 as soon as possible to go see the world and forget about hospitals, or that's what he had planned, until he met Stella.....
A diferencia de Stella, Will ya se ha rendido. Contrajo B cepacia hace 8 meses y los antibióticos no le hacen nada. Sólo quiere salir de su encierro, olvidarse de los tratamientos, los medicamentos y ser libre como cualquier otro joven de su edad. Sólo espera cumplir los 18 años lo antes posible para ir a ver el mundo y olvidarse de los hospitales, o eso era lo que tenía planeado, hasta que conoció a Stella...
They couldn't get close, they couldn't kiss, they couldn't hug, just by breathing close they could cause each other great harm.... And yet none of that stopped them from falling in love with each other.
No podían acercarse, no podían besarse, no podían abrazarse, sólo con respirar cerca podían causarse un gran daño... Y sin embargo, nada de eso les impidió enamorarse el uno del otro.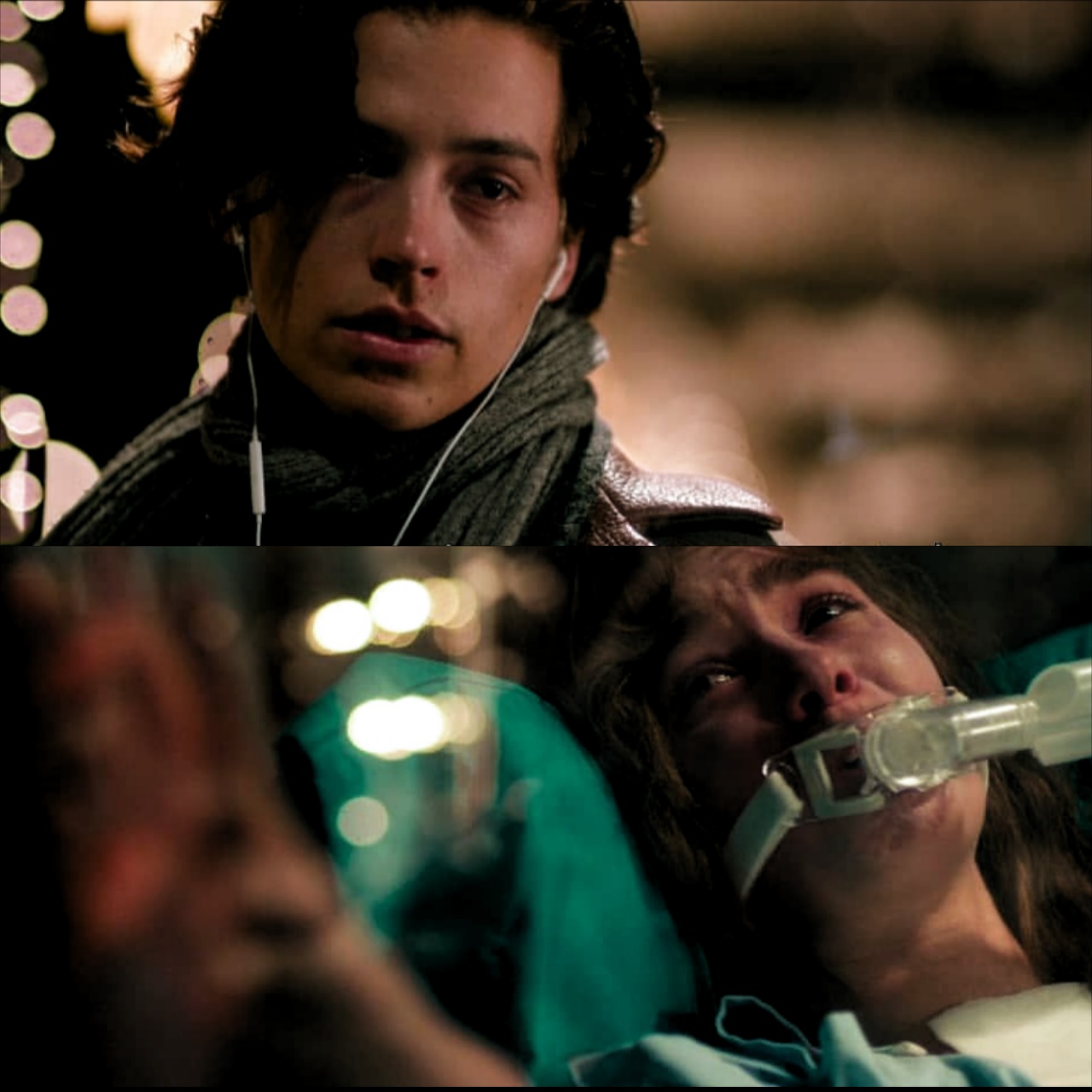 Source/Fuente
This tragic and beautiful story has touched my heart. I think it's one of the few movies that made me cry 🤧. I felt a lot of nostalgia because its story reminded me of the situation we are currently living in (especially last year) when because of the pandemic we were forced to move away from each other, our families and our loved ones. That's why I found it touching to see the protagonists trying to be happy even with their limitations.
"I was never aware of the importance of touch, of their touch, until I couldn't have it." Stella Grant
Esta trágica y hermosa historia me ha llegado al corazón. Creo que es una de las pocas películas que me han hecho llorar 🤧. He sentido mucha nostalgia porque su historia me ha recordado la situación que vivimos actualmente (sobre todo el año pasado) cuando por culpa de la pandemia nos vimos obligados a alejarnos unos de otros, de nuestras familias y de nuestros seres queridos. Por eso me pareció conmovedor ver a los protagonistas intentando ser felices aún con sus limitaciones.
"Nunca fui consciente de la importancia del tacto, de su tacto, hasta que no pude tenerlo." Stella Grant
Here is the trailer // Aquí tienen el trailer

Well friends, thanks for taking a few minutes of your time, I hope you liked it, Greetings to all! 🤗
Bueno amigos, gracias por dedicarme unos minutos de su tiempo, espero que les haya gustado, ¡saludos! 🤗