There are a variety of directors in the film industry and in one way or another their style is becoming more and more closely aligned with them, making watching a film a way of detecting who was behind the project almost instantly.
Existen diversidades de directores en la industria del cine y de una forma u otra su estilo se va acoplando cada vez más a ellos haciendo que el ver un film sea una manera de detectar quien fue el que estuvo detrás de ese proyecto casi que de forma instantánea.
We have already seen the case of Martin Scorsese with his confusing films that develop into complex characters, or the case of Steven Spielberg with films that take the viewer's imagination to fly. The same happens with Quentin Tarantino, his films are characterized more by their dialogues than by how fantastic or amazing they can be, by this I mean that Quentin develops a dialogue that makes the viewer feel tense on many occasions or has him always in expectation of what could happen, it happened in Reservoir Dogs, it happened in Django Unchained and in his eighth film casually called The Hateful Eight he exploits this resource even more.
Ya hemos visto el caso de Martin Scorsese con sus películas confusas que desarrollan en personajes complejos, o el caso de Steven Spielberg con películas que llevan a volar la imaginación del espectador. Con Quentin Tarantino sucede igual, sus películas se caracterizan más por sus diálogos que por lo fantasiosa o asombrosa que puedan llegar a ser, con esto me refiero a que Quentin desarrolla un dialogo que hace sentir al espectador tenso en muchas ocasiones o lo tiene siempre a la expectativa de que podrá suceder, ya pasó en Reservoir Dogs, pasó en Django Unchained y en su octava película casualmente llamada The Hateful Eight explota este recurso aún más.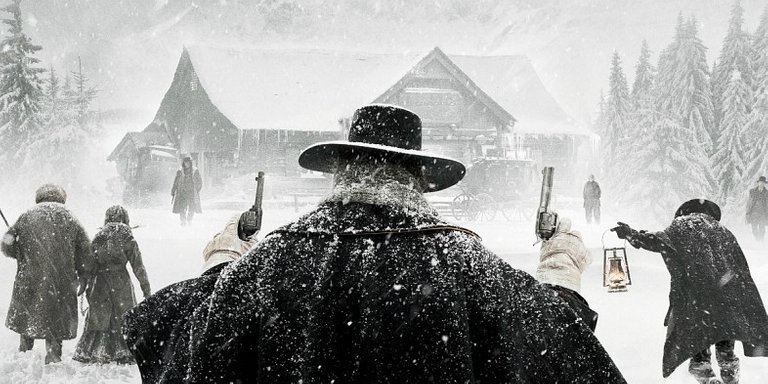 Source of the image - Fuente de la imagen

The Hateful Eight is a film based on a dialogue monologue, its story focuses on eight people who cross paths by fortuitous destinies and thanks to a strong blizzard must stop at a cabin. They all realize that things are not right and there is someone in the group who is not telling the truth, with this the film develops a tense focus in which it is not known which of the characters to believe.
The Hateful Eight es una película basada en una monólogo de diálogos, su historia se centra en ochos personas que cruzan caminos por destinos fortuitos y gracias a una fuerte ventisca deben de hacer parada en una cabaña. Todos ellos se dan cuenta de que las cosas no están bien y hay alguien del grupo que no está diciendo la verdad, con esto la película desarrolla un foco tenso en el que no se sabe a quién de los personajes creerle.
Its story transcends quite a lot of hunches, it makes it seem that the progressive dialogue occurs by chance when in fact it is quite the opposite. Looking at it closely we can see at a glance that the characters meet as the events of each one's individual story unfold, or at least it seems that way to most. Making us feel that nothing of what happens was foreseen.
Su historia trasciende bastante de las corazonadas, hace ver que el dialogo progresivo ocurre de forma fortuita cuando en realidad es todo lo contrario. Viéndolo bien podemos observar a simple vista que los personajes se encuentran conforme se dan los acontecimientos de la historia individual de cada uno, o al menos así parece para la mayoría. Haciéndonos sentir que nada de lo que sucede estaba previsto.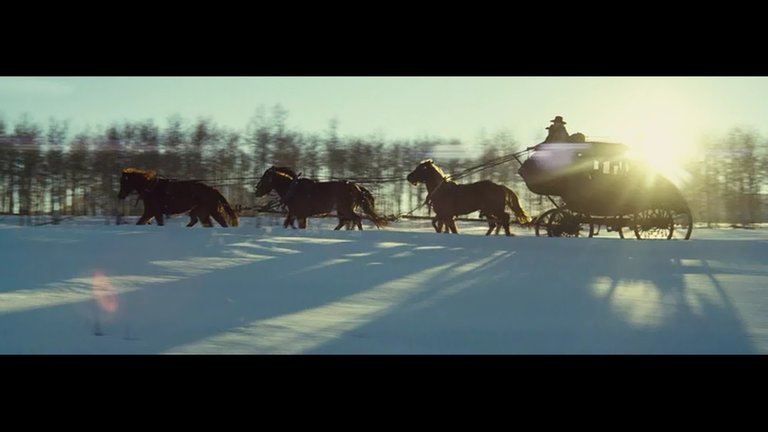 The cinematography of this film is perhaps the best of all Tarantino's films, it gives a distant approach that allows perceiving in a better way all the scenery in which the characters are, especially in the first chapter of the film. This approach gives a more vivid sense to the shots that make us appreciate the colors in a different way than we are used to.
La fotografía de esta película es quizás la mejor de todas las películas de Tarantino, da un enfoque alejado que permite percibir de mejor manera todo el escenario en el que se encuentran los personajes, sobretodo en el primer capítulo de la película. Este enfoque da un sentido más vivo a las tomas realizadas que hace apreciar los colores de una manera diferente a la que estamos acostumbrados.
A curious way to compare the film is with the board games in which we ask questions to find the impostor sooner or later. As I said the dialogues are a fundamental part of it since the questions and answers of the characters make you constantly think who will be the impostor among all and gives that game to turn it into a thriller that makes you think in details like "It can't be him because he was in this place" or "It's impossible that it's him because he was outside".
Una forma curiosa de comparar a la película es con los juegos de Mesa en los que hacemos preguntas para dar tarde o temprano con el impostor. Como dije los diálogos forman parte fundamental de ella, ya que las preguntas y respuestas de los personajes te hacen estar pensando constantemente quién será el impostor entre todos y da ese juego a convertirlo en un thriller que te hace pensar en detalles como "No puede ser él porque estuvo en este lugar" o "Es imposible que sea él porque estaba fuera".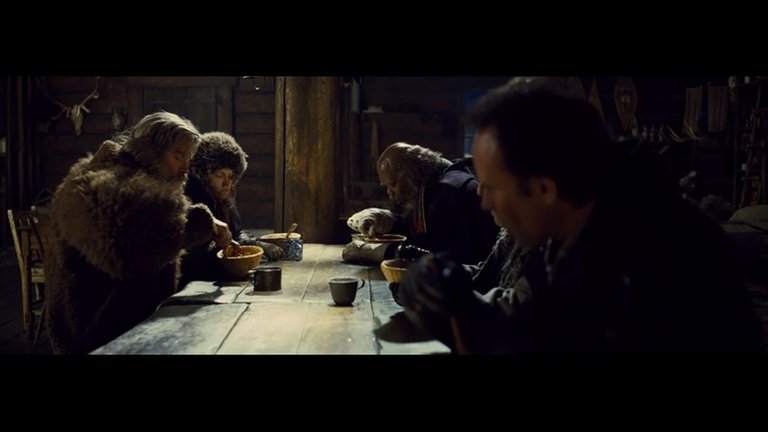 The characters in Tarantino's films are always well worked, we see the case of Mr. Blonde in Reservoir Dogs, Hans Landa in Inglorious Basterds, The Bride in Kill Bill Vol I and II, among many others. In this case, I think the star character of this film is the one played by Samuel L. Jackson, who plays the bounty hunter Marquis, it is already something expected to see this actor playing wonderful characters in Tarantino's films as was the case of the one he did in Pulp Fiction, but that touch with which he gives life to the character is what makes him stand out among all the others. Another standout character in the film is that of Daisy Domergue with some unique lines of dialogue that make her character very memorable.
Los personajes en las películas de Tarantino siempre son bien trabajados, vemos el caso de Mr Blonde en Reservoir Dogs, Hans Landa en Inglorious Basterds, The Bride en Kill Bill Vol I y II, entre muchos otros más. En este caso creo que el personaje estrella de esta película es el que interpreta Samuel L. Jackson, quien hace de Marqués cazarrecompensas, ya es algo esperable ver a este actor interpretando personajes maravillosos en películas de Tarantino como fue el caso del que hizo en Pulp Fiction, pero ese toque con el que da vida al personaje es lo que lo hace sobresalir entre todos los demás. Otro personaje destacado de la película es el de Daisy Domergue con unas líneas de diálogo únicas que hacen al personaje de ella muy memorable.
The Hateful Eight is one of Tarantino's films that has no middle ground, you either hate it or love it, I think it is quite underrated by critics, as it does not give the audience what they are used to from Tarantino from the first minute, which are the gory or action scenes, and contrary to this it progresses much more slowly giving introductory development to each character to introduce itself.
The Hateful Eight es una de las películas de Tarantino que no tiene punto medio, o la odias o la amas, en mi opinión creo que está bastante subvalorada por la crítica, ya que no le da al público lo que en realidad está acostumbrado de Tarantino desde el primer minuto, que son las escenas sangrientas o de acción, y al contrario a esto ella progresa mucho más lentamente dando desarrollo introductorio a cada personaje para poder presentarse.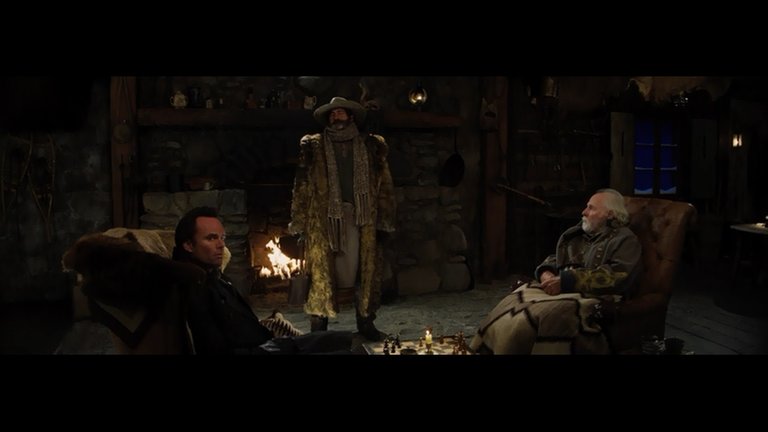 Perhaps one of the factors that discourage you from watching it is its length, which is approximately 3 hours, combined with what I said above was one of the things that seemed heavy to the general public and dismissed the film. Personally, for me it was not an impediment, being divided into chapters can make you see it divided, something similar to what people did with The Irishman. Its dialogues and intensity are what make this movie unique with all its complicated background that makes the climax break at the right moment.
Quizás uno de los factores que te desalienten de verla es su duración que son 3 horas aproximadamente, compaginado con lo que dije anteriormente fue de las cosas que al público en general les parecía pesado y desestimaba a la película. En lo personal para mí no fue un impedimento, el estar fraccionada en capítulos puede hacer que la veas repartida, algo parecido a como hacía la gente con The Irishman. Sus diálogos e intensidad son los que hacen esta película única con todo su trasfondo complicado que hace romper el climax en el momento indicado.
Is it Tarantino's best film? It is something very subjective that depends on the tastes of each person, in my opinion, it is easily in his TOP 4, and that among so many good Tarantino films is a pretty high position.
¿Que si es la mejor película de Tarantino? Es algo muy subjetivo que depende de los gustos de cada quien, a mi juicio está fácilmente en su TOP 4 y eso entre tantas películas buenas de Tarantino es un puesto bastante alto.
What can be said is that it is a very good movie, made with a lot of detail in several aspects and is a work of great quality from a director as decorated as Quentin is, one of his films must give a chance and see it because they do not disappoint. This was my review for The Hateful Eight, I hope that those who have not seen it will be motivated to see it because there is no loss when talking about this director, see you in the next one.
Lo que sí se puede decir es que es una película muy buena, hecha con mucho detalle en varios aspectos y es un trabajo de mucha calidad de un director tan condecorado como lo es Quentin, una de sus películas obligadas a dar una oportunidad y verla porque no decepcionan. Esto fue mi reseña para The Hateful Eight, espero que a los que no la hayan visto los motive a verla porque no tiene ninguna pérdida cuando se habla de este director, nos vemos en la siguiente.
---
All the screenshots in my publication were taken from my computer, except for the cover where the source is indicated.
-
Todas las capturas en mi publicación fueron realizadas desde mi computadora, a excepción de la portada en la que se indica su fuente.