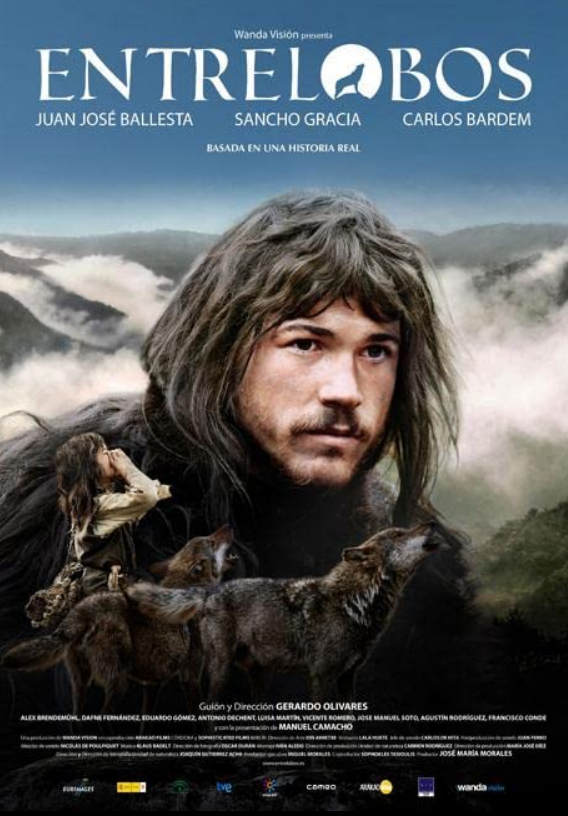 The protagonist Marcos Rodríguez Pantoja as a child lived alone in the Sierra Morena in the company of the wolves. / El protagonista Marcos Rodríguez Pantoja de niño vivió solo en la Sierra Morena en compañia de los lobos.
Gerardo Olivares joins his excellent skills as a film director to the real life environment of people, achieving an interaction between man-animal in his films very rarely seen.
**Entrelobos" is the first film of the trilogy dedicated to this special relationship between animal and human being, very well achieved from the documentary point of view and from the point of view of the cinematographic script.
They are a lost valley of the Sierra Morena, in deep Spain and tell us the true story (the real character appears in the final scene of the film) of Marcos Rodriguez Pantoja, a boy who during the post-war period lived in the middle of nature, living among the wolves and imitating their behavior.
It is Olivares' third feature film and the first of this ambitious trilogy that will be completed with Brothers in the Wind with the excellent performance of Jean Reno in 2015 and The Orcas Lighthouse filmed in the Argentine Patagonia in 2016.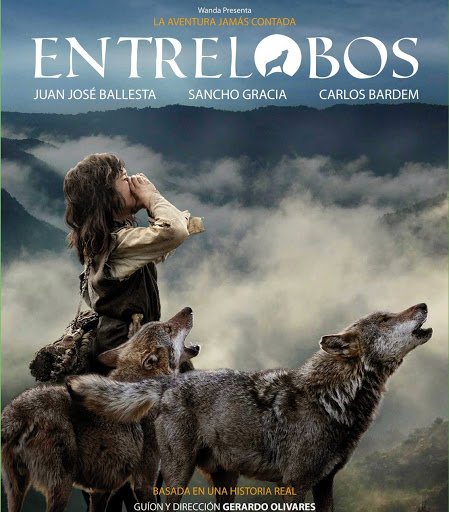 The film is inspired by the real life of Marcos Rodríguez Pantoja, a boy sold by his father to a shepherd who lived in a cave. / La película se inspira en la vida real de Marcos Rodríguez Pantoja, un niño vendido por su padre a un pastor que vivía en una cueva.
Gerardo Olivares une a sus excelentes dotes como director de cine la ambientación a la vida real de la personas, logrando una interacción entre hombre-animal en sus películas muy pocas veces vista.
Entrelobos es la primera película de la trilogía dedicada a esa especial relación en el animal y el ser humano, muy bien logrado desde el punto de vista documental y del guión cinematográfico.
En un valle perdido de la Sierra Morena, en la España profunda y nos cuenta la verdadera historia (el personaje real aparece en la escena final del film) de Marcos Rodríguez Pantoja, un niño que durante la época de la posguerra vivió en plena naturaleza, viviendo entre los lobos e imitando su comportamiento.
Es eltercer largometraje de Olivares y el primero de esta ambiciosa trilogía que se completará con Hermanos en el Viento con la excelente actuación de Jean Reno en el año 2015 y el El Faro de Las Orcas filmada en la patagonia argentina en el año 2016.

The selection of actors, especially children, began a year earlier, between April and May 2009, considering that most of the filming would be in open spaces, in the same places where the protagonist spent his childhood.
The selection was made among more than 200 children and the chosen one was Manuel Camacho, an 8-year-old boy (the age the protagonist was when he went to live in a cave with the shepherd) from Villanueva de Córdoba and for his brother, a child 12-year-old native of Anora who represents the protagonist who is already younger when he happens to live with the wolves, once the shepherd with whom he shared the cave has died.
The naturalistic force of the landscapes was increased by the storm that broke out as soon as filming began and which forced it to be postponed for a few months.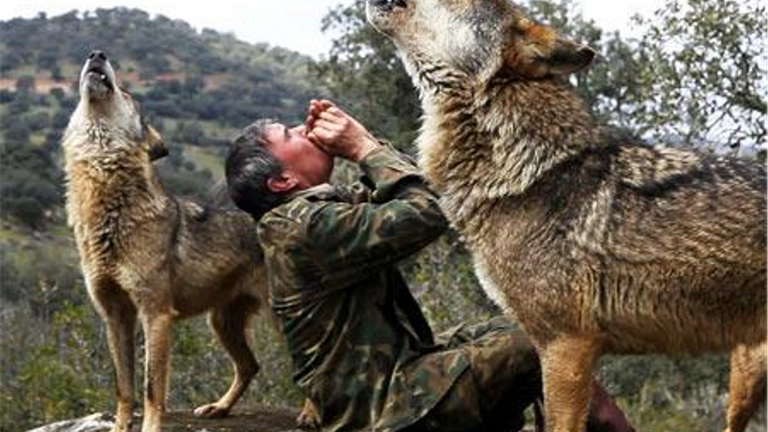 Marcos Rodríguez Pantoja permaneció doce años en la Sierra Morena -de 1953 a 1965- viviendo entre los lobos./ Marcos Rodríguez Pantoja spent twelve years in the Sierra Morena -from 1953 to 1965- living among the wolves.
La selección de los actores, especialmente de los niños comenzó a hacerse un año antes, entre abril y mayo del 2009 considerando que la mayor parte de la filmación sería en espacios abiertos, en los mismos lugares donde transcurrió su infancia el protagonista.
La selección se efectuó entre más de 200 niños y el elegido fue Manuel Camacho un niño de 8 años (la edad que tenía el protagonista cuando fue a vivir en una cueva con el pastor) natural de Villanueva de Córdoba y para su hermano, un niño de 12 años natural de Añora que representa al protagonista ya más joven cuando pasa a convivir con los lobos, una vez muerto el pastor con el que compartía la cueva.
A acrecentar la fuerza naturalística de los paisajes fue el temporal que se desató apenas iniciada la filmación y que obligó a postergar la misma por algunos meses.

One child for five goats. In this way this true story could be synthesized.
Marcos is a boy who takes care of the goats with his brother Juan José when, suddenly, a pack of wolves attacks the herd and kills six of them.
The father thinks that the goats have been the victim of the wolves due to their carelessness and as a means to compensate the damage caused he offers Don Honesto, the owner of the herd, his son, as if it were a commodity, since he has no money pay what those five goats are worth.
An old and iron sense of honor, in which paying off debts is part of his own life despite the miserable life he leads, makes him not accept the rejection of the owner of the herd and leave his son in his hands.
Faced with the uncertainty of not knowing what to do with him, Don Honesto takes the boy to keep Atanasio company, an old shepherd who lives in the mountains isolated from the world.
A stranger in whom Marcos begins to find the first signs of affection in his life.
The old man falls ill and dies in his arms. Marcos is left alone in the company of a ferret (Miner) that Athanasius used to hunt rabbits and a beautiful eagle owl that sleeps every night in the tree at the entrance of the cave.
And in this tremendous stage of his learning to live in absolute solitude, he meets Lobito, a little wolf cub who will change his life.
He will learn to live like a wolf, to hunt his prey by jumping from rock to rock or running in the open field.
Life passes by almost without realizing it. Until one day the Civil Guard that pursues a criminal, bandit (son of old Athanasius) finds him and reintegrates him into life in society.
A society that, as the protagonist himself says at the end, does not belong to him and does not feel as such.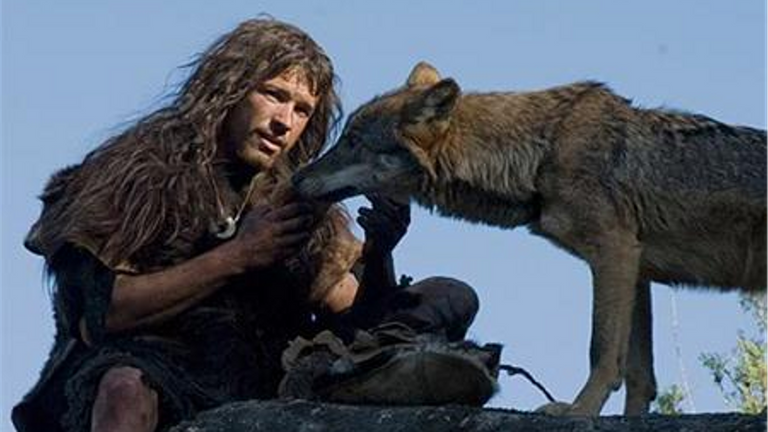 In Lobito the little cub will find a friend with whom to share his adventures through the mountains. / En Lobito el pequeño lobezno encontrará el amigo con quien compartir sus correrias por las sierras.
Un niño por cinco cabras. De esta manera podría sintetizarse esta historia real.
Marcos es un niño que cuida las cabras con su hermano Juan José cuando, de improviso, una manada de lobos ataca el rebaño y mata a seis de ellas.
El padre piensa que las cabras han sido víctima de los lobos por el descuido de ellos y como medio para resarcir el daño ocasionado ofrece a Don Honesto, el dueño del rebaño, su hijo, como si fuera una mercancía, ya que no tiene dinero para pagar lo que valen esas cinco cabras.
Un antiguo y férreo sentido del honor, en el cual saldar las deudas hace parte de su propia vida a pesar de la vida miserable que lleva, hace que no acepte el rechazo del dueño del rebaño y deje a su hijo en sus manos.
Ante la incertidumbre de no saber que hacer con él Don Honesto lleva al niño a hacerle compañía a Atanasio, un viejo pastor que vive en las sierras aislado del mundo.
Un desconocido en quien Marcos comienza a encontrar los primeros señales de afecto en su vida.
El viejo cae enfermo y muere en sus brazos. Marcos queda solo enn compañia de un hurón (Minero) que Atanasio usaba para cazar conejos y un hermoso buho real que duerme todas las noches en el arbol que hay en la entrada de la cueva.
Y en esa tremenda etapa de su aprendizaje a vivir en absoluto soledad encuentra a Lobito, un pequeño lobezno que le cambiará la vida.
Aprenderá a vivir como un lobo, a cazar su presas saltando de roca en roca o corriendo a campo abierto.
La vida trsncurre casi sin darse cuenta. Hasta que un dia la Guardia Civil que persigue a un criminal, bandolero (hijo del viejo Atanasio) lo encuentra y lo reintegra a la vida en sociedad.
Una sociedad que como el mismo protagonista dice al final no le pertenece y no la siente como tal.

Manuel Camacho - Marcos as a child
Juan José Ballesta - Marcos as an adult
Sancho Gracia - Atanasio
Carlos Bardem - Ceferino
Àlex Brendemühl - Balilla
Dafne Fernández - Pizquilla
Eduardo Gómez - Caragorda
Luisa Martín - Isabel
Antonio Dechent - sergeant
Marcos Rodríguez Pantoja - himself

An unprecedented film in Spanish cinema, with so much of nature, wild life and solitude.
Entrelobos is more than a movie, it is a social plea.
It gives us a magnitude of true nature, that which we call wild, and which returns us to a young man abandoned as a child to his own fate, by a society, with all its civilization and modernity, that ignores him.
And to which, in the final part of the film, he himself expresses his intention to return.
Stunning natural landscapes filmed with sobriety but also with immense professionalism and technical quality.
The whole film gives an idea of ​​"naturalness" unlike other documentaries where the montage made under the cover of a narrating voice is clearly seen.
In Among Wolves the only narrating voice is that of the protagonists.
Una película sin precedentes en el cine español, con tanto de naturaleza, vida agreste y soledad.
Entrelobos, es más que una película, es un alegato social.
Nos da una magnitud de la verdadera naturaleza, aquella que llamamos salvaje, y que nos devuelve un joven abandonado de niño a su propia suerte, por una sociedad, con toda su civilización y modernidad, que lo ignora.
Y a la cual, él mismo en la parte final de la película, manifiesta sus intenciones de volver.
Estupendos paisajes naturales filmados con sobriedad pero también con una inmensa profesionalidad y calidad técnica.
Toda la película da una idea de "naturalidad" a diferencia de otros documentales donde se ve con claridad el montaje realizado amparado con una voz narrante.
En Entrelobos la única voz narrante es la de los protagonistas.