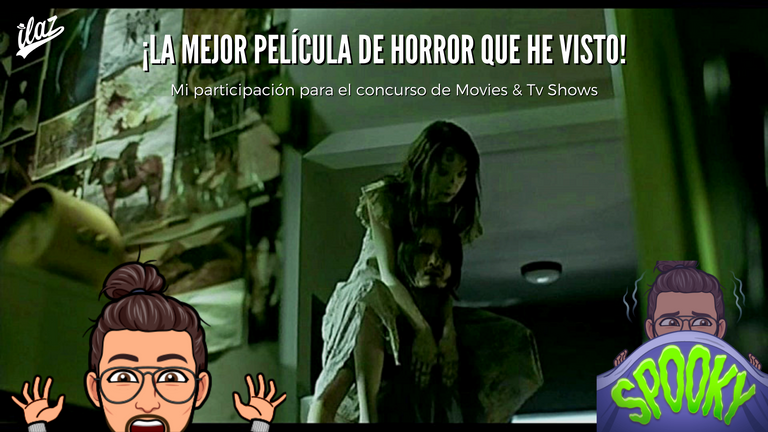 Fuente del fondo, editado por mí en Canva | Background source edited by me on Canva
¡Bienvenidos de nuevo a mi blog, chicos! El día de hoy les traigo un post para unirme al tercer concurso de la comunidad Movies & TV Shows el cual pueden leer con detalles al hacer click aquí; consiste en hablar sobre la mejor película de horror que hayas visto en tu vida, así que hoy les voy a hablar sobre una de las películas que más me afectó en mi infancia por el susto que me causó, esta se conoce con el nombre Shutter.
Así que, sin más que agregar, comencemos.
Welcome back to my blog, guys! Today I bring you a post to join the third Movies & TV Shows community contest which you can read with details by clicking here; consists of talking about the best horror movie you've ever seen in your life, so today I'm going to talk to you about one of the movies that affected me the most in my childhood because of the scare it caused me, this one is known by the name Shutter.

So, without further ado, let's get started.

El género horror | The horror genre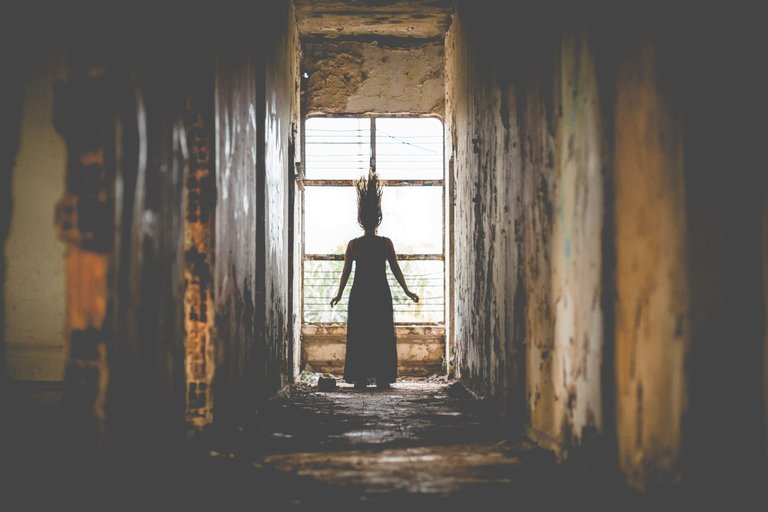 Photo by Edilson Borges on Unsplash
Antes de empezar a entrar en el tópico del post para hablarles sobre esta gran película, debemos primero entender cuál es la diferencia entre los géneros Terror y Horror, porque hay una regla muy específica en el concurso que dice lo siguiente:
Before we start getting into the topic of the post to tell you about this great movie, we must first understand what is the difference between the Terror and Horror genres, because there is a very specific rule in the contest that says the following:

Para los que no entienden inglés ahí dice explícitamente que el género de la película y/o serie que elijan para participar debe ser del género Horror particularmente, entonces, ¿cuál es la diferencia entre Terror y Horror?
Si buscamos esta diferencia en Google, nos aparece este artículo de Wikipedia el cual la define de la siguiente manera:
«...El terror implica algo que asusta, pero que tiene una explicación racional, es decir es algo hecho por humanos o animales. Por ejemplo: «Ese asesino es terrorífico». En cambio el horror implica algo paranormal (ya sean fantasmas, monstruos, duendes, brujas, enanos etc.). Por ejemplo: «Los fantasmas son horroríficos»...»
Entonces, en el caso particular de Shutter, esta es una película que contiene eventos paranormales, por lo que queda completamente implícito que el género de la misma es de Horror.
Ahora, antes de comenzar a leer este post, te recomiendo que reproduzcas este vídeo que contiene el sountrack de la película para una mejor experiencia de lectura:
For those who do not understand English, it explicitly states that the genre of the film and/or series you choose to participate in must be of the Horror genre in particular, so what is the difference between Horror and Horror?

If we Google this difference, we get this Wikipedia article which defines it as follows:

"...Terror implies something that frightens, but has a rational explanation, i.e. it is something done by humans or animals. For example: "That murderer is terrifying". Horror, on the other hand, implies something paranormal (whether ghosts, monsters, goblins, witches, dwarves, etc.). E.g. "Ghosts are horrifying"..."

So, in the particular case of Shutter, this is a film that contains paranormal events, so it is completely implicit that the genre of the film is Horror.

Now, before you start reading this post, I recommend you to play this video containing the sountrack of the movie for a better reading experience:

El fotógrafo | Shutter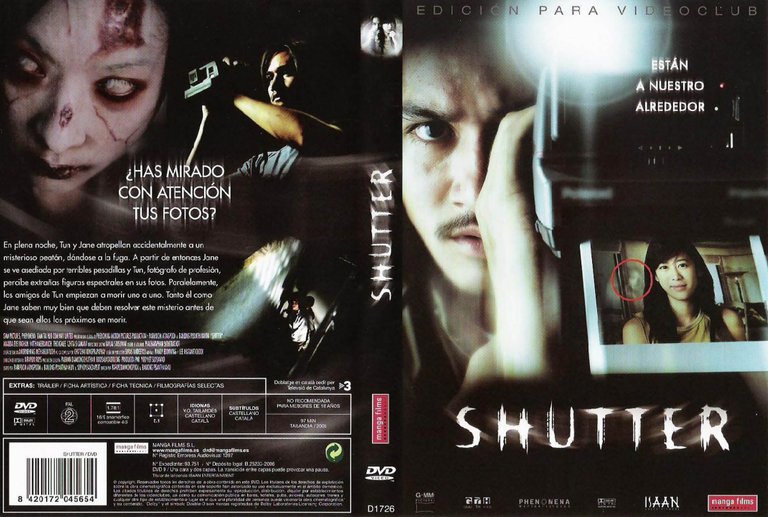 Fuente | Source
Recuerdo demasiado la carátula de DVD que acabo de colocar en esta sección, la vi en una tienda a la que solía ir con mi padre a buscar películas antes de la llegada de las plataformas de streaming, el nombre me llamó la atención y por supuesto, uno podía solo ver la portada y no la contraportada porque de seguro si veía esa cara fantasmal, no la habría comprado.
En esa época (año 2004) yo era demasiado miedoso, me afectaban mucho las películas de terror y horror, pero siempre lo intentaba de nuevo; recuerdo que esa fue una época donde el cine de horror asiático estaba en voga, pues habían lanzamientos épicos todavía vigentes como El Aro, La Maldición, El Ojo, etc.
I remember too much the DVD cover that I just placed in this section, I saw it in a store where I used to go with my father to look for movies before the arrival of streaming platforms, the name caught my attention and of course, one could only see the cover and not the back cover because for sure if I saw that ghostly face, I wouldn't have bought it.

At that time (year 2004) I was too scared, I was very affected by horror and horror movies, but I always tried again; I remember that was a time where Asian horror movies were in vogue, as there were epic releases still going strong such as The Hoop, The Curse, The Eye, etc.
La historia gira en torno a Natre, un fotógrafo que trabaja realizando las capturas fotográficas de los anuarios de una escuela; un día está de camino a su casa con su pareja y tienen un accidente de auto donde atropellan a una chica que, posteriormente empieza a atormentarlos en forma de apariciones espectrales terribles, sin embargo, la trama no solo se resume a ese hecho, tiene muchas otras oscuras que podrán descubrir viendo la película.
The story revolves around Natre, a photographer who works doing the photographic captures of the yearbooks of a school; one day he is on his way home with his partner and they have a car accident where they run over a girl who, subsequently begins to torment them in the form of terrible spectral apparitions, however, the plot is not only summarized to that fact, it has many other dark ones that you can discover watching the film.
Los screamers (escenas de susto) son buenísimos, por supuesto, si los vemos hoy en día pueden parecer un poco clichés pero hay que recordar que es una película de hace 17 años y sin embargo, yo creo que sigue estando vigente porque sigue teniendo la capacidad de asustar a personas que sean bastante susceptibles.
Además de eso, los cambios de trama son épicos, ya que, el verdadero trasfondo de la película es sumamente diferente a lo que nos va dictando la línea argumental, les puedo asegurar que se mantiene una tensión muy fuerte durante toda la película y los detalles pequeños lo son todo, así que deben prestar demasiado atención, porque cada detalle en la película va construyendo el puente para llegar al final de la misma.
Así que, si quieren llegar a dicho final con el mejor impacto posible, intenten estar pendiente de todos los detalles, por muy simples que parezcan, así tengan que pausar la película, háganlo, me lo agradecerán.
The screamers (scare scenes) are great, of course, if we see them today may seem a bit cliché but we must remember that it is a film of 17 years ago and yet, I think it is still valid because it still has the ability to scare people who are quite susceptible.

Besides that, the plot changes are epic, since the real background of the film is extremely different from what the storyline dictates, I can assure you that a very strong tension is maintained throughout the film and the small details are everything, so you must pay close attention, because every detail in the film is building the bridge to reach the end of the film.

So, if you want to get to the end with the best possible impact, try to be aware of all the details, no matter how simple they may seem, even if you have to pause the movie, do it, you will thank me.

Shutter Remake (2008)
En el año 2008, una versión estadounidense de Shutter salió a la luz, con la misma trama pero en diferentes contextos a nivel de tecnología de cámaras, a nivel de locaciones, etc, sin embargo vi un vídeo donde comparaban algunas escenas de la película original con escenas de este remake y siento que el remake no tiene el mismo sentido o concepto tenebroso que tiene la original, es algo que no puedo explicar a profundidad pero se nota demasiado.
Debo admitir que no la he visto porque ni siquiera sabía de su existencia hasta que comencé a investigar sobre la película para realizar este post, así que le daré una oportunidad para ver si realmente le hace honor a la película original, aunque sé que realmente no hay comparación alguna entre el cine de horror estadounidense y el cine de horror asiático.
Hay algo que hacen los asiáticos que hacen que la tensión se sienta más viva que nunca de forma continua, al punto de generarte más un terror psicológico que otra cosa, en cambio, los estadounidenses se enfocan en los screamers y ponen toda la calidad de la película en ello, entonces habría que ver si realmente supieron llevar la trama con todo y estas diferencias para tener un resultado tan épico como la película original.
In 2008, an American version of Shutter was released, with the same plot but in different contexts in terms of camera technology, locations, etc, however I saw a video where they compared some scenes from the original film with scenes from this remake and I feel that the remake does not have the same sense or scary concept that has the original, it is something that I can not explain in depth but it shows too much.

I must admit that I haven't seen it because I didn't even know of its existence until I started researching about the movie to make this post, so I will give it a chance to see if it really lives up to the original movie, even though I know that there really is no comparison between American horror cinema and Asian horror cinema.

There is something that Asians do that make the tension feel more alive than ever continuously, to the point of generating you more psychological terror than anything else, on the other hand, Americans focus on screamers and put all the quality of the film in it, then we would have to see if they really knew how to carry the plot with all and these differences to have a result as epic as the original film.

Palabras Finales | Final Words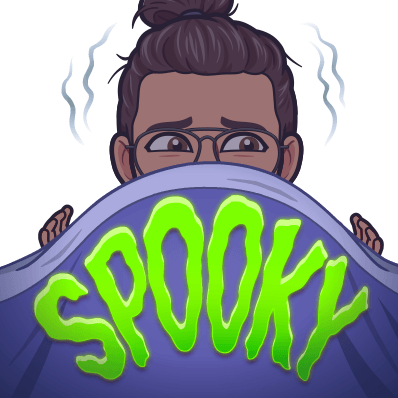 Si has leído hasta este punto, te agradezco muchísimo y si ya viste la película, te invito a que me dejes por acá tu opinión al respecto sobre ella, porque de una te considero una persona con buenos gustos sobre películas de terror y horror.
Agradezco al equipo de @moviesonhive por hacer este concurso para invitarnos a crear contenido en esta gran comunidad y compartir nuestro amor por el mundo del cine; por acá seguiré siempre activo y le deseo mucho éxito a todo el que haya participado.
If you have read up to this point, I thank you very much and if you have already seen the movie, I invite you to leave me here your opinion about it, because I consider you a person with good tastes about horror and horror movies.

I thank the @moviesonhive team for making this contest to invite us to create content in this great community and share our love for the world of cinema; I will always be active here and I wish great success to everyone who has participated.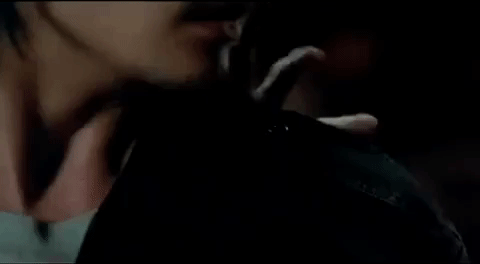 Fuente | Source
¡Sigamos creciendo y haciendo crecer el amor por el mundo cinéfilo!
Let's keep growing and growing the love for the cinephile world!