Saludos, para nadie es un secreto que me emociona cada vez que hago una publicación de cine así que no podía dejar pasar el concurso creada por
@marivic10
para compartir 3 películas favoritas inspiradas en hechos reales. Si quiere saber los detalles le comparto el enlace:
Greetings, for no one is a secret that I get excited every time I make a movie post so I couldn't pass up the contest created by

@marivic10

to share 3 favorite movies inspired by real events. If you want to know the details I'll share the link:
[ESP-ENG] CONCURSO/ CONTEST 📢: Top 3 Películas favoritas basadas en hechos reales, participa y gana./ Top 3 Favorite Movies based on real events, participate and win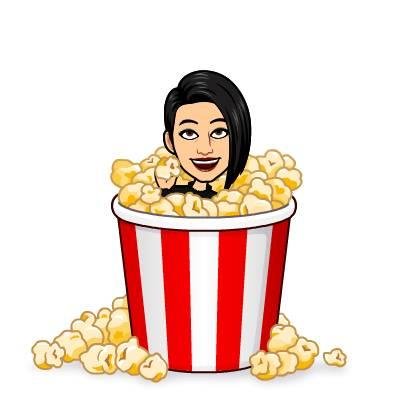 Imagen creada en Bitmoji


La fuga de Alcatraz / Escape from Alcatraz (1979)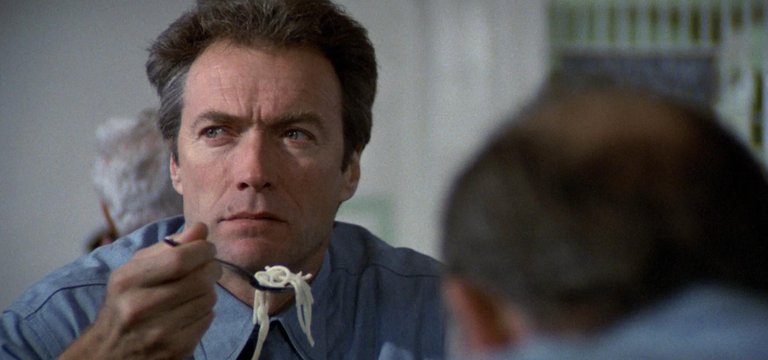 Esta película es un thriller o suspenso, está basada en un libro que a su vez se inspira en un hecho real, sucedido en una de las prisiones que era considerada la de mas alta seguridad de Estados Unidos porque se encontraba en una isla de la bahía de San Francisco conocida como la Roca, Alcatraz sirvió como fuerte militar anterior a la prisión y aparte de estar amurallada no ofrecía ninguna vía de escape porque el mar era de un fuerte oleaje todo el tiempo, se creía que era imposible escapar de allí, pero en 1962 Frank Morris y los hermanos Anglin lograron escapar, aunque nunca fueron encontrados como para constatar que escaparon con vida y no se ahogaron en el mar.
El asunto es que esta fuga se dio de manera asombrosa, los medios que usaron los reclusos y la forma de ocultar su trabajo de hacer un hueco en el muro con una cuchara además de fabricar muñecos para simular su presencia en las celdas, fueron cosas muy audaces, cuando se llevó a la pantalla como una película fue increíble la actuación de Clint Easwood en el papel de Frank Morris, esta película es del año 1979 y fe dirigida por Don Siegel, yo la vi cuando era niña en la televisión nacional en los años 90 y hace poco la volví a ver en TCM, así como también vi un documental de los hechos reales, me di cuenta que aunque no es una película con escenas violentas fuertes creo que no era algo que debía ver cuando era niña, creo que en esos años no prestaban mucha atención al horario de las películas en los canales naciones, de todas formas me alegra poder verla en esos años.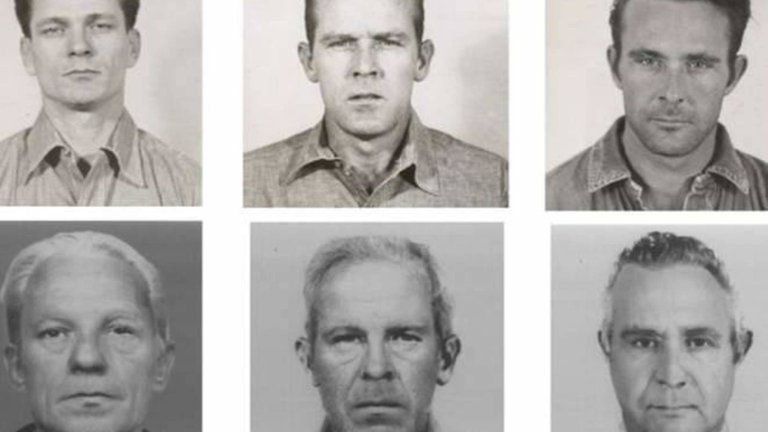 Real people
Fuente

This film is a thriller or suspense, is based on a book that in turn is inspired by a real event, happened in one of the prisons that was considered the highest security prison in the United States because it was located on an island in San Francisco Bay known as the Rock, Alcatraz served as a military fort prior to the prison and apart from being walled it did not offer any escape route because the sea was a strong swell all the time, it was believed that it was impossible to escape from there, but in 1962 Frank Morris and the Anglin brothers managed to escape, although they were never found to prove that they escaped alive and did not drown in the sea.



The thing is that this escape was given in an amazing way, the means used by the inmates and the way to hide their work of making a hole in the wall with a spoon in addition to making dolls to simulate their presence in the cells, were very bold things, when it was taken to the screen as a movie was incredible the performance of Clint Easwood in the role of Frank Morris, this film is from 1979 and faith directed by Don Siegel, I saw it as a child on national television in the 90's and recently I saw it again on TCM, as well as I saw a documentary of the real events, I realized that although it is not a film with strong violent scenes I think it was not something I should see as a child, I think in those years they did not pay much attention to the schedule of movies in the national channels, anyway I'm glad I could see it in those years.
Bohemian Rhapsody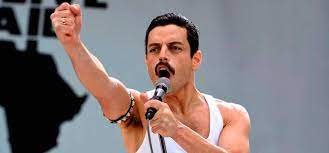 Creo que esta película es definitivamente un bue resumen y adaptación de la vida de Freddie Mercury el cantante te de la icónica banda Queen, esta cinta tiene la dosis necesaria de drama e incluso comedia, así como por su puesto una de los mejores sountracks, la película muestra como su vida se fue apagando poco a poco debido a los excesos así como la triste noticia de su enfermedad producto del virus VIH, en aquellos años era muy difícil aun poder luchar contra la enfermedad, lo que más me gusto de la película es que con un simple detalle como decir "EO" la gente pudo pasar desde la emoción de un gran concierto a la escena más triste cuando un paciente de VIH lo reconoce en la clínica
Creo que fue muy inteligente no colocar escenas demasiado tristes como verlo deteriorado físicamente y las circunstancias de su muerte, fue una película que respetó la vida del cantante, su personalidad fuerte, a veces un poco molesta y sarcástica con sus compañeros y con la prensa, con un ego grande como la mayoría de personas que logran grandes cosas, no es una regla pero si es común que los famosos lleguen a serlo precisamente por creer en sí mismos y este ego los ayuda. Creo que es una buena película y por ese motivo el actor principal Rami Malek fue merecedor del Oscar a mejor actor por su brillante trabajo en 2018.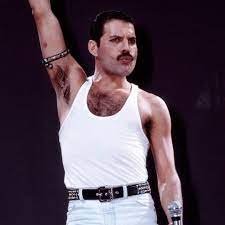 Real people
Fuente

I think this movie is definitely a good summary and adaptation of the life of Freddie Mercury the lead singer of the iconic band Queen, this movie has the necessary dose of drama and even comedy, as well as of course one of the best sountracks, the movie shows how his life was fading little by little due to the excesses as well as the sad news of his illness due to the HIV virus, in those years it was still very difficult to fight against the disease, what I liked the most about the movie is that with a simple detail like saying "EO" people could go from the emotion of a great concert to the saddest scene when an HIV patient recognizes him in the clinic.



I think it was very smart not to put too sad scenes like seeing him physically deteriorated and the circumstances of his death, it was a movie that respected the singer's life, his strong personality, sometimes a bit annoying and sarcastic with his colleagues and with the press, with a big ego like most people who achieve great things, it is not a rule but it is common that famous people become famous precisely because they believe in themselves and this ego helps them. I think it is a good movie and for that reason the main actor Rami Malek was deserving of the Oscar for best actor for his brilliant work in 2018.
Mi pie izquierdo / My left foot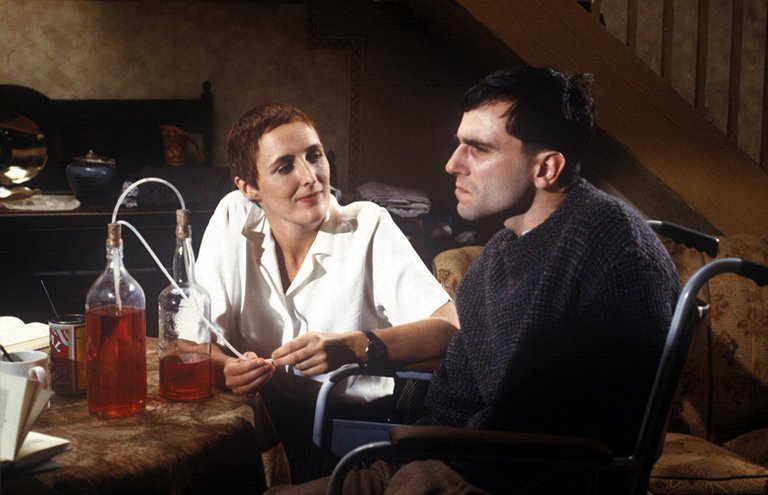 Ya anteriormente he dado reseñas de esta película, pero es mi favorita de todas las hechas basadas en hechos reales, trata de la vida del pintor y escritor Christy Brown un hombre irlandés que nació con parálisis cerebral, la película de 1989 se basa en la autobiografía del artista, quien debido a su enfermedad solo podía mover su pie izquierdo, este pie fue sufieciente para aprender a comunicarse de manera escrita y demostrar que aunque su cuerpo no respondiera su cerebro trabajaba y pensaba con completa normalidad, es decir durante gran parte de su infancia el vivió observando y escuchando a sus hermanos y padres sin poder demostrar que él los entendía. Poco a poco aprendió a hablar y a comunicarse más efectivamente.
Gracias a poder escribir con su pie izquierdo el comenzó a pintar y manifestar su capacidad artística e intelectual, fue un largo camino bastante difícil para consagrarse como una persona completamente capaz y poder ser reconocido por sus habilidades. La actuación de Daniel Day Lewis recibió el Oscar a mejor actor y el trabajo de Brenda Fricker el Oscar a mejor actriz secundaria, en cuanto al guion de la película considero que esta comedia dramática es una de las mejores, porque puedo llorar viéndola con la misma intensidad que me puedo reír en ciertas escenas.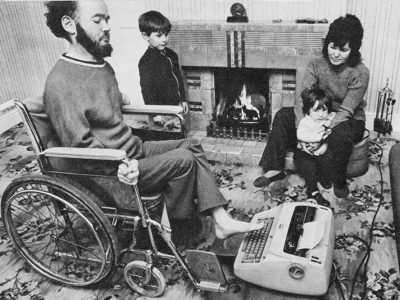 Real people
Fuente

I have previously given reviews of this film, but it is my favorite of all those made based on real events, it is about the life of the painter and writer Christy Brown an Irish man who was born with cerebral palsy, the 1989 film is based on the autobiography of the artist, who due to his illness could only move his left foot, This foot was enough to learn to communicate in writing and show that although his body did not respond his brain worked and thought normally, that is, during much of his childhood he lived watching and listening to his siblings and parents without being able to show that he understood them. Gradually he learned to speak and communicate more effectively.



Thanks to being able to write with his left foot he began to paint and manifest his artistic and intellectual ability, it was a long and difficult road to becoming a fully capable person and being recognized for his abilities. Daniel Day Lewis' performance received the Oscar for best actor and Brenda Fricker's work received the Oscar for best supporting actress, as for the script of the film I consider this dramatic comedy to be one of the best, because I can cry watching it with the same intensity that I can laugh in certain scenes.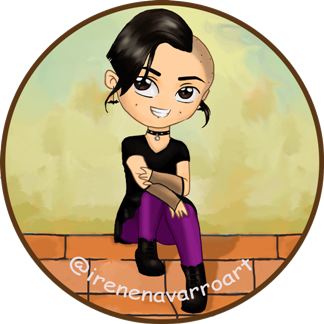 Espero les haya gustado. Les invito a leer mis próximas publicaciones y siempre estaré dispuesta a responder sus preguntas y comentarios, también pueden seguirme y contactarme en cualquiera de mis redes sociales. ¡Muchas gracias!
I hope you liked it. I invite you to read my next publications and I will always be willing to answer your questions and comments, you can also follow me and contact me on any of my social networks. Thank you!