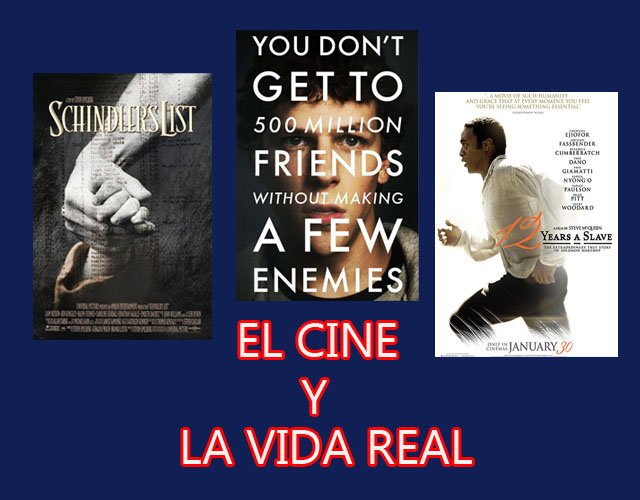 Me atrapan todas las películas basadas en hechos reales, creo que hay un gran valor en tomar la vida de la gente como motivo para el séptimo arte, es una forma de rendirle homenaje a la vida misma.
En general no recuerdo haber sido defraudado por alguna película de este tipo, más bien en muchas oportunidades he sentido una gran empatía con las personas que vivieron las historias narradas en los films. No deja de ser admirable que los directores, guionistas y productores apuesten por este tipo de historias, muchas de las cuales muestran la crudeza de la realidad.
Para esta oportunidad les traigo tres películas que me han dejado alguna enseñanza.
I am attracted to all films based on real events, I think there is a great value in taking people's lives as a motive for the seventh art, it is a way to pay tribute to life itself.
In general I don't remember having been disappointed by any film of this type, rather in many occasions I have felt a great empathy with the people who lived the stories narrated in the films. It is admirable that directors, screenwriters and producers bet on this kind of stories, many of which show the rawness of reality.
For this opportunity I bring you three films that have taught me something.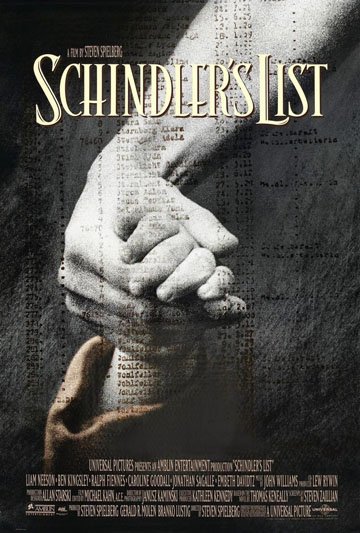 La película está basada en la historia de Oskar Schindler, un empresario de ascendencia alemana que por motivos de la Segunda Guerra Mundial tuvo que dedicar sus fábricas en Polonia a la producción de municiones y enseres de cocina para las tropas.
En ese tiempo la mano de obra era un verdadero problema, puesto que la mayoría de los hombres estaban sirviendo en el ejército. Así que Schindler encontró la solución reclutando a trabajadores provenientes de la predominante población judía de Polonia. Una situación completamente ilegal, ya que estaba prohibido contratar judíos. Sin embargo, el empresario valiéndose de numerosos sobornos logró que algunos oficiales alemanes se hicieran la vista gorda.
Aparentemente el señor Schindler solo utilizaba a los judíos por un mero interés comercial, así lo pensaban los oficiales alemanes que le apoyaban, y quizá hasta el mismo Schindler vio en el uso de esa mano de obra una gran oportunidad de negocios.
Sin embargo, a medida que fue teniendo contacto con los judíos comenzó a simpatizar con ellos y se transformó en su protector, en garante de sus vidas. Gracias al valor de ese hombre, que pudo haberlo perdido todo en esa arriesgada apuesta, se salvaron más de mil judíos, los que sobrevivieron hasta el final de la guerra por la decidida protección de Schindler.
La película estuvo producida y dirigída por el genial Steven Spielberg, el mismo que unos años antes había dirigido la famosa Tiburón (1975) y Encuentros Cercanos del Tercer Tipo (1977), películas básicamente de entretenimiento, y quien a partir del Color Púrpura (1985) comenzó a interesarse por presentar un cine de mayor contenido humano.
La película está rodada en blanco y negro, lo que le da un atractivo especial, y contó con un gran elenco; los personajes principales fueron Liam Neeson como Schindler, Ralph Fiennes como el oficial alemán y Ben Kingsley como el judío Itzhak Stern. La película fue un éxito de taquilla y crítica y ganó el Oscar como mejor película del año.

The film is based on the story of Oskar Schindler, a businessman of German descent who for reasons of World War II had to dedicate his factories in Poland to the production of ammunition and kitchen utensils for the troops.
At that time manpower was a real problem, since most of the men were serving in the army. So Schindler found the solution by recruiting workers from Poland's predominantly Jewish population. A completely illegal situation, since it was forbidden to hire Jews. However, the entrepreneur, using numerous bribes, managed to get some German officials to turn a blind eye.
Apparently, Mr. Schindler only used Jews for a mere commercial interest, as the German officers who supported him thought, and perhaps even Schindler himself saw in the use of this labor force a great business opportunity.
However, as he came into contact with the Jews, he began to sympathize with them and became their protector, the guarantor of their lives. Thanks to the courage of this man, who could have lost everything in this risky gamble, more than a thousand Jews were saved and survived until the end of the war thanks to Schindler's determined protection.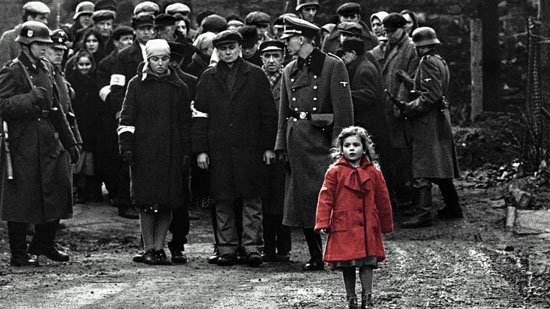 The film was produced and directed by the brilliant Steven Spielberg, the same man who a few years earlier had directed the famous Jaws (1975) and Close Encounters of the Third Kind (1977), basically entertainment films, and who after The Color Purple (1985) began to be interested in presenting films with more human content.
The film is shot in black and white, which gives it a special appeal, and had a great cast; the main characters were Liam Neeson as Schindler, Ralph Fiennes as the German officer and Ben Kingsley as the Jew Itzhak Stern. The film was a box-office and critical success and won the Oscar for Best Picture of the Year.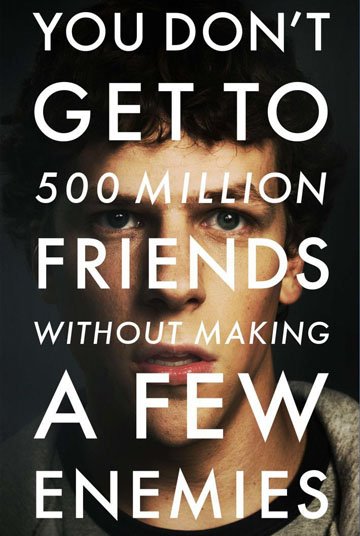 La creación de Internet aceleró los tiempos de la humanidad. En pocos años el mundo se vió sometido a cambios inimaginables que impusieron nuevas formas de relacionarnos. Uno de esos cambios fue la llegada de las redes sociales.
Esta película cuenta el nacimiento de Facebook, la gran red social que logró captar una de las mayores audiencias que ha conocido la humanidad, en la actualidad casi dos mil millones de personas son usuarios de Facebook.
Como suele suceder, las geniales invenciones son producto de la curiosidad de una mente privilegiada, en este caso, Mark Zuckerberg. Él, mientras era estudiante universitario en Harvard, por el año 2003, utilizó sus conocimientos de programación para robar algunos datos de los archivos de la Universidad y con ellos desarrolló un programa que le permitía conectar a los diferentes usuarios. El impacto de esa travesura fue inmediato, el asombro de poderse conectar unos con otros, mandarse informaciones y fotos, revolucionó la vida universitaria. El crecimiento del incipiente Facebook fue apoteósico.
Pero Zuckerberg necesitó de otros colaboradores para echar adelante su proyecto, y esta es la parte donde el film hace más énfasis, en la turbulenta relación del joven inventor de Facebook con sus colaboradores inmediatos. Una relación llena de malos entendidos, traiciones y manipulaciones, donde la importancia del negocio pudo más que cualquier otro valor de amistad, solidaridad o compañerismo. Facebook fue el triunfo del pragmatismo por encima de todo lo demás.
La película está muy bien contada, recrea de modo muy convincente el ambiente donde se creó el genial invento, nos da a conocer los pormenores que se vivieron hasta su consolidación como la gran red social que todos conocemos.
El elenco estuvo conformado por jovenes promesas de la actuación, como Jesse Eisenberg. Interpretando a Mark Zuckerberg, Andrew Garfield, interpretando a Eduardo Saverin, quien estuvo desde el principio en el proyecto, y Armie Hammer y Josh Pence, como los gemelos Cameron y Tyler Winklevoss, grandes compañeros universitarios.
La película fue un gran éxito de taquilla y de crítica, para muchos la mejor del año 2010. Su guión ganó todas las nominaciones a las que fue propuesto.

The creation of the Internet accelerated the times of humanity. In just a few years the world was subjected to unimaginable changes that imposed new ways of relating to each other. One of those changes was the arrival of social networks.
This film tells the story of the birth of Facebook, the great social network that managed to capture one of the largest audiences ever known to mankind, currently almost two billion people are Facebook users.
As it usually happens, genius inventions are the product of the curiosity of a privileged mind, in this case, Mark Zuckerberg. While he was a university student at Harvard in 2003, he used his programming knowledge to steal some data from the university archives and with it he developed a program that allowed him to connect different users. The impact of this prank was immediate, the amazement of being able to connect with each other, send information and photos, revolutionized university life. The growth of the incipient Facebook was tremendous.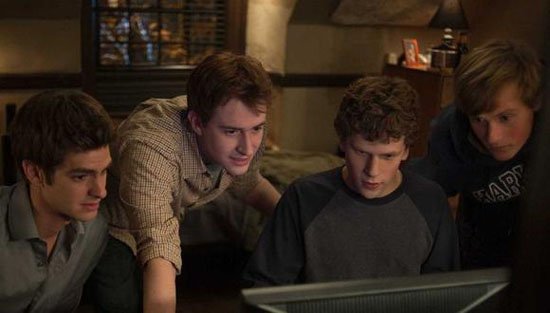 But Zuckerberg needed other collaborators to move his project forward, and this is the part where the film emphasizes the most, in the turbulent relationship of the young inventor of Facebook with his immediate collaborators. A relationship full of misunderstandings, betrayals and manipulations, where the importance of business was more important than any other value of friendship, solidarity or companionship. Facebook was the triumph of pragmatism over everything else.
The film is very well told, it recreates in a very convincing way the environment where the brilliant invention was created, it shows us the details that were lived until its consolidation as the great social network that we all know.
The cast was made up of promising young actors, such as Jesse Eisenberg. Playing Mark Zuckerberg, Andrew Garfield, playing Eduardo Saverin, who was in the project from the beginning, and Armie Hammer and Josh Pence, as the twins Cameron and Tyler Winklevoss, great college classmates.
The film was a huge box office and critical success, for many the best of 2010. Its screenplay won all the nominations for which it was nominated.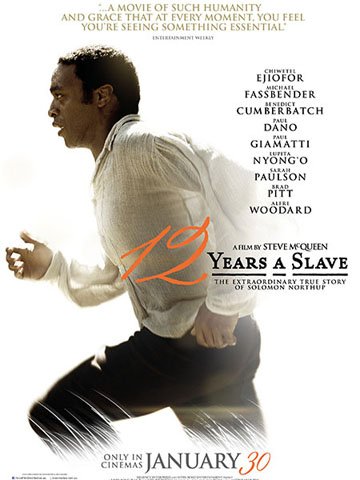 A veces la vida da sorpresas indeseables. Ese fue el caso de Solomon Northup, un negro del Estado de Nueva York que nació en libertad, y que en el año de 1841 es secuestrado por unos tratantes de esclavos que lo llevan al Sur, a Georgia, donde es convertido en esclavo.
Mientras estuvo en Nueva York Northup conoció los atropellos de la discriminación, ser negro en aquel tiempo no era nada fácil. Pero aún así, con todo lo que eso implicaba, nadie era dueño de él y podía disfrutar de una libertad bastante amplia, podía tener su familia, sueños y proyectos. Todo eso cambia al ser abandonado en el Sur, donde su nueva condición de esclavo lo sumerge en una vida miserable.
El director inglés, de ascendencia afro caribeña, Steve McQueen, arma su film a partir de un relato autobiográfico de un hombre que estuvo doce años secuestrado en el Sur de los Estados Unidos, en condiciones de esclavitud.
La película presenta las contradicciones de una sociedad donde coexisten dos sistemas distintos, libertad y esclavitud. Donde las leyes tienen menos peso que la tradición y donde el azar geográfico marcaba la vida de las personas.
Doce años de esclavitud es una película conmovedora, donde podemos apreciar las bondades y miserias del alma humana. Podemos ver una crueldad ilimitada y también la infinita capacidad humana de encontrar razones para vivir, aún en las condiciones más difíciles.
La película contó con un gran elenco entre los que destacan Chiwetel Ejiofor quien interpreta a Solomon Northup y Lupita Nyong'o, quien ganó el Oscar como mejor actriz de reparto. En la película también tuvo un papel Brad Pitt, encarnando al personaje que facilita el regreso de Northup a la libertad.

Sometimes life gives unwanted surprises. That was the case of Solomon Northup, a black man from New York State who was born free, and in the year 1841 is kidnapped by slave traders who take him to the South, to Georgia, where he is turned into a slave.
While in New York, Northup knew the outrages of discrimination, being black at that time was not easy. But even so, with all that that implied, no one owned him and he could enjoy a fairly wide freedom, he could have his family, dreams and projects. All that changes when he is abandoned in the South, where his new condition as a slave plunges him into a miserable life.
The English director, of Afro-Caribbean descent, Steve McQueen, builds his film from an autobiographical account of a man who was kidnapped for twelve years in the South of the United States, in conditions of slavery.
The film presents the contradictions of a society where two different systems coexist, freedom and slavery. Where laws have less weight than tradition and where geographic chance marked people's lives.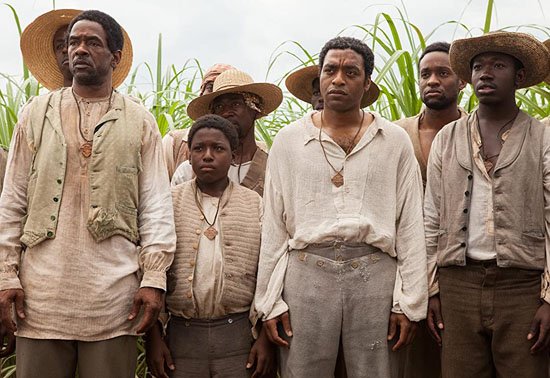 Twelve Years a Slave is a moving film, where we can appreciate the goodness and miseries of the human soul. We can see unlimited cruelty and also the infinite human capacity to find reasons to live, even in the most difficult conditions.
The film featured a great cast including Chiwetel Ejiofor who plays Solomon Northup and Lupita Nyong'o, who won the Oscar for Best Supporting Actress. Brad Pitt also played a role in the film, playing the character who facilitates Northup's return to freedom.

Hago esta publicación atendiendo a la gentil invitación hecha por la amiga @damarysvibra para participar en el reto creado por la amiga @marivic10. Invito a @lunasilver a participar.
I am making this post in response to the kind invitation made by friend @damarysvibra to participate in the [challenge]( https://hive. blog/hive-166847/@marivic10/en-eng-contest--top-3-favorite-movies-based-on-real-facts-participate-and-win-top-3-favorite-movies-based-on-real-even) created by friend @marivic10.
Gracias por tu tiempo.
Thanks for your time.
Translated with www.DeepL.com/Translator (free version)
Fuente de imágenes. I II III IV V VI

Todos tus comentarios son bienvenidos en este sitio. Los leeré con gusto y dedicación.
Hasta una próxima entrega. Gracias.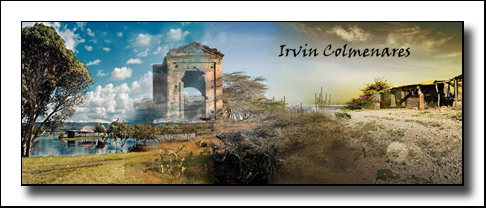 Las fotos, la edición digital y los Gifs son de mi autoría.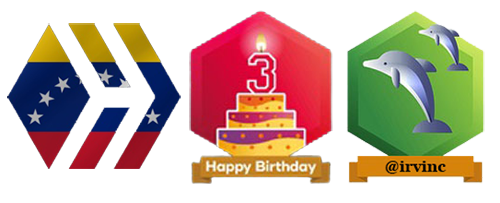 OCD Has a Hive Witness ... @OCD-Witness!