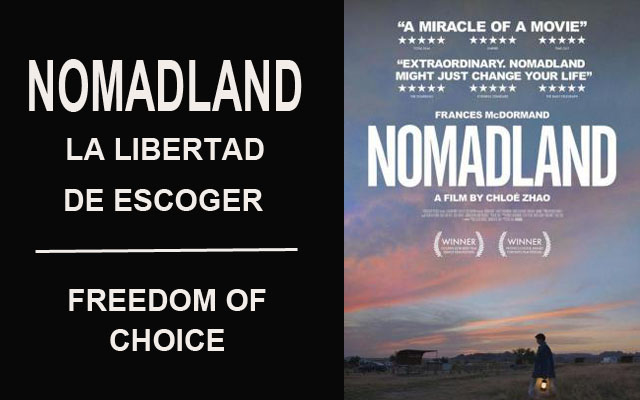 Las películas del género road movies tienen un encanto especial para mí, me recuerdan los años en que solía andar por las largas carreteras de mi país en busca de alguna aventura. De este género las primeras que vi fueron Easy Rider (1969) y Vanishing Point (1971), ambas expresión de un tiempo de fuerte rebeldía juvenil.
En esta oportunidad les comento una película muy original, que aunque puede encajar perfectamente entre las road movies, no es propiamente una obra de ficción sino más bien una mezcla entre documental y drama, un docudrama.
La joven y talentosa directora, guionista y productora china, Chloé Zhao nos presenta en Nomadland una película intimista, de muy alta factura. El film se alzó con la mayoría de los premios del año 2020, incluyendo el Oscar a la mejor película. Lo que es completamente comprensible, porque es muy fácil caer seducido por el encanto de esta joya del séptimo arte.
La inspiración para el guión la encontró la Señora Zhao en una investigación realizada por la periodista Jessica Bruder y que plasmó en el libro: "Surviving America in the Twenty-First Century", allí nos cuenta las peripecias de una nueva minoría surgida como consecuencia de las crisis financieras y que han hecho de la errancia en la carretera su modo de vida.
El gran acierto de la joven directora china fue escoger a Frances McDormand para darle vida a la protagonista de la historia. Ya antes había visto a la Señora Macdormand en dos extraordinarias películas Fargo (1996) y Three Billboards Outside Ebbing, Missouri (2017). A mi juicio es la mejor actriz de estos tiempos, tiene la habilidad de que con solo su mirada es capaz de conmover profundamente, una cualidad que poco se ve en estos tiempos de estridencia.

Films of the road movie genre have a special charm for me, they remind me of the years when I used to travel the long roads of my country in search of adventure. Of this genre, the first ones I saw were Easy Rider (1969) and Vanishing Point (1971), both expressions of a time of strong youthful rebellion.
In this opportunity I comment on a very original film, which although it can fit perfectly among the road movies, it is not properly a work of fiction but rather a mixture between documentary and drama, a docudrama.
The young and talented Chinese director, screenwriter and producer, Chloé Zhao presents in Nomadland an intimate film of very high quality. The film won most of the 2020 awards, including the Oscar for Best Picture. Which is completely understandable, because it is very easy to be seduced by the charm of this jewel of the seventh art.
The inspiration for the screenplay was found by Ms. Zhao in an investigation carried out by journalist Jessica Bruder, which she captured in the book: "Surviving America in the Twenty-First Century", where she tells us about the vicissitudes of a new minority that emerged as a result of the financial crises and who have made wandering on the road their way of life.
The great success of the young Chinese director was to choose Frances McDormand to give life to the protagonist of the story. I had seen Ms. Macdormand before in two extraordinary films Fargo (1996) and Three Billboards Outside Ebbing, Missouri (2017). In my opinion she is the best actress of these times, she has the ability that with just her gaze she is able to move deeply, a quality that is rarely seen in these times of stridency.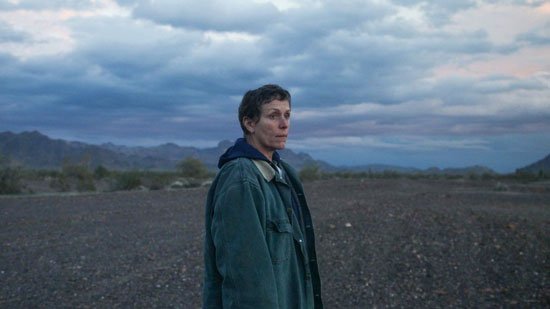 Todo el peso de la película recae en la magistral interpretación de esta gran actriz. En el reparto solo hay dos actores profesionales, ella y David Strathairn, con una participación bastante discreta. El resto de los actores son gente que vive en la carretera, nómadas modernos, lo que le confiere a la película un tono fresco y natural.
La historia comienza cuando Fern (Frances McDormand), una mujer común, ve desmoronarse su vida como consecuencia de un problema económico. La fábrica de yeso que le daba vida a su pueblo natal, Empire, en el desierto de Nevada, cierra sus operaciones como consecuencia de la crisis financiera. Al quedar el pueblo sin fuente de trabajo, los habitantes parten en estampida, fue tal la desolación que hasta se borró de los registros el código postal de la localidad.
Para colmo de males, muere el marido de Fern. Su repuesta ante esta adversidad fue tomar su camioneta y hacer de la carretera su hogar permanente.
Desde las primeras tomas se ve la maestría de la Joven directora para crear atmósferas. Una combinación de cámara al hombro con lindos planos abiertos, donde el paisaje se incorpora como el otro gran protagonista, nos sumerge en la vivencia de la protagonista.
Paso a paso se va presentando a manera de pequeños episodios el modo de vida de los nuevos nómadas, los que resuelven su día a día empleándose transitoriamente en una especie de circuito de oportunidades temporales. La gran mayoría de estos nómadas son gente de avanzada edad, quienes han recibido la peor parte de un sistema donde las personas son concebidas como un recurso desechable y prescindible, no como seres humanos.

All the weight of the film falls on the masterful interpretation of this great actress. In the cast there are only two professional actors, her and David Strathairn, with a rather discreet participation. The rest of the actors are people who live on the road, modern nomads, which gives the film a fresh and natural tone.
The story begins when Fern (Frances McDormand), an ordinary woman, sees her whole life fall apart as a result of an economic problem. The plaster factory that gave life to her hometown, Empire, in the Nevada desert, closes its operations as a result of the financial crisis. When the town was left without a source of work, the inhabitants left in a stampede, such was the desolation that even the zip code of the town was erased from the records.
To make matters worse, Fern's husband died. Her response to this adversity was to take her truck and make the road her permanent home.
From the first shots, the young director's mastery in creating atmosphere is evident. A combination of shoulder camera with beautiful open shots, where the landscape is incorporated as the other great protagonist, immerses us in the experience of the protagonist.
Step by step, the way of life of the new nomads is presented in the form of small episodes, those who resolve their daily lives by temporarily working in a kind of circuit of temporary opportunities. The vast majority of these nomads are elderly people, who have received the brunt of a system where people are conceived as a disposable and expendable resource, not as human beings.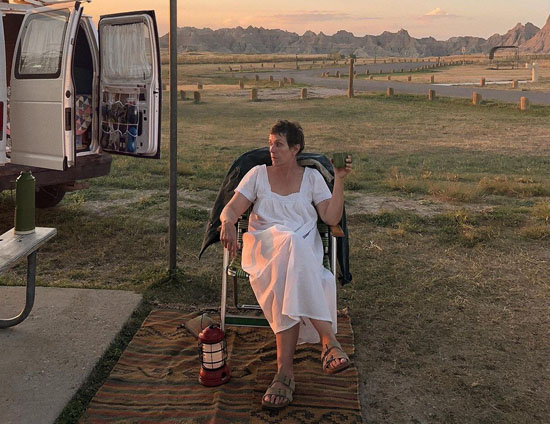 Otro de los grandes aciertos de la película es su excelente guión, que permite encontrar una narrativa donde todo calza perfectamente, sin que en realidad se esté contando alguna historia al modo tradicional, de introducción nudo y desenlace. En ese aspecto la película es muy original.
A mí me gustó mucho el tono de la película. Aún cuando la situación contada es de un profundo dramatismo, no se recurre a la sensiblería para estimular la atención del espectador. Más bien la tendencia es hacia la sobriedad, lo que no impide conectarse con los fuertes sentimientos expresados por los protagonistas de la historia.
Nomadland es una película que trata sobre nuestras elecciones, sobre el significado que puede tener para cada quien la dignidad, sobre el derecho de cada quien a encontrarse consigo mismo.
Y es que muchas de esas personas pudieran irse a vivir con familiares que estarían encantados de atenderlos, no están completamente desamparados. Sin embargo, ellos han preferido ese modo de vida. Es su manera de renunciar, todavía a tiempo, a una vida vacía y sin propósito. Porque una de las cosas que más llamó mi atención es la facilidad conque todos ellos encuentran los pequeños detalles que permiten darle plenitud a la vida.
Esta es una gran película que seguramente será del agrado de todos los que disfrutan de un cine donde se busque conocer el alma humana.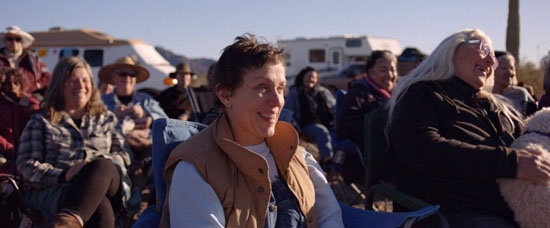 Another of the film's great successes is its excellent script, which allows us to find a narrative where everything fits perfectly, without actually telling a story in the traditional way, with an introduction, knot and denouement. In that aspect the film is very original.
I really liked the tone of the film. Even though the situation told is deeply dramatic, it does not resort to sentimentality to stimulate the viewer's attention. Rather, the tendency is towards sobriety, which does not prevent one from connecting with the strong feelings expressed by the protagonists of the story.
Nomadland is a film about our choices, about the meaning that dignity can have for each person, about the right of each person to find himself or herself.
And the fact is that many of these people could go to live with relatives who would be happy to take care of them. However, they have preferred this way of life, which in a way is the renunciation in time to an empty and purposeless life. Because one of the things that caught my attention is how easy it is for them to find the small details with which to fill their life with fulfillment.
This is a great film that will surely be liked by all those who enjoy a film that seeks to know the human soul.

Gracias por tu tiempo.
Thank you for your time.
Translated with www.DeepL.com/Translator (free version)
Portada editada con Photoshop.
Fuente de imágenes. I II III IV

Todos tus comentarios son bienvenidos en este sitio. Los leeré con gusto y dedicación.
Hasta una próxima entrega. Gracias.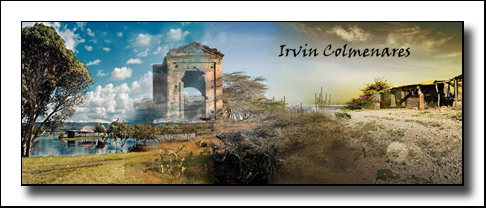 Las fotos, la edición digital y los Gifs son de mi autoría.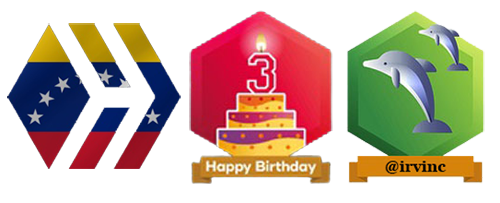 No te olvides de votar @cervantes como witness en esta página:
https:/wallet.hive.blog/~witnesses

Te invito a apoyar este proyecto como witnes y a formar parte de esta gran comunidad uniéndote a su Discord en el siguiente enlace:

OCD Has a Hive Witness ... @OCD-Witness!