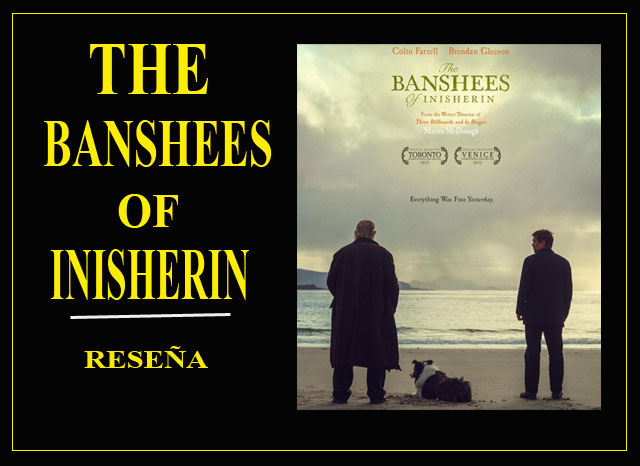 Pueblo chiquito, infierno grande. Esta pareciera ser la premisa presente en "The Banshees of Inisherin" (2022), la última producción del guionista y director Inglés Martin McDonagh.
La película está situada en los años veinte del siglo pasado, en una pequeña isla de Irlanda donde la vida transcurre con bastante lentitud, donde la gente vive en medio de un gran aislamiento. En la zona no hay electricidad, radio, tv o teléfono. La poca información que circula la reciben los habitantes por medio de las embarcaciones que llegan de "la isla grande" y a través del telégrafo.
Como es lógico suponer, en un ambiente como ese todos se conocen. Allí las relaciones interpersonales llegan a ser muy fuertes y la gente vive apegada a estrictas rutinas que se repiten invariablemente a través del tiempo.
La historia comienza con la ruptura de una amistad entre dos hombres de mediana edad que aparentemente eran muy cercanos, se visitaban con frecuencia, acudían juntos al Pub local, y compartían largas horas de conversación.
De pronto uno de ellos, Colm (Brendan Gleeson), decide que ya no desea seguir viendo al otro, Padraic (Colin Farrell). Una situación que sorprende no solo a Padraic sino a todas las personas allegadas a él, nadie entiende por qué de un momento a otro se rompe lo que para muchos era una gran amistad.
Desde el primer momento Padraic se resiste a aceptar la decisión de Colm, no puede asimilar que sea excluido de la vida del otro, se siente descolocado, sin piso, y se sume en una angustia terrible.
Colm, por su parte, actúa con una gran sinceridad. Le dice a Padraic que necesita tiempo para desarrollar proyectos personales, que ya no quiere dedicar largas horas a escuchar los intrascendentes cuentos de su amigo.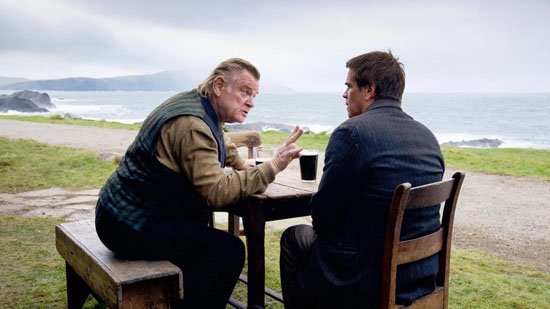 Pero Padraic no puede con aquello, se niega. Comienza un estado de acecho y persecución que saca de sus casillas a Colm, se le aparece en su casa, lo espera en los caminos comunes. Colm se siente hastiado y agotado. Como última solución decide poner a prueba al viejo amigo; lo amenaza con tomar acciones radicales que atentan contra la integridad del mismo Colm, son unos actos tan extremos que pudieran considerarse en los límites del pensamiento racional.
A partir de ese momento los acontecimientos se van a desarrollar de forma dramática. Ninguno de los dos hombres cede y mantienen su obstinación hasta romper todas las reglas de la convivencia.
Opinión


"The Banshees of Inisherin" es una película un poco extraña que se aparta de los cánones tradiciones. En general me gusta este tipo de cine donde los directores parecen no atender a convenciones comerciales o de otro tipo, solo les interesa ofrecer su obra tal como la conciben, así no goce del aprecio de las grandes audiencias.
No me es fácil catalogar la película, digamos que es una obra dramática salpicada por un humor negro muy fino, casi imperceptible, pero que se deja colar en todos los momentos de la trama.
A primera vista pudiera llegarse a la conclusión que el argumento es un poco flojo, no hay grandes nudos dramáticos que nos lleven desde el inicio al desenlace. Pero esto mismo también puede ser uno de los méritos de la película puesto que nos deja una forma muy particular de hacer cine.
Un asunto que me llamó la atención es la decisión del director de poner el acento en lo negativo que puede ser la vida rural en las pequeñas comunidades. Otros exaltan, quizá con una visión romántica, las bondades de los ambientes rurales y pequeños. Pero Martin McDonagh es implacable. Luego de ver esta película muchos se cuestionaran sobre las ventajas de vivir en un pueblo pequeño.
Entre las cosas que me gustaron está la variedad de los personajes que se presentan en el film.
Tenemos a un Padraic que aparentemente es un hombre sencillo, ingenuo, "amable", como el mismo se define, muy conforme con las circunstancias que la vida le ha dejado. Para él es suficiente con vivir cada día las rutinas de su pequeño mundo. Pero también late en su interior el espíritu de un ser intransigente capaz de engañar a un estudiante forastero y de planificar su venganza con toda minuciosidad.
Su "amigo" Colm es un hombre que atraviesa por una crisis existencial, no se conforma con la vida que ha llevado. De pronto ha caído en cuenta de que los años se le están yendo muy rápido y no ha hecho nada transcendental, no quiere morirse sin dejar aunque sea un pequeño legado.
Por eso considera que pierde su valioso tiempo al estar hablando con su amigo Padraic lo que ahora ve como trivialidades. Quiere dedicarse a la música, donde tiene una fortaleza notoria, y aspira componer una obra que resista el paso del tiempo. Pero su obstinación lo va a sacar de ese propósito.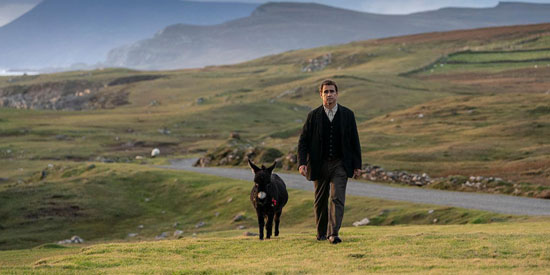 Otro gran personaje es Siobhan (Kerry Condon), la hermana de Padraic. Es una mujer fuerte que tampoco está conforme con la vida que lleva, considera que el mundo de la pequeña isla es asfixiante, castrador. Su dedicación a la lectura le ha permitido una mayor comprensión de la vida y quiere hacer otras cosas. Va a confrontar un momento de duda cuando se le presenta la oportunidad de dejar la isla para tener un mejor futuro.
Para ella es difícil dejar al hermano, están muy unidos, hasta duermen los dos en pequeñas camas en el mismo cuarto, ella vela por él, lo cuida como si fuera pequeño. Pero al final sacará la fuerza para ir en busca de sus sueños.
Un personaje muy interesante es Dominic (Barry Keoghan), un muchacho con algún tipo de trastorno mental. Los ojos de él no conocen filtros. Dice las cosas de manera directa, transparente, espontánea, sin calcular las consecuencias, por lo que tiene tendencia a meterse en problemas. Este personaje tiene la cualidad de decir lo que los otros callan.
Otros méritos de la película tienen que ver con la excelente fotografía y la banda sonora compuesta por melodías y sonoridades propias del folclore irlandés. La fotografía es soberbia, convierte al paisaje en un gran protagonista.
El conjunto de las actuaciones, tanto de los protagonistas como las del reparto son impecables.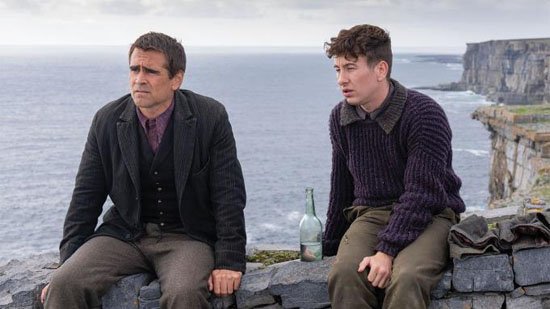 Para muchos, Colin Farrell ha hecho en esta película la mejor interpretación de su carrera. En verdad que su personaje se siente genuino, natural, nos transmite la angustia y desazón de un hombre que de pronto ha visto vuelta añicos su autoimagen, que se siente en el limbo de no saber cómo en realidad lo han percibido los otros y que no le es fácil seguir adelante.
A mí me gustó más la interpretación de Brendan Gleeson. Colm es un hombre sosegado, una referencia de ecuanimidad y postura ética, con unos principios sólidos, pero con una determinación que pudiera estar en los límites de la cordura.
También nos dejan grandes actuaciones Barry Keoghan y Kerry Condon.
El resto del reparto cumple a la perfección con los papeles asignados. Esos personajes secundarios tienen tal nivel de naturalidad en sus actuaciones que nos hacen sentir que en realidad estamos en el sitio con ellos.
La película ha tenido buena acogida por la crítica, sin embargo, también cuenta con sus detractores que la consideran sobrevalorada.
A mí me pareció una buena película, original en su planteamiento y que soporta varias lecturas. Se las recomiendo si les gustan este tipo de películas un poco raras…
Gracias por tu tiempo.
Fuente de imágenes. I II III IV


Small town, big hell. This seems to be the premise present in "The Banshees of Inisherin" (2022), the latest production of the English screenwriter and director Martin McDonagh.
The film is set in the 1920s, on a small island in Ireland where life goes rather slowly, where people live in great isolation. There is no electricity, radio, TV or telephone in the area. The little information that circulates is received by the inhabitants by means of the boats that arrive from "the big island" and through the telegraph.
As it is logical to suppose, in such an environment everyone knows each other. There, interpersonal relationships become very strong and people live attached to strict routines that are invariably repeated over time.
The story begins with the breakup of a friendship between two middle-aged men who were apparently very close, visited each other frequently, went to the local pub together, and shared long hours of conversation.
Suddenly one of them, Colm (Brendan Gleeson), decides he no longer wishes to see the other, Padraic (Colin Farrell). A situation that surprises not only Padraic but everyone close to him, no one understands why from one moment to another breaks what for many was a great friendship.
From the first moment Padraic resists to accept Colm's decision, he cannot assimilate that he is excluded from the other's life, he feels out of place, without a floor, and is plunged into a terrible anguish.
Colm, for his part, acts with great sincerity. He tells Padraic that he needs time to develop personal projects, that he no longer wants to spend long hours listening to his friend's inconsequential stories.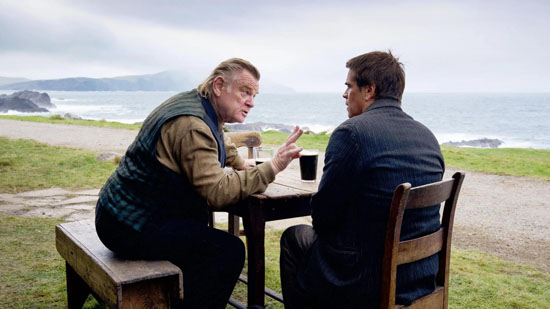 But Padraic can't take it, he refuses. He begins a state of stalking and persecution that drives Colm out of his mind, he appears at his house, he waits for him on the common roads. Colm feels jaded and exhausted. As a last solution, he decides to put the old friend to the test; he threatens him with radical actions that threaten Colm's own integrity, acts so extreme that they could be considered at the limits of rational thought.
From that moment on, events unfold dramatically. Neither of the two men give in and maintain their obstinacy until they break all the rules of a healthy coexistence.
Opinion


"The Banshees of Inisherin" is a somewhat strange film that departs from the traditional canons. In general, I like this kind of cinema where directors seem not to pay attention to commercial or other conventions, they are only interested in offering their work as they conceive it, even if it does not enjoy the appreciation of large audiences.
It is not easy for me to categorize the film, let's say that it is a dramatic work sprinkled with a very fine black humor, almost imperceptible, but that sneaks into every moment of the plot.
At first glance it could be concluded that the plot is a bit weak, there are no big dramatic knots that lead us from the beginning to the denouement. But this could also be one of the merits of the film, since it leaves us with a very particular way of making cinema.
One issue that caught my attention is the director's decision to emphasize how negative rural life in small communities can be. Others exalt, perhaps with a romantic vision, the goodness of rural and small environments. But Martin McDonagh is relentless. After watching this film many will question the advantages of living in a small town.
Among the things I liked is the variety of characters presented in the film.
We have a Padraic who is apparently a simple, naive, "kind" man, as he defines himself, very content with the circumstances that life has left him. For him it is enough to live every day the routines of his small world. But there also beats within him the spirit of an uncompromising being capable of deceiving an outsider student and planning his revenge with great care.
His "friend" Colm is a man going through an existential crisis, not content with the life he has led. He has suddenly realized that the years are passing too quickly and he has not done anything transcendental, he does not want to die without leaving even a small legacy.
That is why he considers that he is wasting his valuable time talking to his friend Padraic about what he now sees as trivialities. He wants to devote himself to music, where he has a notorious strength, and aspires to compose a work that will stand the test of time. But his stubbornness is going to drive him from that purpose.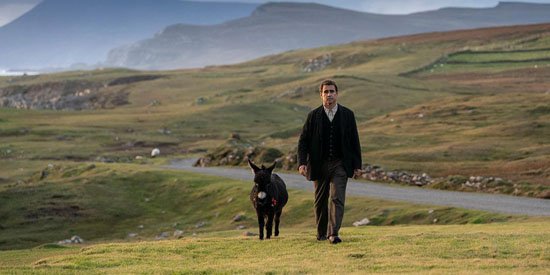 Another great character is Siobhan (Kerry Condon), Padraic's sister. She is a strong woman who is also unhappy with the life she leads, she finds the world of the small island stifling, emasculating. Her dedication to reading has given her a greater understanding of life and she wants to do other things.She will face a moment of doubt when she is presented with the opportunity to leave the island to have a better future.
It is difficult for her to leave her brother, they are very close, they even sleep in small beds in the same room, she watches over him, takes care of him as if he were small. But in the end she will find the strength to go in search of her dreams.
A very interesting character is Dominic (Barry Keoghan), a boy with some kind of mental disorder. His eyes know no filters. He says things in a direct, transparent, spontaneous way, without calculating the consequences, so he has a tendency to get into trouble. This character has the quality of saying what others are silent about.
Other merits of the film have to do with the excellent photography and the soundtrack composed of melodies and sounds of Irish folklore. The photography is superb, turning the landscape into a great protagonist.
The performances, both of the main characters and the cast, are impeccable.
For many, Colin Farrell has given the best performance of his career in this film. In truth, his character feels genuine, natural, he transmits the anguish and dismay of a man who has suddenly seen his self-image shattered, who feels in the limbo of not knowing how others have really perceived him and that it is not easy for him to move forward.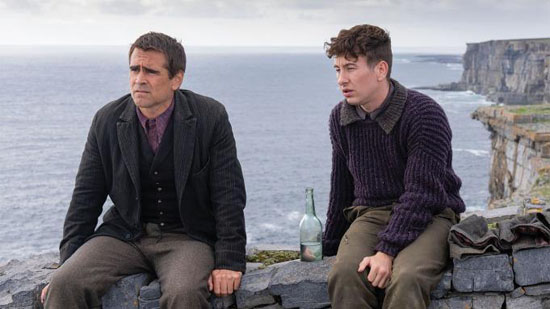 I liked Brendan Gleeson's performance best. Colm is a calm man, a reference of equanimity and ethical stance, with solid principles, but with a determination that could be on the limits of sanity.
We also get great performances from Barry Keoghan and Kerry Condon.
The rest of the cast fulfills their assigned roles to perfection. These supporting characters have such a level of naturalness in their performances that they make us feel like we are actually on the spot.
The film has been well received by critics, however, it also has its detractors who consider it overrated.
I thought it was a good film, original in its approach and that supports several readings. I recommend it to you if you like this kind of movies a little bit weird...
Thanks for your time.
Translated with www.DeepL.com/Translator (free version)

Todos tus comentarios son bienvenidos en este sitio. Los leeré con gusto y dedicación.
Hasta una próxima entrega. Gracias.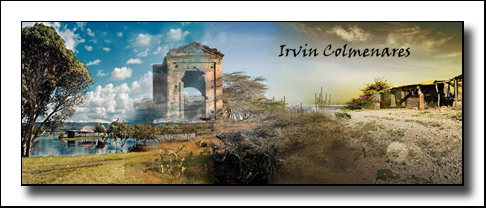 Las fotos, la edición digital y los Gifs son de mi autoría.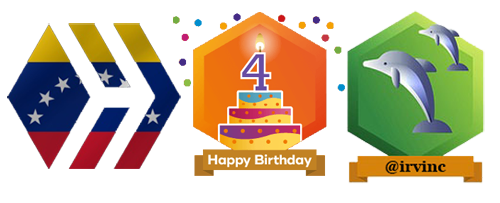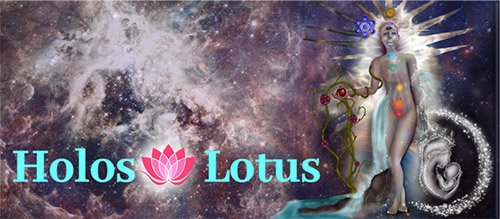 Comunidad Be Entrepreneur