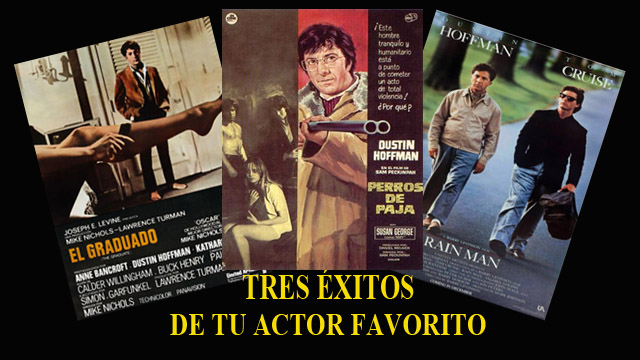 Mi buena amiga @soyalex sabe de mi gusto por el cine, así que ha tenido la gentileza de invitarme a esta iniciativa creada por la amiga @marysenpai para hablar sobre tres películas donde hayan participado nuestros actores favoritos. Les comento…
El Graduado (1967)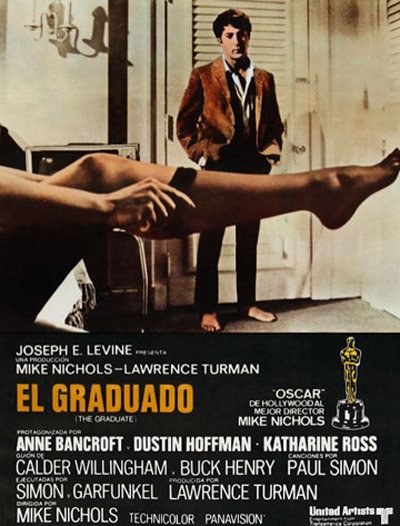 Mucho antes de ver la película yo había escuchado los principales temas de su banda sonora creada por Simón y Garfunkel, unos músicos excepcionales que nos dejaron excelentes composiciones y que siguen sonando en el Universo del Pop. Así que cuando fui a uno de los tantos cines en Este de Caracas tenía grandes expectativas por ver la película.
Para mí, y creo que para muchos en ese entonces, Dustin Hoffman era un actor poco conocido. El graduado era una de sus primeras películas. Sin embargo, la impecable actuación que hizo en ese film, donde consiguió una nominación como mejor actor para los premios Oscar, pronto lo puso en el firmamento de las estrellas del séptimo arte.
La película tocaba temas atrevidos para la época, era un momento en el que el cine cada día ponía el foco en problemas que se mantenían silenciados.
Benjamin Braddock, interpretado por Dustin Hoffman, es un joven graduado pasando vacaciones en su casa. Allí visita a los Robinson y comienza una relación con la hija de la familia, la bellísima Elaine, interpretada por Katharine Ross. Pero la aburrida señora Robinson, interpretada por la veterana Anne Bancroft, decide distraerse con Benjamin, lo seduce y lo mantiene un tiempo como amante. Sin embargo, Benjamin no se olvida de Elaine y la señora Robinson en venganza deja que se conozcan las cosas, lo que produce la ruptura entre los dos jóvenes.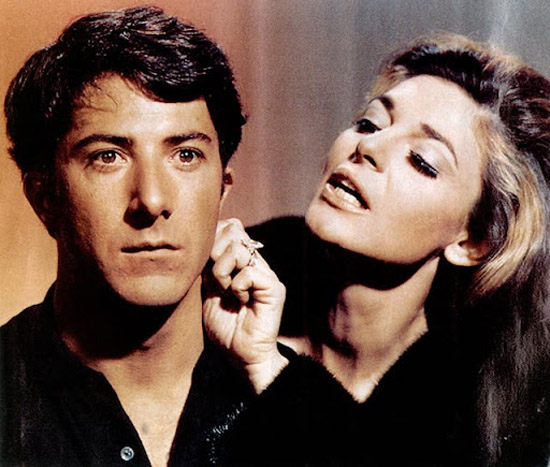 Pero Benjamin no se rinde y en una escena memorable, donde Hoffman, corre como loco por la calle para llegar a la iglesia e impedir, en el último momento, la boda de Elaine, logra que esta recapacite y decida fugarse con él.
La película fue todo un éxito de taquilla y de crítica; ganó el Oscar para mejor director y contó con varias nominaciones. En el año 1996 fue elegida para formar parte del acervo fílmico norteamericano.

Perros De Paja (1971)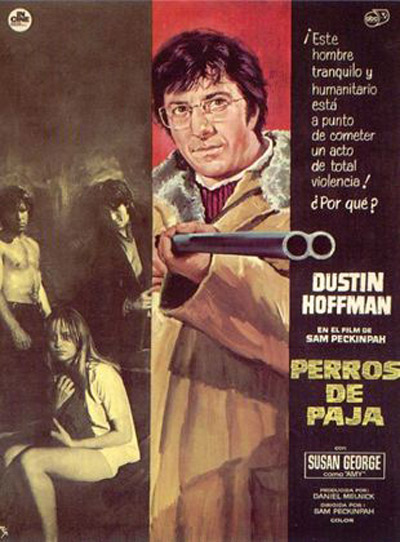 Luego del Graduado me aficioné por las películas de Hoffman. Ha sido un actor con gran capacidad de darle vida a los personajes más disímiles. Los "Perros de paja", quizá no haya sido tan exitosa como otras películas del actor, pero desde que la vi la primera vez me impactó.
David Summer, interpretado por Hoffman, es un profesor universitario. Decide trasladarse junto a su esposa Amy, interpretada por Susan George, a un apasible pueblo de la campiña británica. La idea de David es conseguir un sitio tranquilo donde poder concentrarse en sus actividades académicas.
Desde el principio se crea una tensión que no parara de crecer. Los lugareños no ven con buenos ojos al visitante. No les gustan los extraños y menos un tipo que tiene poca apertura para integrarse a la comunidad. Para colmo, Amy comienza a ser presa del aburrimiento, y para no fastidiarse comienza a coquetear.
Los vecinos interpretan las insinuaciones de Amy como un gesto de debilidad por parte de su esposo. Buscan de aprovecharse de ella mientras el profesor está concentrado en sus asuntos. Progresivamente van haciendo todo tipo de bromas pesadas al profesor, burlándose, tratándolo como si fuera un don nadie, un ser inferior.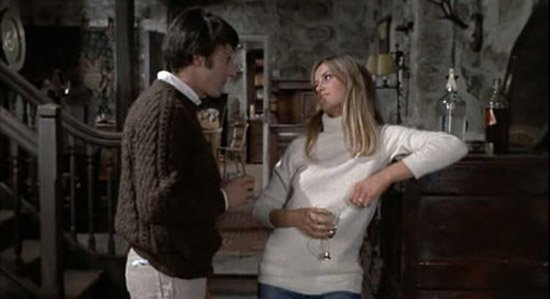 Las cosas se salen de control y el pacífico profesor Summer, usará toda su inteligencia para lograr vengarse de sus vecinos.
Cada vez que he visto esta película la tensión generada me atrapa al punto de dolerme el estómago. Hoffman es capaz de meternos en la piel de un hombre angustiado, humillado y que pasa de ser una oveja a convertirse en un lobo feroz. Para mí esta fue una de las grandes actuaciones de Hoffman.

Rain Man (1988)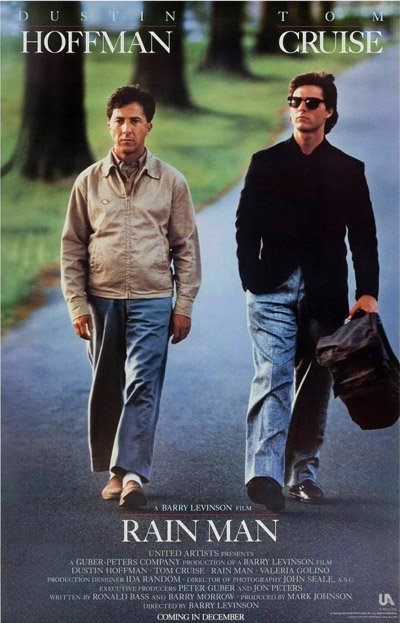 Otra gran película de Dustin Hoffman en la que muestra su capacidad de salir adelante con cualquier personaje que le pongan delante.
Charles Babbitt, interpretado por Tom Cruise, es un exitoso vendedor de autos, aficionado a los juegos, donde como suele suceder pocas veces gana y muchas pierde, pero sus ingresos le dan para tener una vida cómoda.
Un día le informan que su padre ha muerto y le deja como herencia un lindo carro descapotable. En el acto del entierro se entera que también tiene un hermano mayor, Raymond, interpretado por Hoffman, al que su padre le ha dejado casi la totalidad de la herencia. El problema es que Raymond es autista y requiere ser atendido permanentemente.
La trama se desarrolla alrededor del proceso que viven ambos personajes para adaptarse el uno al otro. Para Charles no es fácil vivir con su hermano, no sabe cómo tratarlo. Además, le resulta completamente inoportuno para llevar su ritmo de vida. Para Raymond, tampoco es fácil la situación, debido a su condición él necesita un ambiente estable, lo que Charles no está dispuesto a brindarle.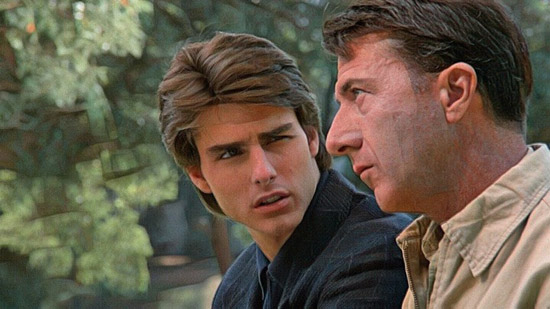 Pero Charles se va encariñando con el hermano y se da cuenta de algo muy importante, Raymond pertenece a un pequeño grupo de autistas que tienen condiciones intelectuales de alto nivel. Esto le va a ser de provecho a Charles, ya que utiliza esas habilidades del hermano para ganar en el juego.
En esta película Hoffman hizo un trabajo sobresaliente, logró encarnar el difícil papel de un autista. Su personaje fue tan creíble que conquistó el corazón del público. Por esta película ganó un Oscar como mejor actor y la película recogió una buena cosecha de premios. Es un film que se los recomiendo.
Una vez más agradezco a la amiga @soyalex por invitarme a la iniciativa. Para darle continuidad invito a la amiga @damarysvibra y al amigo @cetb2008.
Gracias por tu tiempo.
Fuente de imágenes. I II III IV V VI


My good friend @soyalex knows about my taste in movies, so she was kind enough to invite me to this [initiative] (https://hive. blog/hive-166847/@marysenpai/initiative-3-hits-of-your-favorite-actor-or-or-initiative-3-hits-of-your-favorite-actor-actress-esp-ing) created by friend @marysenpai to talk about three movies where our favorite actors have participated. I'll tell you...
The Graduate (1967)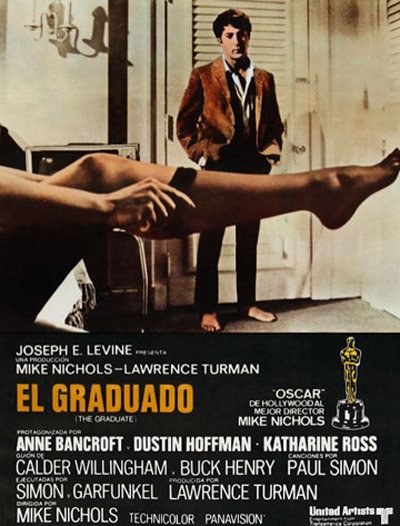 Long before watching the movie I had listened to the main themes of its soundtrack, created by Simon and Garfunkel, exceptional musicians who left us excellent compositions that are still playing in the Pop Universe. So when I went to one of the many movie theaters in East Caracas I had great expectations to see the movie.
For me, and I think for many at that time, Dustin Hoffman was a little known actor. The Graduate was one of his first films. However, the impeccable performance he gave in that film, where he got a Best Actor nomination for the Oscars, soon put him in the firmament of the stars of the seventh art.
The film touched on daring themes for the time, it was a moment in which cinema every day put the spotlight on problems that were kept silent.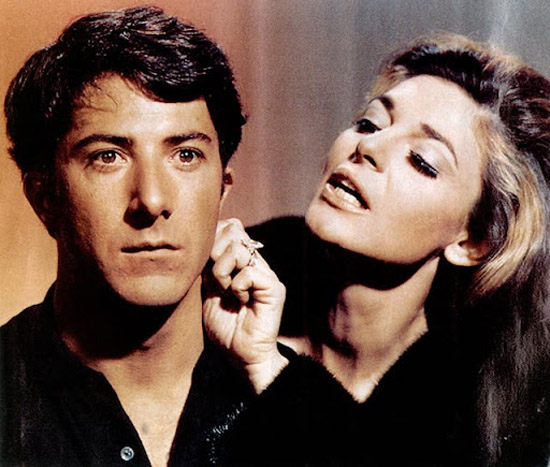 Benjamin Braddock, played by Dustin Hoffman, is a young graduate vacationing at home. There he visits the Robinsons and begins a relationship with the family's daughter, the beautiful Elaine, played by Katharine Ross. But the bored Mrs. Robinson, played by the veteran Anne Bancroft, decides to distract herself with Benjamin, seduces him and keeps him as a lover for a while. However, Benjamin does not forget about Elaine and Mrs. Robinson in revenge lets things be known, resulting in the breakup between the two young people.
But Benjamin does not give up and in a memorable scene, where Hoffman runs like crazy down the street to get to the church and prevent, at the last moment, Elaine's wedding, he manages to make her come to her senses and decide to elope with him.
The film was a box-office and critical success; it won the Oscar for best director and had several nominations. In 1996 it was chosen to be part of the American film archive.

Straw Dogs (1971)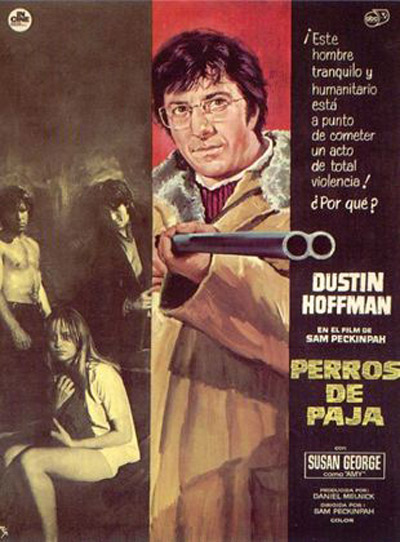 After The Graduate I became fond of Hoffman's films. He has been an actor with a great capacity to give life to the most dissimilar roles. Straw Dogs" may not have been as successful as others, but from the first time I saw it, it made an impact on me.
David Summer, played by Hoffman, is a university professor. He decides to relocate with his wife Amy, played by Susan George, to a pleasant village in the British countryside. David's idea is to get a quiet place where he can concentrate on his academic pursuits.
From the beginning, tension builds and grows. The locals don't take kindly to the visitor. They don't like strangers, let alone a guy who has little openness to integrate into the community. To make matters worse, Amy begins to fall prey to boredom, and to avoid being annoyed, she starts flirting.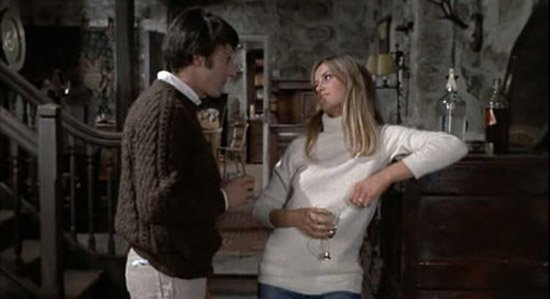 The neighbors interpret Amy's advances as a gesture of weakness on her husband's part. They try to take advantage of her while the professor is concentrating on his business. They progressively play all kinds of practical jokes on the professor, making fun of him, treating him as if he were a nobody, an inferior being.
Things get out of control and the peaceful Professor Summer, will use all his intelligence to get revenge on his neighbors.
Every time I've seen this movie, the tension generated grips me to the point of making my stomach hurt. Hoffman is able to put us in the shoes of an anguished, humiliated man who goes from being a sheep to becoming a ferocious wolf. For me this was one of Hoffman's greatest performances.

Rain Man (1988)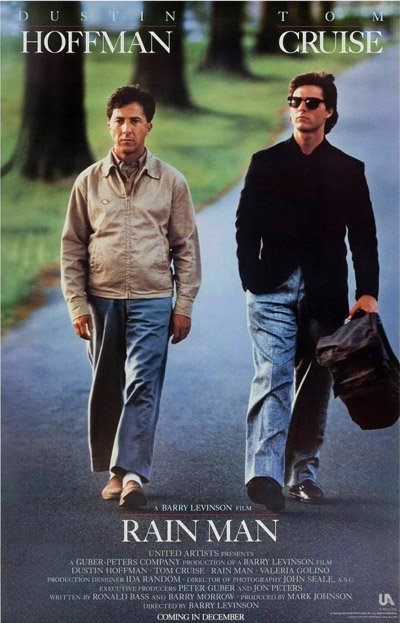 Another great film by Dustin Hoffman in which he shows his ability to get ahead with any character that is put in front of him.
Charles Babbitt, played by Tom Cruise, is a successful car salesman, fond of games, where as usual he rarely wins and often loses, but his income gives him a comfortable life.
One day he is informed that his father has died and leaves him a nice convertible car as an inheritance. At the funeral, he learns that he also has an older brother, Raymond, played by Hoffman, to whom his father has left almost the entire inheritance. The problem is that Raymond is autistic and requires constant care.
The plot develops around the process that both characters go through to adapt to each other. It is not easy for Charles to live with his brother, he does not know how to treat him. In addition, he finds it completely inconvenient for him to lead his rhythm of life. For Raymond, the situation is not easy either, because of his condition he needs a stable environment, which Charles is not willing to give him.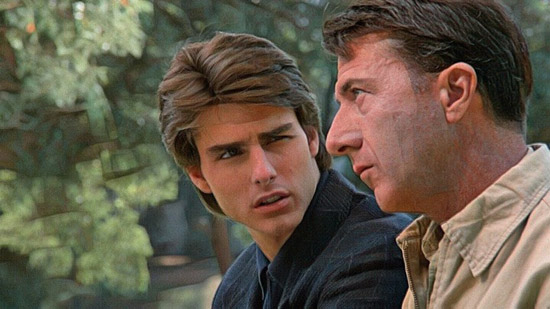 But Charles grows fond of his brother and realizes something very important: Raymond belongs to a small group of autistic people who have high level intellectual conditions. This will be very useful to Charles, for example, to win at gambling.
Hoffman had an outstanding role here, he managed to embody the difficult role of an autistic. His character was so believable that he won the hearts of the audience. For this film he won an Oscar for best actor and the film collected a good crop of awards. It is a film that I highly recommend.
Once again I thank my friend @soyalex for inviting me to the initiative. For continuity I invite my friend @damarysvibra and my friend @cetb2008.
Thanks for your time.
Translated with www.DeepL.com/Translator (free version)

Todos tus comentarios son bienvenidos en este sitio. Los leeré con gusto y dedicación.
Hasta una próxima entrega. Gracias.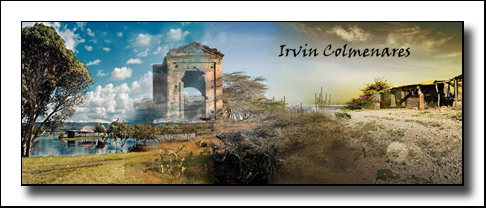 Las fotos, la edición digital y los Gifs son de mi autoría.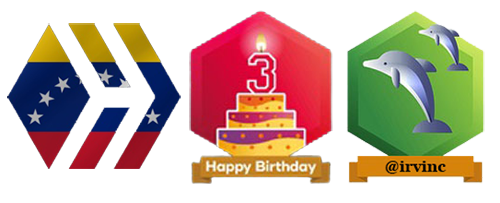 No te olvides de votar @cervantes como witness en esta página:
https:/wallet.hive.blog/~witnesses

Te invito a apoyar este proyecto como witness y a formar parte de esta gran comunidad uniéndote a su Discord en el siguiente enlace: