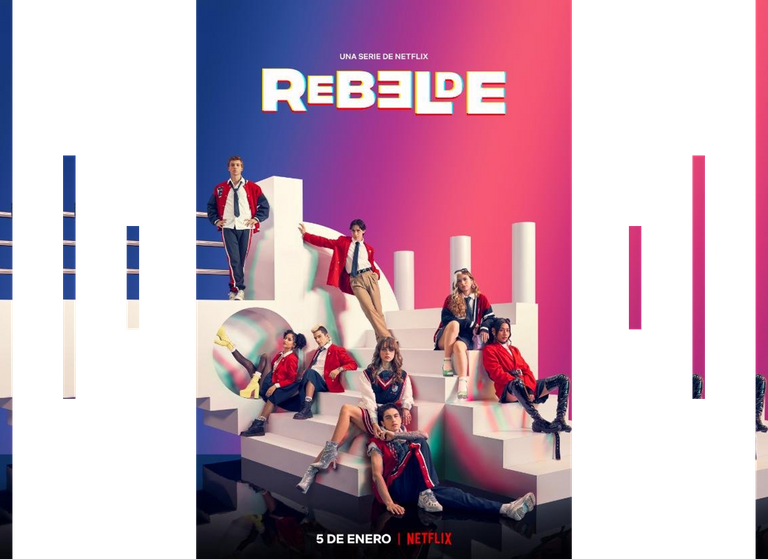 Days ago I got tired of watching things in English for a while so I started watching Rebel, since the teaser trailer came out I loved it and after watching it I can say that it perfectly meets the expectations, it is not as bad as you might think, but it is not one of the best series that Netflix has done, I just hope that if they confirm next seasons they don't mistreat it as they did with Elite, please, the last season I didn't even watch it because everything was already a bad joke that they didn't know how to tell.
A new school year begins in the Elite Way School, new students arrive that if possible change the panorama for the students of the upper years, and although it was suspected that The Lodge no longer existed for 18 years, the first hazing takes place to newcomers in all that time, which confirms the existence of The Lodge, and from there on the road is made of broken glass for newcomers who just want to participate in the famous battle of the bands that characterizes EWS.

Hace días me cansé de ver cosas en inglés por un rato así que me puse a ver Rebelde, desde que salió el teaser trailer me encantó y después de verla puedo decir que cumple perfectamente con las expectativas, no es tan mala como se puede llegar a pensar, pero tampoco es una de las mejores series que Netflix haya hecho, solo espero que si confirman próximas temporadas no la maltraten como hicieron con Elite, por favor, que la última temporada ni siquiera la vi porque todo era ya un chiste malo que no sabían contar.
Se inicia un nuevo año escolar en la Elite Way School, llegan nuevos estudiantes que si es posible cambian el panorama para los estuiantes de los años superiores, y aunque se sospechaba que La Logia no existía más desde hace 18 años, tiene lugar la primera novatada a los recien llegados en todo ese tiempo, con lo que se confirma la existencia de La Logia, y a apartir de ahí el camino está hecho de vidrios rotos para los recién llegados que tan solo quieren participar en la famosa batalla de las bandas que caracteriza a EWS.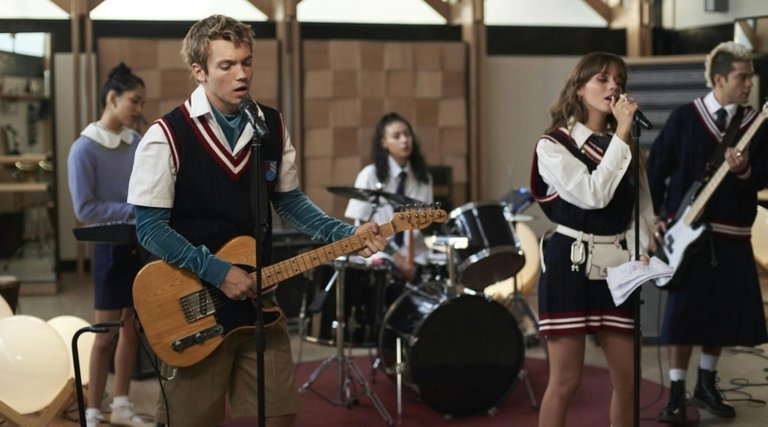 The performances are half bad, if not completely bad, I must say that at first, by understanding that part, plus the almost completely implausible situations in which the characters are going to be and that make the series too fanciful, we get to not expect much from the series and you can enjoy it completely. I liked it, I loved it, it was too much fun, plus it touches on very specific issues in the right way and makes its value increase.
With the trailer you can already realize that diversity will always be present, gay characters, bisexuals, lesbians, unfortunately, there are heterosexuals, in the first chapter they already make mention of non-binary language, and all that leads me to talk about Dixon, one of my favorite characters, he is presumably straight, from Colombia, rapper, and none of that prevents him from wearing skirts, which look divine on him, painting his nails, which look divine on him, and having a fashion style completely out of this world, I loved him and that's why I love the series.
And I don't know what else to write. Another thing I also liked is that even though the series will obviously have nods to its predecessors, one of its characters is also present as a director, and that of course, they sing the same RBD songs from years ago, it is not a series based on nostalgia nor is it a complete copy, it has its own character, kind of bad, but it is not more of the same, and that's a good thing because they made a good first season that if they know how to work it, it becomes a good series.

Los actuaciones son medio malas, si no malas por completo, eso debo decirlo de primero, al entender esa parte, además de las situaciones casi por completo inverosímiles en las que van a estar los personajes y que vuelven la serie demasiado fantasiosa, llegamos a no esperar mucho de la serie y se puede disfrutar por completo. Me gustó, me encantó, fue demasiado divertida, además de que toca temas muy puntuales de formas correctas y hace que su valor aumente.
Con el trailer ya se podrán dar cuenta de que la diversidad va a estar presente siempre, personajes gays, bisexuales, lesbianas, lamentablemente hay heterosexuales, en el primer capítulo ya hacen mención del lenguaje no binario, y todo eso me lleva a hablar de Dixon, uno de mis personajes favoritos, él es presumiblemente heterosexual, de Colombia, rapero, y nada de eso evita que use faldas, que le quedan divinas, que se pinte las uñas, que le quedan divinas, y que tenga un estilo de la moda completamente fuera de este mundo, lo amé a él y por eso amo la serie.
Y ya no sé qué más escribir. Otra de las cosas que también me gusto es que a pesar de que la serie obviamente va a tener guiños a sus predecesoras, que una de sus personajes está presente también como directora, y que claro está que cantan las mismas canciones de RBD de hace años, no es una serie basada en la nostalgia ni se copia por completo, tiene su propio carácter, medio malo, pero no es más de lo mismo, y eso es algo bueno, porque hicieron una buena primera temporada que si la saben trabajar se convierte en una buena serie.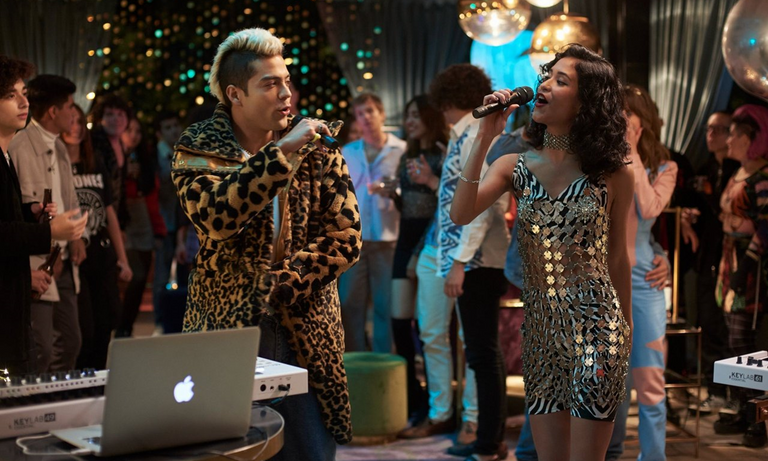 I was going to talk about all the characters, but what a bummer, I already told you that I love Dixon, and I think he is one of the most neutral characters in the series, he doesn't hurt anyone, and because he wants to help he ends up being betrayed, and it's horrible. Andi is another one of my favorite characters, a lesbian drummer who doesn't put up with anything from anyone and who knows how to give herself her place, ask for respect, and who sends people who don't value her to hell, and she plays the drums very well, incredible, I loved her.
Luka Colucci... Luka falls badly, but it is impossible to hate him, he is my third and last favorite character of the series, Luka is a bit complicated, the truth, and although you can understand the reasons behind everything he does, everything that led him to be the way he is, he could have been better, and in a way he knows it and that's why everything ends the way it ends, and I just say that if he does not return in the second season, if there is a second season, I will not watch it.

Iba a hablar de todos los personajes, pero qué fastidio, ya les dije que amo a Dixon, y creo que es uno de los personajes más neutrales de la serie, no le hace daño a nadie y más bien por querer ayudar termina siendo traicionado, y es horrible. Andi es otre de mis personajes favorites, una lesbiana baterista que no le aguanta nada a nadie y que sabe darse su lugar, pedir respeto y que manda a la verga a la gente que no la sabe valorar, y toca muy bien la batería, increíble, la amé.
Luka Colucci... Luka cae mal, pero es imposible odiarle, es mi tercer y último personaje favorite de la serie, Luka es un poco complicado, la verdad, y aunque se puede llegar a entender las razones detrás de todo lo que hace, de todo lo que lo llevó a ser cómo es, él pudo haber sido mejor, y en cierta forma él lo sabe y por eso todo termina como termina, y solo digo que si él no vuelve en la segunda temporada, si es que hay segunda temporada, no voy a verla.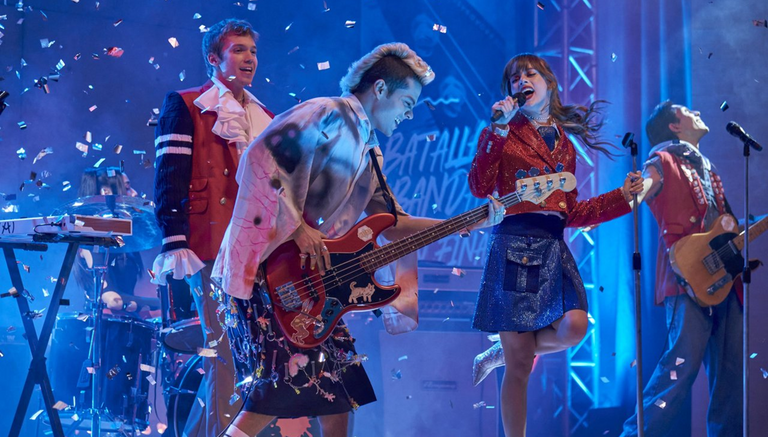 This paragraph is meant for the characters I hate: MJ, and the fat xenophobic and homophobic bastard who made life miserable for Dixon and Luka, damn, how I loved it when he finally gets what he deserves and they send him to hell, it was completely satisfying, I loved that; and please, never be like MJ, don't be that kind of person who betrays her friends just to get what she wants, she ends up being worse than the real bad guys of the series, and that's saying a lot.
There you have the trailer, don't expect anything like the Mexican novel, don't expect to see the same characters, same stories, same situations, none of that is going to happen, and I end up saying that I loved that they were not the only ones that came out singing the RBD songs and that those songs are not the only ones that are sung, it is the best, nothing to what I expected, which made it better than I expected.

Este párrafo está destinado hacia los personajes que odio: MJ, y el gordo desgraciado xenófobo y homofóbico que le hacía la vida imposible a Dixon y Luka, joder, cómo amé cuando finalmente obtiene lo que se merece y lo mandan a la mierda bien mandada, fue completamente satisfactorio, amé eso; y por favor, nunca sean como MJ, no sean esa clase de persona que traiciona a sus amigos solo para obtener lo que quiere, ella termina siendo peor que los verdaderos malos de la serie, y eso ya es mucho decir.
Ahí tienen el trailer, no esperen nada como la novela mexicana, no esperen ver a personajes iguales, historias iguales, situaciones iguales, nada de eso va a suceder, y termino diciendo que amé que ellos no fueron los únicos que salieron cantando las canciones de RBD, y que esas canciones no son las únicas que se cantan, es lo mejor, nada a lo que esperaba, lo que la hizo mejor de lo que esperaba.