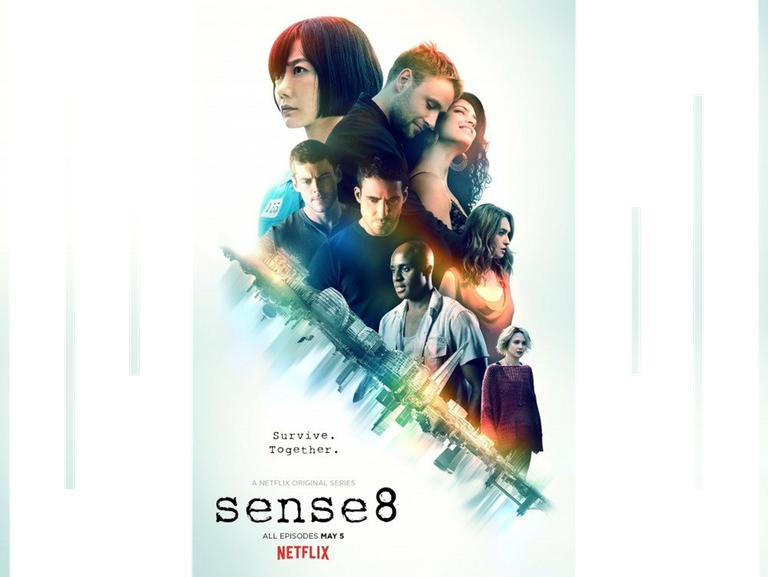 Yes, I rewatched Sense8, and honestly, I forgot how many times I have already watched it, this is one of the comfort series that I watch when I am not at my best, and even though I am at my best now, I wanted to watch it anyway, with Sense8 I think I have closed a cycle of rewatching series and movies that I had already watched years ago, so that's why I am here doing this review that I wanted to do since many years ago.
Sense8 is too many good things to be described in a few words, but following the synopsis of the series, Sense8 is about a group of people who find themselves mentally connected from one day to the next, and together they must try to survive in a world where they are seen as a threat.
I first became aware of the existence of this series in January 2017 when I read about the fact that the second season was going to be released in May of that year, and that the special episode had already been released last December, as a person aware of the intensity of their addictions, I didn't watch anything until the second season was released and then I hated Netflix for canceling it, well, I still HATE Netflix, but not as much as before.

Sí, volví a ver Sense8, y sinceramente, olvidé cuántas veces la he visto ya, esta es una de mis comfort series que veo cuando no estoy en mis mejores momentos, y aunque ahora sí estoy en mis mejores momentos, la quise ver de todas formas, con Sense8 creo haber cerrado un ciclo de volver a ver series y películas que ya había visto hace años, así que por eso estoy aquí haciendo esta reseña que quería hacer desde hace muchos años.
Sense8 es demasiadas cosas buenas como para que se pueda describir en pocas palabras, pero siguiendo la sinopsis de la serie, Sense8 trata sobre un grupo de personas que se ven conectadas mentalmente de un día para otro, y juntxs deben tratar de sobrevivir en mundo donde se les ve como una amenaza.
Yo me enteré de la existencia de esta serie en enero del 2017 cuando leí sobre el hecho de la segunda temporada iba a ser estrenada en mayo de ese año, y que ya se había estrenado el capítulo especial el diciembre pasado, como persona consciente de la intensidad de sus adicciones, no vi nada hasta que se estrenó la segunda temporada y después odié a Netflix por cancelarla, bueno, sigo Odiando a Netflix, pero no tanto como antes.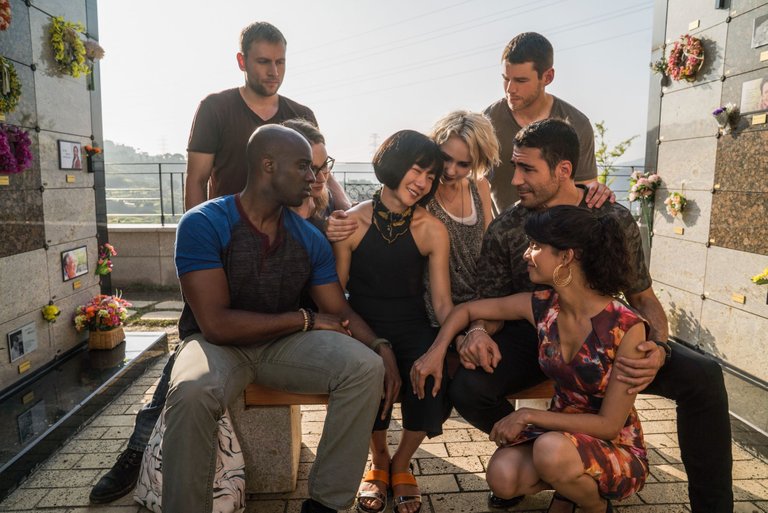 Yes, even though I've watched this series many times I still get excited as if it was the first time, I still cry as if it was the first time, and I love it as if it was the first time. The concept of the series is an amazing thing that deserves to be loved, and I hate you Netflix for canceling it.
8 strangers from 8 different cities find themselves mentally connected and don't know what the fuck is going on. That beginning is one of the slowest, the middle of the first season is very slow, and that's why a lot of people stop watching and don't give the series a more than deserved chance to finish watching it. That slowness is fair and necessary, we are in the middle of 8 people, we are getting to know those 8 people and those 8 people are getting to know each other, don't expect action sequences, drama and suspense from the beginning, you have to give the series time to follow its own pace and not become something that doesn't represent it.
Nomi, Lito, Riley, Will, Sun, Kala, Wolfgang, and Capheus are going to be our 8 sensates, the cluster that we are going to be linked to, each one of them is completely different from the rest and that's one of the reasons why they are in the situation they are in at that moment, one needs the other and they don't even know it, so through that mental/sensory/sentimental connection they have they will come to give and receive a necessary help to be able to continue having decent and dignified lives, because the world sees them as a threat and will do whatever it takes to capture them and prevent the world from knowing of their existence.

Sí, a pesar de que he vista esta serie muchas veces me sigo emocionando como si fuera la primera vez, sigo llorando como si fuera la primera vez, y la amo como si fuera la primera vez. Simplemente el concepto de la serie es una cosa increíble que merece ser amada, y te odio netlix por haberla cancelado.
8 extrañxs de 8 ciudades diferentes se ven conectadxs mentalmente y no saben qué carajos está sucediendo. Ese inicio es de los más lentos, la mitad de la primera temporada es muy lenta, y por eso es que mucha gente deja de verla y no le da una más que merecida oportunidad a la serie para terminar de verla. Esa lentiudad es justa y necesaria, estamos en medio de 8 personas, estamos conociendo a esas 8 personas y esas 8 personas se están conociendo entre ellas, no esperes secuencias de acción, drama y suspenso desde el principio, tienes que darle tiempo a la serie de que siga su propio ritmo y no se convierta en algo que no la resepresente de verdad.
Nomi, Lito, Riley, Will, Sun, Kala, Wolfgang, y Capheus van a ser nuestros 8 sensates, el cluster al que vamos a estar ligadxs, cada unx de ellxs es completamente diferente al resto y esa es una de las razones por las que están en la situación que se encuentran en ese momento, unxs necesitan de lxs otrxs y ni si quiera lo saben, así que a través de esa conección mental/sensorial/sentimental que tienen llegarán a dar y recibir una ayuda necesaria para poder seguir teniendo vidas decentes y dignas, porque el mundo lxs ve como una amenaza y hará lo que sea necesario para capturarles y evitar que el mundo sepa de su existencia.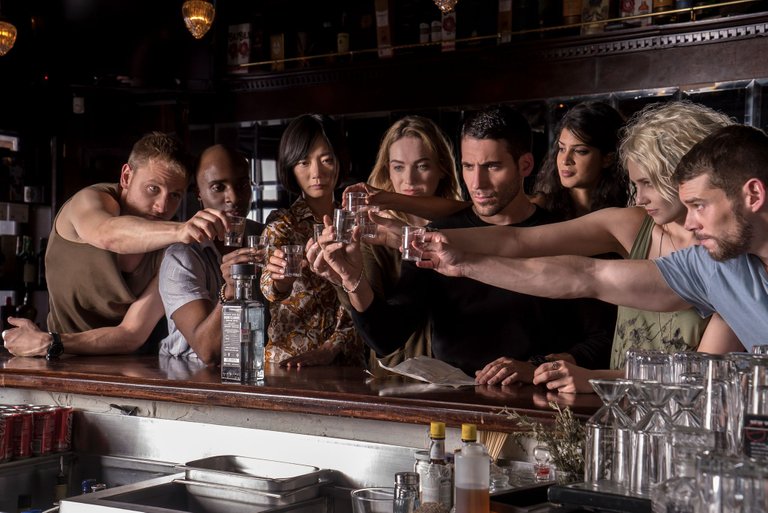 One of the things I like least about the series is the fact that Netflix canceled it, I hate you, Netflix; otherwise, I don't dislike it at all, I like and love everything about it on levels I don't know, and every time I watch it again it only makes me love it more and more than I already do. The characters are perfect and their actors even more, although I must say that Capheus has a different actor in the second season since the one in the first season was not willing to participate in the sexual scenes of the series, so, well, he is understood, and that's why he is changed and that's it, nothing to regret.
I can't choose a favorite character, but if I force myself, I would say that my favorite character of the whole series is.... well, here on second thought, my favorite characters are not any of the 8 that belong to the cluster, they are Hernando, Amanita, Bug, Felix, and Daniela, damn, how I love them, I love them, and yes, it makes me laugh because I love them more than those 8 interconnected characters for life that once they manage to get along in more than one way, they don't know what to do without the others.
This is a series that is for sexual diversity, gender diversity, gender expression, and whatever else they feel like that is different in the world, and the reason it is hated is the fact that it is different in the end. One of my favorite things about the series is the fact that they make us see the reality that everyone is different, no matter if they are cis-hetero or cis gay, queer or not, even if a group of people is classified under the same label, they are still completely different people from each other, and that often we forget, and it is something that the series reminds us in a very subtle way.

Una de las cosas que menos me gusta de la serie es el hecho de que Netlix la cancelara, te odio, Netflix; de resto, no me disgusta nada, todo me gusta y me encanta en niveles que desconozco, y cada vez que la vuelvo a ver solo hace que la ame más y más de lo que ya la amo. Los personajes son perfectos y sus actores más aún, aunque debo decir que Capheus tiene un actor diferente en la segunda temporada, pues el de la primera temporada no estaba dispuesto a participar en las escenas sexuales de la serie, entonces, bueno, se le entiende, y por eso se le cambia y listo, nada que lamentar.
Es imposible para mí elegir un personaje favorito, pero si me obligo, diría que mi personaje favorito de toda la serie es... bueno, aquí pensándolo bien, mis personajes favoritos no son ninguno de los 8 que pertenecen al cluster, pues son Hernando, Amanita, Bug, Felix, y Daniela, joder, como les amo, me encantan, y sí, me da risa porque me encantan más que esos 8 personajes interconectados de por vida que una vez logran compenetrarse en más de un sentido, no saben qué hacer sin lxs otrxs.
Obviamente esta es una serie que está en pro de la diversidad sexual, de género, de expresión de género, y todo lo que les de la gana que es diferente en el mundo, y que por la razón de que es odiado es el hecho de que es diferente, fin. Una de mis cosas favoritas de la serie es el hecho de que hacen ver la realidad de que todo el mundo es diferente, sin importar que sean cishetero o cisgay, sean queer o no, aunque un grupo de personas estén clasificadas bajo la misma etiqueta, siguen siendo personas completamente diferentes unas de la otra, y eso muchas veces se nos olvida, y es algo que la serie nos recuerda de una forma muy sutil.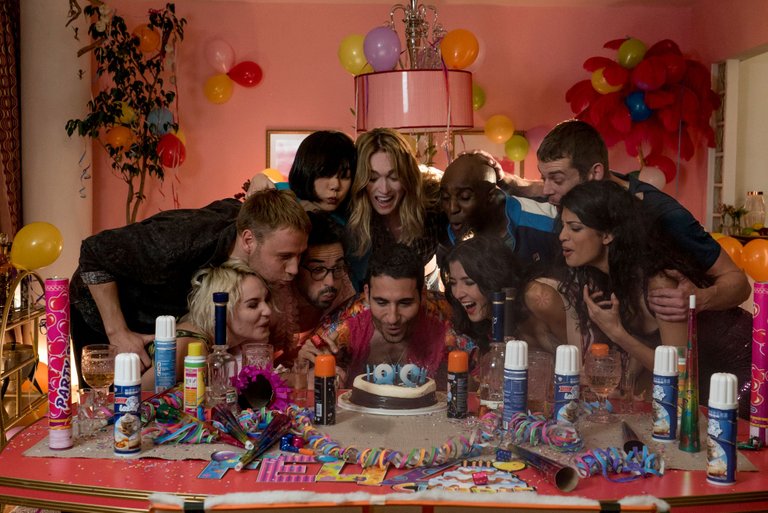 I must say that if I were in the same situation as Dani I would be the same, she is a fujoshi who is living the greatest dream of a fujoshi, living with a gay couple that has no level of censorship, I don't know how to say it, well, that, and that is free to do whatever she wanted without having to take her out of the room. The relationship between Lito, Hernando, and Dani is one of the best and healthiest there is, although I must say, and it is something that all of us who watched the series know, it took too long for Lito to make the decisions he had to make, he fell badly in those moments, and we love Hernando and Dani like no one else will.
My favorite character in the cluster is Nomi, followed by Will and then Riley. I empathize with Nomi in a thousand ways and realized she was always like that, and that was something I had forgotten, there is a chapter where Nomi talks about how she hated her body when she was told she was a boy and should behave like one, that scene always makes me cry, and this time was no exception, I cried as I always cry and it finally clicked that in me, or I realized why it affected me so much.
There are so little trans and non-binary representation in the film world that that scene not only let me know that it was normal to feel that, but that it was also okay to be different and claim my right to be and exist the way I wanted to without anyone being able to stop me, and that's what Nomi did, that's the example she sets and that's why she's my favorite character of the whole series, yes, the rest of the characters are also amazing and give excellent life teachings, but Nomi is the one that best fits me, and that's ok and normal because we are all different and it shouldn't be otherwise.

Debo decir que si yo estuviera en la misma situación que Dani estaría igual, ella es una fujoshi que está viviendo el mayor sueño de una fujoshi, vivir con una pareja gay que no tiene ningún nivel de censura, no sé cómo decirlo, bueno, eso, y que es libre de hacer lo que quisiera sin tener que sacarla a ella de la habitación. La relación entre Lito, Hernando y Dani es una de las mejores y mas sanas que existe, aunque debo decir, y es algo que todas las personas que vimos la serie sabemos, le tomó demasiado tiempo a Lito tomar las decisiones que tuvo que tomar, cayó mal en esos momentos, y amamos a Hernando y Dani como nadie lo hará.
Mi personaje favorito del cluster es Nomi, seguida de Will y después por Riley. Empatizo con Nomi en miles de formas y me di cuenta de que siempre fue así, y eso era algo que yo había olvidado, hay un capítulo donde Nomi habla de como ella odiaba su cuerpo cuando le decían que era un niño y debía comportarse como tal, esa escena siempre me hace llorar, y esta vez no fue la excepción, lloré como siempre lloro y finalmente encajó eso en mí, o me di cuenta de por qué me afectaba tanto.
Es tan poca la representación trans y no binaria en el mundo del cine que esa escena no solo me hizo saber que era normal sentir eso, si no que también estaba bien ser diferente y reclamar mi derecho a ser y existir de la forma en que quisiera sin que nadie me pudiera detener, y eso fue lo que hizo Nomi, eso es el ejemplo que da y por eso es mi personaje favorito de toda la serie, sí, el resto de los personajes también son increíbles y dan muy buenas enseñansas de vida, pero Nomi es la que mejor se ajusta a mí, y eso está bien y es normal, porque todxs somos diferentes y no debería ser de otra forma.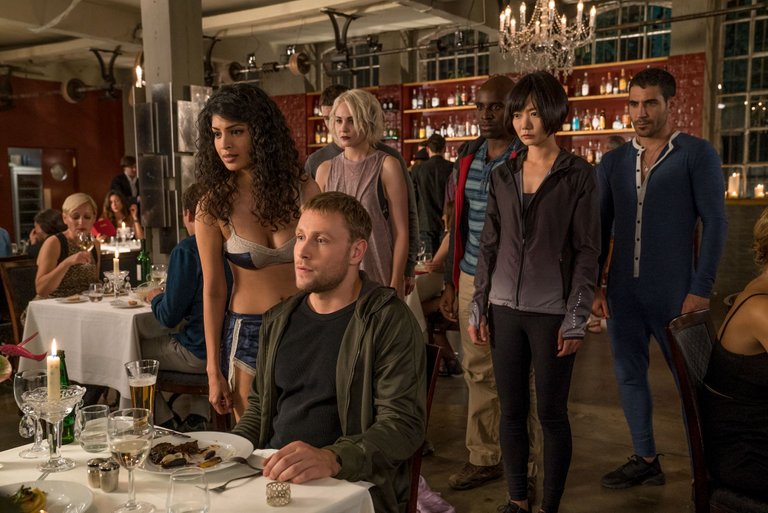 I must and I want to talk about the antagonist here, Whispers, fuck, that's one of the best characters I've seen, very few times you've seen a villain like Whispers, someone who with the calm and quietness of whispers can drive someone to madness, or make mistakes, to believe things that are not and turn their lives into a hell from which they have no escape, and it is impossible to hate him, well, no, yes he is hated, but it is impossible to discredit him, he must be given the merit he deserves even if we still want to kill him with every breath we take in our existence.
No review honors this series, no matter how many times I say I hate Netflix for canceling this series, they will never be enough, no trailer manages to show in so few minutes how magnificent the series is and the wonders it gives us, there are incredible scenes, little phrases, conversations, prayers, interactions between people that are heavenly and only leave us wanting more, and we would have more if Netflix had not canceled it, the day it is back in production I will be one of the happiest people in the world.

Debo y quiero hablar del antogonista aquí, Whispers, joder, ese es uno de los mejores personajes que he visto, muy pocas veces se ha visto un villano como Whispers, alguien que con la calma y tranquilidad de los susurros es capaz de llevar a alguien a la locura, o cometer errores, a creer cosas que no son y volver de sus vidas un infierno del cual no tienen escapatorias, y es imposible odiarlo, bueno, no, sí se le odia, pero es imposible desacreditarlo, se le debe dar el mérito que merece aunque igual queramos matarlo con cada respiración que tomaremos en nuestra existencia.
No hay reseña que le haga honor a esta serie, no importa cuantas veces diga que odio a Netflix por haber cancelado esta serie, nunca serán suficientes, no hay trailer que logre mostrar en tan pocos minutos lo magnífica que es la serie y las maravillas que nos da, hay escenas increíles, pequeñas fraces, conversaciones, oraciones, interracciones entre los personas que son celestiales y solo nos dejan con ganas de más, y tendríamos más si Netflix no la hubiera cancelado, el día que vuelva a estar en producción seré una de las personas más felices del mundo.