In this post I want to tell my experience with the extinct film clubs that were very important in my life and in the rooting of my passion for the seventh art. At the same time it is a recognition to those people, who with their work and love for cinema, spread culture and knowledge, changing the lives of many.
En este post quiero contar mi experiencia con los extintos cineclubes que fueron muy importantes en mi vida y en el arraigo de mi pasión por el séptimo arte. Al mismo tiempo es un reconocimiento a esas personas, que con su trabajo y amor por el cine, difundieron la cultura y el conocimiento, cambiando la vida de muchos.
Cover made using the online tool Crello - Avatar made in Bitmoji

English
For those of you who know me through my publications, you know that my love for cinema was not born a couple of weeks ago, nor did I discover it suddenly on some platform. No. I've told you before, from a very young age I was fascinated by cinema.
My memory, somewhat worn out by time, has recorded the days and nights I spent in front of a small television, it was red on the back, that my grandmother gave me with great effort, it was in that archaic TV where I saw the version of Kin Kong from the 30's. I was amazed with what I saw on that small black and white screen. My grandmother couldn't afford to buy me a color TV.
I guess that's why I'm not one to shy away from black and white movies, because that's how I started watching a lot of movies and TV shows. That's why I can admire the beauty present in modern productions whose directors choose to shoot them in black and white.
The years passed and my attraction for cinema became stronger, I devoured magazines (later I will make a post showing my collection), newspaper news that I cut out and kept in a folder, where every so often I looked for them to read them again, those were the times when the internet was a fantasy for the population.
I was in high school, many things had happened in my life, my grandmother was no longer in the earthly world, but I still had the old black and white TV. Unfortunately it was stolen from me, a technician who was supposed to repair it, from that moment on I distrusted all technicians who repair televisions, sorry if you do that, I don't trust them. Understand me, I was marked by a bad experience.
Español
Para los que me conocen a través de mis publicaciones, saben que mi amor por el cine no nació hace un par de semanas, ni lo descubrí de repente en alguna plataforma. No. Ya lo he contado antes, desde muy pequeño me fascinaba el cine.
Mi memoria, algo desgastada por el tiempo, tiene registrados los días y las noches que pasé frente a un pequeño televisor, era de color rojo por la parte de atrás , que con mucho esfuerzo me regaló mi abuela, fue en ese arcaico televisor donde vi la versión de Kin Kong de los años 30. Quedé maravillado con lo que vi en esa pequeña pantalla en blanco y negro. Mi abuela no podía permitirse comprarme un televisor en color.
Supongo que por eso no soy de los que huyen de las películas en blanco y negro, porque así empecé a ver muchas películas y programas de televisión. Por eso puedo admirar la belleza presente en las producciones modernas cuyos directores deciden rodarlas en blanco y negro.
Los años pasaron y mi atracción por el cine se hizo más fuerte, devoraba revistas (más adelante haré un post mostrando mi colección), noticias de periódicos que recortaba y guardaba en una carpeta, donde cada cierto tiempo las buscaba para volver a leerlas, eran los tiempos en que internet era una fantasía para la población.
Estaba en la secundaria, muchas cosas habían pasado en mi vida, mi abuela ya no estaba en el mundo terrenal, pero aún tenía el viejo televisor en blanco y negro. Desgraciadamente me la robaron, un técnico que debía repararla, desde ese momento desconfié de todos los técnicos que reparan televisores, lo siento si haces eso, no me fío. Entiéndeme, quedé marcado por una mala experiencia.

My first contact
I was a teenager, still in high school, when one Saturday morning I decided to go to the two small shopping malls near my house. I remember that my intention was to wait for the Korean guy who had a video game store to open so I could spend the day playing Nintendo.
As I made my way to the video game store, I had to pass through the aisle where the mall's movie theater was located. As I always did, I was looking at the signs in front of the entrance, but this time I was surprised to see a lot of people at the door of the movie theater, which was open. I asked one of the people and she told me that she was waiting for a ticket sale for the cinema club, which was showing a movie at 10 am.
My astonishment was greater when I asked how much the ticket cost, it was a tiny amount of money. For a moment I hesitated, I thought they were pulling my leg, but it was true. A lady attended me, I bought the ticket and waited with the group that was outside for them to let us in.
I knew the cinema, it was the one I always went to, but I didn't know what a cinema club was and even less that it was operating on a Saturday morning. I didn't even know what movie they were showing! And I never imagined that this fortuitous discovery would mark my life forever.
Perhaps for those who have grown up in the capital of the country, this story of my life may seem a little silly, because I know that in the big city there were always film clubs and even cinemas where films were released outside the commercial circuit, but I was from a small town. Monte y culebra, as they say.
Mi primer contacto
Era un adolescente, todavía en el instituto, cuando un sábado por la mañana decidí ir a los dos pequeños centros comerciales que había cerca de mi casa. Recuerdo que mi intención era esperar a que abriera el coreano que tenía una tienda de video juegos para pasar el día jugando a la Nintendo.
Al dirigirme a la tienda de video juegos, tuve que pasar por el pasillo donde se encontraba el cine del centro comercial. Como siempre hacía, estuve mirando los carteles que había delante de la entrada, pero esta vez me sorprendió ver a mucha gente en la puerta del cine, el cual estaba abierto. Pregunté a una de las personas y me dijo que esperaba la venta de entrada para el cine club, que proyectaba una película a las 10 de la mañana.
Mi asombro fue mayor cuando pregunté cuánto costaba la entrada, era una cantidad ínfima de dinero. Por un momento dudé, pensé que me estaban tomando el pelo, pero era cierto. Me atendió una señora, compré la entrada y esperé con el grupo que estaba fuera a que nos dejaran entrar.
Conocía el cine, era al que siempre iba, pero no sabía lo que era un cine club y menos que funcionaba un sábado por la mañana. ¡Ni siquiera sabía qué película estaban proyectando! Y nunca imaginé que ese descubrimiento fortuito marcaría mi vida para siempre.
Quizás para los que se han criado en la capital del país, esta historia de mi vida pueda parecer un poco tonta, porque sé que en la gran ciudad siempre hubo cineclubes e incluso cines donde se estrenaban películas fuera del circuito comercial, pero yo era de un pueblo pequeño. Monte y culebra, como se suele decir.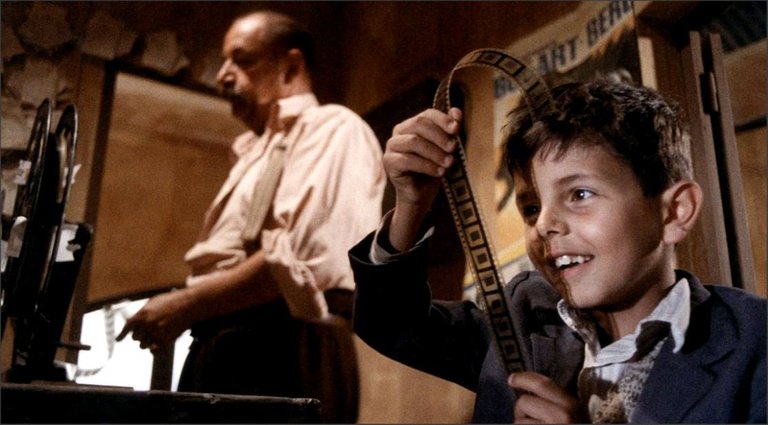 Source

What movie did I see that day?
With the happiness of having found something that for me was a paradise, what came next was a hurricane of emotions. First we were given a photocopied sheet of paper, with the movie poster, the title, a review made by a professional and all the information about the film, which completely changed the short vision I had of cinema and opened the doors for me to start exploring productions made in different parts of the world.
The film I saw was Babbette's Feast, a Danish film, my first contact with cinema in a language other than English and with actors that were totally unknown to me. The technical sheet said it had won the Oscar for best foreign film and a hundred other awards.
What was the plot?
I remember the plot was about a French girl who is taken in by some ladies in a Danish village. The girl wins some money in the lottery and as she is an expert in the culinary art, she decides, in gratitude, to spend the money making a banquet both for the people who welcomed her in that house and inviting all the neighbors of the village. A simple plot? Do you find it exciting? Does it catch your attention? Probably not, but I'd like you, reader, to look it up and watch it, because this movie is a masterpiece.
It was impossible for me to avoid shedding a tear at such a beautiful film. That day for me was incredible. It was my first contact with a film club, my first contact in a movie theater with a Danish film whose story was totally different from what I always saw in Hollywood productions.
That day I didn't go to the video game store, when I left the cinema club I went back home, I wanted to read calmly the sheet they gave us and that was when I found out that it was a film adaptation of a literary work by a Danish writer, I was engraved with the name of the director, because with the arrival of internet to our lives, I started to look for all his next productions. The last film I saw by Gabriel Axel was Leila, from 2001. The filmmaker passed away in 2014 and many know him is for Babbette's Feast. He was a filmmaker who influenced me and surely the lives of other deranged people like me. Wherever his soul is, thank you so much!
¿Qué película vi ese día?
Con la felicidad de haber encontrado algo que para mí era un paraíso, lo que vino después fue un huracán de emociones. Primero nos dieron una hoja de papel fotocopiada, con el cartel de la película, el título, una crítica hecha por un profesional y toda la información sobre la película, lo que cambió por completo la corta visión que tenía del cine y me abrió las puertas para empezar a explorar producciones hechas en diferentes partes del mundo.
La película que vi fue Babbette's Feast, una película danesa, mi primer contacto con el cine en un idioma distinto al inglés y con actores que me eran totalmente desconocidos. La ficha técnica decía que había ganado el Oscar a la mejor película extranjera y un centenar de premios más.
¿Cuál era el argumento?
Recuerdo que el argumento era el de una chica francesa, que es acogida por unas señoras en un pueblo danés. La chica gana algo de dinero en la lotería y como es experta en el arte culinario, decide, en agradecimiento, gastar el dinero haciendo un banquete tanto para las personas que la acogieron en esa casa como invitando a todos los vecinos del pueblo. ¿Una trama sencilla? ¿Te parece emocionante? ¿Te llama la atención? Probablemente no, pero me gustaría que tú, lector, lo buscaras y lo vieras, porque esta película es una obra maestra.
Me fue imposible evitar derramar una lágrima ante tan hermosa película. Ese día para mí fue increíble. Fue mi primer contacto con un cineclub, mi primer contacto en una sala de cine con una película danesa cuya historia era totalmente diferente a lo que siempre veía en las producciones de Hollywood.
Ese día no fui a la tienda de video juegos, cuando salí del cine club volví a casa, quise leer con calma la hoja que nos dieron y fue cuando me enteré de que era una adaptación cinematográfica de una obra literaria de un escritor danés, me grabé el nombre del director, porque con la llegada de internet a nuestras vidas, empecé a buscar todas sus próximas producciones. La última película que vi de Gabriel Axel fue Leila, de 2001. El cineasta falleció en 2014 y muchos lo conocen es por El festín de Babbette. Fue un cineasta que influyó en mi y seguramente en la vida de otros trastornados como yo. Donde quiera que esté su alma, ¡muchas gracias!

The Cinema Club
From that moment on Saturdays were sacred to me. My friends would invite me to go out on Fridays, you know, drink alcohol, try to flirt, hang out and fool around, teenage stuff, but I said no, I had things to do the next day and I had to go to bed early.
Every Saturday morning at 10 a.m. I had a date with the film club. Every week I was treated to a different movie, movies that would never be released in the commercial theaters in my town. In that film club I enjoyed cycles of Polish, Russian, Danish and Arab cinema, as well as a cycle of Latin American cinema, where I was able to see films made in Argentina, Chile, Bolivia, etc. for the first time.
A curious fact is that they had no restrictions, I was very young, but they still allowed me to enter to see films with high voltage scenes. Thanks to the film club I had my first contact with Spanish cinema, falling in love at that time with the actress Victoria Abril and Maribel Verdú, especially after seeing the film Amantes in 1991. My God! What beautiful memories come to my mind at this moment. I loved Spanish cinema, because I looked forward to the films of Vicente Aranda and Bigas Luna. Of course, Almodóvar could not be missed either, it was in that cine club where I saw the movie Átame, with a very young Antonio Banderas and Victoria Abril stirring my hormones with the bathtub scene, if you have seen the movie, you must know that scene in its entirety.
The cinema club operated for many years in my city, with the passage of time I learned that those in charge of spreading the seventh art, was a couple, lovers of cinema and all cultural events, was a couple known in the cultural circle of the city, for that great work to stay afloat, despite thousands of obstacles, that space for a group of moviegoers we could see great works unknown to the masses. I also found out later that they happened to have the same last name as me. Rodriguez is one of the most common surnames in many Hispanic countries.
We are human beings and there is something inevitable: leaving this physical world. The people in charge of the film club passed away, but one of their sons inherited the passion for the work and the taste for good cinema, he would continue with the legacy of his parents for many years. Unfortunately, the cinema that lent its hall closed and the film club found a new home in the auditorium of the city's lawyers' guild.
It was difficult for me to go there, plus the shows were at night. I scraped together enough money to buy a VHS video player and later a DVD. There were places in town that kept a large collection of VHS movies and rented them out, so I stopped going to the movie club and looked for the strangest movies to rent and watch at home.
Goodbye
I don't remember when was the last time I went to the cinema club, I did it to feel that nostalgia of the past. The public was very scarce, but that night they did a cinema forum and a group of cinephiles stayed for a while contributing opinions about the film, it was a nice time.
Actually the cinema club, which was named after Charlie Chaplin, stopped working. It was increasingly difficult to finance it and after the great crisis that sank the country, the son of the founders found it impossible and for the same economic reasons, he had to emigrate from the country, to seek stability and betterment for his family.
Although I no longer attended the screenings, it pained me to know that the cinema club would cease to operate. I saw so many wonderful movies in that place, it was something so important in my life, that I felt sadness, pain and anger.
El Cine Club
A partir de ese momento los sábados fueron sagrados para mí. Mis amigos me invitaban a salir los viernes, ya sabes, a beber alcohol, a intentar ligar, a pasar el rato y hacer el tonto, cosas de adolescentes, pero yo decía que no, que tenía cosas que hacer al día siguiente y que tenía que acostarme temprano.
Todos los sábados a las 10 de la mañana tenía una cita con el club de cine. Cada semana me deleitaban con una película diferente, películas que nunca se estrenarían en los cines comerciales de mi ciudad. En ese cineclub disfruté de ciclos de cine polaco, ruso, danés, arabe, así como un ciclo de cine latinoamericano, donde pude ver por primera vez películas realizadas en Argentina, Chile, Bolivia, etc.
Un dato curioso es que no tenían restricciones, yo era muy joven, pero igual me permitieron entrar a ver películas con escenas de alto voltaje. Gracias al cineclub tuve mi primer contacto con el cine español, quedando enamorado en esa época de la actriz Victoria Abril y de Maribel Verdú, sobre todo después de ver la película Amantes en 1991. ¡Dios mío! Qué bonitos recuerdos me vienen a la cabeza en este momento. Me encantaba el cine español, porque esperaba con ansia las películas de Vicente Aranda y Bigas Luna. Por supuesto, tampoco podía faltar Almodóvar, fue en ese cine club donde vi la película Átame, con un jovencísimo Antonio Banderas y Victoria Abril removiendo mis hormonas con la escena de la bañera, si has visto la película, debes conocer esa escena en su totalidad.
El cine club funcionó durante muchos años en mi ciudad, con el paso del tiempo me enteré que los encargados de difundir el séptimo arte, era un matrimonio, amantes del cine y de todo evento cultural, era una pareja conocida en el círculo cultural de la ciudad, por esa gran labor de mantenerse a flote, a pesar de miles de obstáculos, ese espacio para que un grupo de cinéfilos pudiéramos ver grandes obras desconocidas para las masas. También me enteré después que casualmente tenían el mismo apellido que yo. Rodríguez es uno de los apellidos más comunes en muchos países hispanos.
Somos seres humanos y hay algo inevitable: dejar este mundo físico. Los responsables del cineclub fallecieron, pero uno de sus hijos heredó la pasión por el trabajo y el gusto por el buen cine, continuaría con el legado de sus padres durante muchos años. Por desgracia, el cine que prestaba su sala cerró y el cine club encontró un nuevo hogar en el auditorio del gremio de abogados de la ciudad.
Me resultaba difícil ir allí, además las funciones eran nocturnas. Reuní el dinero suficiente para comprar un reproductor de vídeo VHS y más tarde un DVD. En la ciudad había lugares que guardaban una gran colección de películas en VHS y las alquilaban, así que dejé de ir al cine club y busqué las películas más extrañas para alquilarlas y verlas en casa.
Adiós
No recuerdo cuándo fue la última vez que fui al cine club, lo hice para sentir esa nostalgia del pasado. El público era muy escaso, pero esa noche hicieron un cine forum y un grupo de cinéfilos se quedaron un rato aportando opiniones sobre la película, fue un rato agradable.
En realidad el cine club, que llevaba el nombre de Charlie Chaplin, dejó de funcionar. Cada vez era más difícil financiarlo y tras la gran crisis que hundió al país, al hijo de los fundadores le resultó imposible y por las mismas razones económicas, tuvo que emigrar del país, para buscar estabilidad y mejora para su familia.
Aunque ya no asistí a las funciones, me dolió saber que el cine club dejaría de funcionar. Vi tantas películas maravillosas en ese lugar, fue algo tan importante en mi vida, que sentí tristeza, dolor y rabia.

Source

Gratitude/ El Agradecimiento

They were people who for decades dedicated their lives to the dissemination of the seventh art in my hometown. They did a formidable job, they unknowingly influenced my formation and growth as a human being. I hope someday to be able to see again the son who for years has been my and tell him: Thank you very much to you and your parents, you marked an important part of my life. I could do it today, through social networks, but no, I want to do it in person, I hope to have enough life for that meeting.
This post is at the same time a token of gratitude to all those people who somehow do things that influence others in a positive way. That's why I like to write about movies and recommend movies, for some I may seem pedantic when I start talking about filmmakers and old movies that I recommend, but my intention is to spread and that there is a possibility that they feel the same way I did when I saw a certain movie. That makes me happy.
Nowadays a cinema club is not viable, streaming platforms and new generations have changed the whole panorama. What I do defend is to maintain spaces where you can interact with other cinephiles to exchange opinions. That's why I'll keep writing in Hive, the place where I have my space and a community formed by people who love cinema. The cinema club is now in our hands, just a couple of clicks away.
This is the first post where I will start a series of publications leaving some personal experiences with cinema, not only as a spectator, I will write in the future about the facet of actor in theater, my failed attempts to make films and other important moments. You can express your opinion in the comments.
Fueron personas que durante décadas dedicaron su vida a la difusión del séptimo arte en mi ciudad natal. Hicieron un trabajo formidable, influyeron sin saberlo en mi formación y crecimiento como ser humano. Espero algún día poder volver a ver al hijo que por años siguió haciendo el trabajo y decírselo: Muchas gracias a ti y a sus padres, marcaron una parte importante de mi vida. Podría hacerlo hoy, a través de las redes sociales, pero no, quiero hacerlo en persona, espero tener la vida suficiente para ese encuentro.
Este post es al mismo tiempo una muestra de agradecimiento a todas aquellas personas que de alguna manera hacen cosas que influyen en los demás de forma positiva. Por eso me gusta escribir sobre cine y recomendar películas, para algunos puedo parecer pedante cuando me pongo a hablar de cineastas y películas antiguas que recomiendo, pero mi intención es difundir y que exista la posibilidad de que sientan lo mismo que yo cuando vi una determinada película. Eso me hace feliz.
Hoy en día un cine club no es viable, las plataformas de streaming y las nuevas generaciones han cambiado todo el panorama. Lo que sí defiendo es mantener espacios donde se pueda interactuar con otros cinéfilos para intercambiar opiniones. Por eso seguiré escribiendo en Hive, el lugar donde tengo mi espacio y una comunidad formada por gente a la que le gusta el cine. El cine club está ahora en nuestras manos, a un par de clics.
Este es el primer post donde comenzaré una serie de publicaciones dejando algunas experiencias personales con el cine, no sólo como espectador, escribiré en el futuro sobre la faceta de actor en teatro, mis intentos fallidos de hacer cine y otros momentos importantes. Puedes expresar tu opinión en los comentarios.

Gifs and separators made by me in photoshop

Other recent film reviews