Ever since news broke that a prequel movie to the hit series that marked a milestone in American television The Sopranos was in the works, the main hook was that it would tell the story of Tony Soprano's youth and how he would later become the big boss of the Newark mob. Forget about that. David Chase has played a little trick on us, of course young Tony is in the movie, we will see how his whole environment influences the creation of his personality, but the story actually revolves around another character, which we only had references to in the series.
Desde que se conoció la noticia de que una película precuela de la exitosa serie que marcó un hito en la televisión estadounidense Los Soprano se estaba preparando, el principal gancho era que contaría la historia de la juventud de Tony Soprano y cómo se convertiría más tarde en el gran jefe de la mafia de Newark. Olvídense de eso. David Chase nos ha jugado una pequeño truco, por supuesto que el joven Tony está en la película, veremos cómo todo su entorno influye en la creación de su personalidad, pero la historia en realidad gira en torno a otro personaje, del que sólo teníamos referencias en la serie.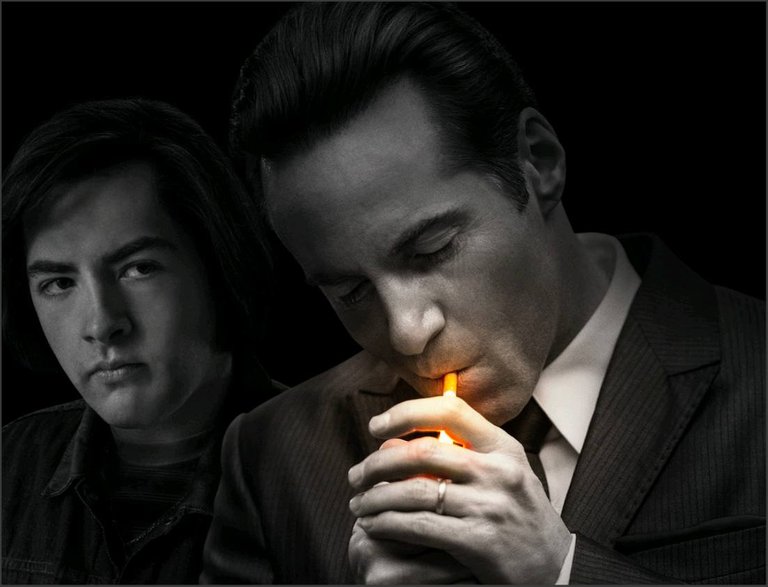 Source

English
I was very young when I first saw the first episode of The Sopranos, I have always been passionate about the mafia, I have read and watched countless materials about the history of the Italian mafia, its extension in America and the lives of those men who decided to be above the law, create their own rules and build empires.
For me, The Sopranos marked a before and after in television. It came out in the era they called the golden age, when HBO became a benchmark in terms of quality productions. Not only its story, every fucking character was a marvel, the dialogues, their interaction. While other kids my age were watching comedies or animated series, I was delighted watching the life of Tony Soprano, a mafia boss, protagonist of a series, with violence, sex and everyday situations of a mafia clan.
The most attractive thing is that it was stripped of all that elegance and solemnity that movies like The Godfather had given to the Italian-American mafia, they were guys a little eccentric some, but very mundane, with normal family lives within what can be categorized as normal, but dedicated to extortion, smuggling, robbery, drugs, organized crime.
To all this cocktail must be added the traumas of Tony Soprano's past, especially those caused by having the worst mother of all time, which means that when he takes over as head of the mafia in his area, he begins to suffer panic attacks that force him, secretly, to visit a psychiatrist, Dr. Melfi This is really the crux of the series, a mafioso on the psychiatrist's couch. They were the big difference it made to any mobster movie or series I had seen before.
I loved the whole series, I suffered with the characters that left, I was thrilled with the incredible deaths some of them had, and I didn't like the final closure David Chase gave it. That controversial ending made a lot of people upset.
The worst came a few years later, I was hoping to see another Tony Soprano adventure someday, but life had other plans for James Galdonfini, the actor who played him, unfortunately he left the earthly life, when he still had a lot to do. We were never going to see Tony again....
Until they announced the prequel and of course we would see him again, now played by his own son, whom I had seen in the series The Deuce, needless to say that his resemblance is incredible and he comes out well playing the young Tony Soprano, I predict much success in the future to Michael Galdonfini.
But as I said at the beginning of the post, let's not fool ourselves, the young Tony Soprano is not the center of this film, he is more of an observer of how his family was developing in the world of the mafia and the influence that had in his life a surname: Moltisanti.
Español
Era muy joven cuando vi por primera vez el primer episodio de Los Soprano, siempre me ha apasionado la mafia, he leído y visto innumerables materiales sobre la historia de la mafia italiana, su extensión en América y la vida de aquellos hombres que decidieron estar por encima de la ley, crear sus propias reglas y construir imperios.
Para mí, Los Soprano marcó un antes y un después en la televisión. Salió en la época que llamaron la edad de oro, cuando la HBO se convirtió en un referente en cuanto a producciones de calidad. No sólo su historia, cada jodido personaje era una maravilla, los diálogos, su interaccion. Mientras otros chicos de mi edad veían comedias o series de animación, yo estaba encantado viendo la vida de Tony Soprano, un capo de la mafia, protagonista de una serie, con violencia, sexo y situaciones cotidianas de un clan mafioso.
Lo más atractivo es que estaba despojado de toda esa elegancia y solemnidad que películas como El Padrino habían dado a la mafia italoamericana, eran tipos un poco excéntricos algunos, pero muy mundanos, con vidas familiares normales dentro de lo que se puede catalogar como normal, pero dedicados a la extorsión, el contrabando, el robo, la droga, el crimen organizado.
A todo ese cóctel hay que sumarle los traumas del pasado de Tony Soprano, sobre todo los provocados por tener la peor madre de todos los tiempos, lo que hace que tenga que al tomar el relevo como jefe de la mafia de su zona, comienza a sufrir ataques de pánico que le obligan, en secreto, a visitar a un psiquiatra, la doctora Melfi Este es en realidad todo el quid de la serie, un mafioso en el diván del psiquiatra. Eran la gran diferencia que marcaba con cualquier película o serie de mafiosos que hubiera visto antes.
Me encantó toda la serie, sufrí con los personajes que se fueron, me emocioné con las increíbles muertes que tuvieron algunos de ellos, y no me gustó el cierre final que le dio David Chase. Ese polémico final hizo que mucha gente se molestara.
Lo peor vino unos años después, yo tenía la esperanza de ver otra aventura de Tony Soprano algún día, pero la vida tenía otros planes para James Galdonfini, el actor que lo interpretaba, desgraciadamente dejó la vida terrenal, cuando aún tenía mucho que hacer. No íbamos a volver a ver a Tony...
Hasta que anunciaron la precuela y por supuesto lo volveríamos a ver, ahora interpretado por su propio hijo, al que había visto en la serie The Deuce, no hace falta decir que su parecido es increíble y sale bien parado interpretando al joven Tony Soprano, le auguro mucho éxito en el futuro a Michael Galdonfini.
Pero como decía al principio del post, no nos engañemos, el joven Tony Soprano no es el centro de esta película, es más un observador de cómo se desenvolvía su familia en el mundo de la mafia y la influencia que tuvo en su vida un apellido: Moltisanti.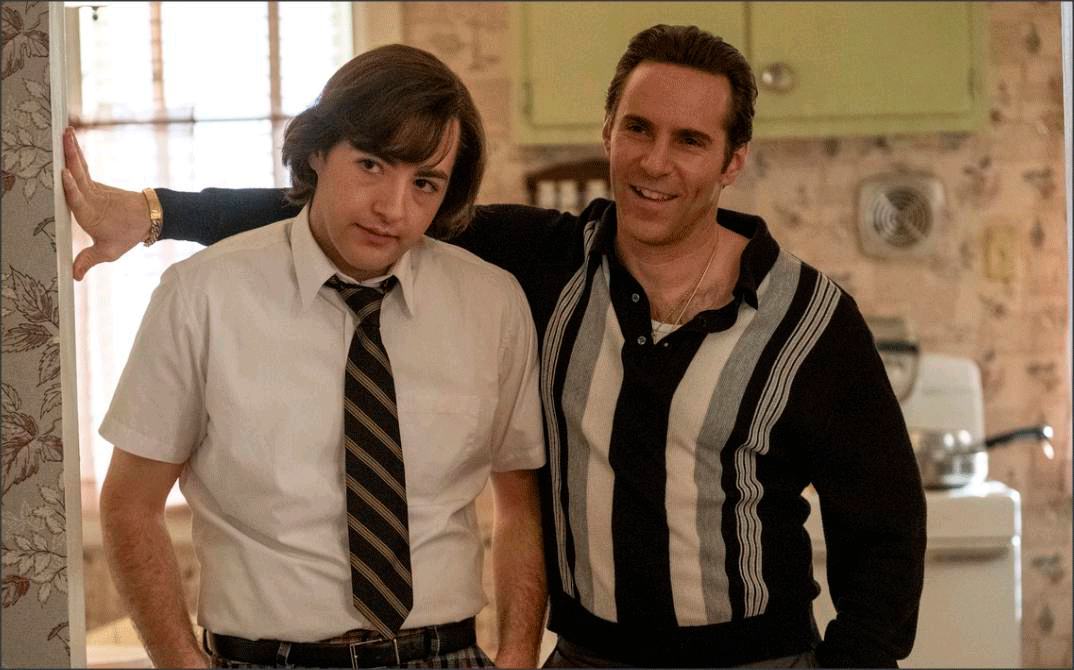 Source

Made for the fans
It would be impossible to talk about this movie without saying some spoilers about the series, but Chase has made it so. This prequel is a great fan service so that all of us who adore the series will be happy to see old characters (played by other actors) but that we will recognize by their physical characteristics, movements, styles, etc. Paulie and Silvio, for example, the actors who play them when they were young, imitate their gestures and movements.
Perhaps this is a negative point, since it would have been better to go deeper into these characters, but no, they are presented with their typical gestures, we identify them when we see them, we know who they are, but I would have liked to see more of them. Only the character of Silvio, has more dialogue and who sees potential in the young Tony Soprano, for something he would become one of his trusted men in the series.
The problem is that if you never saw the series, it will be difficult to like the movie, and even to understand many of the situations that occur, because everything refers to a universe that we have already seen and that from the beginning reminds us of one of the last scenes of the season, with a picture of the young Moltisanti in the cemetery, while his voiceover starts the narration, something that only those who watch the series will fully understand and that is reaffirmed at the end of the film.
The film is made for the fans, forget that others will not be able to enjoy it 100% as a fan of the series will. Never. That's good, because we are many fans, the viewing of the production is assured, but at the same time it is bad, because it is difficult for new viewers to want to watch all seasons of The Sopranos and then watch the movie. My recommendation is to watch the series, you are missing one of the great jewels in the television crown.
The Plot
It's the 1960s. The Newark Mafia, which depends on New York, is led by Dick Moltisani. He is the boss of the whole area, an old womanizer who has spent some time in Italy and returns to the United States with a new, young and beautiful wife: Guiussepina. He already has an adult son, Dickie Moltisanti, who is emerging as the heir to the Mafia empire. Tony Soprano's father, Johnny, Silvio, Paulie Pussy, all these old characters actually work for the Moltisanti. First for Dick and then under the orders of Dickie, who becomes the capo, but who will do business with some African-American criminals that will bring serious consequences. As an observer appears first a child Tony Soprano, who later becomes a teenager, who admires Dickie, he will have Guiseppina as a lover and she will give birth to Christopher Moltisanti, Tony's nephew who will cause him so many headaches in the future. How has the status quo changed? What will happen to Dick? How does his son Dickie assume power? What happens in the end for everything to change? What is Moltisanti's influence on Tony Soprano? How was Tony formed?
Hecho para los fans
Sería imposible hablar de esta película sin decir algunos spoilers sobre la serie, pero Chase lo ha hecho así. Esta precuela es un gran fan service para que todos los que adoramos la serie nos alegremos de ver a viejos personajes (interpretados por otros actores) pero que reconoceremos por sus características físicas, movimientos, estilos, etc. Paulie y Silvio, por ejemplo, los actores que los interpretan cuando eran jóvenes, imitan sus gestos y movimientos.
Quizás esto sea un punto negativo, ya que hubiera sido mejor profundizar en estos personajes, pero no, se presentan con sus gestos típicos, los identificamos al verlos, sabemos quiénes son, pero me hubiera gustado ver más de ellos. Sólo el personaje de Silvio, tiene más diálogo y que ve potencial en el joven Tony Soprano, por algo se convertiría en uno de sus hombres de confianza en la serie.
El problema es que si nunca viste la serie, será difícil que te guste la película, e incluso que entiendas muchas de las situaciones que ocurren, porque todo hace referencia a un universo que ya hemos visto y que desde el principio nos recuerda a una de las últimas escenas de la temporada, con una foto del joven Moltisanti en el cementerio, mientras su voz en off inicia la narración, algo que sólo los que ven la serie entenderán completamente y que se reafirma al final de la película.
La película está hecha para los fans, olvida que los demás no podrán disfrutarla al 100% como lo hará un fan de la serie. Nunca. Eso es bueno, porque somos muchos los fans, el visionado de la producción está asegurado, pero a la vez es malo, porque es difícil que los nuevos espectadores quieran ver todas las temporadas de Los Soprano y luego ver la película. Mi recomendación es que vean la serie, se están perdiendo una de las grandes joyas de la corona televisiva.
La trama
Es la década de los sesenta. La mafia de Newark que depende de Nueva York, está liderada por Dick Moltisani. Es el jefe de toda la zona, un viejo mujeriego que ha pasado una temporada en Italia y vuelve a Estados Unidos con una nueva, joven y bella esposa: Guiussepina. Ya tiene un hijo adulto, Dickie Moltisanti, que se perfila como el heredero del imperio mafioso. El padre de Tony Soprano, Johnny, Silvio, Paulie Pussy, todos estos viejos personajes trabajan en realidad para los Moltisanti. Primero para Dick y luego bajo las órdenes de Dickie, que se convierte en el capo, pero que hará negocios con algunos delincuentes afroamericanos que traerán graves consecuencias. Como observador aparece primero un niño Tony Soprano, que luego se convierte en adolescente, que admira a Dickie, éste tendrá como amante a Guiseppina y ella dará a luz a Christopher Moltisanti, el sobrino de Tony que tantos dolores de cabeza le causará en el futuro. ¿Cómo ha cambiado el statu quo? ¿Qué pasará con Dick? ¿Cómo asume el poder su hijo Dickie? ¿Qué ocurre al final para que todo cambie? ¿Cuál es la influencia de Moltisanti en Tony Soprano? ¿Cómo se formó Tony?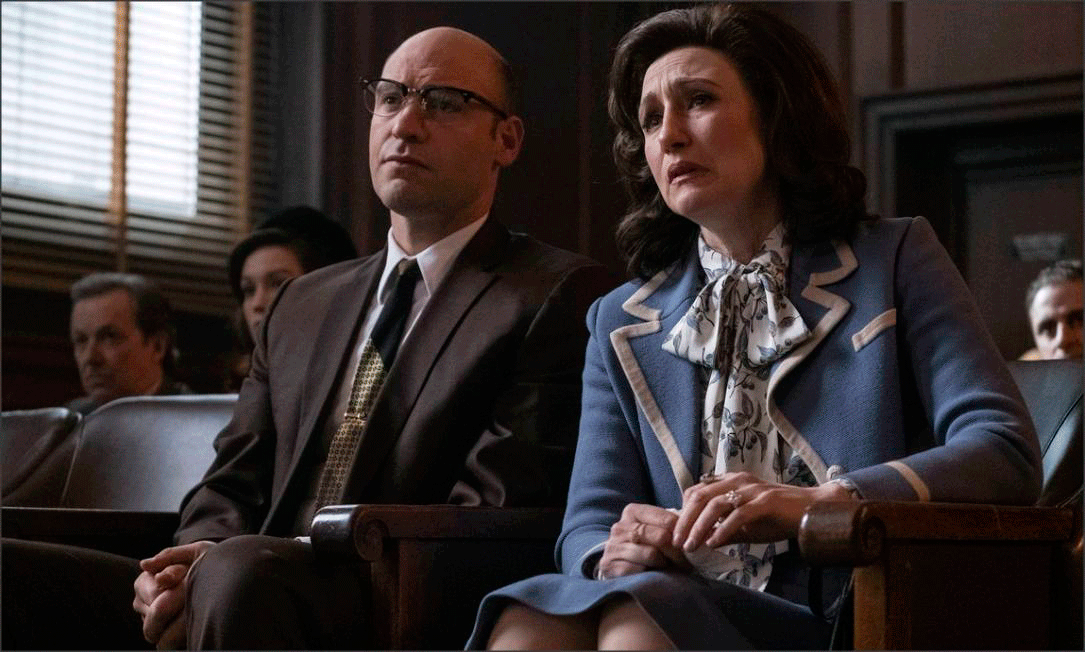 Source

My opinion
Moltisanti
The Many Saints of Newark is really the story of the Moltisanti family. Specifically of Dickie, Christopher's father and who in the series we always had a lot of references to, in different episodes, Paulie and Silvio were always some of the ones who reminded Christopher of the times when his father was the boss and that they were proud to work alongside him.
It was a story that needed to be told, the pre-Soprano era, that whole environment where all the alliances, betrayals and the formation of a young Tony Soprano who is a mere witness to the events, but who had a great impact on the way he was.
There is a lot of Dickie Moltisanti in Tony Soprano, something we realize as the story unfolds. Dickie is a criminal, a murderer, but he is also a well-liked guy, loyal to his trusted men, but ruthless in the face of betrayal.
The decision to move away from the young Soprano, who feels a great admiration for his uncle Moltisanti, was right, it was best to stay away, so that the young man would not follow in his footsteps, but against fate it is impossible to fight, unfortunately everything will end in an unfulfilled appointment that will definitely mark the figure of Tony. It is at that moment where what is seen in the series has greater meaning.
Mi opinón
Moltisanti
Los Muchos Santos de Newark es en realidad la historia de los Moltisanti. Concretamente de Dickie, el padre de Christopher y al que en la serie siempre teníamos muchas referencias, en diferentes episodios, Paulie y Silvio eran siempre algunos de los que le recordaban a Christopher los tiempos en los que su padre era el jefe y que estaban orgullosos de trabajar junto a él.
Era una historia que necesitaba ser contada, la época pre-Soprano, todo ese ambiente donde se dan todas las alianzas, traiciones y la formación de un joven Tony Soprano que es un mero testigo de los acontecimientos, pero que tuvo un gran impacto en su forma de ser.
Hay mucho de Dickie Moltisanti en Tony Soprano, algo de lo que nos damos cuenta a medida que se desarrolla la historia. Dickie es un delincuente, un asesino, pero también es un tipo muy querido, leal a sus hombres de confianza, pero implacable ante la traición.
La decisión de alejarse del joven Soprano, que siente una gran admiración por su tío Moltisanti, fue acertada, lo mejor era alejarse, para que el joven no siguiera sus pasos, pero contra el destino es imposible luchar, desgraciadamente todo acabará en una cita incumplida que marcará definitivamente la figura de Tony. Es en ese momento donde lo que se ve en la serie tiene mayor significado.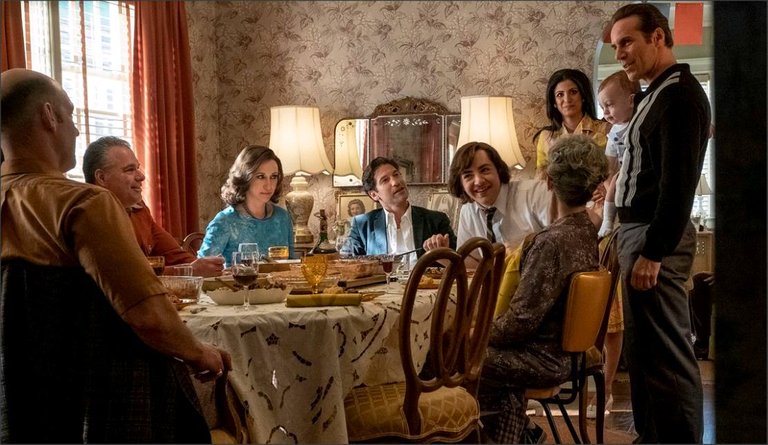 Source

The relationship in the series between Chirstopher, the bastard who by rights should have been one of the bosses, but who lives in the shadow of his uncle Tony, who will have a love-hate relationship that we all know what its outcome was. It was Dickie's ghost that always haunted Tony Soprano in the figure of Christopher. That's why in the series, when that scene occurs in the last season, Tony feels liberated from a burden he has carried on his back for decades. The last of the Moltisanti's left the series so that Tony could find inner peace, a peace he no longer had when he laced his fingers with Dickie's as he lay in the coffin. It masterfully closes a family circle that was very important.
Social context
I think this part is the one that is forced. I don't like all the time dedicated to the African-American characters, who were not important in the series. I think it is a demand of the production to make something more appropriate to these times.
The film is set in the sixties and seventies, of course, the social climate in the United States and the various protests of the African-American community occurred, but in the series, which was set more towards the present day, there was not so much presence of African-American characters nor was there much focus on the issue of racism. That's why it seems too forced to me to introduce all those subplots of the African American criminal who worked for Dickie and then became his enemy.
I am a fan , in love with the story , that I forgive them this slip , at the same time it serves to mislead and give us a surprise twist about the mastermind of one of the tragedies that happen at the end. That revelation that makes me hate even more strongly an old character of the series, for the creep he always was and how hypocritical he treated Christopher.
La relación en la serie entre Chirstopher, el bastardo que por derecho debería haber sido uno de los jefes, pero que vive a la sombra de su tío Tony, que tendrá una relación de amor-odio que todos sabemos cuál fue su desenlace. Era el fantasma de Dickie que siempre perseguía a Tony Soprano en la figura de Christopher. Por eso en la serie, cuando se produce esa escena en la última temporada, Tony se siente liberado de una carga que ha llevado a sus espaldas durante décadas. El último de los Moltisanti salió de la serie para que Tony pudiera encontrar la paz interior, una paz que ya no tenía cuando unió sus dedos a los de Dickie, mientras yacía en el ataúd. Se cierra magistralmente un círculo familiar que fue muy importante.
Contexto social
Creo que esta parte es la que está forzada. No me gusta todo el tiempo dedicado a los personajes afroamericanos, que no eran importantes en la serie. Creo que es una exigencia de la producción para hacer algo más apropiado a estos tiempos.
La película está ambientada en los años sesenta y setenta, por supuesto, el clima social en Estados Unidos y las diversas protestas de la comunidad afroamericana ocurrieron, pero en la serie, que estaba ambientada más hacia la actualidad, no había tanta presencia de personajes afroamericanos ni se centraba mucho en el tema del racismo. Por eso me parece demasiado forzado introducir todas esas subtramas del criminal afroamericano que trabajaba para Dickie y que luego se convirtió en su enemigo.
Soy un fan , enamorado de la historia , que les perdono este desliz, al mismo tiempo que sirve para despistar y darnos un giro sorpresa sobre el autor intelectual de una de las tragedias que suceden al final. Esa revelación que me hace odiar aún más fuertemente a un viejo personaje de la serie, por lo rastrero que siempre fue y lo hipócrita que trató a Christopher.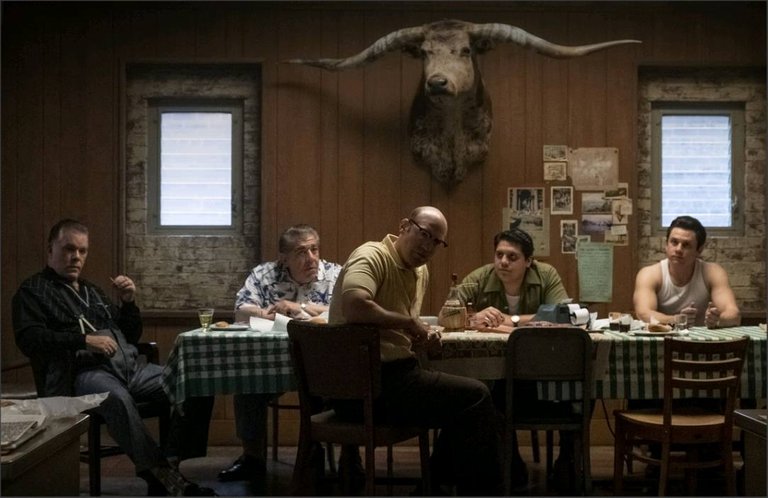 Source

Do I recommend it?
If you saw the series you're going to love it. If you never saw the series, it will seem like another run-of-the-mill mobster movie. I would even go so far as to say that you won't understand many of the situations. I'm going out on a limb to recommend it to everyone, but I'm a fan of the entire Soprano universe. Although it makes the mistake of starting the movie with a gigantic spoiler for the series, maybe if you watch the movie you'll be interested in finally giving this HBO masterpiece a chance.
¿Lo recomiendo?
Si viste la serie te va a encantar. Si nunca viste la serie, te parecerá otra película de mafiosos corriente. Incluso me atrevería a decir que no entenderás muchas de las situaciones. Me arriesgo a recomendarla a todo el mundo, pero soy un fan de todo el universo Soprano. Aunque comete el error de empezar la película con un gigantesco spoiler de la serie, quizás si ves la película te interese por fin darle una oportunidad a esta obra maestra de la HBO.

The characters / Los personajes

Dick "Hollywood" Moltisanti, the family patriarch and mafia boss. Newly married to an Italian woman who could be his daughter, he takes her to the United States, where he manages all of Newakr's business. Played by Ray Liotta, who once again displays his histrionics and a scene with the characteristic laugh that made him an internet meme, from the movie Godfellas. Attention, he plays a double role, they are two brothers and one of them is in prison.
Dickie Moltisanti. Son of Dick and who will take control of the mafia clan after the death of his father. He is the protagonist of the whole story and it is the story of his life, his rise and fall of power, a life full of emotions, but as in the mafia, with many risks, today they are alive, tomorrow maybe not. But it is his personality, his way of being with Tony Soprano, which made him almost a father figure, a mentor, that's why when I saw his character, it was like watching Tony Soprano. An excellent job by actor Alessandro Nivola, having the responsibility of guiding the whole plot. Because it is a movie about Dickie Moltisanti.
Livia Soprano, the most unbearable woman, already in the series had flashbacks, where she was played by another actress, but we know what kind of woman she is, one capable of ordering the murder of her own son. Here we know her a little more, in every scene she is unbearable, we have a better vision of Tony Soprano's whole trauma with his mother. Vera Farmiga does a great job, a woman who was never right in the head and never trusted her son.
Giussepina Moltisanti, is a beautiful young woman, first Dick's wife and then Dickie's lover, she is Christopher's mother, she will make a serious mistake and we will see the tragic fate that awaits her, leaving baby Christopher an orphan, something that will also influence Christopher's personality that we will see in the series. The character is played by Michella De Rossi.
Junior Soprano appears young, played by Corey Stoll, being the usual snake, ready to betray anyone. Paulie is played by Billy Magnussen, mostly an imitation of his refined gestures and good taste in dress. Silvio Dante is played by John Magaro, also limited to imitating gestures and hand movements characteristic of the character, in addition to the wigs he already wore as a young man. It was nice to see that the character of Pussy, an original member of Tony's band in the series, in the movie is played by an actor I don't know. The role of Johnny Soprano, Tony's father, is played by actor John Bernthal, who does an okay job, but really of little relevance.
Tony Soprano, I leave him in last place, because his presence is testimonial, as a child he is played by an actor and as a teenager by Michael Galdonfini, who does a great tribute to his father. I can't imagine what this actor felt doing this job, playing the same character immortalized by his father. A very special job and he does it very well, not only because of his physical resemblance, but also on an interpretative level, he managed to capture all that essence of how was the adolescence of that man who would be feared by all, becoming the boss of the New Jersey mob. Although I missed seeing more of him on screen, I was satisfied with the work and the result.
Dick "Hollywood2 Moltisante, el patriarca de la familia y jefe de la mafia. Recién casado con una italiana que podría ser su hija, se la lleva a Estados Unidos, donde gestiona todos los negocios de Newakr. Interpretado por Ray Liotta, que vuelve a hacer gala de su histrionismo y de una escena con la característica risa que le convirtió en un meme de internet, desde la película Godfellas. Atencion, que interpreta un doble papel, son dos hermanos y uno de ellos esta en prision.
Dickie Moltisante. Hijo de Dick y que tomará el control del clan mafioso tras la muerte de su padre. Es el protagonista de toda la historia y es la historia de su vida, su ascenso y caída del poder, una vida llena de emociones, pero como en la mafia, con muchos riesgos, hoy están vivos, mañana quizás no. Pero es su personalidad, su forma de ser con Tony Soprano, lo que lo convirtió casi en una figura paterna, en un mentor, por eso cuando vi su personaje, fue como ver a Tony Soprano. Un excelente trabajo del actor Alessandro Nivola, teniendo la responsabilidad de guiar toda la trama. Porque es una película sobre Dickie Moltisanti.
Livia Soprano, la mujer más insoportable, ya en la serie tenía flashbacks, donde era interpretada por otra actriz, pero sabemos qué clase de mujer es, una capaz de ordenar el asesinato de su propio hijo. Aquí la conocemos un poco más, en cada escena es insoportable, tenemos una mejor visión de todo el trauma de Tony Soprano con su madre. Vera Farmiga hace un gran trabajo, una mujer que nunca estuvo bien de la cabeza y nunca confió en su hijo.
Giussepina Moltisanti, es una bella joven, primero esposa de Dick y luego amante de Dickie, es la madre de Christopher, cometerá un grave error y veremos el trágico destino que le espera, dejando huérfano al bebé Christopher, algo que también influirá en la personalidad de Christopher que veremos en la serie. El personaje está interpretado por Michella De Rossi.
Junior Soprano aparece joven, interpretado por Corey Stoll, siendo la serpiente de siempre, dispuesta a traicionar a cualquiera. Paulie es interpretado por Billy Magnussen, más que nada una imitación de sus gestos refinados y su buen gusto para vestir. Silvio Dante es interpretado por John Magaro, también se limita a imitar gestos y movimientos de manos característicos del personaje, además de las pelucas que ya usaba desde joven. Fue agradable ver que el personaje de Pussy, miembro original de la banda de Tony en la serie, en la película es interpretado por un actor que no conozco. El papel de Johnny Soprano, el padre de Tony, es interpretado por el actor John Bernthal, que hace un trabajo correcto, pero realmente de poca relevancia.
Tony Soprano, lo dejo en último lugar, porque su presencia es testimonial, de niño es interpretado por un actor y de adolescente por Michael Galdonfini, que hace un gran homenaje a su padre. No puedo imaginar lo que sintió este actor haciendo este trabajo, interpretando al mismo personaje que inmortalizó su padre. Un trabajo muy especial y lo hace muy bien, no sólo por su parecido físico, sino también a nivel interpretativo, consiguió captar toda esa esencia de cómo fue la adolescencia de aquel hombre que sería temido por todos, convirtiéndose en el jefe de la mafia de Nueva Jersey. Aunque me faltó ver más de él en pantalla, quedé satisfecho con el trabajo y el resultado.

The Many Saints of Newark I would have liked to see it as a miniseries, maybe they could have delved a little deeper into the past of this mafia clan and how Tony is being formed in the dangerous world of crime. I'm happy with the movie, I loved it, despite the little mistakes Chase makes to please the production and the fans at the same time. For me it is impossible to be objective, all the vision of this film is influenced because I enjoyed each and every one of the chapters of the series and is part of the best series I've seen in my life.
I can only recommend not only this movie, but the whole series, in case you haven't seen it. Any opinion, you can leave it in the comments and tomorrow I will answer, right now, I publish this post and go to sleep. Until the next review.
The Many Saints of Newark me hubiera gustado verla como una miniserie, tal vez así hubieran podido profundizar un poco más en el pasado de este clan mafioso y en cómo se va formando Tony en el peligroso mundo del crimen. Estoy contento con la película, me ha encantado, a pesar de los pequeños fallos que comete Chase para contentar a la producción y a los fans al mismo tiempo. Para mí es imposible ser objetivo, toda la visión de esta película está influenciada porque disfruté de todos y cada uno de los capítulos de la serie y forma parte de las mejores series que he visto en mi vida.
Solo puedo recomendarles no solo esta película, sino toda la serie, por si no la han visto. Cualquier opinión, puedes dejarla en los comentarios y mañana contestaré, ahora mismo, publico este post y me voy a dormir. Hasta la próxima reseña.

My Ranking:

3.8/5


POSTER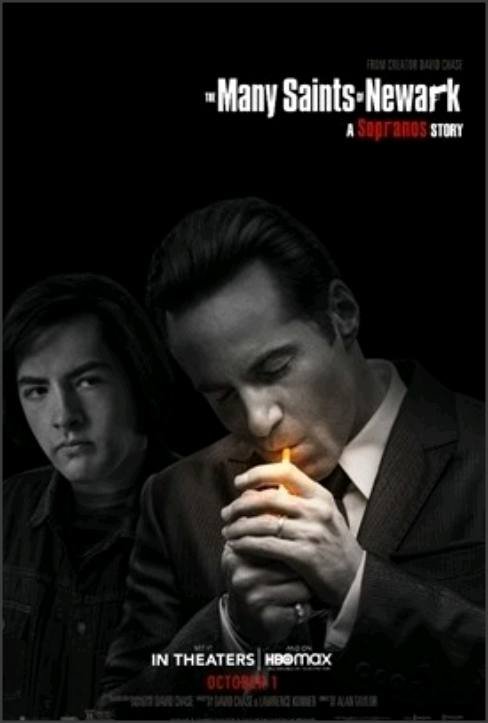 Source

Gifs and separators made by me in photoshop

Other recent Post