Transgressive, hypnotic, perverse, absurd, violent and provocative. These are some of the adjectives that have been given to Julia Ducournau's film. Are they correct? Yes. It is an enigmatic work, visually shocking, depending on the eyes that look at it, not suitable for all audiences. This sounds cliché, but it is the reality. Not all viewers will be prepared to delight and feel the ecstasy with the story told by the filmmaker. A work worthy of our voracious times, which plays with various film genres to create a powerful film that becomes an existentialist and intimate story about the traumas and shortcomings of the human being. I will try not to drop any spoilers, so you can rest assured, I will not even address much of the plot, because it is a film that you have to see, to draw your own reading, which may differ from mine. I can only tell you to get ready for one of the wildest rides in recent years.
Transgresora, hipnótica, perversa, absurda, violenta, provocadora. Estos son algunos de los adjetivos que se han dado a la película de Julia Ducournau. ¿Son correctos? Sí. Es una obra enigmática, visualmente impactante, según los ojos que la miren, no apta para todos los públicos. Esto suena a tópico, pero es la realidad. No todos los espectadores estarán preparados para deleitarse y sentir el éxtasis con la historia que nos cuenta la cineasta. Una obra digna de nuestros voraces tiempos, que juega con varios géneros cinematográficos para crear una potente película que se convierte en una historia existencialista e intimista sobre los traumas y carencias del ser humano. Intentaré no soltar ningún spoiler, así que puedes estar tranquilos, ni siquiera abordaré gran parte de la trama, porque es una película que tienes que ver, para sacar tu propia lectura, que puede diferir de la mía. Sólo puedo decirte que te prepares para uno de los viajes más salvajes de los últimos años.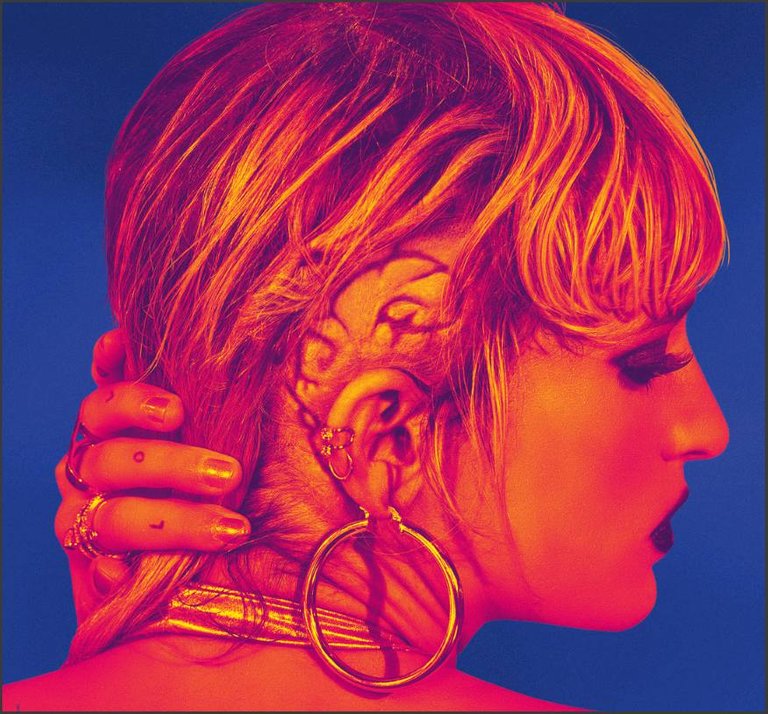 Source

English
The absurd arises from the confrontation between the search of the human being and the irrational silence of the world Albert Camus
My previous review was about the film The Power of the Dog, directed by Jane Campion, who was the first woman filmmaker to win the Palme d'Or at Cannes in the 1990s. But on that occasion the prize was shared. Coincidentally, this year 2021 edition of the festival, a woman repeated again and this time she did it alone. Julia Ducournau is the filmmaker, who had already been praised by the critics with her previous film Raw, now she consecrated herself in Cannes with this masterful production titled Titane.
Those who saw Raw, know perfectly well what Julia Ducournau's style is and what they can expect from the filmmaker. I remember that for me Raw was one of the best cinematic stories of the year it was released and I never tire of recommending it. Some have listened to me and have been captivated by the film, but are they ready for the next level? Raw was a difficult film to digest, and now, with Titane, Ducournau explores all his ideas and references to give us a spectacle that can dismay even the most conventional viewer.
The cinematography is a key element in the film and the filmmaker has once again counted on the Belgian professional Ruben Impens, with whom she already worked in her previous film. The connection between the two is evident, especially in a wonderful sequence shot that takes place in the first minutes of the film, where the protagonist, who works as a dancer in modified car shows, is introduced. If in Raw the cinematographer had done an impeccable job, this time he surpasses himself, providing a remarkable contrast between the scenes where Alexia's character undergoes her transformation. He also shines in a sequence that takes place inside a burning forest, beautifully shot, with the intensity of the fire consuming the remnants of life.
Español
El absurdo surge de la confrontación entre la búsqueda del ser humano y el silencio irracional del mundo Albert Camus
Mi anterior crítica fue sobre la película El poder del perro, dirigida por Jane Campion, que fue la primera mujer cineasta en ganar la Palma de Oro en Cannes en los años 90. Pero en aquella ocasión el premio fue compartido. Casualmente, este año 2021, en la edición del festival, una mujer volvió a repetir y esta vez lo hizo en solitario. Julia Ducournau es la cineasta, que ya había sido alabada por la crítica con su anterior película Raw, ahora se consagró en Cannes con esta magistral producción titulada Titane.
Los que vieron Raw, saben perfectamente cuál es el estilo de Julia Ducournau y lo que pueden esperar de la cineasta. Recuerdo que para mí Raw fue una de las mejores historias cinematográficas del año en que se estrenó y no me canso de recomendarla. Algunos me han hecho caso y han quedado cautivadoscon la película, pero ¿están preparados para el siguiente nivel? Raw era una película difícil de digerir, y ahora, con Titane, Ducournau explora todas sus ideas y referencias para darnos un espectáculo que puede descolocar al espectador más convencional.
La fotografía es un elemento clave en la película y la cineasta ha vuelto a contar con el profesional belga Ruben Impens, con quien ya trabajó en su anterior película. La conexión entre ambos es evidente, sobre todo en un maravilloso plano secuencia que tiene lugar en los primeros minutos de la película, donde ocurre ka presentacion de la protagonista, quien trabaja como bailarina en espectáculos de coches modificados. Si en Raw el director de fotografía había realizado un trabajo impecable, en esta ocasión se supera a sí mismo, proporcionando un notable contraste entre las escenas donde el personaje de Alexia sufre su transformación. También se luce en una secuencia que transcurre en el interior de un bosque en llamas, bellamente rodada, con la intensidad del fuego consumiendo los restos de vida.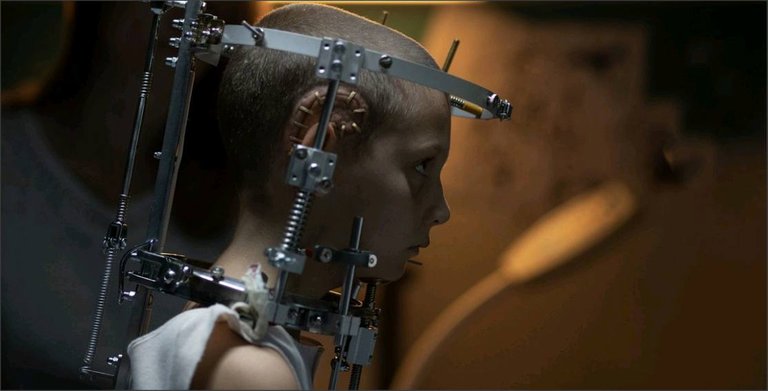 Source

What is the plot?
Alexia is a woman who during her childhood, after a car accident in which her father was driving, had a titanium plate inserted in part of her head, which seems to be the trigger for a certain paraphilia she developed. Now, she is an adult woman, who dances in shows where there are modified cars, something for which she feels a certain attraction that goes beyond the conventional and even crosses sexual boundaries. After a terrible event, in which a secret comes to light, she must change her identity and becomes Adrian, a boy who has been missing for years. How did he disappear? What happened? There he meets Vincent, Adrian's father, the captain of a fire department. The two begin a father-son relationship with sexual tension in between. She will have to hide who she is, while her body undergoes changes due to an unwanted pregnancy and Vincent will accept a lie to alleviate the pain and madness that consumes him. Two lonely souls, full of pain and suffering, who will find between them the meaning of their existence. That's the most I can tell you, the rest you have to see.
¿Cuál es la trama?
Alexia es una mujer que durante su infancia, tras un accidente de coche en el que conducía su padre, le insertaron una placa de titanio en parte de su cabeza y que parece el detonante de cierta parafilia que desarrollara. Ahora, es una mujer adulta, que baila en espectáculos donde hay coches modificados, algo por lo que siente una cierta atracción que va más allá de lo convencional y que incluso traspasa los límites sexuales. Tras un terrible suceso, en el que sale a la luz un secreto que guarda, debe cambiar su identidad y se convierte en Adrián, un chico que lleva años desaparecido. ¿Como desapareció? ¿Que ocurrió? Allí conoce a Vincent, el padre de Adrián, capitán de un cuerpo de bomberos. Ambos inician una relación padre-hijo con una tensión sexual de por medio. Ella tendrá que ocultar quién es, mientras su cuerpo sufre cambios debido a un embarazo no deseado y Vincent aceptará una mentira para aliviar el dolor y la locura que le consumen. Dos almas solitarias, llenas de dolor y sufrimiento, que encontrarán entre ellos el sentido de su existencia. Es lo máximo que puedo decirles, lo demás tienes que verlo.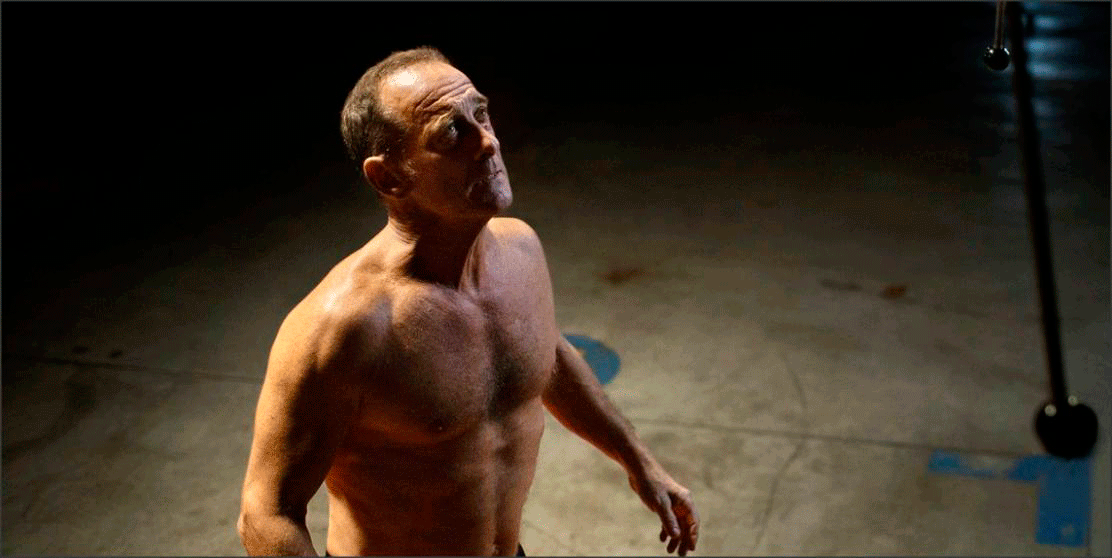 Source

My opinion
There are works that are markedly a product of their time. We live in a convulsive time, the world has entered a maelstrom of madness, there is no room for surprises. For some religious believers, we are living the beginning of the end, I am not a believer, but I admit that great changes are taking place in these times that seem to lead us to a dystopian future of which I am not very optimistic.
Perhaps I will not be in this earthly world, when in twenty years or so, when I look back on certain works of the past that marked an era, Titane will be like a faithful exponent of our times. If any film today can reflect the madness of our society, this is it.
With an impressive visual style, visceral, absurd, crazy and violent, which seeks above all to shock the viewer, the award-winning filmmaker shows off all the cinematic influences that have shaped her, and impregnates her own character, on this occasion a little icy and distant with her characters, but also with a notable influence of the extreme current of French horror, which has brought us gems of the genre in recent years.
Do not be fooled, of course the intention of the filmmaker is to be transgressive with her images, to cause an effect (good or bad) in the viewer, for many it can be disturbing and repulsive, but although a small sector has criticized her and said that she only seeks to provoke for the sake of provoking, the director knows very well what she wants to convey, sex and violence that predominates in the film, are not put for free, everything has a background, just look a little deeper and you will find the existential conflict of her characters.
Mi opinión
Hay obras que son marcadamente un producto de su tiempo. Vivimos una época convulsa, el mundo ha entrado en una vorágine de locura, no hay lugar para las sorpresas. Para algunos creyentes religiosos, estamos viviendo el principio del fin, yo no soy creyente, pero admito que se están produciendo grandes cambios en estos tiempos que parecen llevarnos a un futuro distópico del que no soy muy optimista.
Tal vez yo no este en este mundo terrenal, cuando dentro de unos veinte años, al hacer una introspección sobre ciertas obras del pasado que marcaron una época, Titane sea como un fiel exponente de nuestros tiempos. Si alguna película actual, puede reflejar la locura de nuestra sociedad, es ésta.
Con un impresionante estilo visual, visceral, absurdo, alocado y violento, que busca ante todo impactar al espectador, la premiada cineasta hace gala de todas las influencias cinematográficas que la han formado, e impregna su propio carácter, en esta ocasión un poco gélido y distante con sus personajes, pero también con una notable influencia de la corriente extrema del terror francés, que nos ha traído joyas del género en los últimos años.
No te engañes, por supuesto que la intención de la cineasta es ser transgresora con sus imágenes, causar un efecto ( bien o mal ) en el espectador, para muchos puede ser perturbador y repulsivo, pero aunque un pequeño sector la ha criticado y ha dicho que solo busca provocar por provocar, la directora sabe muy bien lo que quiere transmitir, el sexo y la violencia que predomina en la película, no están puestos de forma gratuita, todo tiene un trasfondo, solo hay que mirar un poco más profundo y encontrarás plasmado el conflicto existencial de sus personajes.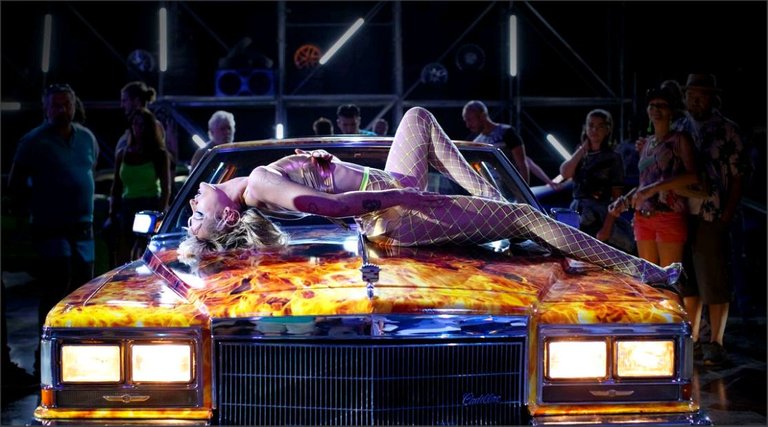 Source

Existentialist work
The decisions and actions of people influence their environment, the human being, with good and evil in his life, with the power to be free to create their own paradigms, fantasies and lies in search of the reason for its existence, in search of reasons to keep breathing, in search of a love that does not seem to exist.
Who are we really? What are we here for? What is the meaning of life? Are there answers to this? Through characters full of anguish, who are afraid of themselves, of the actions they have done and of what they have lived, the filmmaker will play with our mind and using the irrational and the fantastic, to try to to give us some answers.
Body Horror
Cronnenberg's influence is notable, not only for the exponence of Body Horror, but also for the physical transformation of a character, which falls into the category of the New Flesh, of which Cronneberg is its main exponent. The director had already addressed the theme of physical transformation in her previous work, but now she goes a step further, although she has the influence of this great master of cinema, she is a director with her own character, who not only stays with the man-machine symbiosis, but even transgresses the genres.
Woman - Man - Machine
The director has said it in countless interviews. The body and its transformation is only the wrapping, the visual form for us to see the metamorphosis of each character, what matters most is the psychological and internal transformation of each of them.
The woman, who does not seem to feel at ease with her own body and much less accept being a mother, something she does not want and where the filmmaker plays it completely, with a female character without the typical maternal effect, on the contrary, she injures herself and causes pain to herself trying to hide something she does not want.
The first metamorphosis is towards Man, where she will be accepted by the other character, all the family love that was denied to her as a woman, she will get as a man, but this will not be enough, because her physical transformation is not completely finished, from the opening sequence, when she was a girl and they had to insert a titanium plate in her head, she established a link with the next advance in the system of evolution.
The machine, as a symbol of what awaits us in the not so distant future. Are we ready for the next evolutionary process? Even if you try to fight against your own genetics, the end seems inevitable, what will be doom for one, is a new beginning for the other.
Obra existencialista
Las decisiones y acciones de las personas influyen en su entorno, el ser humano, con el bien y el mal dentro de su vida, con el poder de ser libre de crear sus propios paradigmas, fantasías y mentiras en busca de la razón de su existencia, en busca de las razones para seguir respirando, en busca de un amor que parece no existir.
¿Quiénes somos realmente? ¿Para qué estamos aquí? ¿Cuál es el sentido de la vida? ¿Existen respuestas a esto? A través de personajes llenos de angustia, que tienen miedo de sí mismos, de las acciones que han realizado y de lo que han vivido, el cineasta jugará con nuestra mente y utilizando lo irracional y lo fantástico, para intentar darnos algunas respuestas.
Body Horror
La influencia de Cronnenberg es notable, no sólo por la exponencia del Body Horror, sino también por la transformación física de un personaje, que entra en la categoría de la Nueva Carne, de la que Cronneberg es su principal exponente. La directora ya había abordado el tema de la transformación física en su anterior trabajo, pero ahora va un paso más allá, aunque tiene la influencia de este gran maestro del cine, es una directora con carácter propio, que no sólo se queda con la simbiosis hombre-máquina, sino que incluso transgrede los géneros.
Mujer - Hombre - Máquina
La directora lo ha dicho en innumerables entrevistas. El cuerpo y su transformación es sólo el envoltorio, la forma visual para que veamos la metamorfosis de cada personaje, lo que más importa es la transformación psicológica e interna de cada uno de ellos.
La mujer, que no parece sentirse a gusto con su propio cuerpo y mucho menos aceptar ser madre, algo que no desea y donde el cineasta se la juega por completo, con un personaje femenino sin el típico efecto maternal, al contrario, se auto lesiona y se causa dolor a sí misma tratando de ocultar algo que no quiere.
La primera metamorfosis es hacia el Hombre, donde será aceptada por el otro personaje, todo el amor familiar que le fue negado como mujer, lo obtendrá como hombre, pero esto no será suficiente, porque su transformación física no está completamente terminada, desde la secuencia inicial, cuando era una niña y le tuvieron que insertar una placa de titanio en la cabeza, estableció un vínculo con el próximo avance en el sistema de la evolución.
La máquina, como símbolo de lo que nos espera en un futuro no tan lejano. ¿Estamos preparados para el próximo proceso evolutivo? Aunque intentes luchar contra tu propia genética, el final parece inevitable, lo que será la perdición para uno, es un nuevo comienzo para el otro.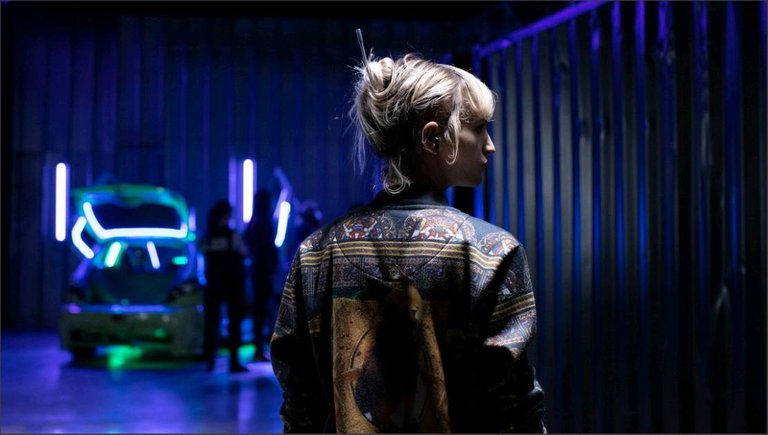 Source

Mechaphilia
The fact that certain sexual scenes involve a human being and a machine, in this case, a car, is not something out of a fantasy that does not exist. On the contrary, the director knows very well the ground she is treading on, as Cronnenberg did in his masterpiece Crash. Sexual desire, and even having pleasurable relations with a machine, has a name, it is called mechaphilia and there are many cases of people who have this paraphilia.
Of course, the whole concept surrounding this is used with determination by the filmmaker to include it within the fantastic story that she builds, using it as a tool for the metamorphosis of one of the main characters. She suffers the biggest transformation, not only physically, but also an emotional transformation and development of the character in a complex way, becoming the existential symbol of the work.
Unclassifiable
There are so many genres that the director uses, that we can easily classify Titane as an unclassifiable work. Horror, Science Fiction, Drama, Romance, Body Horror, Metamorphosis. In Titane you will find everything, that's why I understand the commotion it caused among the spectators in Cannes, most of them were delighted with the film, only a small group of haters wrote some negative reviews, labeling the filmmaker as pretentious and looking for provocation as a way to get attention.
I'm on the side of those who were ecstatic. It's the kind of film that I love, that produces a strange feeling of pleasure in me that I can't describe. Therefore, my point of view is very strongly in favor of the film and I consider it a must-see work, which should be spread and seen. I assure you that it will be one of the most insane films you will see for a long time.
I feel satisfied and very happy, I was already a follower of this filmmaker, now I am an absolute fan. As long as there are risky authors, with the freedom to make their art and capture their crazy ideas on the big screen, I will continue to believe that there is a future in cinema as a way to impact and tell true stories that can alter and awaken society from the boredom and lethargy in which they are submerged by the communication machinery that is idiotizing the world.
Music.
The music composed for the film is full of energy, some compositions are perfect for what is sought to convey in certain scenes. It is worth mentioning the use of some songs, such as Wayfaring Stranger.
The film uses a version of this popular song that is part of American folklore and was composed for the soundtrack of the film. It is performed by Lisa Abbott. In this link you can learn more about the song, which talks about a person who is on a journey discovering her life, a metaphor that can be seen in the movie, where both protagonists manage to make a connection and discover something similar to love, fragile and tormented souls who need each other.
I loved the song She's Not There by the band The Zombies, which I leave below for you to enjoy.
La mecafilia
El hecho de que determinadas escenas sexuales involucren un ser humano y una maquina, en este caso, un coche, no es algo sacado de una fantasía que no existe. Al contrario, la directora sabe muy bien el terreno que pisa, ya Cronnenberg lo hizo en su obra maestra Crash. El deseo sexual, e incluso tener relaciones placenteras con una maquina, tiene un nombre, se llama mecafilia y existen muchos casos de personas que tiene esta parafilia.
Por supuesto, todo el concepto que rodea esto, es usado con determinación por la cineasta para incluirlo dentro del relato fantástico que va construyendo, usándolo como herramienta para la metamorfosis de uno de los personajes protagonistas. La cual sufre la mayor transformación, no solo a nivel físico, también una transformación emocional y desarrollo del personaje de manera compleja, convirtiéndose en ese símbolo existencial de la obra.
Inclasificable
Son tantos los géneros que usa la directora, que fácilmente podemos catalogar a Titane de ser una obra inclasificable. Horror, Ciencia Ficcion, Drama, Romance, Body Horror, Metamorfosis. En Titane encontraras de todo, por eso entiendo el revuelo que causo ante los espectadores en Cannes, la mayoría salió encantada de su visionado, solo un pequeño grupo de haters escribieron algunas críticas negativas, tachando a la cineasta de pretenciosa y de buscar la provocación como manera de llamar la atención.
Yo estoy del lado de los que quedaron extasiados. Es el tipo de película que yo amo, que producen una extraña sensación de placer en mi que no puedo describir. Por eso, mi punto de vista está muy marcado a favor de la cinta y la considero una obra imperdible, que debe ser difundida y vista. Te aseguro que será uno de los films más demenciales que veras durante un largo tiempo.
Me siento satisfecho y muy contento, ya era seguidor de esta cineasta, ahora soy un fan absoluto. Mientras existan autores arriesgados, con libertad de hacer su arte y plasmar sus descabelladas ideas en la pantalla grande, seguiré creyendo de que hay futuro en el cine como forma de impactar y contar verdaderas historias que puedan alterar y despertar a la sociedad del hastió y el letargo en que están sumidos por la maquinaria comunicacional que esta alienando al mundo.
La música.
La música compuesta para la película está llena de energía, algunas composiciones son perfectas para lo que se busca transmitir en ciertas escenas. Cabe destacar el uso de algunas canciones, como Wayfaring Stranger.
La película utiliza una versión de esta popular canción que forma parte del folclore americano y que fue compuesta para la banda sonora de la película. Está interpretada por Lisa Abbott. En este enlace puedes obtener más información sobre la canción, que habla de una persona que está en un viaje descubriendo su vida, una metáfora que se puede ver en la película, donde ambos protagonistas logran hacer una conexión y descubrir algo parecido al amor, unas almas frágiles y atormentadas que se necesitan mutuamente.
Me encantó la canción She's Not There del grupo The Zombies, que les dejo a continuación para que la disfruten.

Source

The characters / Los personajes

The work of the two main actors in this work is of vital importance to give credibility to the most unbelievable situations of the film, it is where the work of the two protagonists stands out, creating a relationship that manages to go beyond the screen.
Actress Agathe Rousselle is the first to be recognized, playing Alexia /Adrian exerts an impressive physical work, for all that the character must go through, in addition to the physical transformation throughout the film. She begins as an attractive woman, to be transformed into an ugly being, androgynous and victim of a physical suffering that can not be described, the images speak for themselves, conveying all the pain to which she is subjected while her unusual pregnancy progresses. I could only see beauty as her physique changes.
Actor Vincent Lindon plays Captain Vincent, the man tormented by his past and using anabolics to try to maintain a controlled physical state, within his own madness, he will accept the lie to appease his pain, plus there is something in his past with his real son, where abuse and incest was present. The homo erotic dances in the fire station and that tension between the two characters, which will cross the boundaries between father and son. The actor is phenomenal and when his character makes an appearance, the story takes on a new momentum.
Actress Garance Marillier has a brief character at the beginning of the film, she is one of the girls who has an affair with Alexia. She doesn't have much screen time, but I wanted to mention her because she was the protagonist of Raw, the director's previous film, which I also highly recommend you watch.
Actress Dominique Frot has a scene in the film, which has been much talked about in various media, especially because the popular song Macarena is involved. When you see the film, you will understand and you will see that it is a totally crazy, funny and tragic scene.
La labor de los dos actores principales en esta obra es de vital importancia para dar credibilidad a las situaciones más increíbles del film, es donde el trabajo de los dos protagonistas sobresale, creando una relación que logra traspasar la pantalla.
La actriz Agathe Rousselle es la primera que debe ser reconocida, interpretando a Alexia /Adrian ejerce un trabajo físico impresionante, por todo lo que debe pasar el personaje, además de la transformación física a lo largo de todo el film. Comienza siendo una atractiva mujer, para ir transformándose en un ser feo, andrógino y víctima de un sufrimiento físico que no se puede describir, las imágenes hablan por sí solas, transmitiendo todo el dolor al que se somete mientras progresa su insólito embarazo. Yo solo podía ver belleza a medida que su físico va cambiando.
El actor Vincent Lindon interpreta al Capitan Vincent, el hombre atormentado por su pasado y que usa anabolizantes para intentar mantener un estado físico controlado, dentro de su propia locura, aceptara la mentira para apaciguar su dolor, además de que existe algo en su pasado con su verdadero hijo, donde el abuso y el incesto estuvo presente. Los bailes homo eróticos en la estación de bomberos y esa tensión entre ambos personajes, que traspasaran los límites padre e hijo. El actor esta fenomenal y cuando hace aparición su personaje, la historia toma un nuevo impulso.
La actriz Garance Marillier tiene un breve personaje a principio del film, es una de las chicas que tiene un romance con Alexia. No tiene mucho tiempo en pantalla, pero quería nombrarla porque ella fue la protagonista de Raw, al anterior película de la directora y que también recomiendo encarecidamente que la veas.
La actriz Dominique Frot tiene una escena en el film, de la cual se ha hablado mucho en diversos medios, especialmente porque la popular canción Macarena está involucrada. Cuando veas el film, lo entenderás y veras que es una escena totalmente loca, divertida y trágica.

Titane is a film that you have to be prepared to see. It is an overwhelming film that is impossible to leave you indifferent. Depending on the type of viewer you are, you will find some of its scenes extremely violent and others even repulsive. For me it was a marvel from beginning to end and is in my top of the best movies of the year. Believe me when I tell you that Titane will still be talked about years from now. You've probably already read news where they say it's the strangest movie you can see and they're right. It all depends on you and how you read the movie.
If you have seen it, don't forget to tell me in the comments what you thought of it. Don't worry, in case you don't like it, let me know, I understand that this transgressive movie can't please everyone, see you in the next post!
Titane es una película que hay que estar preparado para ver. Es una película sobrecogedora que es imposible que te deje indiferente. Dependiendo del tipo de espectador que seas, encontrarás algunas de sus escenas extremadamente violentas y otras incluso repulsivas. Para mí fue una maravilla de principio a fin y está en mi top de las mejores películas del año. Créanme cuando les digo que dentro de unos años se seguirá hablando de Titane. Seguramente ya habrás leído noticias donde dicen que es la película más extraña que puedes ver y tienen razón. Todo depende de ti y de la lectura que le des a la película.
Si la has visto, no olvides contarme en los comentarios qué te ha parecido. No te preocupes, en caso de que no te guste, házmelo saber, entiendo que esta película transgresora no puede gustar a todo el mundo. ¡Nos vemos en el próximo post!

My Ranking:

5/5


POSTER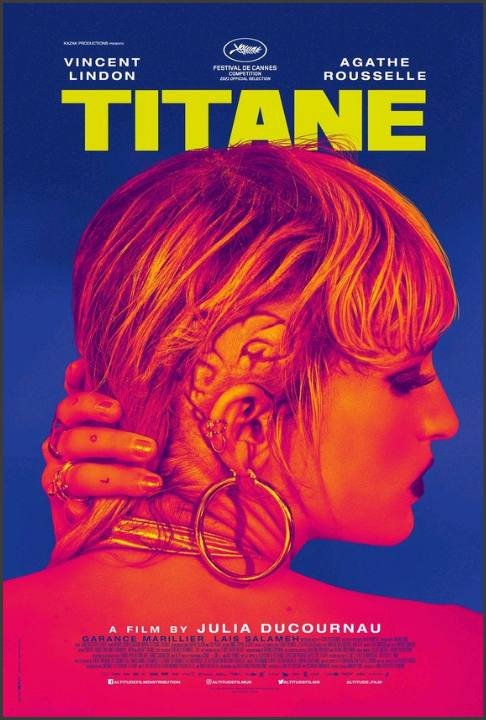 Source

Gifs and separators made by me in photoshop

Other recent Post