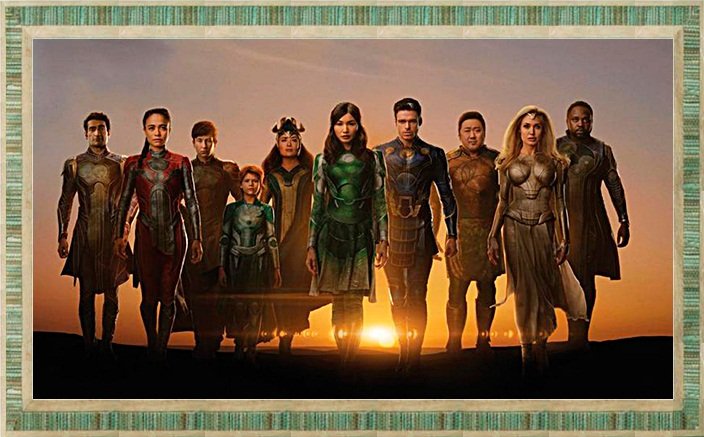 Source
Yesterday I was able to enjoy the Disney Plus streaming service the movieEternals from Marvel and today I want to share my impressions.
First of all, it is a long movie and with a different tone than what we are used to in Marvel, but this is something, from my point of view, positive since it was possible to deal in a more comfortable way both the introduction of new characters and the extension of the narrative that until now brought the U.C.M.
In effect, now the narrative of Marvel has the open doors to treat not only on the diverse existing universes but even on its same origins that is where we find ourselves with the existence of the celestials, who created everything that we know and the Eternals, created by the celestial Arishem to protect to the present life in the diverse planets of the super-predators: the deviants.
Here is where this new group of superheroes is formally introduced, in fact, the presence of the Eternals on earth obeys in principle the orders for which they were created (to destroy the deviants). However, in the course of the film, it is discovered what is the true meaning for which they were sent: to keep alive the celestials who, like the deviants, need to feed on the life of the planets to emerge.
This creates a philosophical reflection on the morality of the acts of the Eternals on earth, who had been fighting against the deviants not for a pure intention of defending humanity but so that there would be enough life to feed a new celestial, which in the case of the earth was going to be Tiamut.
Ayer pude disfrutar desde el servicio de streaming de Disney Plus de la películaEternals de Marvel y hoy quiero compartir mis impresiones.
En primer lugar, se trata de una película larga y con un tono diferente al cual estamos acostumbrados en Marvel, pero esto es algo, desde mi punto de vista, positivo ya que así se pudo tratar de una manera más cómoda tanto la introducción de nuevos personajes como la extensión de la narrativa que hasta ahora traía el U.C.M.
En efecto, ahora la narrativa de Marvel tiene las puertas abiertas para tratar no sólo sobre los diversos universos existentes sino hasta sobre sus mismos orígenes que es donde nos encontramos con la existencia de los celestiales, quienes crearon todo lo que conocemos y los eternos, creados por el celestial Arishem para proteger a la vida presente en los diversos planetas de los super depredadores: los desviantes.
He aquí donde se introducen formalmente a este nuevo grupo de superheroes, en efecto, la presencia de los eternos en la tierra obedece en principio a las órdenes para la cuál fueron creados (destruir a los desviantes). Ahora bien, en el transcurso de la película se va descubriendo cuál es el verdadero sentido por el cual fueron enviados: mantener con vida a los celestiales que así como los desviantes para surgir necesitan alimentarse de la vida de los planetas.
Esto crea una reflexión filosófica sobre la moralidad de los actos de los eternos en la tierra, que habían estado luchando contra los desviantes no por una intención pura de defender a la humanidad sino para que hubiese suficiente vida para alimentar a un nuevo celestial, que en el caso de la tierra iba a ser Tiamut.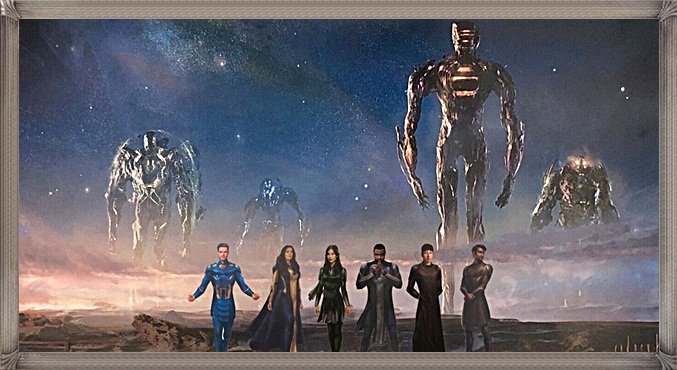 Source

Another aspect to highlight is the sort of historical journey that we are taken through when explaining how this group of Eternals has always been present in the midst of humanity from the first civilizations to the present times.
In this way, Marvel manages to unite this narrative with the one it currently carries about the various events taking place on Earth. In fact, there are several references to the Avengers, such as the one that says that with a snap they brought back those who had been missing for 5 years due to the Machiavellian acts of Thanos.
Now, the logical question here is Why didn't they intervene in these events to prevent evil, like what Thanos did? The answer is very clear and it is that they were deceived by the supposed mission of only interfering in conflicts that had to do with the deviants. However, in parallel, there is also another very certain reason at the end, and that is to let humanity evolve by itself, even in the midst of its failures, mistakes, and flaws.
In the midst of this context and what the Eternals learn in this film, another range of possibilities opens up for the U.C.M., since now the Eternals feel freer to fight against all kinds of evil, so their participation will be easier to request, they will no longer fight only against deviants but against everything that threatens humanity, that kind of beings with whom they have lived and have known how to value and appreciate.
Otro aspecto a resaltar es la especie de viaje histórico que se nos hace recorrer al explicarnos cómo este grupo de eternos han estado siempre presente en medio de la humanidad desde las primeras civilizaciones hasta los tiempos actuales.
De esta forma, Marvel logra unir esta narrativa con la que actualmente lleva sobre los diversos acontecimientos que acontecen en la tierra. De hecho, hay varias referencias a los vengadores, como aquella que dice que con un chasquido hicieron regresar a aquellos que llevaban 5 años desaparecidos debido a los actos maquiavélicos de Thanos.
Ahora bien, la pregunta lógica aquí es ¿Por qué no intervinieron en estos acontecimientos para evitar el mal, como lo realizado por Thanos? La respuesta está muy clara y es que fueron engañados por la supuesta misión de sólo interferir en conflictos que tuvieran que ver con los desviantes. No obstante, en paralelo también hay otra razón muy cierta al final, y es para dejar que la humanidad evolucionara por sí misma, aún en medio de sus fallos, errores y defectos.
En medio de este contexto y lo que los eternos aprenden en esta película, se abre otro abanico de posibilidades para el U.C.M., ya que ahora los eternos se sienten más libres para luchar contra toda clase de mal, así pues su participación será más fácil de solicitar, ya no lucharán sólo contra los desviantes sino contra todo aquello que atente contra la humanidad, aquella clase de seres con los cuáles han convivido y han sabido valorar y apreciar.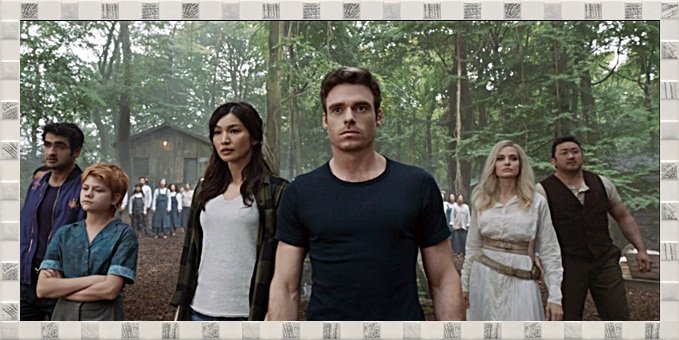 Last but not least, I am amazed by the variety of new characters they were able to introduce, supported by the quality of the casting that represents them. Each of them leaves a particular reflection from which I would even like to make another post.
I give as an example two, Sersi, the eternal of good and noble heart, who since she was sent to earth fell in love with this planet and who is the one who decides to prevent the emergence of the celestial to save the earth. Sprite, an eternal resentful for being who she is, does not accept herself, and this is something that is so clear that at the end she asks to be turned into a human.
Regarding this repertoire of characters, there is also a couple where the U.C.M. continues to make great efforts to include all kinds of people. Thus we have Makkary who is a very nice deaf-mute who has the superpower of speed and Phastos a great technologist who is also a homosexual, who is more human sensitivity because he could even form a family with his partner and son.
Finalmente, y no por ello menos importante, estoy maravillado con la variedad de nuevos personajes que pudieron introducir, respaldado además por la calidad de casting que les representa. Cada uno de ellos deja una reflexión particular desde la cual incluso me gustaría realizar otro post.
Pongo como ejemplo a dos, Sersi, la eterna de buen y noble corazón, que desde que fue enviada a la tierra se enamoró de este planeta y quien es al que decide evitar el surgimiento del celestial para salvar a la tierra. Sprite, una eterna resentida por ser quien es, no se acepta, y esto es algo que queda tan claro que al final pide ser convertida en una humana.
Respecto a este repertorio de personajes existe también un par donde el U.C.M. sigue haciendo grandes esfuerzos por incluir a todo tipo de personas. Así tenemos a Makkary que es una sordomuda muy simpática que tiene el super poder de la velocidad y a Phastos un gran tecnólogo que además es homosexual, al que se le nota más sensibilidad humana, pues incluso pudo formar una familia con su pareja e hijo.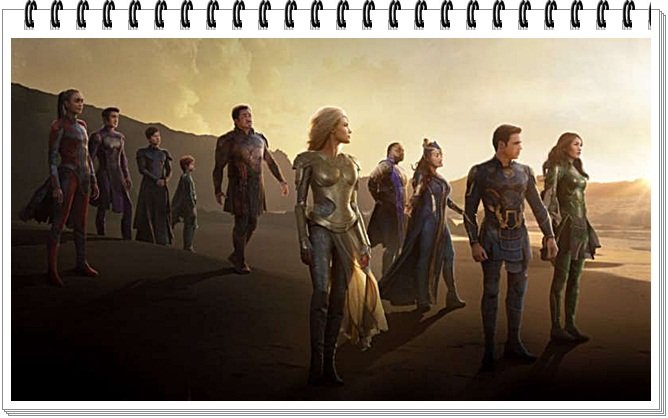 Source

Thank you very much for having accompanied me in the reading of this post, wishing you always the best and that we can meet again in the next publication, I say goodbye, see you later.
Muchas gracias por haberme acompañado en la lectura de este post, espero tus comentarios y que nos podamos volver a encontrar en una próxima publicación, hasta luego.


---
---
---
---

---