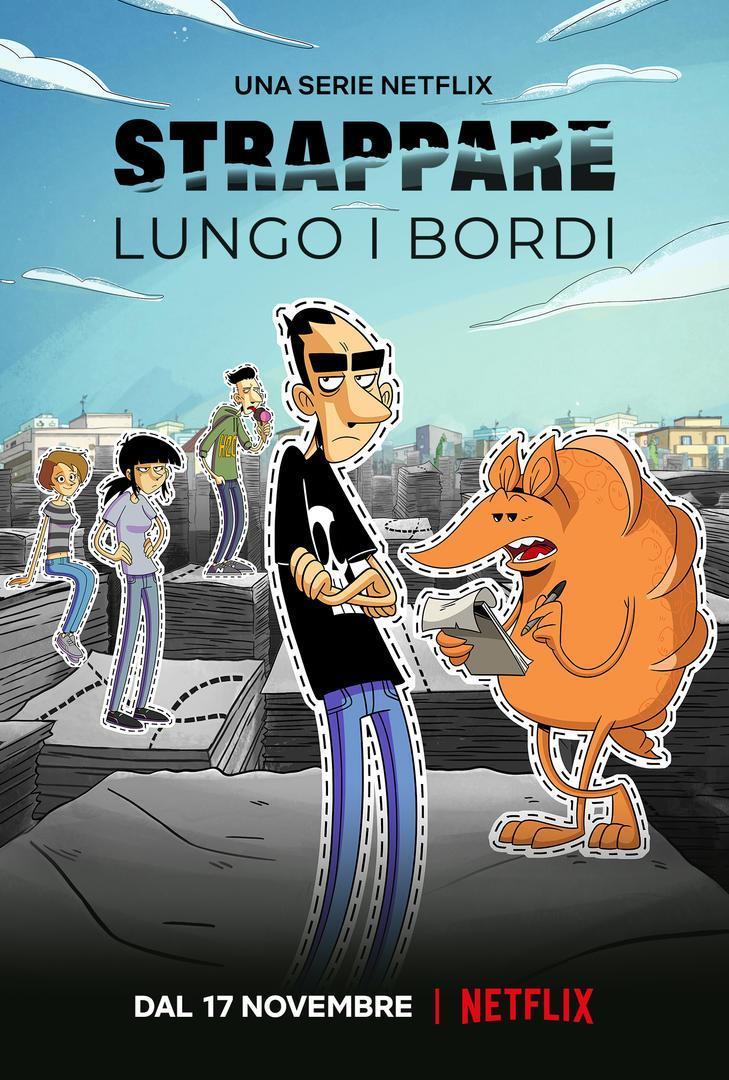 filmaffinity.com
SINOPSIS
Zero, un caricaturista que vive en Roma discute su vida con su consciencia en forma de armadillo, haciéndose preguntas que nunca responde y teniendo respuestas que nunca escucha. Todo mientras relata su vida en un viaje con sus amigos Sarah y Secco.

SYNOPSIS
Zero, a cartoonist living in Rome, discusses his life with his consciousness in the form of an armadillo, asking himself questions that he never answers and having answers that he never hears. All while he recounts his life on a trip with his friends Sarah and Secco.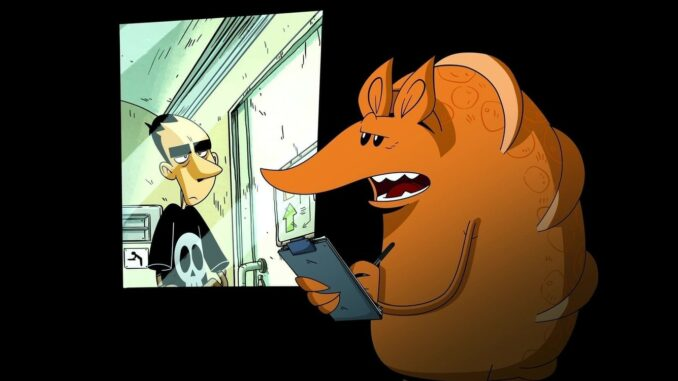 fiebreseries.com
PERSONAJES
Zero: Hombre ya a sus 30 que busca entender su vida.
Secco: Jugador de Poker online y amigo de Zero.
Sarah: La mejor amiga de Zero que sueña con ser maestra.
Armadillo: La forma de la consciencia de Zero.
Alice: Chica por la cual Zero siente atracción.

CHARACTERS
Zero: Man in his 30s who seeks to understand his life.
Secco: Online poker player and friend of Zero.
Sarah: Zero's best friend who dreams of being a teacher.
Armadillo: Zero's form of consciousness.
Alice: Girl Zero is attracted to.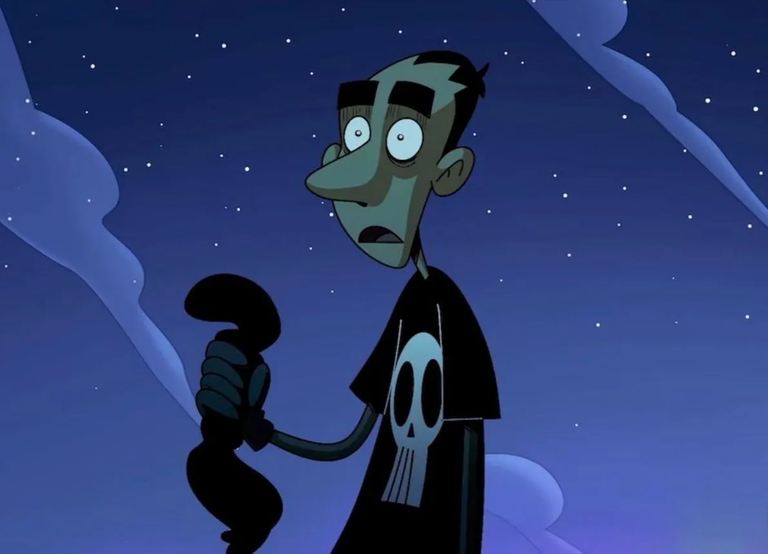 vanityfair.it
OPINIÓN
En la búsqueda de ver algo en Netflix mientras ceno, me encontré con una serie animada italiana, como cualquier serie animada tiene poca duración decidí verla para pasar el rato, lo que genera más impacto en mí que solo espera ver algo tonto mientras comía, termino enamorándome por completo.
En los primeros capítulos me divertía el acento italiano y la forma de explicar las cosas del personaje, yendo poco a poco como una serie animada de un adulto ansioso que no quiere una solución para su vida sino un alivio de momento. La serie empezó poniéndose seria en cada capitulo, ya no eran solo vivencias del personaje principal, eran vivencias de la persona que lo dibujo y escribió la historia.
No puedo saber con seguridad que es su historia, al menos no todo, si puede ser un cincuenta por ciento su vida, tal vez un ochenta, porque la naturalidad y la forma de expresarse no es algo que se encuentre sencillamente sentado en una silla dibujando una caricatura que se parezca a ti. El titulo "Cortar por la linea de los puntos" como una metáfora de que nosotros en la vida trazamos los puntos que hay que recorrer para llegar a nuestro destino, pero mientras vamos en su rumbo desgarramos el papel de nuestra vida teniendo como resultado una figura con bordes hecho añicos.
Lo interesante de la serie es que todo es contado por el protagonista, incluso las voces de los personajes él lo imita, no como una estrategia para gastar menos dinero en personal, sino para sentirlo como una vivencia más pura de que no estamos viendo una serie, estamos escuchando una anécdota de un extraño. La serie es increíble debo decir, tiene un total de seis capítulos, con una duración de veintitantos minutos cada uno.
Si tienen un tiempo en su día para escuchar problemas ajenos que se sienten propios, les recomiendo esta serie, dudo que se decepcionen.

OPINION
In the search to see something on Netflix while having dinner, I came across an Italian animated series, as any animated series has a short duration I decided to watch it to pass the time, which generates more impact on me that only expects to see something silly while eating, I finish Falling in love completely.
In the first chapters I was amused by the Italian accent and the way of explaining the character's things, going little by little like an animated series of an anxious adult who does not want a solution for his life but a relief for the moment. The series began by getting serious in each episode, they were no longer just experiences of the main character, they were experiences of the person who drew it and wrote the story.
I cannot know for sure what his story is, at least not all, if it can be fifty percent his life, maybe eighty, because naturalness and the way of expressing himself is not something that is simply sitting in a chair drawing a cartoon that looks like you. The title "Cut along the dotted line" as a metaphor that we in life draw the points that we have to travel to reach our destination, but while we are on our way we tear the paper of our life, resulting in a figure with shattered edges.
The interesting thing about the series is that everything is told by the protagonist, even the voices of the characters he imitates, not as a strategy to spend less money on staff, but to feel it as a purer experience that we are not watching a series, we are listening to an anecdote from a stranger. The series is incredible, I must say, it has a total of six chapters, each lasting twenty-odd minutes.
If you have time in your day to listen to other people's problems that feel your own, I recommend this series, I doubt that you will be disappointed.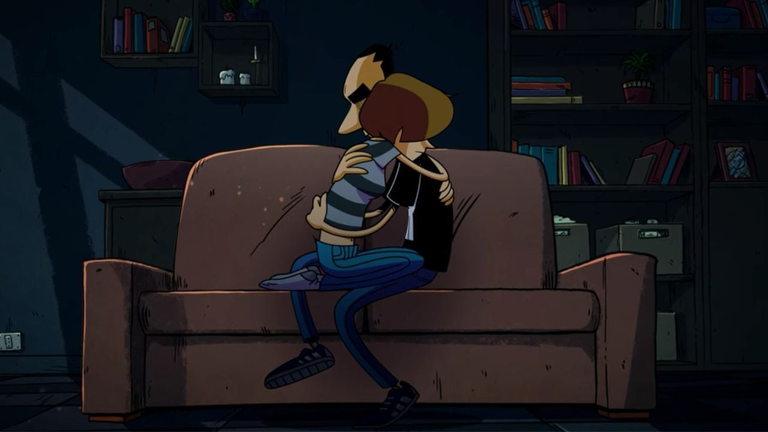 bestmovie.it
He estado bastante ausente en la plataforma, más por decisión propia que por cualquier otra cosa, ya estaré activo de nuevo, espero les haya gustado, sin más que decir, nos leemos luego.
I have been quite absent on the platform, more by my own decision than for anything else, I will be active again, I hope you liked it, without more to say, we will read later.
SÍGUEME/FOLLOW ME
Instagram
Hive
Twitter