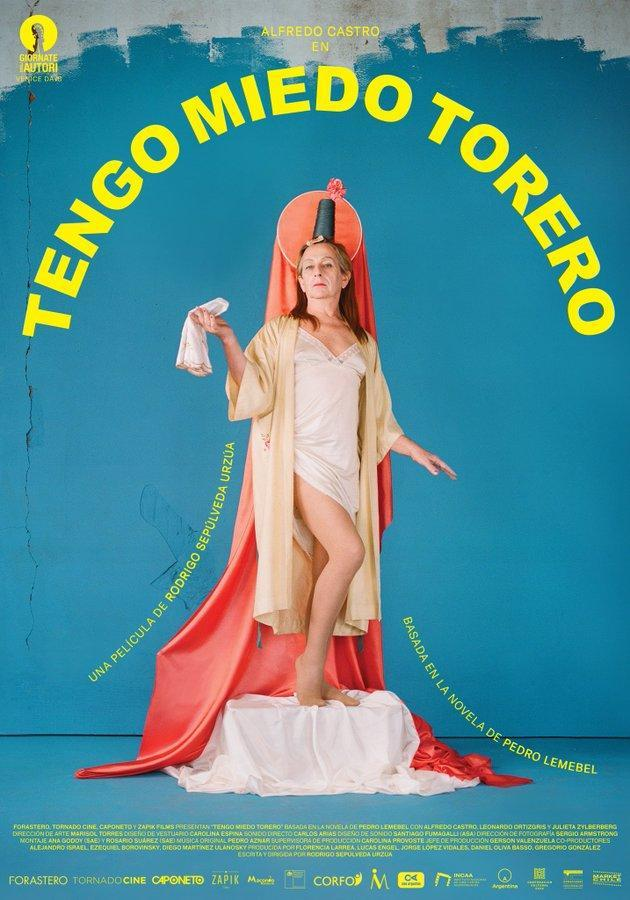 filmaffinity.com
SINOPSIS
En el año 1986 en Chile, en plena dictadura de Pinochet, una travesti mayor de edad escapa de los policías que allanaron un bar clandestino gay, salvada por un joven que se encontraba en el mismo bar, desde ese entonces, su relación se hace más fuerte y extraña conforme tienen confianza ¿Sera amor o interés?

SYNOPSIS
In 1986 in Chile, during the Pinochet dictatorship, an adult transvestite escaped from the police who raided a gay clandestine bar, saved by a young man who was in the same bar, since then, their relationship becomes more strong and strange as they have confidence, Will it be love or interest?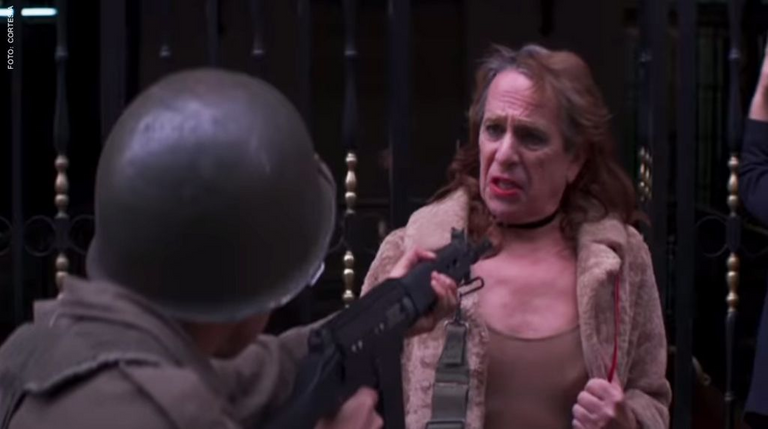 reaccioninformativa.com
PERSONAJES
"La Doña": Travesti que se dedica a la costura y la vida nocturna.
Carlos: Joven homosexual que busca ayudar a Chile.
Laura: Compañera de rebelión de Carlos.
Doña Olguita: Señora con una tienda al frente de "La Doña"

CHARACTERS
"La Doña": Transvestite who is dedicated to sewing and nightlife.
Carlos: Young homosexual who seeks to help Chile.
Laura: Carlos' partner in rebellion.
Doña Olguita: Lady with a store in front of "La Doña"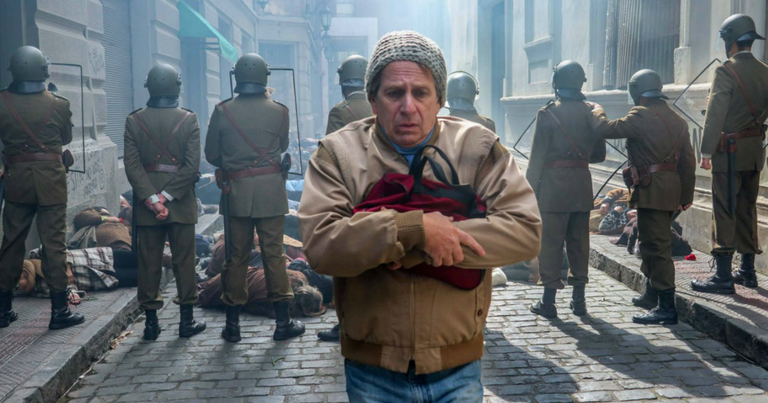 programaibermedia.com
OPINIÓN
Esta película la tenia guardada desde hace tiempo, más que nada por olvidar su existencia, mientras buscaba que ver mientras cenaba por una mala costumbre que tengo de ver algo mientras como, recordé que deseaba ver esta película chilena sobre un asunto bastante interesante, con una duración de una hora y media, teniendo actores Argentinos y Mexicanos por ser una producción hecha por los tres países.
Al principio de la película tenia la sensación de que algo horrible le pasaría a la protagonista, pero no fue así, desde el comienzo nos presentan a este personaje carismático, divertido, con un gran amor por las personas aunque a ella la traten de una forma horrible en las calles, eso fue una de las cosas maravillosas de la película, su actor principal.
La música me pareció muy apropiada para los momentos, creo que si alguien mayor pudiese ver la película cantaría o tararearía algunas de las canciones que mostraron. Al buscar información sobre la película después de verla, vi que el actor principal es hombre, pero como hizo ese papel, esa dedicación y amor a su trabajo, me hizo sentir que ese era él en verdad, no como los otros trans que pudieron estar en la película.
Desconozco mucho de política por no ser de mi agrado, pero pude entender que estaban en la dictadura de Pinochet, un presidente de Chile que les hizo la vida imposible a los Chilenos, pude conectar esos puntos al menos al verla, aunque no era el punto a enfocarse, es bueno saber que sucede alrededor, aunque la película no describe nada de la situación ni da una pista, por lo que, personas que no sepan lo que sucedió en ese entonces, pensaran que es una situación ficticia.
Aunque me gustan las historias cortas, desee que esta fuese más larga, me gustó ver la tristeza y melancolía del personaje principal, su misterio y carisma, la relación que estaba llevando con Carlos podía alargarse un poco más llevando a varios extremos, pudieron darle más relevancia a otros personas, pero aun así, fue una película que disfrute, quedándose en mi lista de las películas latinoamericanas que me conmovieron o valen la pena ver de verdad, sin duda, la recomiendo.

OPINION
I had saved this movie for a long time, mostly to forget its existence, while I was looking for what to see while having dinner because of a bad habit that I have of seeing something while eating, I remembered that I wanted to see this Chilean film on a very interesting subject, with a duration of an hour and a half, having Argentine and Mexican actors for being a production made by the three countries.
At the beginning of the film I had the feeling that something horrible would happen to the protagonist, but it was not like that, from the beginning we are presented with this charismatic, funny character, with a great love for people even though she is treated in a way horrible on the streets, that was one of the wonderful things about the movie, its lead actor.
The music seemed very appropriate for the moments, I think that if someone older could see the movie they would sing or hum some of the songs they showed. When looking for information about the film after seeing it, I saw that the main actor is a man, but since he played that role, that dedication and love for his work, made me feel that this was really him, not like the other trans people who could be in the movie.
I don't know a lot about politics because I don't like it, but I could understand that they were in the dictatorship of Pinochet, a Chilean president who made life impossible for the Chileans, I was able to connect those points at least when I saw it, although it was not the point To focus, it is good to know what happens around, although the film does not describe anything about the situation or give a clue, so that people who do not know what happened at that time, they will think that it is a fictitious situation.
Although I like short stories, I wish this one were longer, I liked seeing the sadness and melancholy of the main character, his mystery and charisma, the relationship he was having with Carlos could be extended a little longer, leading to various extremes, they could give him more relevance to other people, but even so, it was a movie that I enjoyed, staying on my list of Latin American movies that are really worth watching, without a doubt, I recommend it.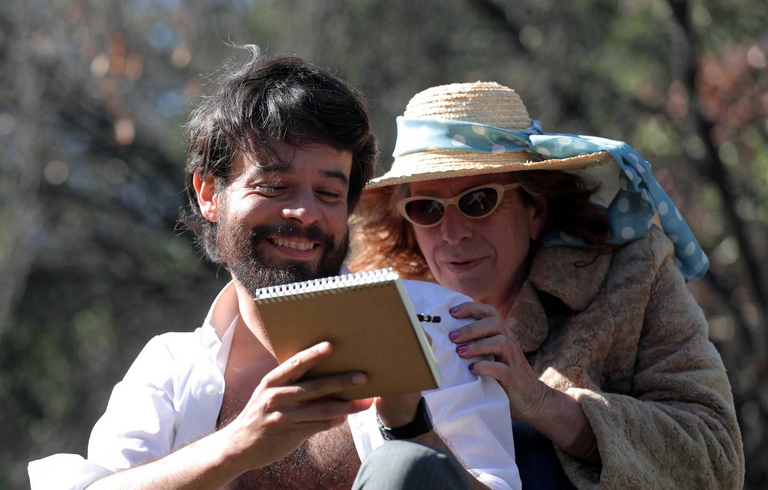 cnnchile.com
Espero puedan verla y les guste, sin más que decir, nos leemos luego.
I hope you can see it and like it, without more to say, we read later.
SÍGUEME/FOLLOW ME
Instagram
Hive
Twitter