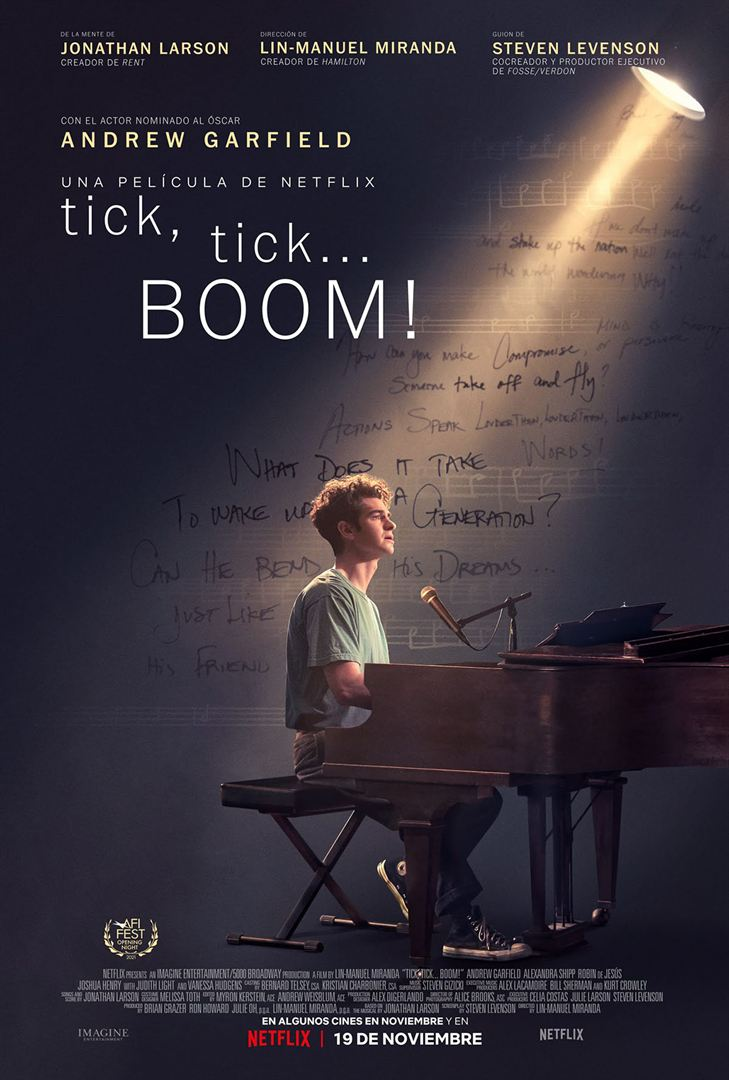 aceprensa.com
SINOPSIS
Los años pasan y la vida no parece avanzar para el joven compositor Jonathan Larson, teniendo una meta de un musical en el cual lleva años trabajando, con el deseo de poder cumplir con su musical antes de cumplir sus 30 años, esta es una biografía de como un compositor de musicales intento cumplir su sueño.

SYNOPSIS
Years go by and life does not seem to advance for the young composer Jonathan Larson, having a goal of a musical in which he has been working for years, with the desire to be able to fulfill his musical before he turns 30, this is a biography of As a composer of musicals try to fulfill his dream.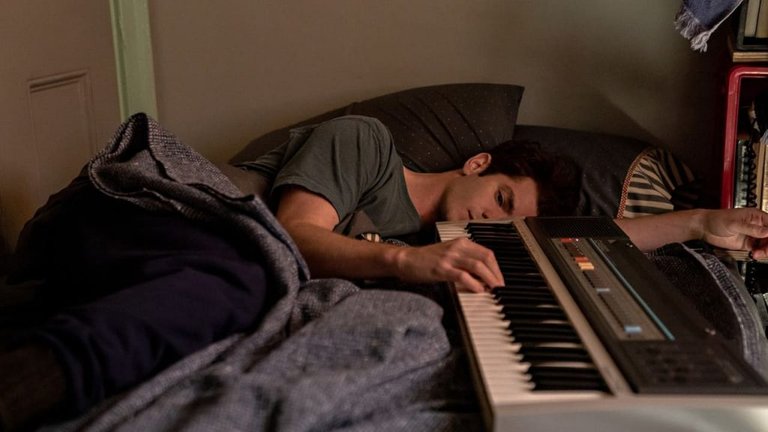 estilodf.tv
PERSONAJES
Jonathan Larson: Compositor de música que sueña con triunfar en lo que hace.
Susan: Pareja de Jonathan, bailarina por hobby.
Michael: Compañero de cuarto de Jonathan.
Karessa Johnson: Vocalista principal, ayudante de Jonathan.

CHARACTERS
Jonathan Larson: Music composer who dreams of succeeding in what he does.
Susan: Jonathan's partner, hobby dancer.
Michael: Jonathan's roommate.
Karessa Johnson: Lead vocalist, Jonathan's assistant.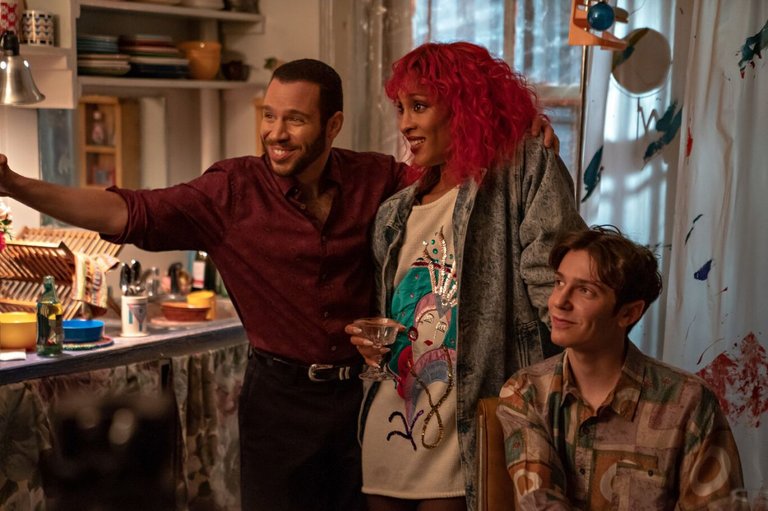 escribiendocine.com
OPINIÓN
Tick, tick... Boom es una película de la que he visto que hablan por ser un proyecto reciente de Andrew Garfield, por no tener tanta popularidad porque solo esperan su participación en la nueva película de Spiderman, no esperaba mucho para ser sincero al ver esta película, pensé que seria un drama de un músico fracasado como muchos. Al ver los primeros minutos de esta película de dos horas, vi que se iba a convertir en una de mis películas favoritas.
La película trata de la vida del compositor Jonathan Larson, un musical que hizo cuando aun vivía pero que ahora lo transformaron en una película musical que no se siente infantil al verla. Me gustan los musicales, debo decirlo, pero en su mayoría no buscan colocar situaciones en donde esos musicales sucedan, donde todos empiezan a bailar y a cantar como si fuese una película animada. Aunque Tick, tick... Boom tenga algunas canciones con esas mismas escenas, triunfan aquellas en donde es más natural todo, se olvida por completo aquellas con una corografía y se prestan atención aquellas donde parece que todo sucede en la cabeza del protagonista, por ser un maniaco de la música.
Ese fue su punto fuerte para mi, Larson es un hombre tan dedicado a la música y a su proyecto que olvida todo a su alrededor, un obsesionado con su trabajo y vocación, por eso algunas escenas musicales puedan parecer más naturales por considerarse que están en la cabeza del protagonista. Es una historia real, de un compositor que en verdad tenia esa personalidad maniaca con la música, tal vez a eso se debe el esfuerzo que hizo Andrew al interpretar a Larson, estudiando música y demás; aunque no puedo decir con seguridad que ya no sabia sobre música.
La película es increíble, no cansa al espectador, no todo el tiempo son canciones, no siempre es feliz y es lo cautivante del proyecto. Su director esta haciendo su debut en el mundo cinematográfico con esta obra según llegue a leer, para mi es un buen comienzo, aunque tal vez no llame tanto la atención porque su protagonista esta en un proyecto más grande. De igual forma, los invito a ver esta obra de arte musical, valen la pena sus dos horas y esta en Netflix.

OPINION
Tick, tick... Boom is a movie that I have seen that everybody talk about for being a recent Andrew Garfield project, for not having so much popularity because the people only expect his participation in the new Spiderman movie, I did not expect much to be honest when Seeing this movie, I thought it would be a drama by a failed musician like many. Watching the first few minutes of this two-hour movie, I saw that it was going to become one of my favorite movies.
The film is about the life of the composer Jonathan Larson, a musical that he made when he was still alive but which has now been transformed into a musical film that does not feel childish when watching it. I like musicals, I must say, but for the most part they don't seek to place situations where those musicals happen, where everyone starts dancing and singing as if it were an animated movie. Although Tick, tick... Boom has some songs with those same scenes, those where more natural, those with a chorography are completely forgotten and attention is paid to those where it seems that everything happens in the protagonist's head, for be a music maniac.
That was his strong point for me, Larson is a man so dedicated to music and his project that he forgets everything around him, obsessed with his work and vocation, that is why some musical scenes may seem more natural because they are considered to be in the head of the protagonist. It is a true story, of a composer who really had that maniacal personality with music, maybe that's why Andrew made an effort to play Larson, studying music and so on; although I can't say for sure that he didn't know about music before.
The film is incredible, it does not tire the viewer, it is not songs all the time, it is not always happy and that is what is captivating about the project. His director is making his debut in the cinematographic world with this work as I gets to read, for me it is a good start, although it may not attract so much attention because his protagonist is in a larger project. In the same way, I invite you to see this work of musical art, it is worth the two hours and it is on Netflix.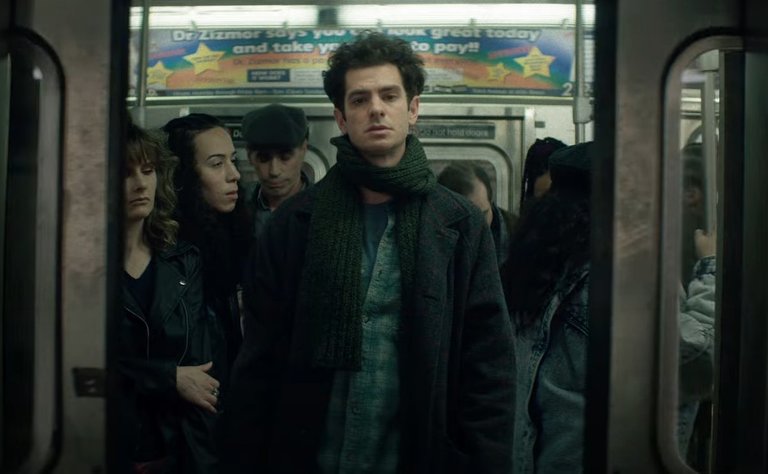 turquesanews.mx
Mi internet no me ha ayudado mucho para publicar, pero espero mejorar eso en los próximos días. Espero les haya gustado, sin más que decir, nos leemos luego.
My internet has not helped me much to publish, but I hope to improve that in the next few days. I hope you liked it, without more to say, we will read later.
SÍGUEME/FOLLOW ME
Instagram
Hive
Twitter