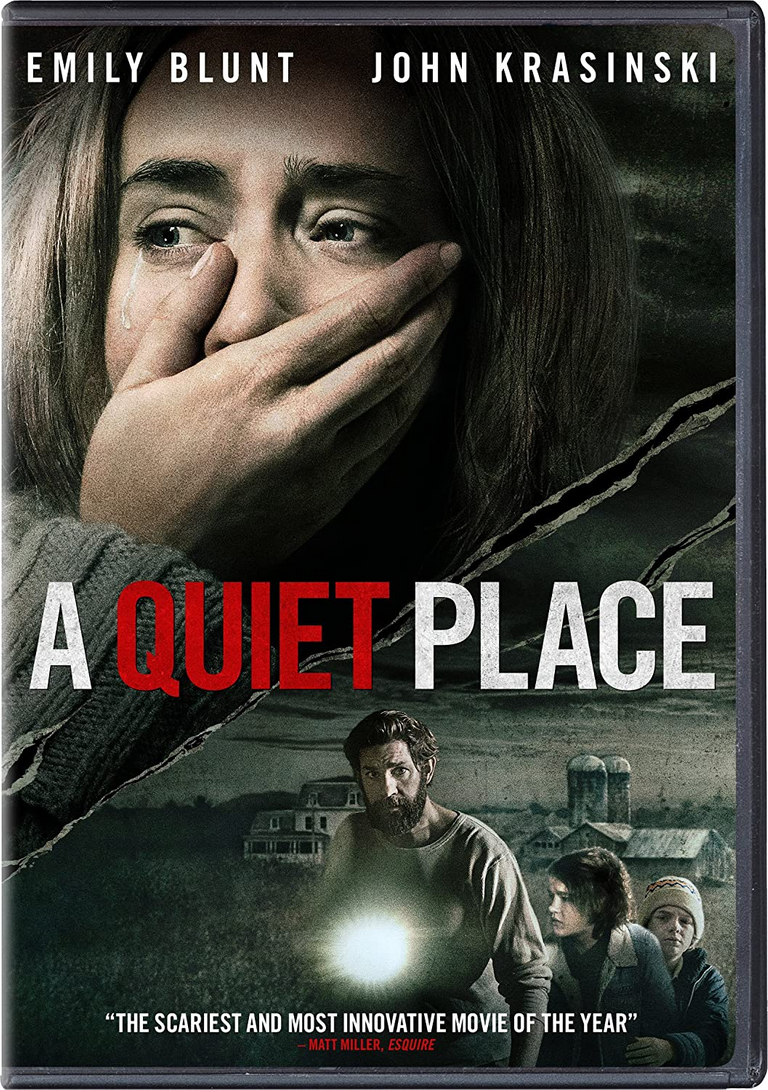 amazon.com
SINOPSIS
En el año 2018 la vida de las personas cambio drásticamente después de que unas criaturas extrañan aparecieran en la tierra, asesinando a todo aquel que hiciera ruido, obligando a las personas a mantenerse en silencio. La familia Abbot crea un sistema para evitar a estos seres, el padre, Lee Abbot, estudia a estos seres que encuentran el sonido fácilmente, todo para que su familia viva tranquila y feliz.

SYNOPSIS
In 2018, people's lives changed drastically after strange creatures appeared on earth, killing anyone who made noise, forcing people to remain silent. The Abbot family creates a system to avoid these beings, the father, Lee Abbot, studies these beings who find the sound easily, everything so that his family lives calm and happy.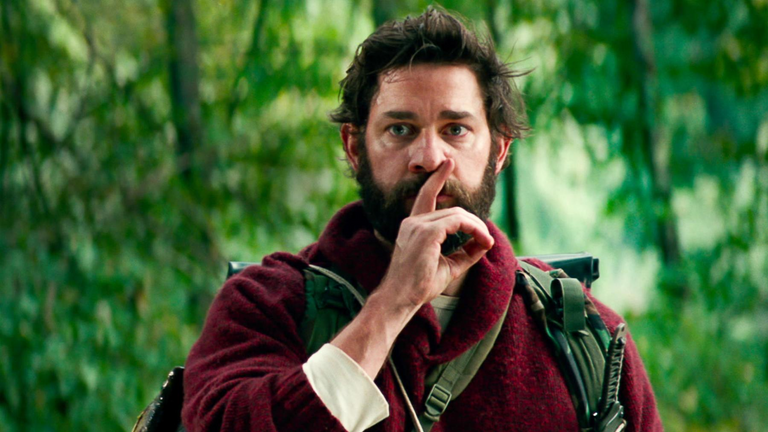 cinefilosoficial.com
PERSONAJES
Lee: Padre de familia, busca la comodidad en el apocalipsis.
Evelyn: Madre y esposa, la calma de la familia.
Regan: Hija sorda de los Abbot
Marcus: Hijo del medio, temeroso de su situación.

CHARACTERS
Lee: Family man, seek comfort in the apocalypse.
Evelyn: Mother and wife, the calm of the family.
Regan: Deaf daughter of the Abbot
Marcus: Son of the middle, afraid of his situation.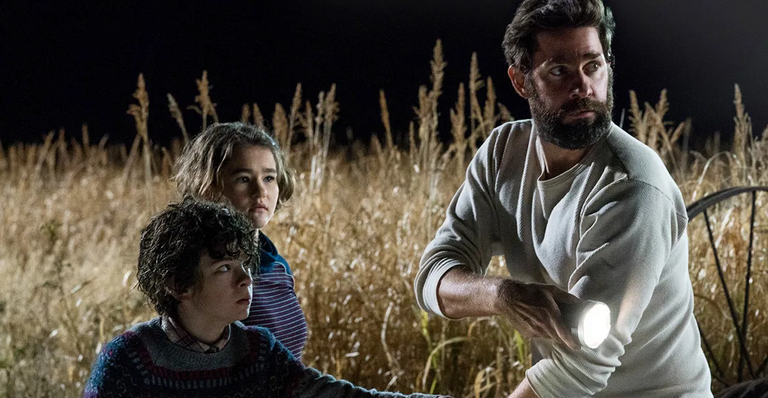 sopitas.com
OPINIÓN
Siendo una película del 2018 apuesto muchas personas la han llegado a ver, es conocida (Al menos eso creo) por muchos por su interesante mundo e historia, pero no fue sino hasta ayer que pude verla y no puedo decir otra cosa más que quede enamorado de esta película y el mundo que nos entregan. Al leer en varias paginas, supe que Un lugar silencioso ya tiene una secuela, una secuela que pocos han visto pero que existe y no llegara al alcance de todos sino hasta septiembre de este año.
Al empezar la película nos muestran un poco de que va todo, las personas evitando hacer ruido, los pocos diálogos, el estrés que se siente en el aire de la escena. La mayor parte de la película eso fue lo que sentí, estrés, miedo, preocupación, es una película que desde el principio al final me hizo sentir algo y es un gran éxito dado que dura hora y media, siendo tan corta pero abarcando todo, usa cada minuto de la película para dar a entender algo, para suponer cosas, para impresionarnos y exaltarnos.
Mientras más leía sobre la película más me preguntaba como era posible que no la hubiese visto antes, la película fue hecha con solo 16 millones de dólares y recaudo más de 330 millones de dólares, siendo un éxito rotundo, teniendo una aprobación del 97% del publico. El director de esta película es John Krasinski, empezando en el mundo del entretenimiento como Jim en The Office, se hizo su camino como guionista, productor y director, ya tiene varios proyectos hechos, películas que ha protagonizado y demás, mostrando que los actores que hacen comedia no solo se pueden quedar estancados en ese genero.
La película es una maravilla, en solo hora y media cuenta con una gran historia, estará disponible en Netflix hasta el próximo mes, así que si no la has visto, es tu momento para hacerlo y estar preparado para Un lugar silencioso parte II que estará al alcance de todos en septiembre de este año.

OPINION
Being a 2018 movie, I bet many people have seen it, it is known (at least I think so) by many for its interesting world and history, but it was not until yesterday that I was able to see it and I cannot say anything else other than I falling in love of this movie and the world that they give us. Reading through various pages, I learned that A quite place already has a sequel, a sequel that few have seen and will not be available to everyone until September of this year.
At the beginning of the film they show us a bit of what is going on, the people avoiding making noise, the few dialogues, the stress that is felt in the air of the scene. Most of the film that was what I felt, stress, fear, worry, it is a film that from the beginning to the end made me feel something and it is a great success since it lasts an hour and a half, being so short but encompassing everything, it uses every minute of the film to imply something, to make assumptions, to impress and exalt us.
The more I read about the film, the more I wondered how it was possible that I had not seen it before, the film was made with only 16 million dollars and raised more than 330 million dollars, being a resounding success, having an approval of 97% of the public. The director of this film is John Krasinski, starting in the entertainment world as Jim in The Office, he made his way as a screenwriter, producer and director, he already has several projects done, films that he has starred in and others, showing that the actors who make comedy they can't just get stuck in that genre.
The movie is a marvel, in just an hour and a half it has a great story, it will be available on Netflix until next month in south america, so if you have not seen it, it is your time to do it and be prepared for A quiet place part II that will be within everyone's reach in September of this year.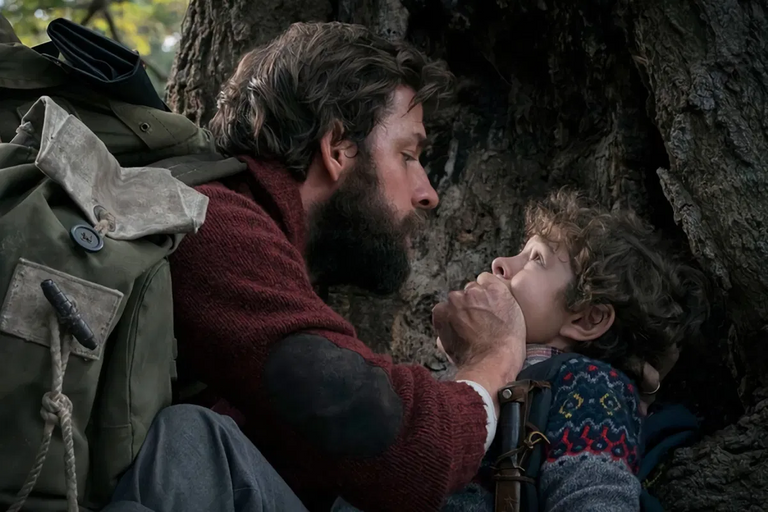 hipertextual.com
Me emociona haber conseguido una película que me hiciera esperar por una continuación, y me alegra que esa continuación sea este mismo año. Espero les haya gustado el post, sin más que decir, nos leemos luego.
I'm excited to have gotten a movie that kept me waiting for a sequel, and I'm glad that sequel is this year. I hope you liked the post, without more to say, we will read later.
SÍGUEME/FOLLOW ME
Instagram
Hive
Twitter