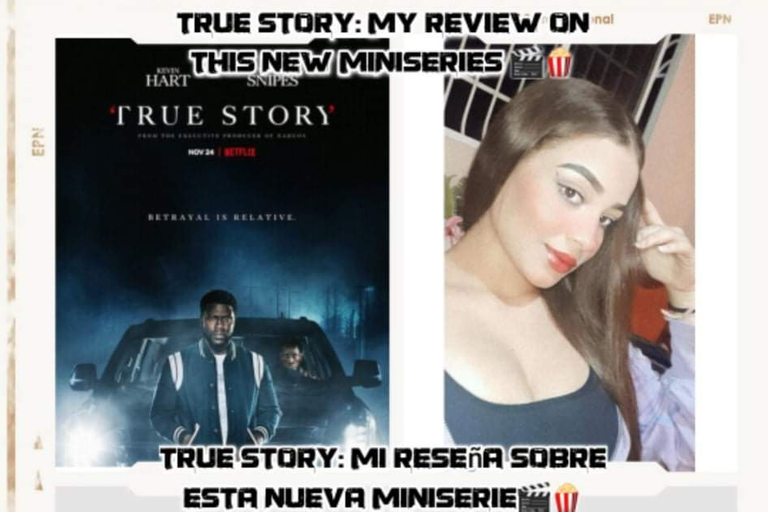 ✨Hola a todos mis queridos amigos de Hive, espero todos ustedes se encuentren súper bien y tengan un bendecido día✨. Hoy les traigo esta reseña sobre una nueva miniserie de Netflix protagonizada por nada más y nada menos que Kevin Hart y Wesley Snipes. La serie sin duda ha dado mucho de que hablar, ha generado criticas buenas y otras no tanto, pero si aun no la has visto y te preguntas si deberías hacerlo, te invito a seguir leyendo y disfrutar de mi reseña sobre True Story🎬💖.
✨Hi to all my dear friends from Hive, I hope all of you are super well and have a blessed day✨. Today I bring you this review on a new Netflix miniseries starring none other than Kevin Hart and Wesley Snipes. The series has undoubtedly given much to talk about, it has generated good reviews and others not so much, but if you have not seen it yet and are wondering if you should do it, I invite you to continue reading and enjoy my review on True Story🎬💖.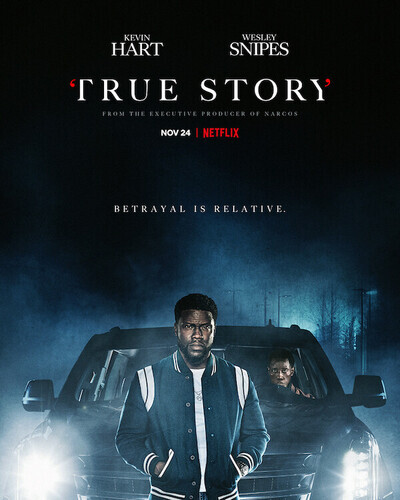 Fuente:https://images.app.goo.gl/kpxeDjsL5NpgEgHS6
Sin duda desde su lanzamiento el pasado 24 de Noviembre ha tenido mucha receptividad, se ha posicionado como una miniserie bastante popular en el top 10 de Netflix. True Story es protagonizada por Kevin Hart en el papel de "Kid", y Wesley Snipes como "Carlton", acompañados de un gran reparto de profesionales quienes se encargaron de darle vida a los personajes que vemos a lo largo de estos 7 episodios que nos regala la miniserie. Aquí vemos la historia de un comediante exitoso "Kid" quien justo cuando está en su punto más alto de la carrera, llega a su Ciudad natal Filadelfia, para continuar con su gira de comedia, lleno de emoción y buenas expectativas por presentarse en su localidad y disfrutar del éxito que ha tenido como actor en una película de superhéroes, piensa que estar de regreso en casa y ver caras conocidas le será reconfortante, sin embargo, esta pequeña parada y con la visita de su hermano mayor "Carlton", pondrá en peligro todo por lo que trabajado, incluyendo su propia vida.
Without a doubt, since its launch on November 24, it has had a lot of receptivity, it has positioned itself as a very popular miniseries in the top 10 of Netflix. True Story stars Kevin Hart in the role of "Kid", and Wesley Snipes as "Carlton", accompanied by a great cast of professionals who were in charge of giving life to the characters that we see throughout these 7 episodes. give away the miniseries. Here we see the story of a successful comedian "Kid" who just when he is at his highest point in his career, arrives in his hometown Philadelphia, to continue his comedy tour, full of excitement and good expectations for performing in his locality. and enjoy the success he has had as an actor in a superhero movie, he thinks that being back home and seeing familiar faces will be comforting, however, this small stop and with the visit of his older brother "Carlton", will put in He endangers everything he worked for, including his own life.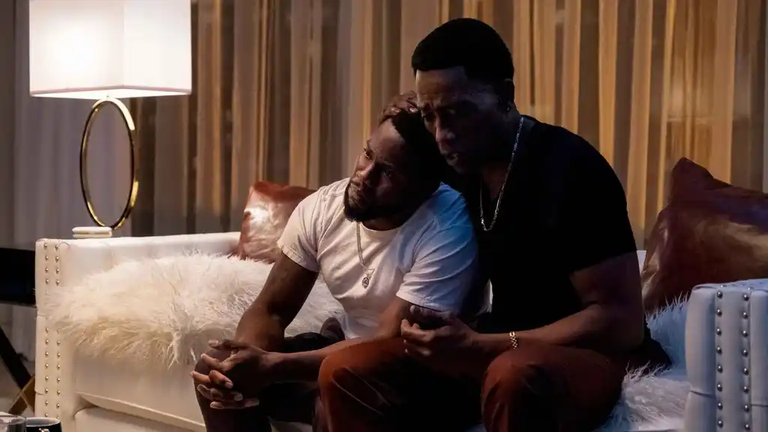 Fuente: https://images.app.goo.gl/GQnYWD6bfqSpkt7B6
Esta miniserie nos regala 7 episodios que fácilmente podemos devorar en un día. Nos cuenta la historia de "Kid" y "Carlton", quienes son los típicos hermanos que tomaron caminos totalmente opuestos y nunca fueron realmente cercanos. Aquí vemos la historia de "Kid", quien es un comediante exitoso, con un futuro brillante, quien a pesar de estar pasando por un divorcio, nos muestra la figura de un hombre responsable y un padre dedicado, por otro lado tenemos a "Carlton" quien a pesar de ser el hermano mayor de "Kid", sus malas decisiones y problemas en la calle lo han llevado a depender de el y sentirse cansado de ser la sombra de su hermano menor. Al llegar a filadelfia y encontrarse con su hermano se verá envuelto en grandes problemas por confiar en la persona equivocada. La trama de la serie es sin duda atrapante, tiene giros inesperados que te dejarán sin palabras y queriendo saber más. Cuando "Kid" decide complacer a su hermano e ir por unos tragos de celebración, donde conoce a una chica, quien aparecerá muerta a su lado, "Carlton" se da cuenta de esto y le pide a "Kid" que confié en su hermano mayor y que él resolverá la situación, es cuando decide contactar a "Ari" quien es un mafioso que los ayudará a deshacerse del cadáver de la chica por la suma de 6 millones de dolares, sin embargo, cuando "Kid" se ve contra la pared por tal suma de dinero, decide asesinar a "Ari" como única vía de escape, y es justo en este momento cuando conluye el primer capitulo y cuando comienzan los verdaderos problemas para "Kid" y "Carlton", dándole inicio la gran trama de esta miniserie.
This miniseries gives us 7 episodes that we can easily devour in one day. It tells us the story of "Kid" and "Carlton", who are the typical brothers who took totally opposite paths and were never really close. Here we see the story of "Kid", who is a successful comedian, with a bright future, who despite going through a divorce, shows us the figure of a responsible man and a dedicated father, on the other hand we have "Carlton "who despite being the older brother of" Kid ", his bad decisions and problems on the street have led him to depend on him and feel tired of being the shadow of his younger brother. When you arrive in Philadelphia and meet his brother, you will find yourself in big trouble for trusting the wrong person. The plot of the series is without a doubt compelling, it has unexpected twists that will leave you speechless and wanting to know more. When "Kid" decides to please his brother and go for some celebratory drinks, where he meets a girl, who will appear dead next to him, "Carlton" realizes this and asks "Kid" to trust his brother. greater and that he will solve the situation, is when he decides to contact "Ari" who is a mobster who will help them get rid of the girl's corpse for the sum of 6 million dollars, however, when "Kid" is seen against the wall for such a sum of money, he decides to assassinate "Ari" as the only way of escape, and it is just at this moment when the first chapter ends and when the real problems begin for "Kid" and "Carlton", starting the great plot. of this miniseries.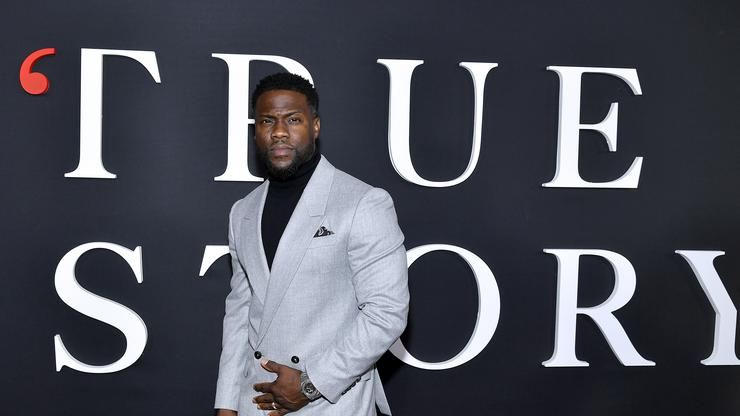 Fuente: https://images.app.goo.gl/FCFxuu17Kt8KTYe58
A pesar de ser una serie que nos cuenta la historia de un comediante, son pocas las escenas de comedia que vemos a lo largo de estos 7 episodios, esta serie esta cargada de suspenso, acción, y una trama que te dejará enganchado capitulo tras capitulo. Esta serie nos deja en la mesa el tema de la confianza, que a veces la maldad o la envidia está más cerca de lo que pensamos y que no siempre un vinculo sanguíneo significará lealtad y amor. Tal y como al principio de la serie dicen, nunca sabes de que serán capaces las personas, sobre todo cuando se ven de manos atadas, nunca conocemos realmente a las personas y por eso no debemos confiar plenamente en las intenciones de los demás. Sin duda vemos a Kevin Hart en una nueva etapa, quizá un poco más seria, y la impecable actuación de Wesley Snipes. Sin duda es una miniserie para disfrutar el fin de semana y que les recomiendo vale la pena ver.
Despite being a series that tells us the story of a comedian, there are few comedy scenes that we see throughout these 7 episodes, this series is loaded with suspense, action, and a plot that will leave you hooked chapter after chapter . This series leaves us on the table the issue of trust, that sometimes evil or envy is closer than we think and that a blood bond will not always mean loyalty and love. As they say at the beginning of the series, you never know what people will be capable of, especially when they see their hands tied, we never really know people and that is why we should not fully trust the intentions of others. We certainly see Kevin Hart in a new stage, perhaps a little more serious, and the impeccable performance of Wesley Snipes. Without a doubt it is a miniseries to enjoy the weekend and that I recommend is worth seeing.

Me siento súper súper feliz de volver por acá con otra reseña💖. Espero todos hayan podido llegar hasta aquí, si les gustó díganme en los comentarios y si ya la vieron, díganme, ¿a ustedes qué les pareció?, ✨les mando las mejores vibras y muchas bendiciones✨. Nos leemos en un próximo blog🤍.
I feel super super happy to come back here with another review💖. I hope everyone has been able to get here, if you liked it, tell me in the comments and if you already saw it, tell me, what did you think of it? ✨ I send you the best vibes and many blessings✨. We will read in a future blog🤍.