These days I was reading some articles about the use of artificial intelligence and algorithms as a novel tool in crime prevention, but before they happen. While I was reading about these first trials in the U.S.A. and China, the plot of a movie came immediately to my mind, although it was a bit convoluted in its plot, I liked it a lot and of course I decided to watch it again; its name is Minority Report or "Previous Sentence", whose premiere was 20 years ago two weeks ago.
Por estos días estuve leyendo algunos artículos sobre la utilización de inteligencia artificial y algoritmos, como herramienta novedosa en la prevención del crimen, pero antes de que estos sucedan. Mientras leía de estos primeros ensayos en E.E.U.U y China, vino de manera inmediata a mi mente, el argumento de la trama de una película que, aunque era algo enredada en sus tiempos, me gustó mucho y por supuesto que decidí volverla a ver; su nombre Minority Report o "Sentencia previa", cuyo estreno cumplió 20 años hace dos semanas.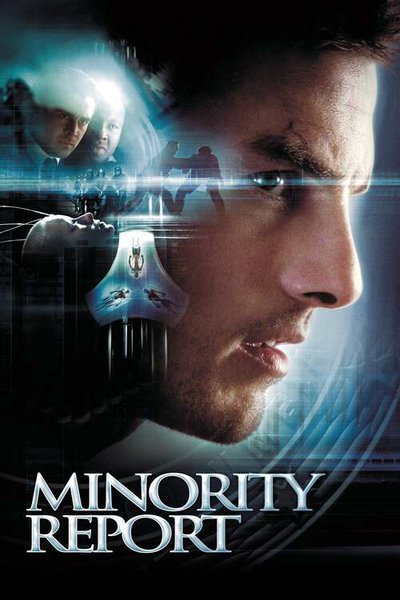 Source
This film was the "Boom" at the time, given its strange and futuristic setting, made in a super advanced metropolis, with automatically controlled highways and an "almost" infallible security system. Well, I couldn't think of such well-executed details from the hand of American director Steven Spielberg; so in the film, we meet a police force that has developed an efficient security program, directed by Lamar Burgess (played by the legendary Max von Sydow).
Se trata de esta cinta que en su momento fue el "Boom", dado su extraña y futurista ambientación, realizada en una metrópolis súper avanzada, con autopistas controladas de manera automática y un sistema de seguridad "casi" infalible. Bueno, no podría pensar en tan bien realizados detalles de la mano del director estadounidense Steven Spielberg; entonces en la película, nos encontramos con un cuerpo policial que ha desarrollado un eficiente programa de seguridad, dirigido por Lamar Burguess (interpretado por el mítico Max von Sydow).
---
The director's right-hand man is Captain John Anderton (played by Tom Cruise); and it is around him that the events of the film revolve. I must mention the remarkable performance of the then rookie Collin Farrel, who plays in a phenomenal way Danny Witwer, representative of the justice department and a very particular antagonist, in fact he was not a bad guy, but a very intelligent official who does his job with efficiency and balance, although very overbearing he,he,he.
El mano derecha del director, es en capitán John Anderton (interpretado por Tom Cruise); y es en torno a él que giran los acontecimientos de la cinta. Debo mencionar la notable actuación del entonces novato Collin Farrel, que interpreta de manera fenomenal a Danny Witwer, representante del departamento de justicia y un antagonista muy particular, de hecho no era un tipo malo, sino un funcionario muy inteligente que hace su trabajo con eficiencia y equilibrio, aunque muy prepotente je,je.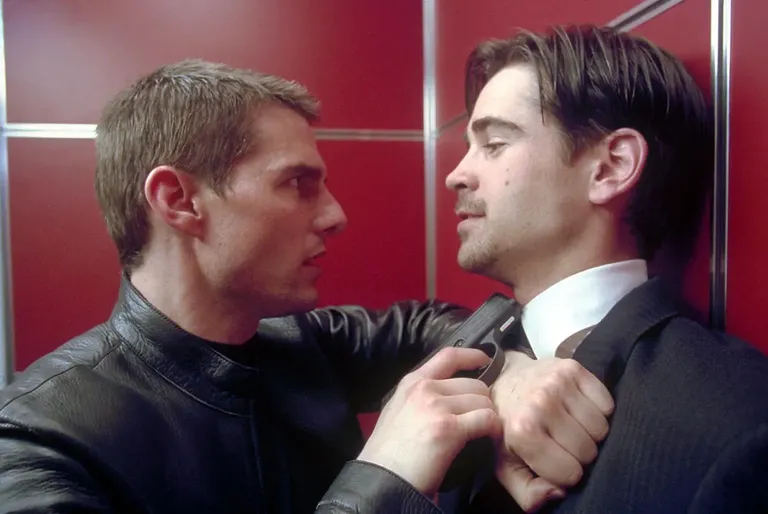 Source
Among the many important characters, there is Lara Clarke, wife of Captain John and played by the beautiful (Kathryn Morris); and of course the character of Agatha, played by (Samantha Morton). Now, when I watch this film again to evaluate the ideas of implementing a similar program, I get different ideas and opinions, since in the film, the director takes us to the year 2054 and the fact that the developed countries I mentioned, are interested in testing this, is worth analyzing.
Entre los muchos personajes importantes, se encuentra Lara Clarke, esposa del capitán John e interpretada por la bella (Kathryn Morris); y por supuesto el personaje de Agatha, interpretado por (Samantha Morton). Ahora bien, al volver a ver esta cinta para valorar las ideas de poner en práctica un programa similar, me llegan diversas ideas y opiniones, dado que en la película, el director nos lleva al año 2054 y el hecho de que los países desarrollados que mencioné, estén interesados en hacer pruebas con esto, es digno de analizar.
Source
Starting with the fact that, paradoxically, the primary information of criminal prediction comes from three sources with human genetics, who through a kind of premonition, detect and predict the murders before they happen. This idea could only occur to Spielberg ha,ha,ha,ha; the detail is that it seems contradictory to me the futuristic (agents with propelled suits that allow them to fly, super advanced ships and automobiles), with the fact that such an ancient method is used, in the style of the oracle.
Comenzando por el hecho de que, de manera paradójica la información primaria de predicción criminal, proviene de tres fuentes con genética humana, quienes por medio de una especie de premonición, detectan y predicen los asesinatos antes de que estos sucedan. Esta idea solo se le puede ocurrir a Spielberg ja,ja,ja; el detalle es que me parece contradictorio lo futurista (agentes con trajes propulsados que les permiten volar, naves y automóviles súper avanzados), con el hecho de que se use un método tan antiguo, al estilo del oráculo.
---
At the same time, placing the theme of metaphysics and prophetic techniques, which allow the establishment of a whole protocol by the police, to stop the murderers before they commit the crime. For me it was interesting to watch the film again from the critical perspective, looking for the details that I didn't understand before and overlooked; for example the richness of the dialogues between Anderton and Witwer, with conflicting opinions and defending each one's point, about the nature of the program, is actually fascinating.
A su vez, colocando el tema de la metafísica y las técnicas proféticas, que permiten establecer todo un protocolo por parte de la policía, para detener a los asesinos antes de que cometan el crimen. Para mí fue interesante volver a ver el film desde la perspectiva crítica, buscando los detalles que antes no entendía y pasaba por alto; por ejemplo la riqueza de los diálogos entre Anderton y Witwer, con opiniones encontradas y defendiendo cada cual su punto, sobre la naturaleza del programa, es en realidad fascinante.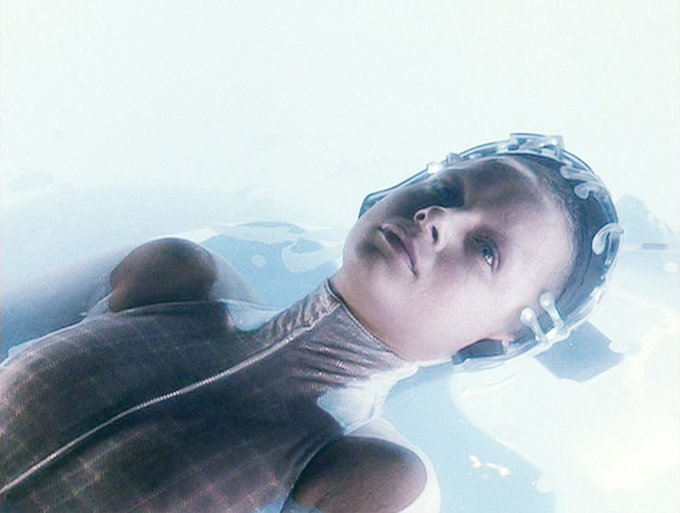 Source
However, not everything is a battle of ideas, since there are chases that break a little with the format I had about them ha,ha. I found it strange to see scenarios of streets full of garbage, with old buildings in the style of the 90's, since I can't imagine a city developed like that, in the future. Also I got the message of conflicting values and how much personal problems influence the performance of job duties, it becomes impossible for Anderton to forget losing his son to abduction, while he was caring for him.
Sin embargo, no todo es batalla de ideas, ya que se generan persecuciones que rompen un poco con el formato que tenía sobre éstas ja,ja. Me pareció extraño ver escenarios de calles llenas de basura, con viejos edificios al estilo de los años 90, dado que no imagino una ciudad desarrollada así, en el futuro. También capté el mensaje de los valores encontrados y lo mucho que influye los problemas personales, en el desempeño de las funciones laborales, se hace imposible para Anderton olvidar haber perdido a su hijo por rapto, mientras él lo cuidaba.
---
This fact, and above all the infamous crime that started the program, made me believe that something that begins badly, will end badly; when personal ambitions come before humanist principles, things will not go well. So in that future of so much modernity and technological advances, man's baser instincts continue to prevent things from working out as they should. In my opinion, Detective Witwer was someone very fair and objective, but at first he is painted as the villain, but ends up being eliminated for having discovered a crime in a brilliant way.
Este hecho y sobre todo el infame crimen que dio inicio al programa, me hizo creer en que algo que comienza mal, va a terminar mal; cuando las ambiciones personales se anteponen a los principios humanistas, las cosas no van a salir bien. Así que en aquel futuro de tanta modernidad y avances tecnológicos, los más bajos instintos del hombre siguen evitando que las cosas funcionen como debe ser. A mi parecer el detective Witwer era alguien muy justo y objetivo, pero en un principio nos lo pintan como el villano, aunque termina siendo eliminado por haber descubierto un crimen de manera brillante.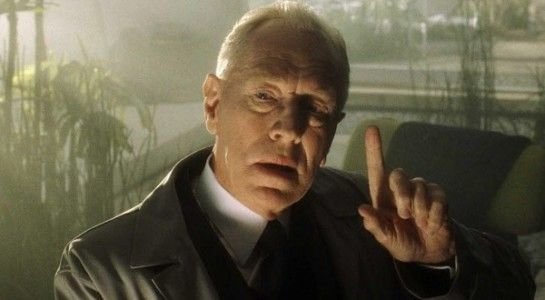 Source
However, looking at the plot from the inside I saw John's internal struggle to change things, to change that pre-crime message that pointed him out as a future murderer; but that he, in his knowledge of the prevention program, could "being aware of his present" avoid it. Could those characters whom John himself arrested have done the same? This movie really got me thinking about it. Aside from the depth of its ideas, it is also notable that many of the scenes take place in dark or shadowy locations, adding to the mystery of the film.
No obstante, al mirar desde adentro la trama vi la lucha interna de John por cambiar las cosas, por cambiar aquel mensaje de pre-crimen que lo señalaba como futuro asesino; pero que él en su conocimiento del programa de prevención, podía "estando consciente de su presente" evitarlo. ¿Hubiesen podido hacer lo mismo, aquellos personajes a quien el propio John arrestó? De verdad esta película me puso a pensar en ello. A parte de lo profundo de sus ideas, también es notable que muchas de las escenas ocurren en lugares sombríos u obscuros, incrementando el toque de misterio de la cinta.
---
The somber scenario reaches its climax when the young and daring Witwer makes a great discovery regarding one of the main crimes of the film; and in his tireless search for the truth he manages to see the only mistake of that Machiavellian and almost perfect plan. Unfortunately, knowing too much is paid with death and in this alternate future, it seems that this phrase is still valid. It is then when I consider that true modernity is in a society full of values, justice and equal opportunities for citizens.
El escenario sombrío llega a su clímax, cuando el joven y osado Witwer hace un gran descubrimiento respecto a uno de los crímenes principales de la obra; y en su incansable búsqueda de la verdad logra ver el único error de aquel plan maquiavélico y casi perfecto. Lamentablemente saber demasiado se paga con la muerte y en ese futuro alterno, parece que sigue teniendo vigencia esa frase. Es entonces cuando considero, que la verdadera modernidad esta en una sociedad llena de valores, justicia e igualdad de oportunidades para los ciudadanos.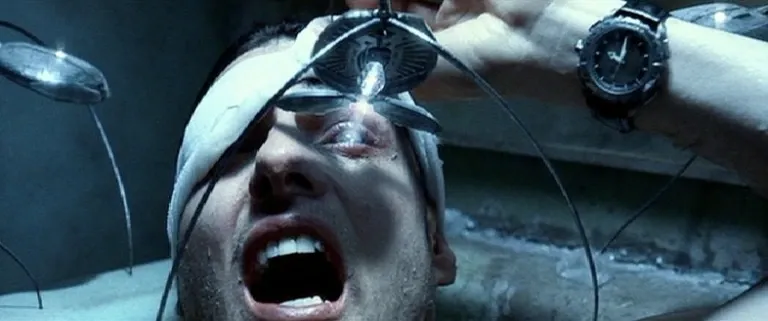 Source
There are scenes that impressed me so much, like everything John had to do to escape, with a kind of self flagellation in his eyes and face; but what made the greatest impression was the conflict of interest between director Lamar, Witwer and John Anderton himself; given that at the end of the day, they all suffered what the security program was trying to avoid. Definitely, when a project or company starts in a bad way and with blood in the middle, you cannot expect good results; no matter how hard you try to hide the truth, it always comes out.
Hay escenas que me impresionaron tanto, con todo lo que tuvo que hacer John para escapar, como una especie de auto flagelo en sus ojos y su rostro; pero lo que en mayor grado lo hizo, fue en el conflicto de intereses entre el director Lamar, Witwer y el propio John Anderton; dado que al final de cuentas, todos padecieron lo que el programa de seguridad intentaba evitar. Definitivamente, cuando un proyecto o empresa inicia de mala manera y con sangre de por medio, no se puede esperar buenos resultados; por mucho que se intente ocultar la verdad, esta siempre sale a la luz.
---

La opinión en esta publicación es de carácter personal por parte del autor.
Translated with www.DeepL.com/Translator.
The opinion in this publication is of a personal nature on the part of the author.
Translated with www.DeepL.com/Translator.
.