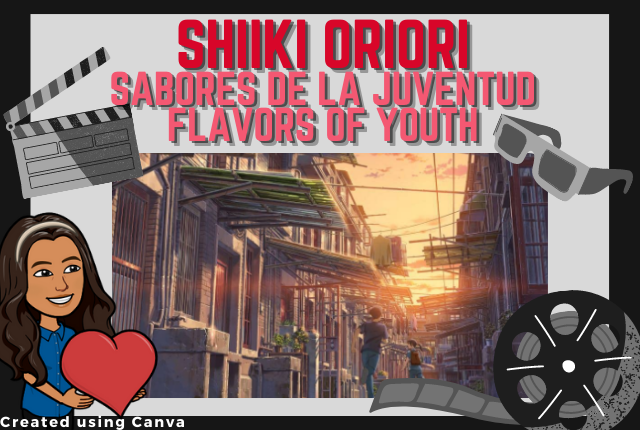 🤗 | ¡Holi, hola, Hivers! | Hi, hello, Hivers! | 🤗

LUNES DE PELÍCULA #10
Me alegra encontrarme por aquí una semana más, muchas gracias por leerme, espero puedan disfrutar tanto de la review como de la película,
Me pone feliz sentarme un domingo por la mañana y ver una película para compartir en mi blog.
Quiero recordarles que no soy ninguna experta sobre las películas, mi objetivo en estas secciones es compartir mi opinión personal y esfuerzo por analizar la película.
⚠️Sin spoilers.
Sólo cuento la película. ⚠️

MOVIE MONDAY #10
I'm glad to be here for another week, thank you very much for reading me, I hope you can enjoy both the review and the movie,
It makes me happy to sit down on a Sunday morning and watch a movie to share in my blog.
I want to remind you that I'm not an expert on movies reviews, my goal in these sections is to share my personal opinion and effort to analyze the movie.
⚠️No spoilers.
I just tell about the movie ⚠️

📌 | Sobre la película | About the movie | 📌
Dirección: Li Haoling, Jiaoshou Yi Xiaoxing y Yoshitaka Takeuchi
Producción: Yuuta Hori, Tang Yunkang y Yasutaka Inagaki
Género: Drama
Estudio: CoMix Wave Films y Haoliners Animation League
País: Japón y China
Idioma: Japonés y chino
Duración: 74 min
Estreno: 4 de Agosto de 2018
La película está dividida en tres segmentos: Hidamari no Choshoku, Chiisana Espectáculo de Moda, Shanghai Koi. Cada una ambientada en una ciudad diferente de China: Beijing, Guangzhou y Shanghái. Cada parte explora diferentes temas sobre el amor y las alegrías sencillas de la vida.
Fuente
Direction: Li Haoling, Jiaoshou Yi Xiaoxing and Yoshitaka Takeuchi
Production: Yuuta Hori, Tang Yunkang and Yasutaka Inagaki
Genre: Drama
Studio: CoMix Wave Films and Haoliners Animation League
Country: Japan and China
Language: Japanese and chinese
Running time: 74 min
Release date: August 4, 2018
The film is divided into three segments: Hidamari no Choshoku, Chiisana Fashion Show, Shanghai Koi. Each set in a different city in China: Beijing, Guangzhou and Shanghai. Each part explores different themes of love and the simple joys of life.
Source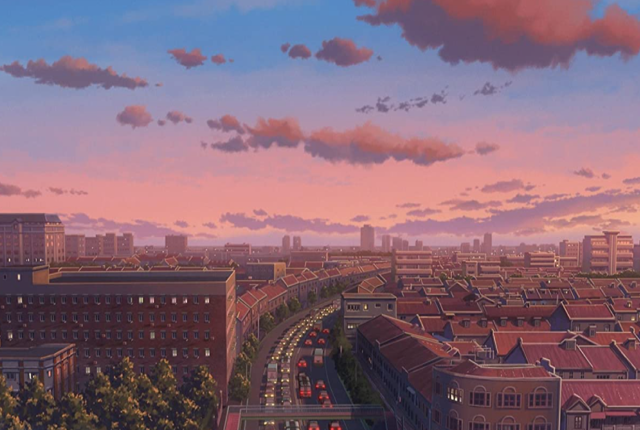 Screenshot of the movie

👀 | Mi punto de vista | My point of view | 👀
Es bastante curioso, por lo que me encontré hay dos formas de verlas: de manera segmentada, es decir, todas al mismo tiempo, y una por una.
Afortunadamente en Netflix está una por una, así es más agradable y cómoda al espectador.
Primero encontramos Los fideos de arroz, una historia de un joven llamado Xiao Ming, que cuenta como a lo largo de su vida los fideos han sido parte de su vida.
En un nostálgico recorridopodemos apreciar cómo ese plato tan común le ha traído recuerdos, experiencias y sentimientos inmemorables.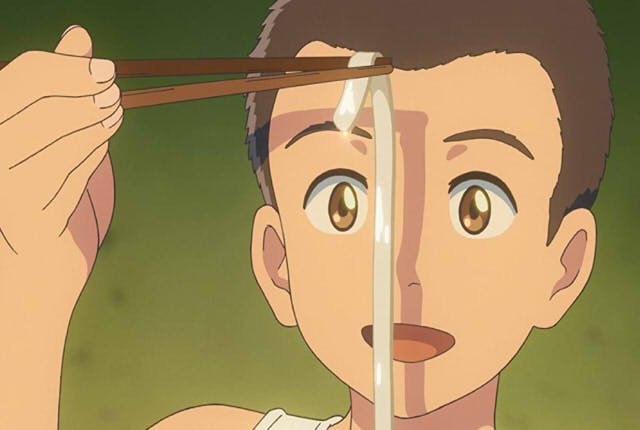 Fuente: Screenshot de la película
En la segunda parte, conocemos la historia de Yin Lin y Lulu, llamada Un pequeño show de moda.
Nos presentan a Yin Lin como la hermosa hermana mayor que se esfuerza por cumplir sus sueños y mantener a su hermana, a pesar de las circunstancias.
Lulu por su parte admira a su hermana e intenta apoyarla en todo lo que puede, busca cumplir sus sueños de la mano de su hermana.
En ambas encontramos un esfuerzo y aspiración por cumplir los sueños que tanta añoranza recuerdan tener desde pequeñas.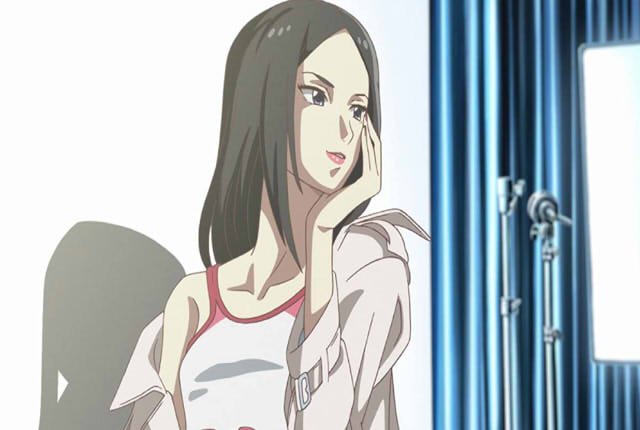 Fuente: Screenshot de la película
Y, finalmente, pero no menos importante... Amor en Shanghai.
En primera plana estaría la historia de Li Mo con Xiao Yu, una linda y tierna historia de romance donde la última palabra de la chica esta en una cinta.
Sin embargo, de fondo está la linda amistad de ellos dos con Pan, donde la confianza, el cariño y su amistad crece con los años.
De esta manera, las tres historias no tienen nada que ver entre sí pero da la agradable sensación en todas.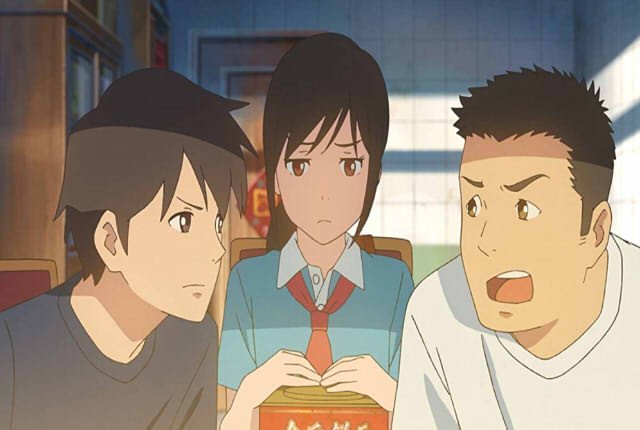 Fuente: Screenshot de la película
It's kinda curious, I found that there are two ways to watch them: in a segmented way, that is, all at the same time, and one by one.
Fortunately on Netflix is one by one, so it's more enjoyable and comfortable to the viewer.
First we find The Rice Noodles, a story of a young man named Xiao Ming, who tells how throughout his life noodles have been part of his life.
In a nostalgic journey through his life we can appreciate how this common dish has brought him memories, experiences and feelings that go back in time.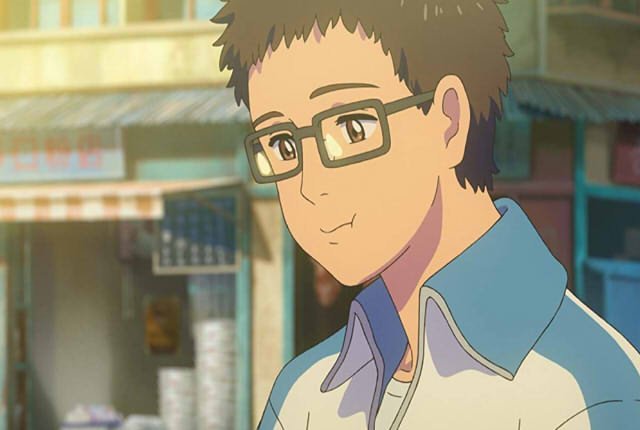 Source: Screenshot of the movie
In the second part, we met the story of two sisters Yin Lin and Lulu, called A Little Fashion Show. This one is a bit longer than the previous one.
We are introduced to Yin Lin as the beautiful older sister who strives to fulfill her dreams and support her sister, despite the circumstances.
Lulu on the other hand admires her sister and tries to support her in every way she can, she seeks to fulfill her dreams hand in hand with her sister.
In both of them we find an effort and aspiration to fulfill the dreams they remember having since they were little.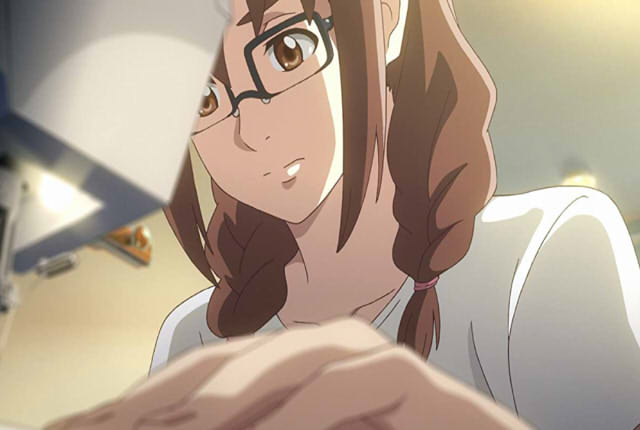 Source: Screenshot of the movie
And, last but not least.... Love in Shanghai.
In the foreground would be Li Mo's story with Xiao Yu, a cute and tender romance story where the girl's last word is on tape.
However, in the background is the cute friendship of the two of them with Pan, where trust, affection and their friendship grows over the years.
In this way, the three stories have nothing to do with each other but it gives the nice feeling in all of them.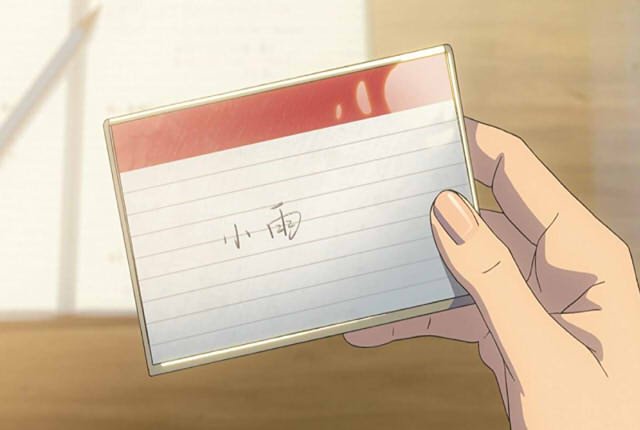 Source: Screenshot of the movie

💭 | Reflexión | Reflection | 💭
Sinceramente no quise ver las reflexiones obvias que muestran en la película...
Valorar los pequeños detalles, amar a la familia, prestar atención a los amigos...
Sí, sí, sencillo, en esta ocasión quiero escribir solo de la sensación que tuve al ver la película.
Me sentí identificada con absolutamente todas las historias, siento que relatan algún aspecto de mi vida, aún con mi corta edad.
Me hace pensar en lo efímero que es la juventud y lo malgastada que es a veces, agradezco que aún a mis 20 años me siento joven y sentir que aún vivo mi vida de la mejor manera.
Disfruto y vivo mi vida como joven que soy, ya cuando toque asumir el rol de adulto lo disfrutaré también porque así es la vida es avanzar, crecer y vivir.
Tengo a penas 20 años pero siento que mi juventud sabe al arroz con pollo de mi familia, hecho con amor.
I honestly didn't want to see the obvious reflections shown in the film...
*Value the small details, love your family, pay attention to your friends... *...
Yes, yes, simple, this time I want to write only about the feeling I had when I saw the movie.
I felt identified with absolutely all the stories, I feel that they relate some aspect of my life, even with my young age.
It makes me think about how ephemeral youth is and how wasted it is sometimes, I am thankful that even in my 20's I still feel young and feel that I still live my life in the best way.
I enjoy and live my life as the young man that I am, and when it's time to assume the role of adult I will enjoy it too because that's life is to move forward, grow and live.
I am just 20 years old but I feel that my youth tastes like my family's arroz con pollo, made with love.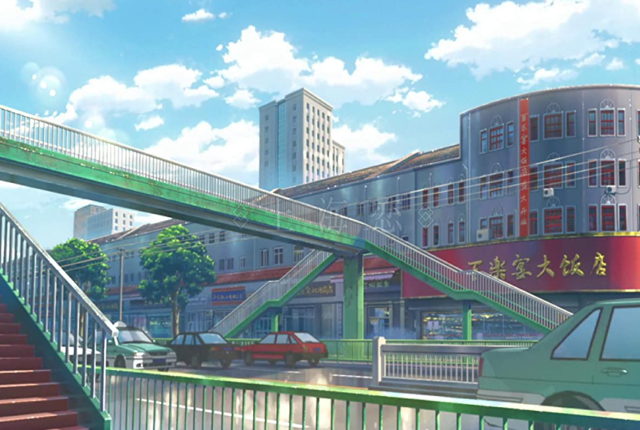 Screenshot of the movie

🤗 | Conclusión | Conclusion | 🤗
¿Saben lo que pasa cuándo en un grupo cada quién hace su parte y luego lo juntan todo? Por aquí lo conocemos como un Frankenstein.
Esta película tiene tres diferentes estilos de animación, que resaltan incluso las escenas de cada productor.
La música acompaña de manera precisa las escenas pero nada relevante, es un gusto escuchar las ambientaciones más tensas, que para mí fueron que mejor música tuvieron.
Sin embargo, amé la película, no me importa que parezca un Frankenstein. Me hizo sentir bien y definitivamente la volvería a ver.
En mi opinión, será 9 puntos de 10.
You know what happens when in a group everyone does their part and then they put it all together? Around here we know it as a Frankenstein.
This film has three different animation styles, which even highlight the scenes of each producer.
The music accurately accompanies the scenes but nothing relevant, it is a treat to listen to the most tense settings, which for me were the ones that had the best music.
However, I loved the movie, I don't mind that it looks like a Frankenstein. It made me feel good and I would definitely watch it again.
In my opinion, it will be 9 points out of 10.


📎Post favoritos | Favorite posts



All graphics made by me using Canva and Paint Tool Sai