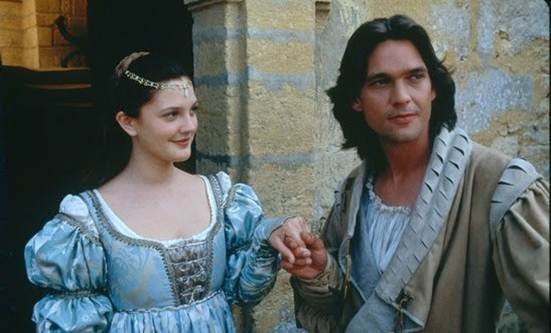 "- What do you know about love?
- I know that a life without love... Is not life."
(Forever: A Cinderella Story)

I firmly believe in love and the power to change our lives, and that we should not give up on our dreams. For this, we must let ourselves go and not ask only to feel the magic of the moment.
Because a life without dreams, illusions, and love is meaningless. In spite of laughing at many princes who thought they were blue, I always waited for mine. I knew that I would find him anywhere and I didn't care about his color.
Cinderella, or Cinderella, is one of the fairy tales that I have been most passionate about. Perhaps because it is a love story and these are my favorite and of course because of Prince Charming.
There are many versions, it was transmitted orally and then each writer adapted it to make his work something great. The best known are those of Giambattista Basile, Charles Perrault, and the Brothers Grimm.
Disney took Cinderella to the movies in 1950, making it a beautiful story in cartoons. It is very similar to the French Perrault's version.
20th Century Fox releases "Ever After A Cinderella Story", in 1998. I liked this film very much from the point of view from which it was approached since Cinderella did not need a fairy godmother, nor a magic wand, but her courage and bravery to get out of her stepmother's dominion. I consider it a real plot.
The film is related to all versions, the story of love and the struggle of good against evil. The plot is set in the 19th century, and the great lady Marie Thérese tells Danielle's life to the Brothers Grimm.
Evil causes misfortune for everyone. Evil and selfish characters are deformed as human beings. While righteousness is reflected in humility, nature, and love in Cinderella. Goodness is the source of happiness because it is generous and able to forgive. Goodness always triumphs over evil.
The stepsisters symbolize evil, and Cinderella represents goodness, generosity, kindness, and forgiveness.
The appearance of Leonardo Da Vinci in the film makes it interesting as for me he is a character in history with many controversies but he is my favorite. Always at Prince Henry's side.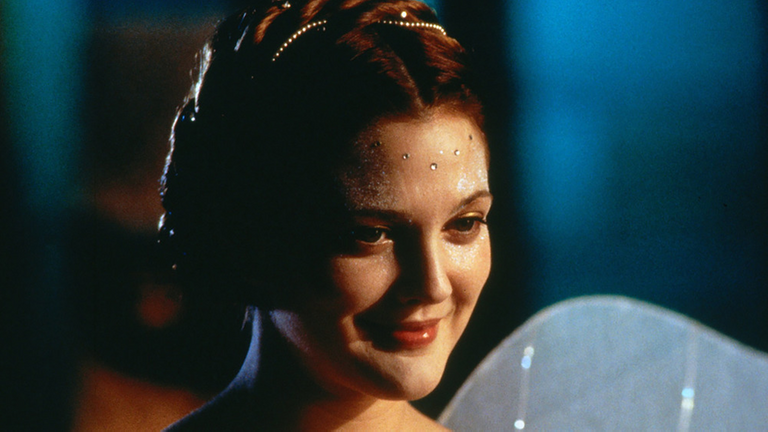 Fuente
Imagen propiedad de www.looper.com
On the other hand, Danielle is a cultured young woman, who likes reading and art, she keeps as much love the last book, a gift from her father, Utopia by Thomas More. Which she read all night lying on the floor on the ashes. Wow, this little book is written in Latin.
She is a strong, brave, and daring woman. Totally changing the stereotype of a princess. She's not skinny or a damsel in distress.
"Ever After: A Cinderella Story", was directed by Andy Tennant. A story where romance, action, and comedy are woven together for 121 minutes to bring two beings together and make this love blossom into something unforgettable. It stars Drew Barrymore and Anjelica Huston.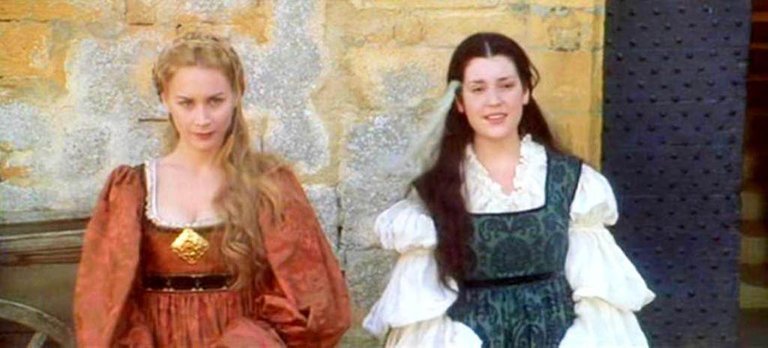 Fuente
Imagen propiedad de strikingfilmreviews.wordpress.com
Henry is a handsome, sensitive, independent man who likes adventure and challenges. He does not want to be King.
The songs in the film are gorgeous, tunes such as: Ever After Main Title, Cinderella, Utopia, The Girls, The Prince, And The Painting, Rescuing Maurice among others. The British band Texas performed the main theme of the film known as "Put Your Arms Around Me". It is a beautiful melody, I leave it for you to enjoy.
"Texas - Put Your Arms Around Me (Official Video)"
I like the way Danielle's character was portrayed, at no time is she candid, quiet, or submissive. She fights for what she wants and is a risk-taker. As for Henry, I was fascinated by his adventurous style. There is a connection between the two and they managed to capture the audience's attention.
"- There's so much life ahead, but I can't imagine living it alone anymore.
- You're not making it easy for me.
- I haven't slept for fear of waking up and discovering it's a dream..."
(Forever: A Cinderella Story)

It is a beautiful story of real love, two souls that crossed a moment in time and space. This usually happens between beings who recognize each other with a glance. There was no need for a fairy godmother with her magic wand "Bibbidi Bobbidi Boo".
Love was enough, and this is a reason for peace and joy. They lived happily ever after with Danielle and Henry.
I invite you to enjoy this film.
I bid farewell dear Movies & Shows Community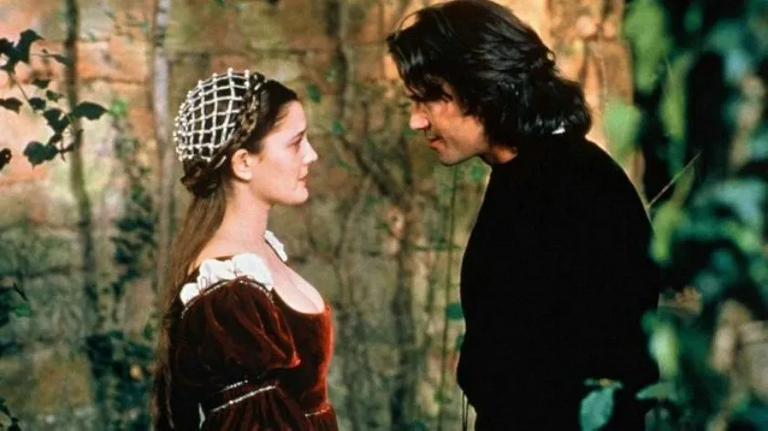 Fuente
Imagen propiedad de www.elimparcial.com
"- ¿Qué sabes tú del amor?
- Yo sé que una vida sin amor... No es vida".
(Por siempre: Una historia de Cenicienta)

Creo firmemente en el amor y en el poder de modificar nuestra vida, y que no debemos renunciar a nuestros sueños. Para esto hay que dejarse llevar y no preguntar solo sentir la magia del momento.
Ya que una vida sin sueños, ilusiones y sin amor no tiene sentido. A pesar de reírme de muchos príncipes que se creían azules, siempre espere el mío. Yo sabía que en cualquier parte me lo encontraría y no me importaba su tonalidad.
Cenicienta o Cinderella, es una de los cuentos de hadas que más me han apasionado. Quizás porque es una historia de amor y estas son mis preferidas y por supuesto por el Príncipe Azul.
Hay muchas versiones, fue transmitida de manera oral y luego cada escritor la adapto para que su obra fuese algo grandioso. Las más conocidas son las de Giambattista Basile , Charles Perrault y la de los Hermanos Grimm.
Disney lleva al cine La Cenicienta en el año1950, haciendo de ella una bella historia en dibujos animados. Es muy parecida a la versión del francés Perrault.
20th Century Fox estrena "Ever After: A Cinderella Story", en el año 1998. Este filme me gustó mucho desde el punto de vista que fue enfocado ya que Cenicienta no necesito de un hada madrina, ni de varita mágica sino de su valor y coraje para salir del dominio de su madrastra. Considero que es una trama real.
La película está relacionada como todas las versiones, la historia de amor y la lucha del bien contra el mal. La trama se desarrolla en el siglo XIX, y la gran dama Marie Thérese les cuenta la vida de Danielle a los hermanos Grimm.
El mal causa la desgracia de todos. Los personajes malos y egoístas se deforman como ser humano. Mientras que el justo se refleja en la humildad, la naturaleza y amor en Cenicienta. El bien es fuente de felicidad porque es generoso y capaz de perdonar. La bondad triunfa siempre sobre la maldad.
Las hermanastras simbolizan el mal, y Cenicienta representa el bien, generosidad, bondad y perdón.
La aparición de Leonardo Da Vinci en el filme lo hace interesante ya que para mí es un personaje de la historia con muchas controversias pero es mi predilecto. Siempre al lado del príncipe Henry.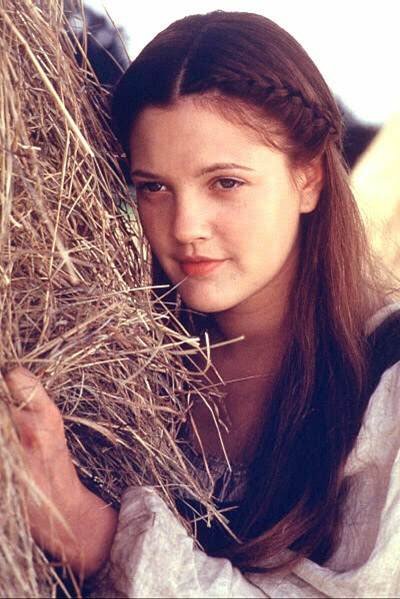 Fuente
Imagen propiedad de menteimperfecta.blogspot.com
Por otro lado, Danielle es una joven culta, que le gusta la lectura y el arte, guarda como mucho amor el último libro, regalo de su padre, Utopía de Tomás de Moro. El cual leía toda la noche acostada en el piso sobre las cenizas. Wuao, este librito está escrito en latín.
Es una mujer fuerte, valiente y atrevida. Cambiando totalmente el estereotipo de una princesa. No es delgada ni una damisela en peligro.
"Ever After: A Cinderella Story", fue dirigida por Andy Tennant. Una historia donde el romance, la acción y la comedia se entretejen durante 121 minutos para reunir a dos seres y que florezca este amor algo inolvidable. Es protagonizada por Drew Barrymore y Anjelica Huston.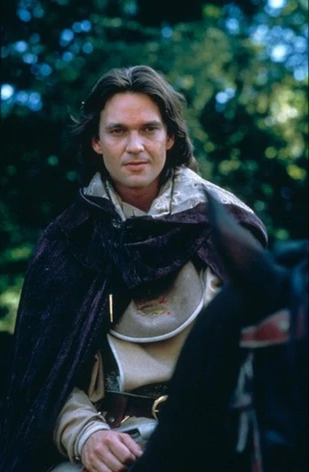 Fuente
Imagen propiedad de ever aftercinderella.fandom.com
Henry es un hombre apuesto, sensible, independiente, le gusta la aventura y los desafíos. No desea ser Rey.
Las canciones de la película son bellísimas, melodías tales como: Ever After Main Title, Cinderella, Utopia, The Girls, The Prince And The Painting, Rescuing Maurice entre otras. La banda británica Texas interpreto el tema principal del filme conocido como "Put Your Arms Around Me". Es una bella melodía, se los dejo para que la disfruten.
"Texas - Put Your Arms Around Me (Official Video)"
Me gusta cómo fue planteado el personaje de Danielle, en ningún momento es candorosa, callada ni es sumisa. Lucha por lo que quiere y es arriesgada. En cuanto a Henry, me fascino su estilo aventurero. Hay conexión entre los dos y lograron captar la atención del público.
"- Hay mucha vida por delante, pero ya no puedo imaginarme vivirla sola.
- No me lo estás poniendo fácil.
- No he dormido por miedo a despertar y descubrir que es un sueño..."
(Por siempre: una historia de Cenicienta)

Es una linda historia de amor real, dos almas que se cruzaron un momento en el tiempo y espacio. Esto suele suceder entre seres que se reconocen con una mirada. No fue necesario una hada madrina con su varita mágica "Bibbidi Bobbidi Boo".
El amor fue suficiente, y esto es motivo de paz y alegría. Vivieron felices por siempre Danielle y Henry.
Les invito a disfrutar de este filme.
Me despido querida Comunidad de Movies & Shows.
Todas las imágenes son de la película "Por siempre: Una historia de Cenicienta". Les dejo el reconocimiento de la primera imagen:
"Link"