¡Feliz Sábado amigos de Hive!
Hoy les traigo mi participación en una iniciativa que me gustó mucho, es de la Hiver @maeugenia y el tema es hablar sobre nuestras 3 series favoritas y si hay algo que de verdad disfruto es ver tanto series como películas, es de mis mejores pasatiempos y la mejor actividad para entretenerse y distraerse, a lo largo de los años he logrado ver muchísimas series de las cuales muchas me han enganchado y hasta me han encantado, aunque debo admitir que otras no tanto, pero hoy les contaré en este post cuales son mis 3 series favoritas de todas esas.
¡Happy Saturday Hive friends!
Today I bring you my participation in an initiative that I really liked, it is from Hiver @maeugenia and the topic is to talk about our 3 favorite series and if there is something that I really enjoy is watching both series and movies, it is one of my best hobbies and the best activity to entertain and distract yourself, over the years I have managed to see many series of which many have hooked me and I have even loved it, although I must admit that others not so much, but today I will tell you in this post what are my 3 favorite series of all those.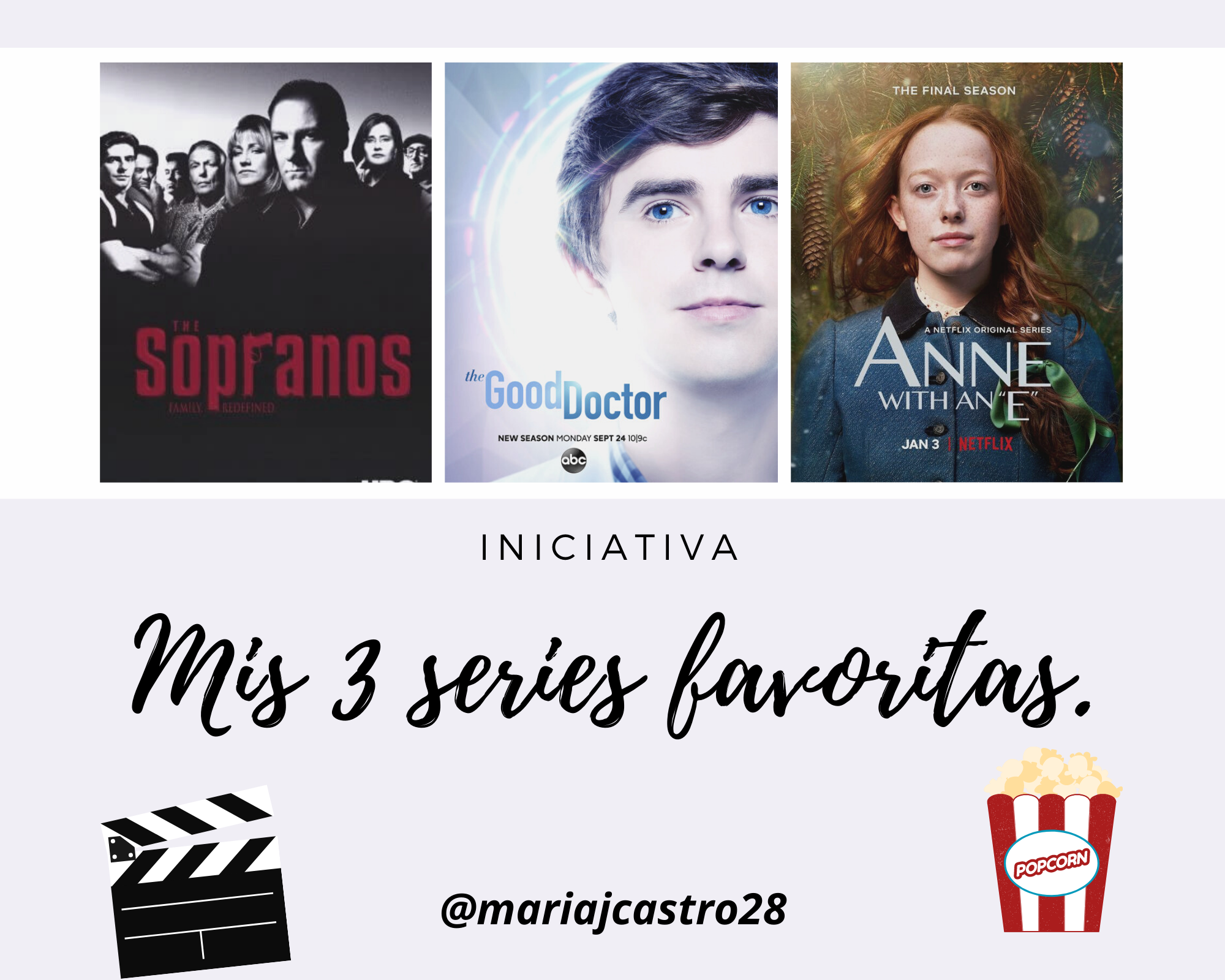 Imagen editada en canva/Image edited in canva

Mis 3 series favoritas | My 3 favorite series


◉ 1| Los Soprano (1999-2008)
Esta es sin duda una de mis series favoritas, nunca una serie me había capturado tanto como lo hizo esta. La trama se basa en la vida de un mafioso de nombre Tony Soprano, quien es el jefe de una organización criminal, a su vez transcurren las historias de personajes cercanos a Tony, como su esposa, hijos y demás miembros de involucrados en la mafia. Fue una serie que me atrapó con su historia y cada capítulo que pasaba me enganchaba más, a pesar de ser los mafiosos los "malos" de la historia debido a la función que ejercían la serie hacia ver sus vidas desde otro punto de vista que en cierto modo llega a despertar empatía por ellos en base a las situaciones que viven.
◉ 1 | The Sopranos (1999-2008)
This is undoubtedly one of my favorite series, never a series has captured me as much as this one did. The plot is based on the life of a mobster named Tony Soprano, who is the head of a criminal organization, in turn the stories of characters close to Tony, such as his wife, children and other members of those involved in the mafia. It was a series that caught me with its story and each chapter that passed got me more hooked, despite the fact that the gangsters were the "bad guys" in the story due to the role that the series exercised towards seeing their lives from another point of view than in In a way, it comes to awaken empathy for them based on the situations they experience.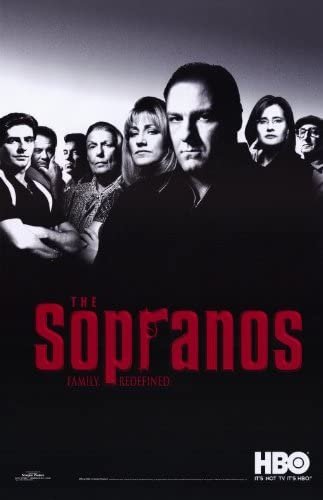 Fuente de la imagen/Image source

◉ 2| The good doctor (2017-Presente)
Se trata de un drama médico que se centra en la vida de un joven doctor llamado Shaun Morphy el cual padece de autismo, y aunque podría parecer una barrera en realidad su condición le beneficia en su trabajo, lo que lo hace un gran médico cirujano muy capacitado y uno de los mejores en su trabajo, sin embargo, debe lidiar con prejuicios y rechazos por parte de sus compañeros debido a su condición ya que nadie cree que deba estar ejerciendo esta profesión con su condición, además es una persona muy limitada socialmente ya que le cuesta mucho socializar con el resto de las personas, pero con el tiempo Shaun demuestra de lo que es capaz y que su condición no lo limita de ser un buen médico.
A pesar de no entender nada sobre términos médicos ni todo este tema de la medicina es una serie que me encantó desde el primer capítulo, me atrapó de tal manera que no podía dejar de verla, toda la historia es muy interesante, cada capítulo es un caso nuevo, una nueva enfermedad, una nueva anomalía y una nueva experiencia que estos médicos deben vivir en la sala de emergencias. Sin duda la actuación de Freddie Highmore (Shaun Murphy) es bastante buena y acertada para interpretar a este personaje y nos hace ver a vida desde el punto de vista de una persona con autismo y lo difícil que pueden ser sus vidas por su condición.
◉ 2 | The good doctor (2017-Present)
It is a medical drama that focuses on the life of a young doctor named Shaun Morphy who suffers from autism, and although it may seem like a barrier, his condition actually benefits him in his work, which makes him a great surgeon very trained and one of the best in his job, however, he must deal with prejudices and rejections from his colleagues due to his condition since no one believes that he should be practicing this profession with his condition, he is also a very socially limited person since that it costs him a lot to socialize with the rest of the people, but over time Shaun shows what he is capable of and that his condition does not limit him from being a good doctor.
Despite not understanding anything about medical terms or all this topic of medicine, it is a series that I loved from the first chapter, it caught me in such a way that I could not stop watching it, the whole story is very interesting, each chapter is a A new case, a new disease, a new anomaly and a new experience that these doctors must live in the emergency room. Without a doubt, the performance of Freddie Highmore (Shaun Murphy) is quite good and accurate to play this character and makes us see life from the point of view of a person with autism and how difficult their lives can be due to their condition.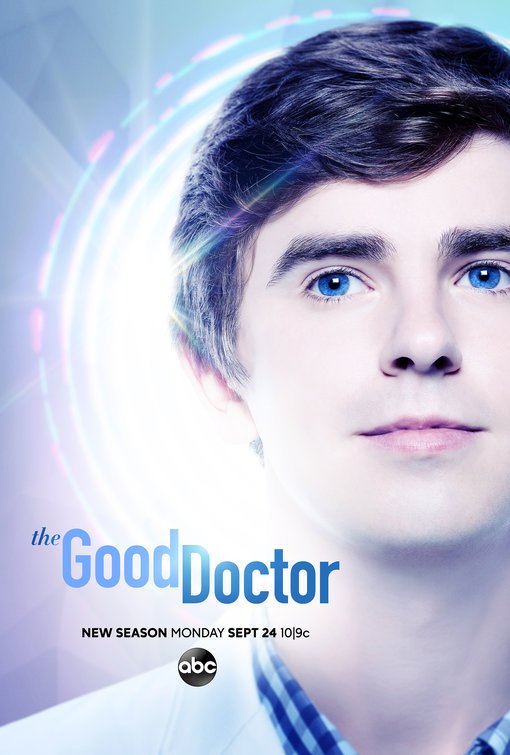 Fuente de la imagen/Image source

◉ 3| Anne with an E (2017-2019)
Es una serie de origen canadiense basada en la obra clásica literaria infantil de 1908 titulada "Ana la de tejas verdes" de Lucy Madu Montgomer. Cuenta la historia de Anne, una niña huérfana que ha llevado una infancia muy difícil en el orfanato hasta que finalmente es adoptada por una pareja de ancianos hermanos quienes en realidad querían un niño para que les ayudara en su granja, sin embargo, el hombre no quiere regresarla a ese lugar pero su hermana se interpone, finalmente la acepta y viven como una familia. La serie trata temas muy familiares y todo lo que vive esta niña en su nueva vida que sin duda mejoró mucho desde que llegó a este nuevo hogar.
No estoy muy acostumbrada a este tipo de series sentimentales pero debo admitir que esta me encantó y la disfruté muchísimo.
◉ 3 | Anne with an E (2017-2019)
It is a series of Canadian origin based on the 1908 children's literary classic entitled "Anne the Green Gabled" by Lucy Madu Montgomer. It tells the story of Anne, an orphan girl who has had a very difficult childhood in the orphanage until she is finally adopted by an elderly couple who actually wanted a child to help them on their farm, however, the man did not he wants to return her to that place but her sister gets in the way, finally accepts her and they live as a family. The series deals with very familiar themes and everything that this girl lives in her new life that has undoubtedly improved a lot since she arrived in this new home.
I am not very used to this type of sentimental series but I must admit that I loved this one and I enjoyed it very much.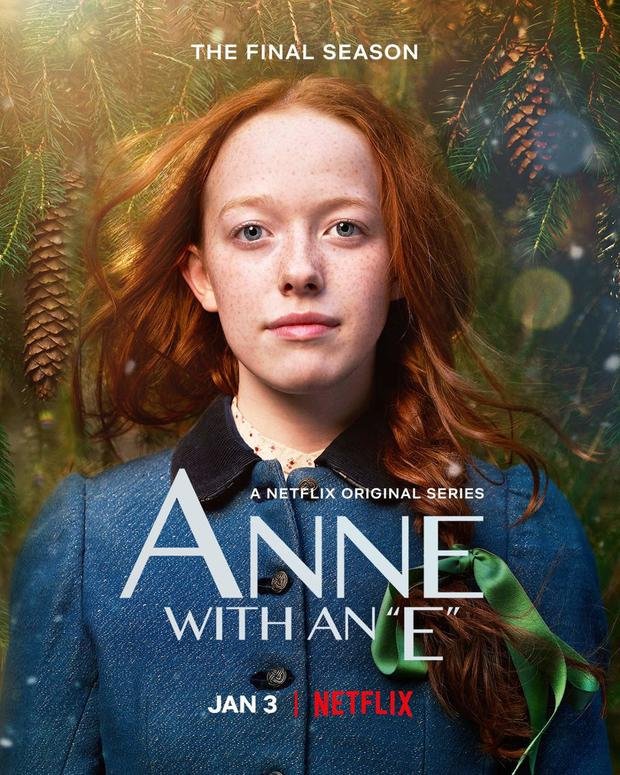 Fuente de la imagen/Image source

Esta ha sido mi selección para esta iniciativa, por mi parte estas 3 series me parecieron muy buenas y personalmente me encantaron, si no las han visto se las recomiendo muchísimo. Para finalizar invito a mis amigas @genesishernandez @maryed y @orianasalas
This has been my selection for this initiative, for my part, these 3 series seemed very good and I personally loved them, if you have not seen them I highly recommend them. To finish I invite my friends @genesishernandez @maryed and @orianasalas

¡Gracias por detenerte a leer!
Nos vemos en mi próxima publicación.
¡Tengan un feliz día!
¡Thanks for stopping to read!
See you in my next post.
¡Have a happy day!