El amor, el amor, el amor.
Ese sentimiento tan complejo y a la vez maravilloso que es tan difícil de explicar por medio de simples palabras y que ha servido de inspiración para crear historias maravillosas por vías artísticas distintas como la novela, la pintura, la música y, por supuesto, el cine.
El género del romance es uno de esos que jamás pasará de moda en la industria cinematográfica. Yo siempre he dicho que no soy muy fanática de las películas de amor, pero muy en el fondo soy toda una cursi. Aunque si me preguntan me declaro más fanática de las comedias románticas que de los dramas que te hacen llorar con la primera escena, a estos últimos siempre les termino huyendo hasta más no poder pero siempre me terminan alcanzando aunque yo no lo quiera.
Hoy he aceptado la invitación de @cronosclocks e @ilazramusic para unirme esta iniciativa creada por @beatriche la cual consiste en hablar acerca de nuestras películas favoritas de romance. Les digo de antemano que esta selección de películas que he realizado se contradice enormemente con lo que comenté en el párrafo anterior de que no me atraen tanto los dramas pero, ¿qué les puedo decir? A pesar de que me hacen llorar (y realmente detesto eso) también me han hecho reflexionar de alguna u otra forma y por eso es que se encuentran en este top.
---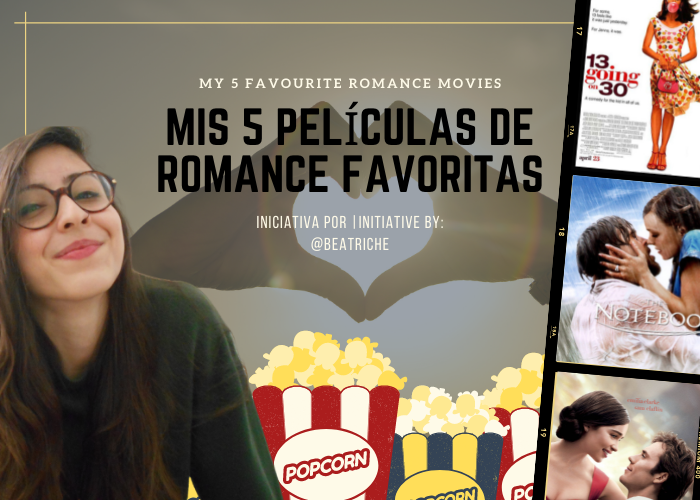 Image elaborada por @maryed en canva.com
Image by @maryed on canva.com
---
Love, love, love.
That feeling so complex and at the same time wonderful that is so difficult to explain in simple words and that has served as inspiration to create wonderful stories through different artistic avenues such as novels, painting, music and, of course, cinema.
The romance genre is one of those that will never go out of fashion in the film industry. I've always said that I'm not a big fan of love movies, but deep down I'm a cheesy person. Although if you ask me I'm more of a fan of romantic comedies than dramas that make you cry at the first scene, I always end up running away from the latter but they always end up catching up with me even if I don't want them to.
Today I have accepted the invitation of @cronosclocks and @ilazramusic to join this initiative created by @beatriche which consists of talking about our favourite romance movies. I'll tell you upfront that this selection of films I've made contradicts a lot with what I said in the previous paragraph that I'm not that attracted to dramas, but what can I say? Although they make me cry (and I really hate that) they have also made me reflect in some way or another and that is why they are in this top.

Si tuviera 30
13 Going on 30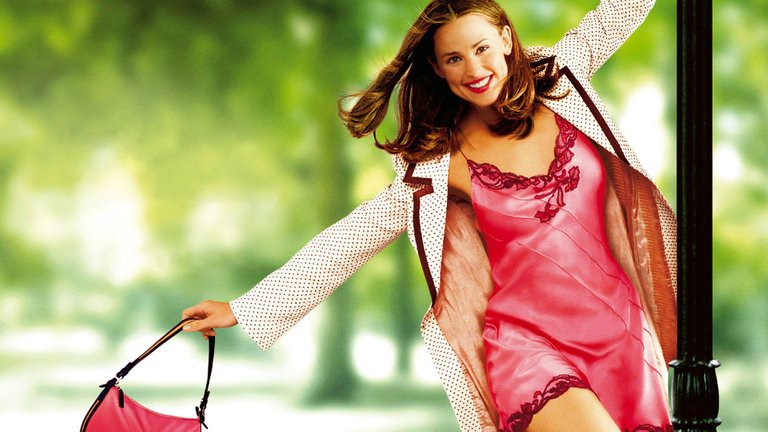 f u e n t e | s o u r c e
Esta es una de mis comedias románticas favoritas, la historia es muy divertida y..¡Dios mío! Jennifer Garner es tan hermosa y es una excelente actriz también. Aunque esta película es una comedia romántica también se mezcla con un poco de fantasía pues al comienzo nos encontramos con una chica de 13 años que no es nada popular es la secundaria, y ella sólo desea tener 30 años de edad, ser bonita y exitosa y bueno...de la nada, ese sueño se convierte en realidad.
Jenna, nuestra protagonista, despierta en el año 2004 donde ya tiene 30 años y es la redactora jefe de una revista importante llamada Poise. Evidentemente, como se saltó unos cuantos años de su vida, despierta completamente desconcertada y confundida y es ahí donde emprende su camino poco a poco para ir descubriendo quien en realidad es ella. La cosa es que se entera de que no ha hecho cosas muy lindas: ha engañado, no tiene buena relación con sus padres e hizo a un lado a su mejor amigo de toda la vida: Matty.
Es en ese mismo proceso de descubrir quien en realidad es que termina enamorándose de su mejor amigo y bueno...él de ella. Aunque bueno, en realidad él siempre lo estuvo, sólo que ella estaba un poco ciega pero luego de todas las verdades sobre su vida que tuvo que afrontar luego del "acontecimiento mágico" ella comienza a reconsiderar su forma de pensar y de vivir.
▪▪▪
This is one of my favourite romantic comedies, the story is very funny and...my God! Jennifer Garner is so beautiful and she is an excellent actress too. Although this movie is a romantic comedy it is also mixed with a bit of fantasy as at the beginning we meet a 13 year old girl who is not popular at all in high school, and she just wants to be 30 years old, pretty and successful and well...out of nowhere, that dream comes true.
Jenna, our protagonist, wakes up in the year 2004 where she is already 30 years old and is the editor-in-chief of a major magazine called Poise. Evidently, having skipped a few years of her life, she wakes up completely bewildered and confused and it is there that she sets out on her journey to discover who she really is. The thing is, she finds out that she hasn't done very nice things: she has cheated, she doesn't have a good relationship with her parents and she has pushed aside her best friend of all her life: Matty.
It is in the process of discovering who she really is that she ends up falling in love with her best friend and well...him with her. Well, actually he always was, she was just a bit blind, but after all the truths about her life that she had to face after the "magical event" she starts to reconsider her way of thinking and living.

Yo Antes de Ti
Me before you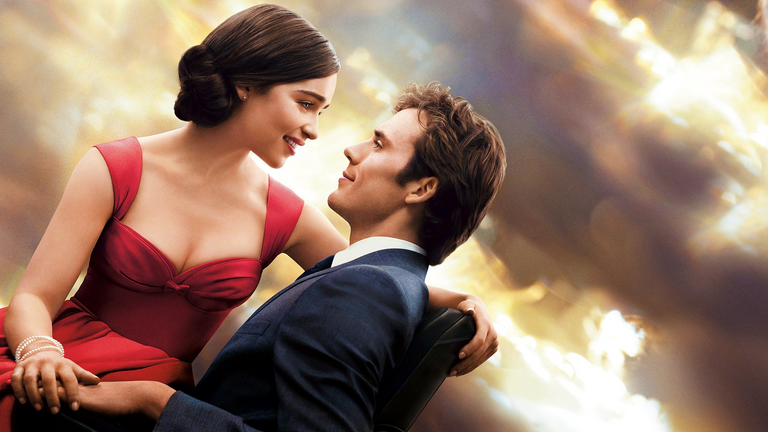 f u e n t e | s o u r c e
Yo siempre he pensado que existen "personas mágicas" que la vida nos termina poniendo en nuestro camino, para que ellas simplemente con su brillo y energía tan increíble nos ayuden a sanar nuestras heridas y tomar una perspectiva diferente de la vida, y creo que ese es el caso de esta película que me hizo llorar hasta más no poder.
En esta película, Louisa "Lou" Clark, una veinteañera bastante alegre, carismática e ingenua, que nunca ha salido más allá de su pueblo natal, se ve en la necesidad de buscar un trabajo para ayudar a mantener a su familia. Ella logra dar con un trabajo que tiene una buena paga y que consistía en cuidar a un chico adinerado que tras un terrible accidente ha perdido la movilidad absoluta de su cuerpo, quedan postrado en una silla de ruedas. Tras ese accidente, Will, ha caído una terrible amargura y depresión por lo que ha tomado la decisión de quitarse la vida por medio de la eutanasia. Entonces, el trabajo de Lou no sólo será cuidar de Will, sino también animarlo para evitar ese desenlace tan terrible.
En medio de todo eso, ambos chicos se terminan enamorando. Y, aunque ella no pudo hacerlo cambiar de opinión, al menos llegó a ser ese último rayo de felicidad que tuvo el chico antes de partir. Por otra parte, él para ella fue como ese empujoncito que la ayudó a salir de su caparazón para que experimentara el mundo y pudiese lograr grandes cosas en su vida. Como les dije, esta película me hizo llorar a mares, es muy linda y transmite un mensaje muy bonito.
▪▪▪
I've always thought that there are "magical people" that life puts in our way, so that they simply with their brilliance and incredible energy help us to heal our wounds and take a different perspective on life, and I think that's the case with this film that made me cry my eyes out.
In this film, Louisa "Lou" Clark, a rather cheerful, charismatic and naïve twenty-something who has never been outside of her hometown, finds herself in need of a job to help support her family. She manages to find a job that pays well and consists of looking after a wealthy boy who, after a terrible accident, has lost all mobility in his body and is now confined to a wheelchair. After this accident, Will has fallen into a terrible bitterness and depression and has decided to take his own life by means of euthanasia. Lou's job is not only to care for Will, but also to encourage him to avoid such a terrible outcome.
In the midst of all this, the two boys fall in love. And, although she couldn't change his mind, at least she became that last ray of happiness that the boy had before leaving. On the other hand, he was for her like that little push that helped her come out of her shell to experience the world and achieve great things in her life. As I said, this film made me cry my eyes out, it is very beautiful and conveys a very nice message.

Diario de una pasión
The Notebook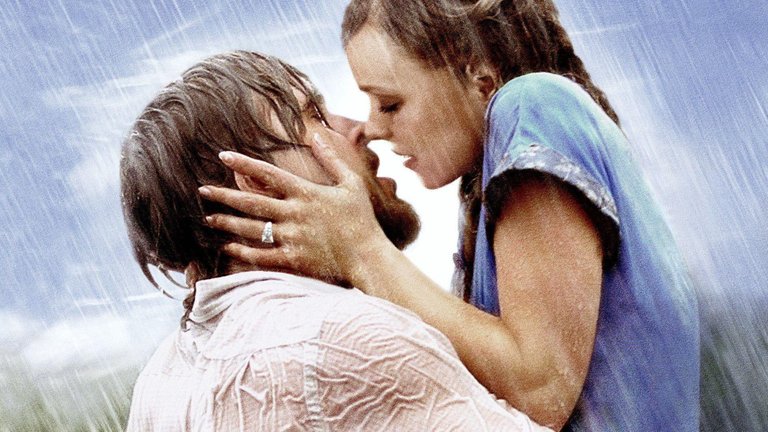 f u e n t e | s o u r c e
Suena cursi, pero qué lindo sería vivir con una persona para el resto de tu vida, tener una vida agradable (a pesar de las peleas y de los momentos difíciles), formar una gran familia y terminar envejeciendo juntos... básicamente esa es la historia que se nos cuenta en esta película.
La película viaja a los años cuarenta para contarnos la historia de Allie y Noah quienes se enamoran completamente y comienzan a vivir un amor transparente y puro a pesar de sus peleas y de sus diferencias tanto sociales como económicas. A pesar de todos los obstáculos, el amor siempre pudo más, y fue así como terminaron formando una familia y viviendo una vida plena. Retornando al presente, es Noah (ya de anciano) quien le cuenta a una Allie que sufre de alzheimer, todos los obstáculos que ellos tuvieron que afrontar de jóvenes para finalmente poder estar juntos.
▪▪▪
It sounds corny, but how nice it would be to live with one person for the rest of your life, have a nice life (despite the fights and hard times), build a big family and end up growing old together? basically that is the story we are told in this film.
The film travels back to the 1940s to tell us the story of Allie and Noah who fall completely in love and begin to live a transparent and pure love despite their quarrels and their social and economic differences. Despite all the obstacles, love always won out, and so they ended up starting a family and living a full life. Returning to the present, it is Noah (as an old man) who tells Allie, who suffers from Alzheimer's, about all the obstacles they had to face when they were young in order to finally be together.

Orgullo y Prejuicio
Pride and Prejudice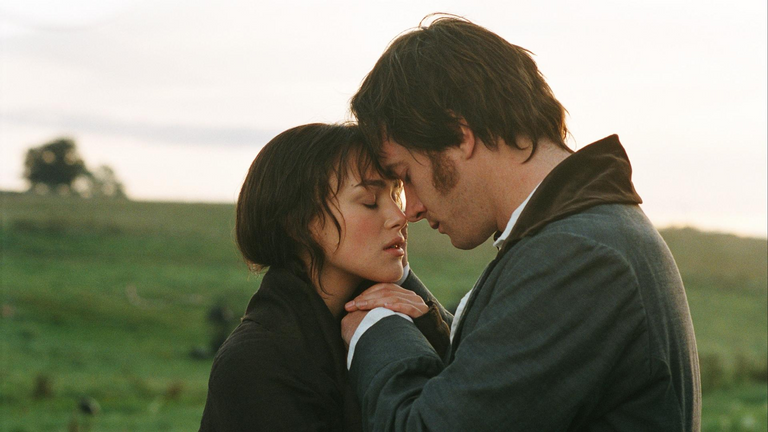 f u e n t e | s o u r c e
Muchas veces las primeras impresiones que nos llevamos de una persona suelen estar bastante equivocadas y a veces simplemente nos dejamos llevar por ellas y terminamos catalogando a una persona de una forma bastante errada. Muchas veces nuestro orgullo y los malentendidos provocan también juicios errados. Cuántas noviazgos hoy en día no ocultan detrás de sí un: "al principio me pareciste la persona más arrogante e insoportable, pero después te conocí más a fondo y descubrí lo buena persona que eras". Digamos que los personajes principales de esta película viven una historia de este estilo.
Por otra parte, en esta cinta se muestra la lucha que tiene el amor verdadero en contra de diversos obstáculos como: la diferencia socio económicas en la Inglaterra victoriana, la absurda y exagerada dependencia de la mujer hacia el hombre y la gran presión hacia las mujeres de tener que contraer matrimonio para asegurarse un "futuro decente".
▪▪▪
Many times the first impressions we get of a person are often quite wrong and sometimes we simply get carried away by them and end up categorising a person in a quite wrong way. Often our pride and misunderstandings also lead to misjudgements. How many courtships nowadays don't hide behind them a: "at first I thought you were the most arrogant and unbearable person, but then I got to know you better and discovered what a good person you were". Let's say that the main characters in this film live this kind of story.
On the other hand, this film shows the struggle of true love against various obstacles such as: the socio-economic differences in Victorian England, the absurd and exaggerated dependence of women on men, and the great pressure on women to marry in order to secure a "decent future".

La familia de mi novia
Meet the Parents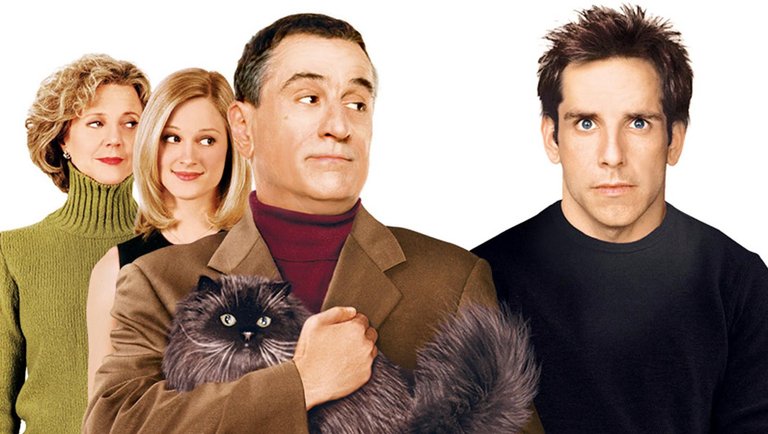 f u e n t e | s o u r c e
Muchas veces la relación del novio con sus suegros no suele ser tan maravillosa al principio, es por eso que para algunos el hecho de conocer a sus suegros puede llegar a ser lo peor de lo peor y ese es el caso de Greg Focker, el protagonista de esta película interpretado por Ben Stiller.
Greg decide proponerle matrimonio a su novia Pam, pero el punto aquí es que debe de pedir primero permiso a Jack Byrnes, el papá Pam y ex - agente de la CIA (interpretado maravillosamente por el gran Robert De Niro). A Jack no le agrada mucho el futuro prometido de su hija y simplemente hará todo lo posible para que el pobre chico salga corriendo despavorido y Greg, en una búsqueda desesperada por la aprobación de su suegro, terminará siendo el protagonista de un sinfin contratiempos divertidos que, básicamente, lo terminan dejando como el rey del desastre ante los ojos de toda la familia. Al final Pam le deja por lo claro a su padre que ella ama a Greg y básicamente le pide que deje de hacerle la vida imposible. De verdad es uina comedia romántica sumamente divertida porque retrata de una forma bastante humorística la relación difícil que puede llegar a existir con los suegros.
En realidad esta es una saga de tres películas, aunque mi favorita es esta que les estoy describiendo porque, a mi parecer, está repleta de una mayor cantidad de eventos graciosos en comparación a sus sucesoras. En la segunda película, toca conocer a los padres Greg, que cabe destacar son un completo desastre y todo lo opuesto a Jack. En la tercera cinta nos adentramos en la vida de casados de Greg y Pam cuando ya han formado una familia, pero las cosas, al parecer, no le están saliendo muy bien a Greg.
▪▪▪
Often the groom's relationship with his in-laws is not so wonderful at first, which is why for some people meeting their in-laws can be the worst of the worst and that is the case for Greg Focker, the protagonist of this film played by Ben Stiller.
Greg decides to propose to his girlfriend Pam, but the point here is that he must first ask permission from Jack Byrnes, Pam's dad and former CIA agent (played wonderfully by the great Robert De Niro). Jack doesn't take too kindly to his daughter's future fiancé and will simply do everything he can to make the poor kid run away in terror and Greg, in a desperate search for his father-in-law's approval, will end up being the protagonist of endless hilarious mishaps that basically end up leaving him as the king of disaster in the eyes of the whole family. In the end Pam makes it clear to her father that she loves Greg and basically asks him to stop making her life miserable. It really is a very funny romantic comedy because it portrays in a very humorous way the difficult relationship that can exist with in-laws.
This is actually a saga of three films, although my favourite is the one I am describing because, in my opinion, it is filled with a greater number of funny events than its successors. In the second film, we meet Greg's parents, who are a complete disaster and the complete opposite of Jack. In the third film we are introduced to Greg and Pam's married life as they start a family, but things are not going Greg's way.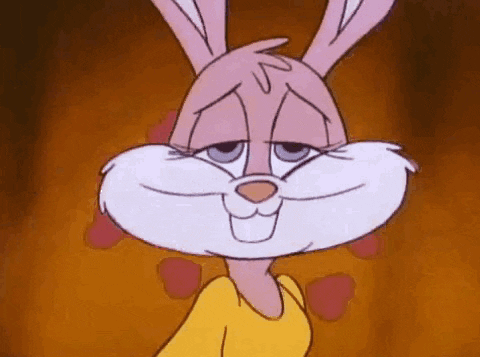 s o u r c e

Gracias por leer esta publicación. ¡Hasta la próxima!
Thanks for reading this post. See you next time!


✎ Edición por | Edition by: @maryed, Pixlr Photo Editor & Vsco
✂ Separador | Separator: Separadores de texto para Blog
Translated with www.DeepL.com/Translator (free version)