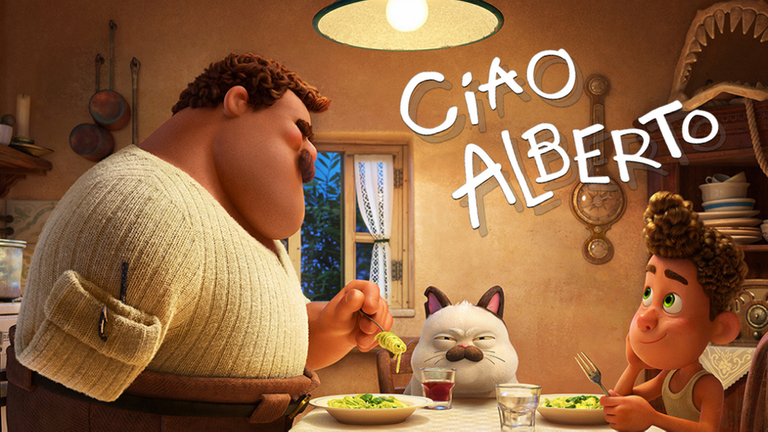 ESPAÑOL
No solo Luca comienza una nueva vida, su amigo está por descubrir la suya... "Ciao Alberto"


Es claro que Pixar es más que crear excelentes diseños de paisajes, personajes y demás, siempre he pensado que lo que más me atrae de sus muchas producciones son las historias, una de las historias que más me ha gustado es la de "Luca", una inocente y gran historia sobre cómo una amistad entre niños puede hacer que su protagonista quiera conocer el mundo, para mí este film es uno de los mejores que he visto este año, gran animación, gran personaje y como ya he dicho, gran historia con una buena conclusión, para uno de sus protagonistas, pero del otro gran personaje, seguramente hay algo más que contar.
ENGLISH
Not only Luca is starting a new life, his friend is about to discover a new one... "Ciao Alberto"


It is clear that Pixar is more than creating excellent landscape designs, characters and so on, I have always thought that what attracts me most of their many productions are the stories, one of the stories that I liked the most is "Luca", an innocent and great story about how a friendship between children can make its protagonist want to know the world, for me this film is one of the best I have seen this year, great animation, great character and as I said, great story with a good conclusion, for one of its protagonists, but of the other great character, surely there is something more to tell.

Ciao Alberto | Official Trailer

"Ciao Alberto" es un Short Film, una historia de tan solo 6 minutos de duración, en la cual como lo expresa su título el protagonista es el muy alegre y temerario Alberto, él sigue viviendo la vida tal como siempre la ha vivido, siendo muy activo, sin embargo a la vez imprudente y eso podrá llevarlo a tener algún que otro problema con Massimo; justamente esto es lo que más teme un chico que parece no temer a nada y es que tal como contemplamos en "Luca", este chico no quiere nunca sentirse solo ni mucho menos rechazado y es por eso que tiene una gran ímpetu para hacer cualquier cosa, está es más que nada la historia de este corto episodio, una que sí, quedó inconcluso y que para mí era necesario de contar.
"Ciao Alberto" is a Short Film, a story of only 6 minutes of duration, in which as its title expresses the protagonist is the very cheerful and reckless Alberto, he continues to live as he has always lived, being very active, but at the same time reckless and that can lead him to have some problems with Massimo; This is exactly what a boy who seems to be afraid of nothing fears the most, and as we saw in "Luca", this boy never wants to feel alone or even less rejected and that is why he has a great impetus to do anything, this is more than anything the story of this short episode, one that was left unfinished and that for me it was necessary to be told.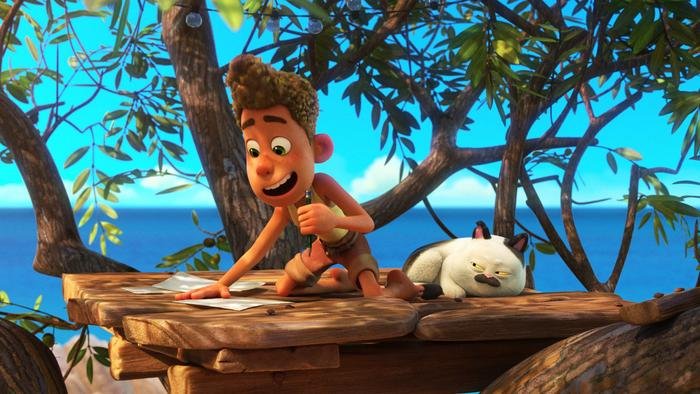 Fuente / Source

Para esta oportunidad la dirección y el guion vino por parte de McKenna Jean Harri, el creador de esta maravillosa película, Enrico Casarosa, solamente cumplió con la función de productor ejecutivo; como adelante en el párrafo anterior la historia se refleja en un chico luchando con todas sus fuerzas para poder encajar en un nuevo lugar que primeramente ya lo acepto por cómo es, pero algunas veces para personas que han vivido del rechazo, eso no es suficiente y creen que deben esforzarse mucho más para que no vuelva a sentir ese horrible sentimiento, es por eso que Alberto siempre está dispuesto al trabajo, siempre como buena cara, siempre tratando de ser comunicativo aunque sin escuchar y creo que eso crea la brecha entre él y el silencioso y poco expresivo Massimo.
For this opportunity the direction and script came from McKenna Jean Harri, the creator of this wonderful film, Enrico Casarosa, only fulfilled the role of executive producer; as mentioned in the previous paragraph the story is reflected in a boy struggling with all his strength to fit in a new place that at first already accepted him for who he is, but sometimes for people who have lived with rejection, that is not enough and believe that they must try much harder not to feel that horrible feeling again, that's why Alberto is always willing to work, always as a good face, always trying to be communicative but without listening and I think that creates the gap between him and the silent and unexpressive Massimo.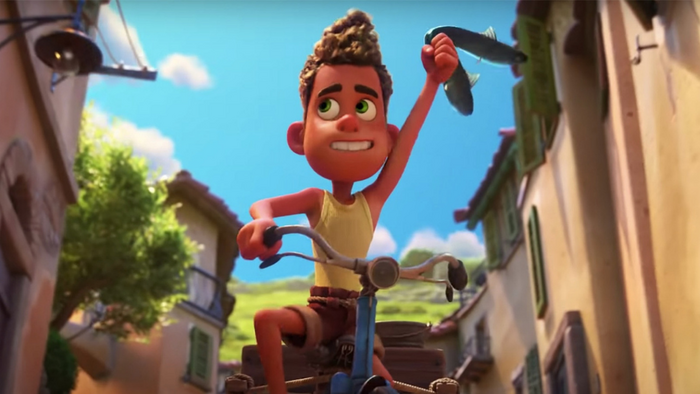 Fuente / Source

La dirección no se aleja de lo hecho en el film estrenado a mitad de este año, tengo muy claro que el diseño y la animación es perfecta y no pienso que sea necesario un cambio para esta historia que es una continuación directa del film, todo es completamente parecido, el pueblo, el mar, los personajes que hacen vida en ese hermoso lugar, todo es lo mismo, las escenas cómicas son buenas, simples directas, un humor fácil y por supuesto muy caricaturescas, nada de esto es una queja, más que nada es un acierto de no cambiar algo que funcionó hace muy poco.
The direction does not move away from what was done in the film released in the middle of this year, I am very clear that the design and animation is perfect and I do not think a change is necessary for this story that is a direct continuation of the film, everything is completely similar, the people, the sea, the characters that make life in that beautiful place, everything is the same, the comic scenes are good, simple, direct, easy humor and of course very cartoonish, none of this is a complaint, more than anything is a success of not changing something that worked very recently.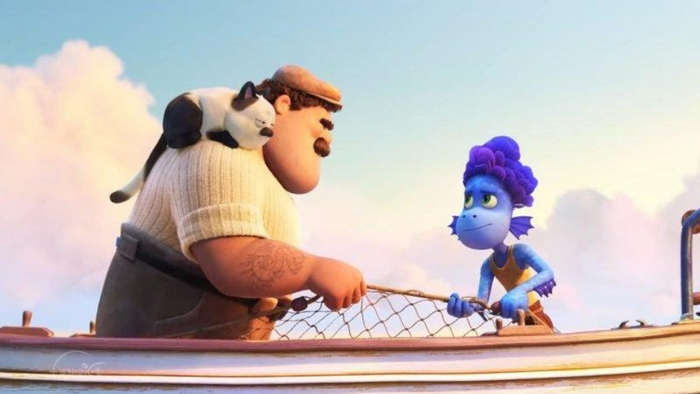 Fuente / Source

Quiero resaltar nuevamente de que este es un Short Film, esto lo hago porque las ganas de ver más sobre la historia de estos personajes me hizo pensar que tendríamos por los menos unos 25 o más minutos de duración de las ocurrencias de Alberto, pero a pesar de tener tan solo 6 minutos de película, no me sentí decepcionado, para nada, es perfecta tal como es, lo que cuenta de este gran personaje es muy importante, habla de alguien que fue abandonado, rechazo o que teme al rechazo, fue perseguido por quién es en realidad y eso lo ha hecho vivir en soledad por tanto tiempo, es por eso que hace todo lo necesario para no volver a sentir todo eso, rechazo, miedo y soledad, esta pequeña historia tiene la misma fuerza que el film que le dio origen, trata sobre la comunicación, de poder expresar lo que sientes, de ser padre y de ser hijo, creo que personas que hayan pensado en adoptar un hijo o que hayan sido adoptados y hayan experimentado una buena relación con sus padres o no, podrán sentirse identificado con esta historia de un chico que gracias a un amigo, ahora tiene una mejor vida; creo que este es un gran acierto por todas las personas involucradas en este proyecto, "Ciao Alberto" es perfecta, está muy bien escrita, todo es excelente y me gustaría ver más sobre esto, algo enfocado en "Giulla" tal vez algo sobre su vida antes de conocer a sus nuevos amigos, eso sería genial y claro porque no una secuela de Luca, eso también sería lo mejor, pero por ahora solo quiero invitarlos a ver este corto, es directo, divertido y con una gran muestra de buenos sentimientos para dar un cierre (por así decirlo) al gran Alberto Scorfano.


I want to emphasize again that this is a Short Film, I do this because the desire to see more about the history of these characters made me think that we would have at least 25 or more minutes of Alberto's occurrences, but despite having only 6 minutes of film, I was not disappointed, not at all, it is perfect as it is, what it tells of this great character is very important, it speaks of someone who was abandoned, rejection or fear of rejection, he was persecuted for who he really is and that has made him live in solitude for so long, That's why he does everything necessary to not feel all that again, rejection, fear and loneliness, this little story has the same strength as the film that gave birth to it, it is about communication, about being able to express what you feel, about being a parent and being a child, I think that people who have thought about adopting a child or who have been adopted and have experienced a good relationship with their parents or not, can identify with this story of a boy who thanks to a friend, now has a better life; I think this is a great success by all the people involved in this project, "Ciao Alberto" is perfect, it is very well written, everything is excellent and I would like to see more about this, something focused on "Giulla" maybe something about his life before meeting his new friends, that would be great and of course why not a sequel to Luca, that would be the best too, but for now I just want to invite you to watch this short, it's direct, funny and with a great show of good feelings to give a closure to the great Alberto Scorfano.



Cover image edited in canva; the image was taken from the following source .