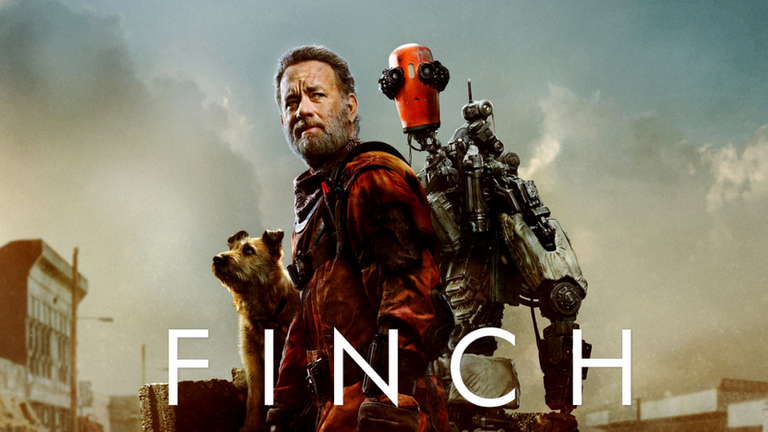 ESPAÑOL
En un mundo apocalíptico, un hombre deberá confiar para buscar un mejor lugar para su amigo... "Finch"


Historias que muestran un mundo arrasado, en dónde todo pareciera estar perdido, pero de alguna forma siempre hay un rastro de humanidad o de sentido común que motiva a algún personaje a realizar lo imposible para tener o vivir algo mejor; muchas películas y series usan de base todo lo antes descrito agarrando diferentes cosas como acción, terror, drama y hasta algo de comedia; estás son historias que siempre me gustan de ver porque cuando te muestran un mundo en dónde pareciera que no existe la esperanza, siempre hay algo que crea un motivo para tratar de cambiar todo.
ENGLISH
In an apocalyptic world, one man must trust to find a better place for his friend... "Finch"


Stories that show a devastated world, where everything seems to be lost, but somehow there is always a trace of humanity or common sense that motivates a character to do the impossible to have or live something better; many movies and series use as a basis everything described above grabbing different things like action, horror, drama and even some comedy; these are stories that I always like to see because when they show you a world where it seems that there is no hope, there is always something that creates a motive to try to change everything.

Finch | Official Trailer

En "Finch" veremos la historia de un hombre que vive en un mundo apocalíptico dónde los rayos ultravioleta te pueden matar al instante y en dónde la tierra se ha vuelto desértica haciéndola completamente inhabitable para ningún ser viviente, es por eso que "Finch", un ingeniero robótico decide dar un paso adelante y crear un robot al que le puede confiar los cuidados de su mejor amigo, esto es porque los grandes cambios climáticos y la radiación son cada vez más fuertes afectando la búsqueda de alimentos y mantener un refugio estable, es por eso que tanto Finch, su perro y dos robots deciden realizar un viaje a lo desconocido buscando un lugar en donde poder sobrevivir.
In "Finch" we will see the story of a man who lives in an apocalyptic world where ultraviolet rays can kill you instantly and where the earth has become deserted making it completely uninhabitable for any living being, that's why "Finch", a robotic engineer decides to take a step forward and create a robot to which he can entrust the care of his best friend, This is because the great climatic changes and radiation are getting stronger and stronger affecting the search for food and maintain a stable shelter, that's why both Finch, his dog and two robots decide to take a trip into the unknown looking for a place where they can survive.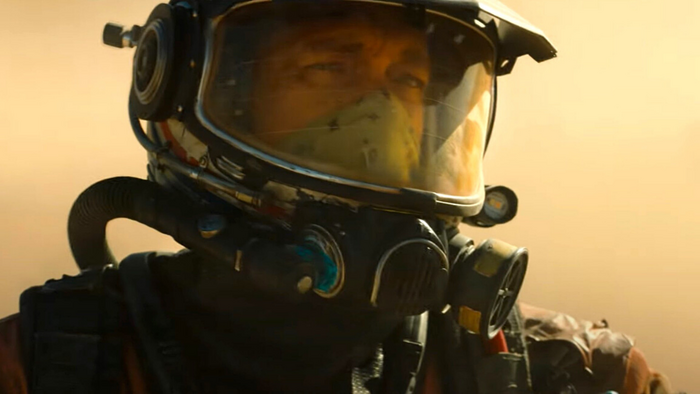 Fuente / Source

La película es dirigida por Miguel Sapochnik que el único trabajo que había visto era Repo Man (2010), película que demuestra un mundo futurista, pero no apocalíptico, lleno de escenas de acción, pero a la vez también trata sobre una historia de amistad, tal como sucede en este nuevo film estrenado por la plataforma de Apple TV+; las tomas hechas por Sapochnik son geniales, me gustó mucho cuando Finch debe explotar un mundo solitario, desértico y peligroso, por ejemplo, en las primeras escenas mientras ocurre una tormenta desértica las tomas deben ser cercanas para no perder de vista todo lo ocurre, ahora cuando debe explotar en pleno día, la gran cantidad de luz es esencial, ya que en esta película se cuenta sobre un mundo en dónde los rayos solares son más mortales de lo común, también que existe la diferencia de que las tomas son abiertas para contemplar todo lo que rodea a estos personajes; en esta película veremos una excelente fotografía, hay tomas muy hermosas de diferentes ángulos que seguramente en el cine se disfrutaría mucho más, el trabajo hecho por este director es muy bueno.


Como describí al comienzo de esta publicación, la historia es algo que la mayoría de veces se contempla en este tipo de películas, pero lo que me llamó la atención fue la inclusión de la ciencia ficción, la mayoría de veces en historias en dónde se crea inteligencia artificial todo se enfoca en el impacto, en la magnitud de cómo responde la humanidad a tan gran hecho, pero en este film a pesar de que sí existe la sorpresa, alegría, creo que no es lo importante porque creo que para esa historia de que exista un robot que tenga raciocinio no es lo que se trata este film, está es una historia de confianza y de tener un motivo para vivir, me gusta que esto se explore sobre un solitario personaje que perdió toda oportunidad de explorar la vida, pero que a pesar de inteligencia y arrogancia decide desconfiar de algo que el mismo creó, esto es lo que más me ha gustado de esta historia, un hombre que desconfía de todo hasta del mismo, decide crear un acompañante para que su amigo no tenga una vida solitaria tal como la tuvo él por mucho tiempo y por eso le da la oportunidad para que él pueda ver cosas que él no pudo ver, ahora lo que nunca imagina es que con esa idea no solo le da la oportunidad a su fiel amigo, sino a uno nuevo de tener nuevas experiencias.
The film is directed by Miguel Sapochnik whose only work I had seen was Repo Man (2010), a film that shows a futuristic world, but not apocalyptic, full of action scenes, but at the same time it is also about a story of friendship, as it happens in this new film released by the Apple TV+ platform; the shots made by Sapochnik are great, I really liked when Finch must exploit a lonely, desert and dangerous world, for example, in the first scenes while a desert storm occurs the shots must be close to not lose sight of everything that happens, now when he must explode in broad daylight, the large amount of light is essential, because in this film is about a world where the sun's rays are more deadly than usual, also that there is the difference that the shots are open to see everything that surrounds these characters; in this film we will see an excellent photography, there are very beautiful shots from different angles that surely in the cinema would be enjoyed much more, the work done by this director is very good.


As I described at the beginning of this publication, the story is something that most of the time is contemplated in this type of film, but what caught my attention was the inclusion of science fiction, most of the time in stories where artificial intelligence is created everything is focused on the impact, in the magnitude of how humanity responds to such a great fact, but in this film even though there is surprise, joy, I think it is not the important thing because I think that for that story that there is a robot that has reasoning is not what this film is about, this is a story of trust and having a reason to live, I like that this is explored about a lonely character who lost every opportunity to explore life, but despite intelligence and arrogance decides to distrust something that he created, this is what I liked most about this story, a man who distrusts everything even the same, decides to create a companion so that his friend does not have a lonely life as he had for a long time and therefore gives him the opportunity for him to see things he could not see, now what he never imagined is that with this idea not only gives him the opportunity to his faithful friend, but a new one to have new experiences.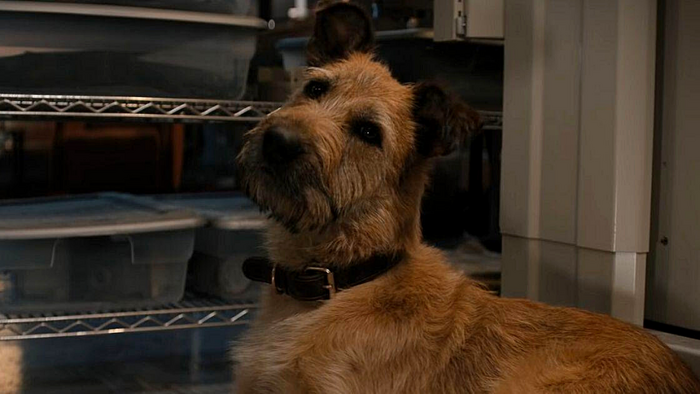 Fuente / Source

La actuación de Tom Hanks me pareció adecuada para la historia, un hombre que tiene un tiempo límite para cumplir un gran cometido, que en escenas de tensión muestra calma, poca desesperación a pesar de ser desconfiado, tiene un sistema y lo cumple de forma perfecta porque así ha sobrevivido en un mundo caótico sin humanidad, pero eso no hace que piense que es una buena persona, como ya dije, no es una excelente o la mejor, solamente es adecuada y esto no lo digo en forma de una crítica negativa, sino al contrario porque en ningún momento es sobreactuado. El otro gran personaje, "Jeff" Caleb Landry Jones que para mí es un reflejo de lo que pudo ser Finch en una vida diferente, tiene una gran interpretación por parte de Caleb Landry Jones, a pesar de que su personaje está completamente hecho en CGI, igual debe interactuar con Hanks y las escenas son conmovedoras, su inocencia junto con la experiencia de Finch es parte de lo mejor de la película, desde su aparición se adueña de la historia y su evolución en cada escena es evidente.
The performance of Tom Hanks seemed to me adequate for the story, a man who has a time limit to fulfill a great task, who in scenes of tension shows calm, little desperation despite being distrustful, he has a system and fulfills it perfectly because that's how he has survived in a chaotic world without humanity, but that does not make me think he is a good person, as I said, he is not an excellent or the best, he is only adequate and this I do not say in the form of a negative criticism, but on the contrary because at no time is he overacted. The other great character, "Jeff" Caleb Landry Jones who for me is a reflection of what Finch could have been in a different life, has a great performance by Caleb Landry Jones, even though his character is completely made in CGI, he still must interact with Hanks and the scenes are touching, his innocence along with Finch's experience is part of the best of the film, from his appearance he takes over the story and his evolution in each scene is evident.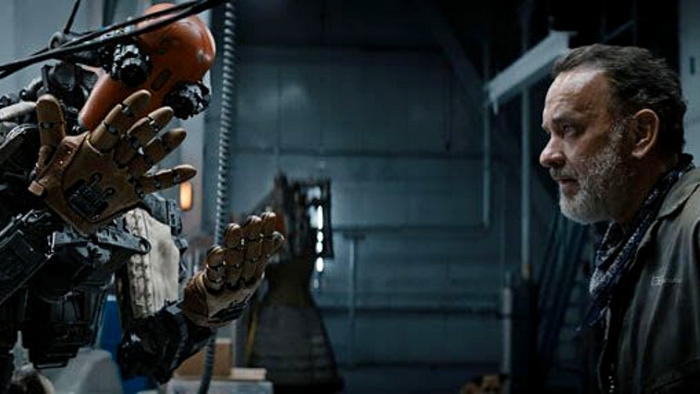 Fuente / Source

Finch me pareció un buen film, no es original, pero es una buena historia, me gusta cómo se explora algo tan importante como es el tener un motivo de vida, uno que nos hace crear cosas especiales solo para que puedan ayudar a completar un tipo de misión y ayudar a otros, sin ninguna duda es lo que más me ha gustado, es como si dos historias se contarán de forma diferente, pero con un mismo final, puntos de vista diferentes que los une un gran amigo, un perro; otra cosas que me gustó de esta película es la gran influencia que tiene Star Wars y me sorprendería que sus guionistas no fueran fans de la saga creada por George Lucas, hay muchas cosas, los robots, el viaje, el trato de Finch a los robots, es por momentos ver a Luke y Han con C-3po y R2-D2 y claro hay otra más que es muy parecida a las vistas en esta gran saga; a pesar de no ser perfecta, recomiendo ver este film, buen protagonista muy buen uso del CGI, es excelente el diseño de Jeff, me gustó mucho, igual que la fotografía, los diálogos, creo que es una simple historia, un "Road Trip" para buscar un lugar mejor y sobrevivir.


Finch seemed to me a good film, it is not original, but it is a good story, I like how it explores something as important as having a reason for life, one that makes us create special things just so they can help to complete a kind of mission and help others, without any doubt is what I liked the most, it is as if two stories will be told in different ways, but with the same ending, different points of view that unites them a great friend, a dog; another thing I liked about this movie is the great influence that Star Wars has and I would be surprised if its screenwriters were not fans of the saga created by George Lucas, there are many things, the robots, the trip, Finch's treatment of the robots, it is at times to see Luke and Han with C-3po and R2-D2 and of course there is another one that is very similar to those seen in this great saga; despite not being perfect, I recommend watching this film, good protagonist, very good use of CGI, Jeff's design is excellent, I liked it a lot, as well as the photography, the dialogues, I think it is a simple story, a "Road Trip" to find a better place and survive.



Cover image edited in canva; the image was taken from the following source .