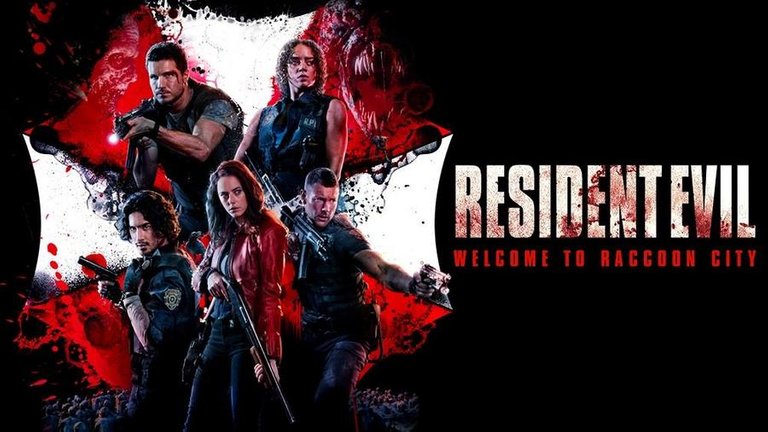 ESPAÑOL
Un grupo de personas deberán hacer lo imposible para sobrevivir en una pequeña ciudad llena de zombies... "Resident Evil: Welcome to Raccoon City"


Películas basadas en juegos de vídeo, creo que se puede hacer una gran lista sobre proyectos que se han considerado como fracasos y se puede hacer otra lista, muy corta, con éxitos cinematográficos basados en famosos juegos de video; justamente el año pasado fuimos testigos de dos producciones basadas en grandes juegos, uno fue "Mortal Kombat" y el otro fue "Resident Evil", ambos historias habían sido llevados a la gran pantalla, personalmente las dos primeras películas de estás franquicias son las que considero como las más exitosas, buenas películas con buenos personajes y buena acción, lamentablemente sus secuelas no fueron las mejores y perdieron toda atención de los fans tanto de los juegos como los del cine y era inevitable que muy pronto se hiciera un remake, un reinicio de ambas; en esta oportunidad no hablaré sobre la historia llena de fatality sino de zombies.
ENGLISH
A group of people must do the impossible to survive in a small town full of zombies ... "Resident Evil: Welcome to Raccoon City"


Movies based on video games, I think you can make a big list about projects that have been considered failures and you can make another list, very short, with cinematic successes based on famous video games; just last year we witnessed two productions based on great games, one was "Mortal Kombat" and the other was "Resident Evil", both stories had been taken to the big screen, personally the first two movies of these franchises are the ones I consider as the most successful, good movies with good characters and good action, unfortunately their sequels were not the best and lost all attention from the fans of both games and movies and it was inevitable that very soon a remake, a reboot of both would be made; in this opportunity I will not talk about the story full of fatality but about zombies.

Resident Evil: Welcome to Raccoon City | Official Trailer

En este reinicio de "Resident Evil" también conocido como "Welcome to Raccoon City" veremos la historia de los hermanos Redfield, Chris y Claire, ambos en edades muy jóvenes vivieron en el orfanato de Raccoon City por perder a sus padres en un accidente de tránsito; de esa experiencia, Claire creció siendo una rebelde lo que llevaría a abandonar a su hermano y alejarse de toda mala experiencia que tuvo en esa ciudad, pero una verdad sobre lo que sucede en ese lugar le hará regresar para advertir a su hermano y esperar encontrar algo que pueda darle paz, pero justamente en la noche de su regreso encontrará que la ciudad la cual en un tiempo pasado fue un bastión para el desarrollo de medicamentos por parte de la Corporación Umbrella, ahora es un pueblo pobre y casi abandonado, pero eso no es lo peor porque en ese instante lo que ocultaba está corporación saldrá de lo más profundo y traerá un terror inolvidable.
In this reboot of "Resident Evil" also known as "Welcome to Raccoon City" we will see the story of the Redfield siblings, Chris and Claire, both at very young ages lived in the orphanage of Raccoon City for losing their parents in a traffic accident; From that experience, Claire grew up being a rebel which would lead to abandon his brother and away from all bad experience he had in that city, but a truth about what happens in that place will make him return to warn his brother and hope to find something that can give him peace, But precisely on the night of his return he will find that the city which in the past was a stronghold for the development of drugs by the Umbrella Corporation, is now a poor and almost abandoned town, but that's not the worst because at that moment what was hiding this corporation will come out of the deepest and will bring an unforgettable terror.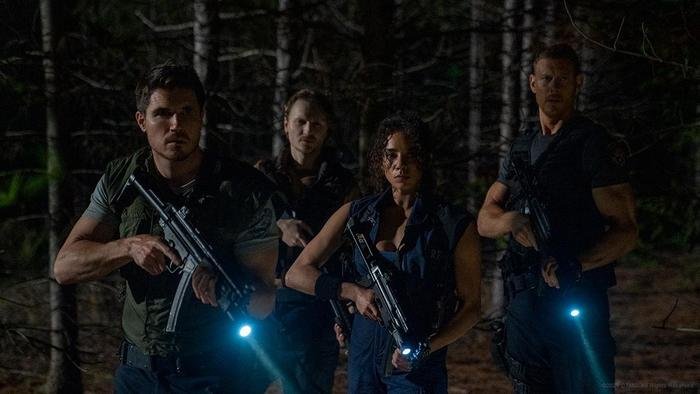 Fuente / Source

La dirección y guion de esta película es por parte de Johannes Roberts, director británico que ha estado muy activo en el mundo del cine desde el 2016 hasta la fecha aunque todavía no cuenta con un gran éxito, de sus anteriores trabajos solo he visto "The Strangers: Prey at Night" (2018), secuela de "The Strangers" del 2008; en esta oportunidad Roberts quería que el terror fuera un principal protagonista y para eso creó buenas imágenes de una ciudad la cual tiene todas las características para no ser un buen sitio, todo es completamente lúgubre, solitario, casi abandonado y las pocas personas que habitan este lugar no está muy lejos de lo que es este pequeño poblado; las imágenes descritas es algo muy bien hecho en el único, dando pie a buenas escenas de terror y acción en el segundo acto, preferiblemente en la mansión dónde no hay duda que se filmó las mejores escenas en todo el film, en este renglón del director para ser sincero no tuve ningún problema, fue algo que me gustó.


El guion es algo que valoro en partes, primero celebro la gran influencia que tiene las dos primeras versiones en este juego, aparte de los juegos, también es muy clara la influencia de otras buenas producciones clásicas dentro del género de zombies como son las de Dawn of The Dead realizada por George Romero, pero como dije antes, lo mejor fue que si se puede hacer un film tomando como base una historia de juegos de video, ahora el problema está en el desarrollo de los motivos de algunos de sus personajes, por ejemplo de uno de los villanos y de una de las heroínas, creo que faltó tiempo para poder ver algo más de estos personajes y así crear una mejor conexión para diferentes que cosas que suceden más que nada en el tercer y final acto del film, personalmente si está película fuera tenido por lo menos más diálogos entre sus personajes, en dónde puedan expresar mejor sus motivos de varios de sus actos sin revelar algo muy importante, manteniendo el suspenso y pensando en una secuela, seguramente fuera lo mejor, pero creo que esto de mantener en secreto varias cosas pensando en el desarrollo de una franquicia sea lo que más afectó a esta historia.
The direction and script of this film is by Johannes Roberts, British director who has been very active in the world of cinema since 2016 to date although it still does not have a great success, of his previous works I have only seen "The Strangers: Prey at Night" (2018), sequel to "The Strangers" from 2008; in this opportunity Roberts wanted terror to be a main protagonist and for that he created good images of a city which has all the characteristics to not be a good place, everything is completely gloomy, lonely, almost abandoned and the few people who inhabit this place is not very far from what is this small town; the images described is something very well done in the only one, giving rise to good scenes of terror and action in the second act, preferably in the mansion where there is no doubt that was filmed the best scenes throughout the film, in this line of the director to be honest I had no problem, it was something I liked.


The script is something that I value in parts, first I celebrate the great influence that has the first two versions in this game, apart from the games, it is also very clear the influence of other good classic productions within the zombie genre such as Dawn of The Dead made by George Romero, but as I said before, the best was that if you can make a film based on a story of video games, now the problem is in the development of the motives of some of its characters, for example one of the villains and one of the heroines, I think there was not enough time to see more of these characters and thus create a better connection for different things that happen mostly in the third and final act of the film, personally if this film had at least more dialogue between the characters, where they can better express their motives for several of their actions without revealing something very important, keeping the suspense and thinking of a sequel, it would surely be the best, but I think this to keep secret several things thinking of the development of a franchise is what most affected this story.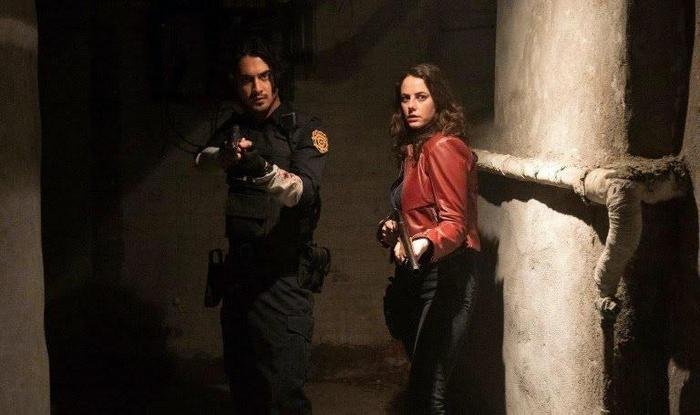 Fuente / Source

Las actuaciones en este tipo de film son los que se debe tomar para nada en serio, en primer momento, el trabajo de _Kaya Scodelario y Robbie Amell como "Claire y Chris Redfield" es adecuada en un principio, de Kaya me gustó por un buen momento su actitud de mujer valiente, decidía y preparada, es creíble y eso me pareció muy bien, no le tiene miedo a nada, mi único problema es cuando enfrenta una verdad oculta existe un breve sobreactuacion que no me gustó para nada y creo que esto es culpa tanto del director y guionista del film, de Robie a pesar de interpretar a un hombre preparado y valiente como su hermana, me gusta que muestra miedo y tensión en los momentos en dónde enfrenta a los zombies, no estoy diciendo que hace un trabajo excepcional, pero tampoco es sobreactuado; los que si me pareció un trabajo no muy bueno es lo hecho por Avan Jogia como "Leon S. Kennedy" y Neal McDonough como "William Birkin" para mí no solo es el peor personaje del film, sino el peor actuado, nunca vi Neal comprometido con su trabajo en el film y a esto también digo que es el más afectado por las decisiones tomadas por el guionista con respecto al desarrollo de su personaje.
The performances in this kind of film are the ones to be taken seriously at all, first of all, the work of _Kaya Scodelario and Robbie Amell as "Claire and Chris Redfield" is adequate at first, I liked Kaya for a good moment her attitude as a brave, determined and prepared woman, she is credible and I thought that was very good, she is not afraid of anything, My only problem is when she faces a hidden truth there is a brief overacting that I did not like at all and I think this is the fault of both the director and screenwriter of the film, Robie despite playing a prepared and brave man like his sister, I like that he shows fear and tension in the moments where he faces the zombies, I'm not saying he does an exceptional job, but he is not overacted either; I don't think the work done by Avan Jogia as "Leon S. Kennedy" and Neal Jogia as "Leon S. Kennedy" is not very good. Kennedy" and Neal McDonough as "William Birkin" for me is not only the worst character in the film, but the worst acted, I never saw Neal committed to his work in the film and to this I also say that he is the most affected by the decisions made by the screenwriter regarding the development of his character.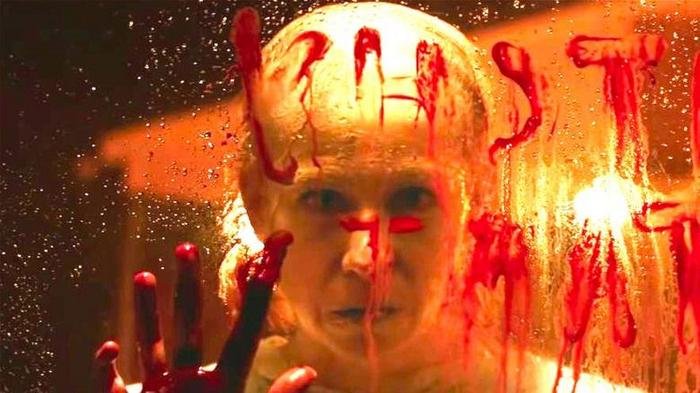 Fuente / Source

Este remake de Resident Evil tiene muchas cosas positivas, pero también muchas negativas, es un claro ejemplo que el desarrollo de una buena idea no es completa y eso hace que se afecte el resultado final, hay cosas que me han gustado, por ejemplo que se desarrolle todo en una sola noche, los zombies, el diseño de estas criaturas es un homenaje a los clásicos del cine de este género y claro, al juego en sí, la acción en varias escenas también es buena a pesar de ser poca, el diseño de Raccoon City también me pareció muy bueno igual que traer de vuelta el terror, cosa que se fue perdiendo en las secuelas de la anterior franquicia basada en este juego de video, ahora lo malo, lo que menos me gustó es el desarrollo de varios personajes, lo rápido del film, creo que se pudo tener una pausa, dar motivos a los villanos sin mostrar mucho para futuras películas, me fuera gustado ver más acción en las calles de Raccoon City, más ataques de los zombies de algunos de los que se quedaron, creo que reprimir muchas cosas le pudo pasar factura a esta historia que tiene como gran fallo no tener un buen final, uno que pareciera abrupto y que en realidad es anticlimático, lamento que fuera así porque para tener cero expectativas, la estaba pasando bien viendo esta película, pienso que se hizo un buen trabajo siendo fiel al juego, pero tal como paso con Mortal Kombat del 2021, el pensar en una franquicia antes de tener un primer éxito es lo que pueda pasar factura y hacerla quedar en el olvido hasta que alguien piense en un nuevo reinicio.


This remake of Resident Evil has many positive things, but also many negative, it is a clear example that the development of a good idea is not complete and that affects the final result, there are things that I liked, for example that develops all in one night, the zombies, the design of these creatures is a tribute to the classic films of this genre and of course, The action in several scenes is also good despite being little, the design of Raccoon City also seemed very good to me as well as bringing back the terror, something that was lost in the sequels of the previous franchise based on this video game, now the bad thing, what I liked the least is the development of several characters, the speed of the film, I think there could have been a pause, give reasons to the villains without showing much for future movies, I would have liked to see more action in the streets of Raccoon City, more zombie attacks of some of those who stayed, I think that repressing many things could have taken its toll on this story that has as a major flaw not having a good ending, one that seems abrupt and is actually anticlimactic, I regret that it was like that because for having zero expectations, I was having a good time watching this movie, I think they did a good job being faithful to the game, but as it happened with Mortal Kombat 2021, thinking about a franchise before having a first success is what can make it be forgotten until someone thinks of a new reboot and have it again in theaters.



Cover image edited in canva; the image was taken from the following source .