---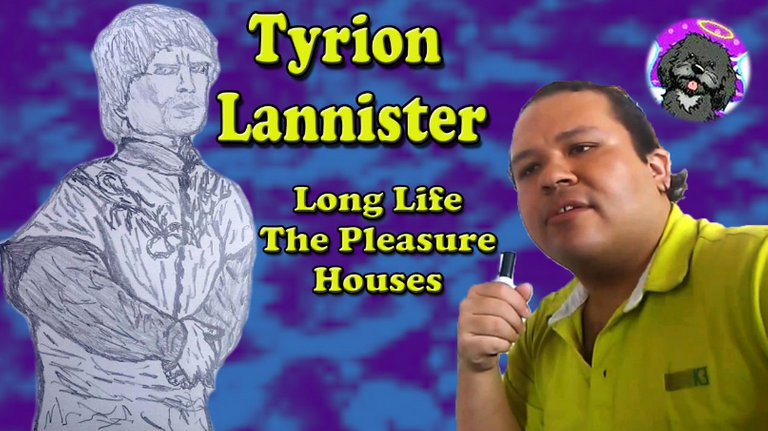 Long Life The Pleasure Houses, Tyrion Lannister. Edited with PhotoShop
Tyrion Lannister un personaje vital en la serie llamada Game of Thrones, uno de los consentidos entre fans y como no serlo si el personaje maneja aspectos que crean mucha simpatía del espectador hacia él, además de una excelente interpretación llevada a cabo por el actor Peter Dinklage. En esta Reseña daré las criticas sobre el personaje solo en su desempeño argumental durante la Octava Temporada y advierto será con Spoilers a partir de este momento.
Larga Vida a las Casas de Placer, al Amor por las Mujeres y a La Cerveza, esto es lo que básicamente representa el personaje de Tyrion Lannister, en esencia lo que acabo de mencionar es lo que ha llamado la atención del publico porque no solo es un personaje libre de mente, un garabato total si no que también puede pasar al otro extremo al ser un personaje estratega. Su inteligencia es lo que lleva a este personaje ser la Mano de Daenerys y es en este punto donde la historia se vuelve un sin sentido total, el centro gravitacional de toda esta locura argumental es Tyrion Lannister.
En esta Review no será el consentido porque tomaremos solo los aspectos relacionados con los sucesos desarrollados en la octava temporada donde con el dolor del alma brilla el sin sentido en la serie y opaca totalmente el desempeño de muchos personajes.
Tyrion Lannister a vital character in the series called Game of Thrones, one of the spoiled among fans and how not to be if the character handles aspects that create a lot of sympathy of the viewer towards him, in addition to an excellent interpretation carried out by the actor Peter Dinklage. In this review I will give the criticisms about the character only in its plot performance during the Eighth Season and I warn it will be with Spoilers from this moment on.
Long live the Houses of Pleasure, the Love of Women and Beer, this is what basically represents the character of Tyrion Lannister, in essence what I just mentioned is what has caught the attention of the public because he is not only a free minded character, a total doodle but he can also go to the other extreme by being a strategist character. His intelligence is what leads this character to be the Hand of Daenerys and it is at this point where the story becomes a total nonsense, the gravitational center of all this plot madness is Tyrion Lannister.
In this Review will not be the spoiled because we will take only the aspects related to the events developed in the eighth season where with the pain of the soul shines the meaninglessness in the series and totally overshadows the performance of many characters.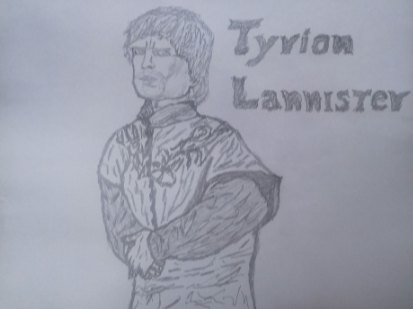 Draw of Tyrion Lannister made it by me
Siendo objetivos el final de la serie no fue satisfactorio para los fans pero pienso gran responsabilidad de esto es de los mismos fans porque el fan service observado viene porque no dejamos a las historias ser y en este caso Tyrion Lannister pasa a ser el fan service del producto sacrificando la excelente historia, esa línea argumental de oro que seguía Game of Thrones.
GOT tiene una característica que la separa de la gran mayoría de las historias y es la ausencia de uno o varios personajes protagonistas protegidos por un escudo protector que genera el autor para que independientemente de la gravedad en cualquier situación que se encuentren, salgan airosos y eso lo demuestra dos referencias claves que son La Boda Roja y la Decapitación de Ned Stark.
Son estos momentos los que dejaron cicatriz en todos los fans porque recuerdo cuando vi la historia que Ned salía sentado en el Trono de Hierro y esto no termino así porque no es el protagonista, GOT no tiene esto y eso es lo que mas me maravillo porque no es eliminar personajes por salir de ellos, todo sigue un horizonte marcado por una racional guía argumental.
Es verdad que al final de la serie, la Octava Temporada, no esta la guía del libro PERO esta muy marcado el concepto "Reinar Sobre Cenizas" sobre el que se quiere justificar el argumento de la temporada y muerte de Daenerys, concepto que detesto con todo mi ser porque al fan no le interesa la gente sacrificada, le interesan son esos personajes que aman y acá el error de dirección porque colocaron a Tyrion Lannister como eje central de la historia, colocaron el Fan Service, al favorito de los fans por encima del alma de GOT.
Being objective, the end of the series was not satisfactory for the fans but I think a great responsibility of this is of the fans themselves because the observed fan service comes because we do not let the stories be and in this case Tyrion Lannister becomes the fan service of the product sacrificing the excellent story, that golden plot line that followed Game of Thrones.
GOT has a feature that separates it from the vast majority of stories and that is the absence of one or more main characters protected by a protective shield generated by the author so that regardless of the severity of any situation they find themselves in, they come out successful and this is demonstrated by two key references which are The Red Wedding and the Decapitation of Ned Stark.
It is these moments that left a scar on all fans because I remember when I saw the story that Ned was sitting on the Iron Throne and this did not end well because it is not the protagonist, GOT does not have this and that's what amazed me the most because it is not to eliminate characters to get out of them, everything follows a horizon marked by a rational plot guide.
It is true that at the end of the series, Season 8, there is not the guide of the book BUT it is very marked the concept "Reign Over Ashes" on which they want to justify the argument of the season and death of Daenerys, a concept that I hate with all my being because the fan is not interested in sacrificed people, they are interested in those characters they love and here the error of direction because they placed Tyrion Lannister as the central axis of the story, they placed the Fan Service, the favorite of the fans above the soul of GOT.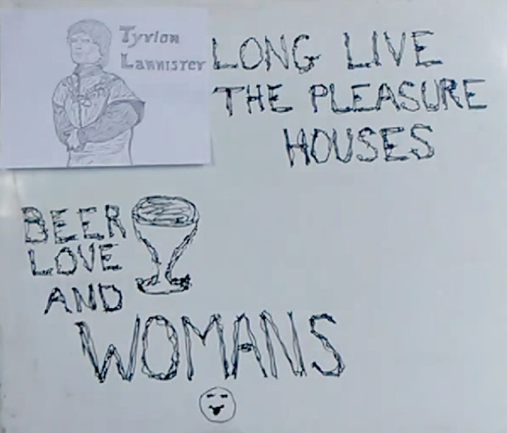 My whiteboard to explain my points about the character Tyrion Lannister in season 8 of GOT
Es a partir de este punto que el argumento no tiene sentido porque Tyrion Lannister practicamente pasa a ser el Autor de la historia, tiene el escudo de protección para protagonistas activado y no solo eso, si no que todas sus acciones marcan el camino de todo lo que sucederá durante la temporada ocho. Todas las estrategias de tyrion son llevadas a cabo a pesar de que la lógica en algunos casos indica lo contrario como cuando Daenerys negoció con Cersei, este encuentro sucedió por el deseo egoísta de TYrion para que sus hermanos Jaime Lannister y Cersei Lannister vivan, no era por el bien del reino y esto causo la muerte a uno de los hijos de Daenerys.
Plan pésimo porque Cersei no les ayuda y Daenerys como buena gobernante ya que no es ninguna Tirana, lo demostró siempre y mas en esta temporada, siguió el pésimo consejo de TYrion porque él es Autor de la historia, no hay ninguna otra razón de ser ya que ella en ese momento podía arrasar sola el Reino de Cersei en Kings Landing. No solo esto, ella salva el trasero de sansa, el trasero de Winterfell sacrificando sus dothrakis e inmaculados solo para ser traicionada vilmente por las acciones que lleva a cabo Tyrion por que en este punto el gnomo ahora sabe que Jhon es Targaryen.
Recordaran ese nefasto momento para nombrar el Rey luego de la masacre en Kings Landing y muerte de Daenerys, quien domina todo es este personaje, es Tyrion quien decide como elegir y a quien seleccionar como Rey a pesar de ser un prisionero al cual Grey Worn le dice que se calle y NO SE CALLA, el manda todo el capitulo, gobierna toda la Octava Temporada y si los fans dicen que esa temporada fue pésima, entonces Tyrion Lannister se merece un score de 1 chuiquito de 10 porque es la mente maestra que dicta lo que sucederá durante toda esta octava temporada.
Dedicados todos y cada uno de mis post y videos a mi perrita llamada princesa que le decíamos chiquito que ya no está con nosotros pero desde el cielo ella verá que su existencia SI fue valiosa y lo más bonito que existirá en mi corazón y en mi alma.
It is from this point that the plot does not make sense because Tyrion Lannister practically becomes the Author of the story, he has the shield of protection for protagonists activated and not only that, but all his actions mark the path of everything that will happen during season eight. All of Tyrion's strategies are carried out even though logic in some cases indicates otherwise as when Daenerys negotiated with Cersei, this meeting happened because of Tyrion's selfish desire for his siblings Jaime Lannister and Cersei Lannister to live, it was not for the good of the kingdom and this caused the death of one of Daenerys' children.
Lousy plan because Cersei does not help them and Daenerys as a good ruler since she is no Tyrant, she proved it always and more in this season, followed the lousy advice of TYrion because he is Author of the story, there is no other reason to be since she at that time could raze alone the Kingdom of Cersei in Kings Landing. Not only this, she saves Sansa's ass, Winterfell's ass by sacrificing her Dothrakis and Unsullied only to be viciously betrayed by the actions taken by Tyrion because at this point the troll now knows that Jhon is Targaryen.
You will remember that nefarious moment to name the King after the massacre in Kings Landing and death of Daenerys, who dominates everything is this character, it is Tyrion who decides how to choose and who to select as King despite being a prisoner to which Grey Worn tells him to shut up and NOT SHUT UP, he rules the entire chapter, he rules the entire Season 8 and if the fans say that season was lousy, then Tyrion Lannister deserves a score of 1 point out of 10 because he is the mastermind that dictates what will happen during this entire eighth season.
Dedicated each and every one of my posts and videos to my little dog named princess who we used to call her chiquito who is no longer with us but from heaven she will see that her existence YES was valuable and the most beautiful thing that will exist in my heart and soul.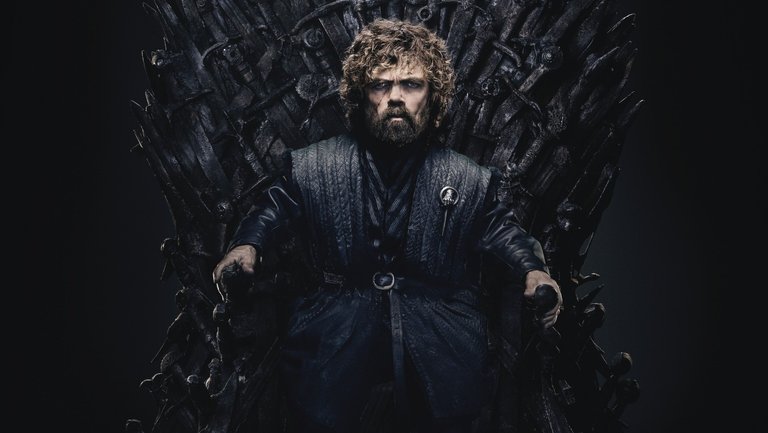 Source of Image of Tyrion Lannister
Link a mis Redes Sociales, Muchas Gracias por ver y leer: TWITTER
---
▶️ 3Speak