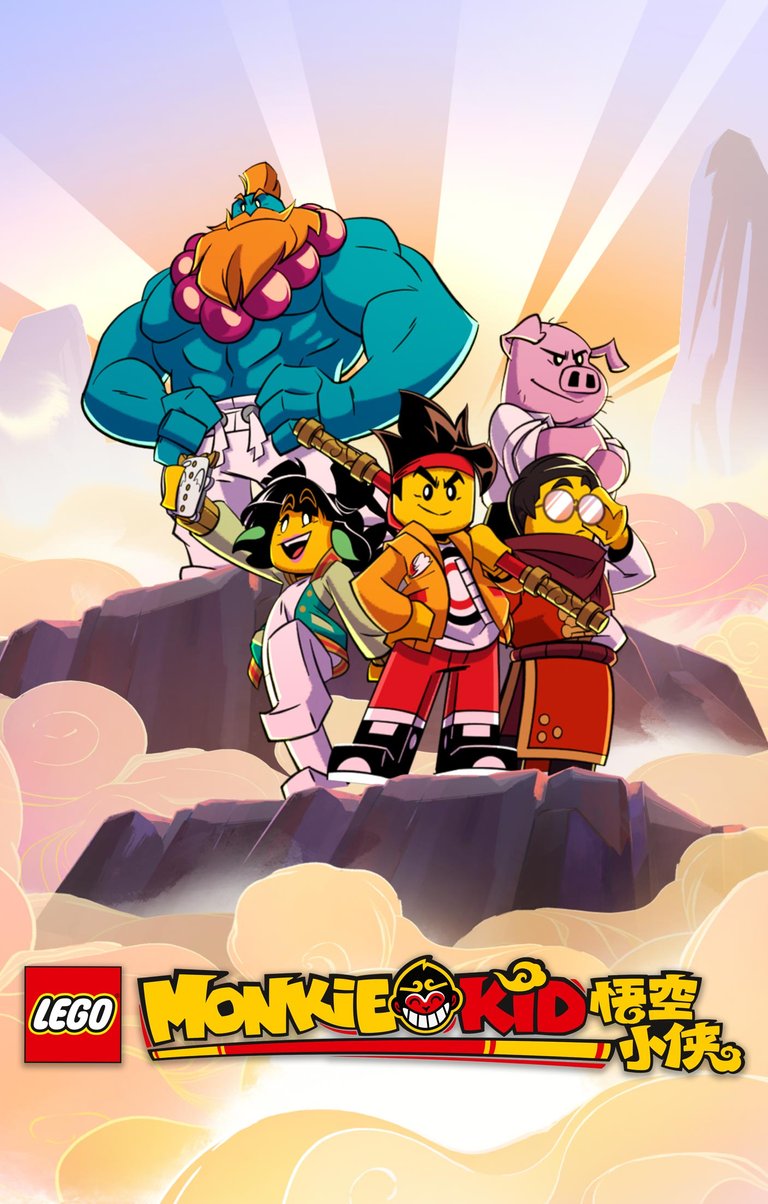 ---

I would like to start this post by clarifying something, personally the Lego franchise both in their products or merchandise as well as in their programs or television series are not to my taste, they do not call my attention at all but I respect those people who do like it, this is just a matter of taste and preferences, however in this case if there is an exception present and that is that I have a very particular taste with the character of the book of "Journey to the West" called Sun Wukong or the monkey king, I have always liked a lot that story and him as a character, and I have seen both series and movies linked to tell his story both his rise and fall and eventually his redemption and continuity in such work later.
A friend of mine recommended this series to me, him already knowing my taste about this character and making it clear to me beforehand that it is a Lego series. At the beginning I stayed away from the idea of watching it, but it is oriented to Sun Wukong and my friend recommended it to me for a reason, so I gave it a chance and in my free time I watched it, and if I am completely honest I had no expectations, but I really liked it a lot, as the story was approached and took a different turn and was given the creative freedom to put a different cast, but that is on par with our beloved Sun Wukong, in this case the protagonist, this I will talk in more detail in my final opinion, so without further ado let's start.
Me gustaría comenzar este post aclarando algo, en lo personal la franquicia de Lego tanto en sus productos o mercancías así como en sus programas o series televisivas no son de mi gusto, no me llaman la atención en lo absoluto pero respeto aquellas personas que si les guste, esto es solo una cuestión de gustos y preferencias, sin embargo en este caso si hay una excepción presente y esa es que tengo un gusto muy particular con el personaje del libro del "viaje al oeste" llamado Sun Wukong o el rey mono, siempre me ha gustado muchísimo esa historia y a él como personaje, y eh visto tanto series como películas vinculadas a relatar su historia tanto su ascensión como su caída y eventualmente su redención y continuidad en tal obra luego.
Un amigo mío me recomendó esta serie, el ya sabiendo mi gusto sobre este personaje y aclarándome con antelación que es una serie de Lego. Al comienzo me mantuve muy alejado ante la idea de verla, pero si está orientada a Sun Wukong y mi amigo me la recomendó por algo, así que bueno le di una oportunidad y en mis ratos libres le veía, y si les soy completamente honesto no tenia expectativas en ello, pero me gusto bastante la verdad, como se abordo la historia y se tomo un giro diferente y se dio la libertad creativa para poner un elenco diferente, pero que este a la par con nuestro querido Sun Wukong, en este caso el protagonista, esto lo hablare con mas detalles en mi opinión final, así que sin mas preámbulo comencemos.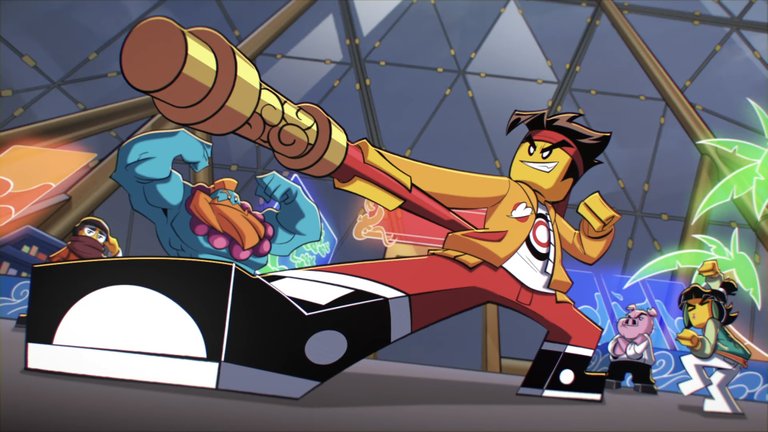 Technical information / Ficha técnica
Before mentioning the characteristics about the animated series and everything that corresponds, I must clarify that this series was carried out due to the significant impact and reception on a new line of toy products, on the theme of the journey to the west for China, it is because of this that then began to work on such animated series taking into consideration eh inspiration, the adventures of Sun Wukong and his journey on that trip, but only as an initial basis to then work from there to develop a new story linked to these characteristic elements, mainly for that country, considering that its history began there.
Lego Monkie Kid is a lego themed series, inspired by the monkey king Sun Wukong and the journey to the west, such series is fully licensed by the Lego group and such presentation eh introduction was given in 2020 for Asia, this consists at the moment of 2 seasons with 10 chapters each, with a duration per chapter of 11 minutes approximately, with a pilot episode and a special, as a pre introduction to the second season, the third is being animated at the moment, and the animation studio in charge of this series was Flying Bark Productions, the same studio in charge of animating "Rise of the TMNT". .
Antes de mencionar las características sobre la serie animada y todo lo que corresponde, debo aclarar que esta serie se dio a cabo debido al impacto significativo y recepción sobre una nueva línea de productos de juguetes, sobre la temática del viaje al oeste para China, es debido a ello que luego se empezó a trabajar en tal serie animada tomando en consideración eh inspiración, las aventuras de Sun Wukong y su travesía en dicho viaje, pero solo como una base inicial para luego trabajar a partir de ahí elaborar una nueva historia vinculada a estos elementos característicos, principalmente para dicho país, considerando que su historia se inicio ahí.
Lego Monkie Kid es una serie de temática lego, inspirada por el rey mono Sun Wukong y el viaje al oeste, tal serie esta completamente licenciada por el grupo de Lego y tal presentación eh introducción se dio en el 2020 para Asia, esta consta por los momentos de 2 temporadas con 10 capítulos cada uno, con una duración por capitulo de 11 minutos aproximadamente, con un episodio piloto y un especial, como pre introducción a la segunda temporada, la tercera está siendo animada en estos momentos, y el estudio de animacion encargado para este serie fue el estudio Flying Bark Productions el mismo encargado de animar "Rise of te TMNT" .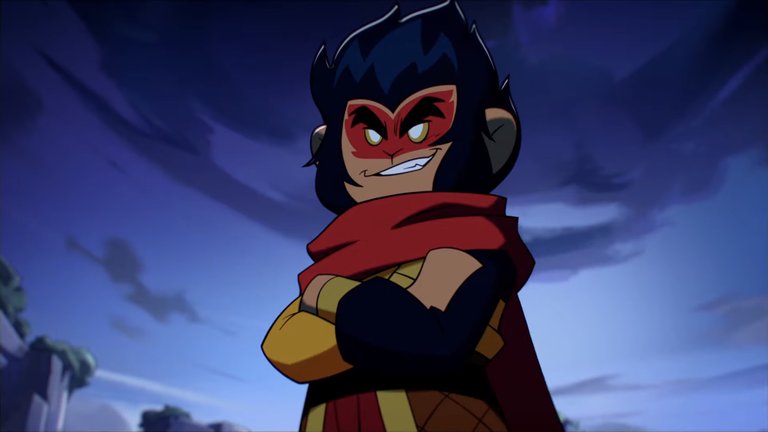 Synopsis / Sinopsis
The plot centers on a young noodle delivery boy abbreviated as M. K (Monkie Kid), a young man who is recognized by Sun Wukong (Monkey King) as his new successor, since he wants to retire from his work as a hero and for that he trains the young boy to become a great hero, but this will not be so easy because our protagonist and his hilarious and particular group of friends, will have to fight and face old demons who crave revenge for Sun Wukong's past actions towards them, mainly the Demon Bull King (DBK) a demon who fought against the Monkey King and lost and seeks revenge.
La trama se centra en un joven repartidor de fideos llamado de forma abreviada como M.K (Monkie Kid), un joven que es reconocido por Sun Wukong (Monkey King) como su nuevo sucesor, ya que este quiere retirarse de su labor como héroe y para eso entrena al joven chico para convertirlo en un gran héroe, pero esto no será tan sencillo porque nuestro protagonista y su grupo hilarante y particular de amigos, tendrán que combatir y enfrentarse antiguos demonios que ansían vengarse de las acciones pasadas de Sun Wukong hacia ellos, principalmente el Demon Bull King (DBK) un demonio que lucho contra el Rey mono y perdió y busca vengarse.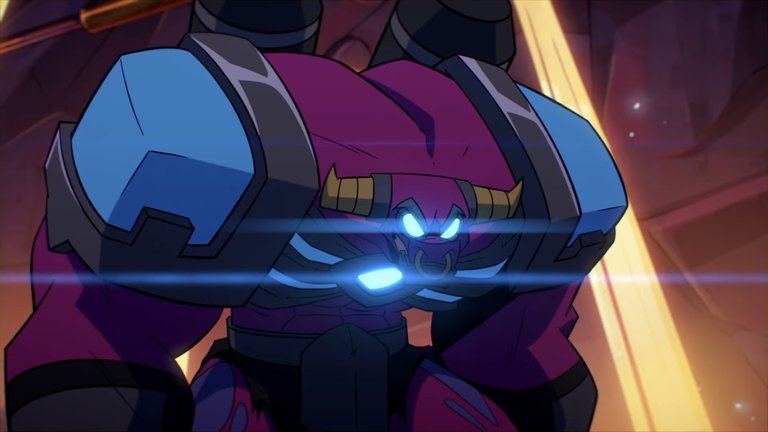 Personal opinion / Opinión personal
There are certain aspects that I would like to touch with this series in particular, I will try to give an objective opinion on what I liked leaving a little aside my taste or almost fanaticism for the character of Sun Wukong aside, and I will focus on something more complete linked to the plot and the new cast of characters that is for me what gives it a variety, very different and good after the events and feats that the monkey king has done a long time ago, so I'll take care of giving a focused opinion part by part, let's start first with one of the sections that I liked a lot, the animation.
In this aspect the handling of 2d and the fluidity of the animation is too good, the truth in this aspect I have no complaints and I must admit that I was really impressed, I was not expecting something moderately acceptable, but such fluidity in combat, facial expressions, the environment or background, the colors are too vivid and well implemented, In addition to that, some very humorous references to some series like Dragon Ball, being very small, but still I laughed a lot when I could see them added to the context or the situation of the chapter in question, the truth very pleased in this section and that they are Legos, liberal almost forgot that they were with that I tell you everything for how striking and attractive it was in this and other aspects that I will talk about below.
The plot is quite simple as I mentioned before, but I liked it a lot, because it is not only focused on the powerful and the exploits of Sun Wukong and I know how powerful he is in itself and everything that happened, I liked how they took that characterization and bifurcated it in this case to the protagonist of the series (M. k) being this the successor or apprentice of the monkey king, and his characteristic group showing us a different aspect between student and teacher as well as his friends who also have their charm and particularity the truth, that creative freedom and twist I liked it a lot, although slightly in the series shows other characters of the book of the journey of the west some more directly than others, which is not bad because they can be provided a use and meaning for the development of our cast of characters.
In spite of being something striking for its animation or its acceptable and entertaining plot, I didn't like how it started, I felt it was very rushed, a situation without much context beyond the fact of knowing a successor of the monkey king, but without understanding what happened beforehand to introduce me to the cast of characters like that, that part took me out of place a little bit, I won't lie to you, then I was informed that a pilot chapter was made in which the background of what I didn't understand is presented much better, but I didn't know it, however as I watched the chapters, I got familiarized little by little and if you can tolerate extroverted moments, hilarious and even a little buffoonish I think this series will be for you, it also touches very good aspects and teachings mainly in the relationship of the monkey king with Mk and the value of friendships and other topics.
And with this I finish my opinion about this series and if I still don't like or call much attention to the legos, I think the series did a great job showing such a colorful environment and an entertaining plot that I almost overlooked that, but still I enjoyed it I will not lie, it was an exception that was worth it is not bad when you try and give a chance to certain things, thanks for getting here and without more to say until next time.
Hay ciertos aspectos que me gustaría tocar con esta serie en particular, tratare de dar una opinión objetiva ante lo que para mí me gusto dejando un poco de lado mi gusto o casi fanatismo por el personaje de Sun Wukong de lado, y me enfocare en algo más completo vinculado a la trama y el nuevo elenco de personajes que es para mí lo que le da una variedad, muy diferente y buena después de los suceso y hazañas que ha hecho el rey mono hace muchísimo tiempo atrás, así que me encargare de ir dando una opinión centrada parte por parte comencemos primero con uno de los apartados qu me gusto mucho, la animación.
En este aspecto el manejo del 2d y la fluidez de la animación es demasiado buena, la verdad en este aspecto no tengo ningún tipo de quejas y debo admitir que enserio me impresiono no me lo esperaba, me esperaba algo medianamente aceptable, pero tal fluidez en los combates, expresiones faciales, el ambiente o fondo, los colores se ven demasiado vivaces y bien implementados, ahondado a eso algunas referencias muy jocosas ante algunas series como Dragon ball, siendo muy pequeñas, pero aun así me he reído bastante cuando las pude ver añadidas al contexto o la situación del capítulo en cuestión, la verdad muy complacido en este apartado y eso que son Legos, liberal casi se me olvido que lo eran con eso les digo todo por lo llamativo y atractivo que fue en este y otros aspectos que hablare a continuación.
La trama es bastante simple como ya mencione con anterioridad, pero eso me gusto mucho, porque no solo está enfocado a lo poderoso y las hazañas de Sun Wukong ya yo se lo poderoso que es de por sí y todo lo que paso, me gusto como tomaron esa caracterización y la bifurcaron en este caso al protagonista de la serie (M.k) siendo este el sucesor o aprendiz del rey mono, y su grupo característico mostrándonos un aspecto diferente entre estudiante y maestro así, como sus amigos que también tienen su encanto y particularidad la verdad, esa libertad creativa y giro me gusto bastante, aunque ligeramente en la serie se muestra otros personajes del libro del viaje del oeste unos de forma más directa que otras, lo cual tampoco está mal ya que se les puede brindar un uso y significado para el desarrollo de nuestro elenco de personajes.
A pesar de ser algo llamativo por su animación o su trama aceptable y entretenida, no me gusto mucho como comenzó, lo sentí muy apresurado una situación sin mucho contexto más allá del hecho de conocer un sucesor del rey mono, pero sin entender que ocurrió con anterioridad para presentarme al elenco de personajes así, esa parte si me saco un poco de lugar no les mentiré, luego me informe que se hizo un capitulo piloto en el cual se presenta mucho mejor el trasfondo de lo que no entendí, pero lo desconocía sin embargo a medida de que veía los capítulos, me fui familiarizando de a poco y si claro puedes llegar a tolerar momentos algo extrovertidos, hilarantes y hasta un poco bufonesco creo que esta serie será para ti, además toca aspectos y enseñanzas muy buenas principalmente en la relación del rey mono con Mk y el valor de las amistades y otros tópicos.
Y con esto termino mi opinión sobre esta serie y si aun así no me gustan o llaman mucho la atención los legos, creo que la serie hizo un gran trabajo mostrando un ambiente tan colorido y una trama entretenida como para que casi se me pasara eso por alto, pero aun así lo disfrute no les mentiré, fue una excepción que valió la pena no está mal debes en cuando el probar y darle la oportunidad a ciertas cosas, gracias por llegar hasta aquí y sin más que decir hasta la próxima.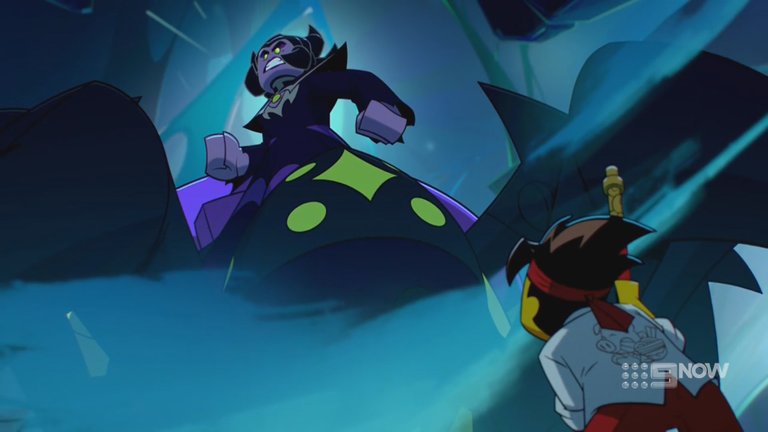 ---