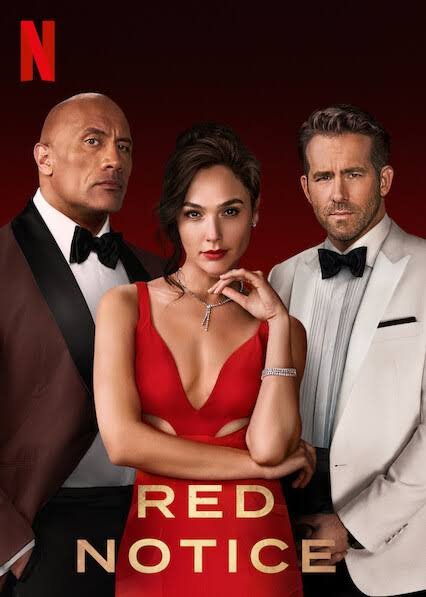 Netflix
I started the movie with a lot of hope, considering the stellar actors that were featured but it turned out to be an epic disappointment. I cringed so much my neck started to hurt.
Red notice is probably the worst high budget movie I've ever watched in my life. I mean, I don't know if they spent a lot on production but I'm assuming it was expensive based on the fact that Dwayne Johnson, Gal Gadot and Ryan Reynolds featured in the movie.
I hoped I was going to watch an actual movie with a plot and some thought put into it but what I experienced was a cringefest with so many plotholes, you'd think it was directed by a toddler.
The Plot
The movie was suppose to be about a bunch of art thieves and also feature a "twist" along the way but what we got was a predictable script that was mostly boring.
Dwayne Johnson played a police officer that was "framed" for a robbery and ended up in the same cell with Ryan Reynolds, an art thief that he arrested.
Thanks to a combination of very convenient scenes and events, the epic hot mess of a movie dovetailed into a blob of disappointing explosions and ridiculous action that reeked of cringe.
I mean every scene from the time they were shooting ancient nazi weapons to driving nazi cars that were locked up in a bunker for a gazillion years was mildly idiotic.
My Thoughts
Perhaps I was expecting too much, especially considering that the movie had a lot of rave reviews. Interestingly, the movie currently holds the record of the highest number of views in 24 hours. All the hype turned out to be nothing but hype because in reality, it is actually quite a horrible movie.
The only good thing about the movie is that Dwayne and Reynolds played their archetypical roles. They had their usual humour and stereotypical screwball comedy behaviour.
It is 110 minutes of my life I'll never get back (okay, I didn't sit through the entire movie). I'd rate it a 2/10 and I recommend you watch paint dry instead of this disaster of a movie.