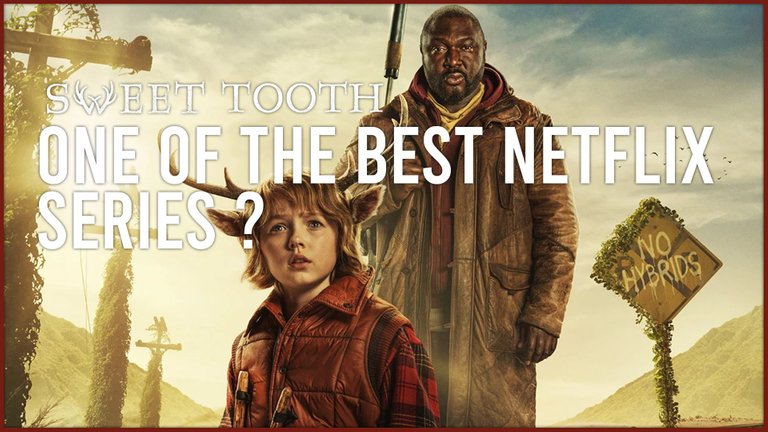 Few days ago I went to the cinema to watch a french movie named "Le discours".
As always, when you watch a movie in a theater you have some ads and trailer before it. One of them was pretty particular because it was an ad for a new home for hybrid babies. I was not really focused on it (I was setting my phone on airplane mode) so I did not realized at first, but my girlfriend said to me : "Look, that's not a real ad"
I just put my phone back in the bottom of my pocket and watched it when the ad really changed into an actual trailer. I would love to share the fake ad with you but it seem to be only on cinema screens, I can't find it on Youtube.
ʸᵒᵘ ᶜᵃⁿ ˢᵗⁱˡˡ ʷᵃᵗᶜʰ ᵗʰⁱˢ ᵒⁿᵉ

Anyway, the ad was really great, humoristic and just showing enough to interest me in the show and not too much because nothing was spoiled except the universe of the story and the gender. Apocalyptical and adventure.
That's the reason why few days after, still with my girlfriend, we were looking for something to watch to relax after a pretty long week, we decided to start Sweet tooth on Netflix.

I will make simple and if you don't want to be spoiled at all, you can pass this chapter.
The story takes place in the world we know, but a new disease is appearing. We don't know how, when or from where. !this disease appear to be really mortal. A huge part of the humanity is dying and after only some days something knew happens.
Some babies seem to be animal hybrids. Like having feathers and even wings, snake eyes or pig noses, everything is happening.
While more and more people are dying a lot of people are wondering what came first between the sick and the hybrids to know what did bring what. The new coalition named "The last Men" kind of took the power and started to chase all the hybrids to kill them until there is no more.
And we are following Gus, he seems to be a dear hybrid baby and he's living alone with his father in the forest. And you'll discover what happens next !

For this show, which is based on a DC story, Netflix decided to have a totally (almost) unknown casting. In the show I only recognized 2 faces and was totally unable to give a single name. As they did with Lucifer which is also from DC.
That doesn't mean they're not doing their job well ! Every actors totally fit with their characters.
They're not making too much of important characters as we can see in a lot of series nowadays but there are often important ones in each episode and that really make something great, thanks to that each episode have it's own story without being out of the main storyline !

I really like the fact that it takes some time to discover few things we want to know. There are things we obviously know we'll discover at the end of the season or the series but other we don't know. That makes a lot of mysteries and that only made me wait for new answers to my questions.
We're discovering things little by little, that makes it easy to learn and easier to understand what's the importance of everything. We can apprehend the reaction of the characters and the society.

The new society is at light-years from movies like "Love and Monsters".
When in the movie most of the humans are kind and want to help the others because the would like to be helped if needed. In Sweet tooth most of the humans we see are just people who want power.
The last men are basically just hunters who saw the hybrids as new preys and became the new Police to "help" the rest of human kind and by the way just became fascists who rule the society with their weapons to kill the hybrids with more strength that they use to find a cure to the disease.

I was not sure about if I was liking it or not during the 2 first episodes. But when they were over I was really starting to like more and more each character and enjoying the revelation and new plots.
I think this have the potential to become something really great. Personally I like it more that Stranger things and most of the Netflix shows I saw. (especially jupiter's legacy=
Now I'm waiting for season two (which would take a long time to come) and I really hope this will be at least as good as this first one was !
If you did not watch it, you just need to follow this link to see it on Netflix.
If you already watched it, don't hesitate to share your thoughts about it and if you think I'm wrong about something, tell me !

You can join me on :
Noise.cash
The microbloging platform and get rewarded with BCH



On :
read.cash
Rewarding your posts with tips in BCH too.



Also on :
Publish0x
That rewards both readers and authors with ETH and ERC-20 tokens



Share your unused bandwidth and get paid for that with Honey gain