What are your thoughts about Mondays? Just another start to yet another long week of work till the Weekend comes again! That's my opinion LOL
So how can we make it better? Let's have a listen to some appropriate Music, specifically a song all about Monday!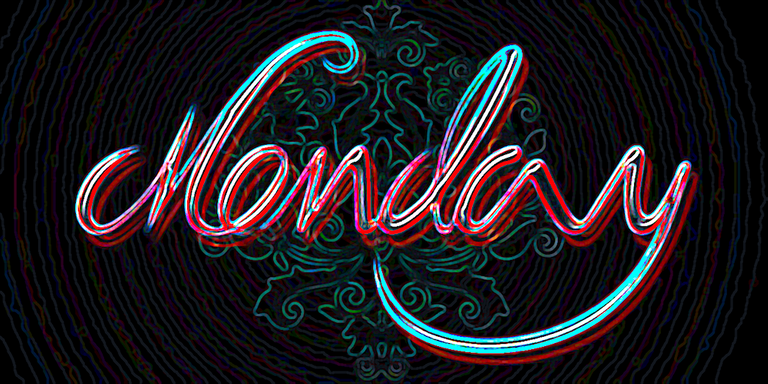 My suggestion is this: "I don't Like Mondays" Performed by the classic 1980's UK Pop Band "The Boomtown Rats" featuring the legendary singer Bob Geldof.
Song: I Don't Like Mondays
Music Artist: The Boomtown Rats
Lyrics Writers: Bob Geldof
Licensed to ©YouTube by:
UMG (on behalf of EMI); LatinAutorPerf, LatinAutor - UMPG, CMRRA, Audiam (Publishing), IMPEL, LatinAutor - SonyATV, ASCAP, UMPG Publishing, UNIAO BRASILEIRA DE EDITORAS DE MUSICA - UBEM, Wise Music Group, and 12 Music Rights Societies
Above Video Source: ©YouTube [here]
Top Image Source: Pixabay [here]
Graphics Digital color editing done by me in my PhotoPea Software using various "Neon Filter" settings.

My Communities Corner:
Today and yesterday I have been doing some CTP Token buying on Hive Engine. Not a huge amount but I now have just over 10,000 CTP "Staked". Doing this should increase my CTP Upvote Power to almost 2 CTP for Curation from this account. Kinda Cool 😎

I sometimes post in the #CineTV Community on Hive ( using my personal Cine Curation Account @andy-cine )
This is a great Community with main interests in TV, Film Reviews and Movie Trivia ~ Please go check it out!
My [ CineTV ] Dedicated Website Link: https://www.cinetv.io/@andy-cine


Above "Screen Shot" taken from my personal account there.
#Cent is yet another awesome Community that I often post in when I have articles that relate to the UK Economy or other Economic related material.
I use my ALT Account @utopia-hope for my Curation there.
My [ Cent ] Dedicated Website Link: https://www.centblog.org/@utopia-hope

Above "Screen Shot" taken from my personal account there.
One of the Hive Communities that I have remained active in is [ #MusicForLife ]
Even though I'm not a Music Artist or talented Musician. I really enjoy the buzz of the Community, and often post some of my favourite songs or Pop Trivia in general.
When there I use my Curation Account @andy-vibes
MusicForLife Dedicated Website Link: https://www.musicforlife.io/@andy-vibes

Above "Screen Shot" from my personal Account.
That's it for my blog today, have a great day or evening!
Many thanks for your kind attention... 🙋‍♂️