Last night we had thunder here in the UK, in fact it kept me awake for several hours. This morning it was still raining, while this afternoon there are much clearer skies and honestly feels quite warm again. Certainly very strange weather we are currently having here in England lately. Many people say: "It's caused by Global Warming"! Perhaps that's true, I'm definitely no expert on "climate change" that's for sure.
So let's have some Music to enhance our day, just some cool songs to make our Weekend go more smoothly hopefully.
My weekend Playlist selection: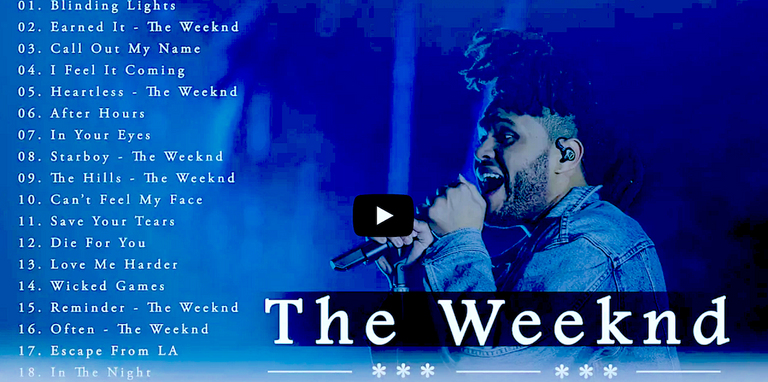 Above Image Source: "Screen Shot" from ©YouTube [here]
[ With some slight color adjustments done by me ]
Now have a listen and enjoy your Weekend, whatever you may have planned to do. Perhaps with friends, or just sat out the garden chilling...
Artist: The Weeknd (It is spelled that way, not a Typo).
Licensed to ©YouTube by
UMG (on behalf of Universal Republic Records); PEDL, LatinAutorPerf, LatinAutor, ASCAP, LatinAutor - Warner Chappell, LatinAutor - PeerMusic, CMRRA, LatinAutor - UMPG, UNIAO BRASILEIRA DE EDITORAS DE MUSICA - UBEM, Warner Chappell, UMPI, UMPG Publishing, Kobalt Music Publishing, AMRA, and 16 Music Rights Societies
The Weeknd Best Songs - The Weeknd Greatest Hits Playlist Album 2020
Just as a quick side note:
I sometimes post in the CineTV Community on Hive ( using my personal Cine Curation Account @andy-cine )
This is a great Community with main interests in TV, Film Reviews and Movie Trivia ~ Please go check it out!
My [ CineTV ] Dedicated Website Link: https://www.cinetv.io/@andy-cine


Above "Screen Shot" taken from my personal account there.
Cent is yet another awesome Community that I often post in when I have articles that relate to the UK Economy or other Economic related material.
I use my ALT Account @utopia-hope for my Curation there.
My [ Cent ] Dedicated Website Link: https://www.centblog.org/@utopia-hope

Above "Screen Shot" taken from my personal account there.
Many Thanks for listening, I really appreciate your kind attention... 😎