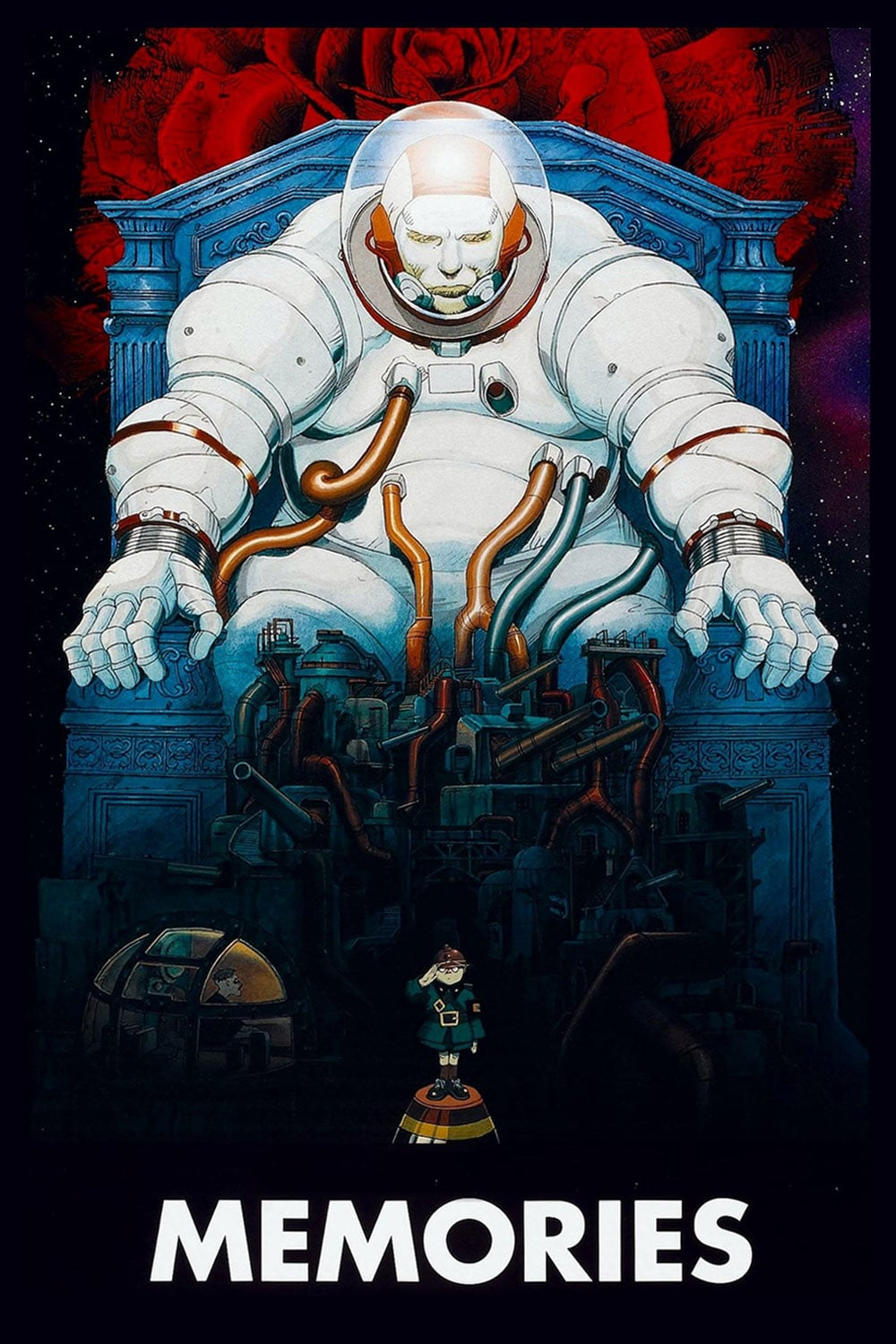 Source
Review in English
Crítica en Español
Last night I saw this animated anthology film, and I have to say it was a mixed bag. This is the second animated anthology movie I saw in recent days after watching The Animatrix not too long ago, and I am really enjoying this way of sharing stories. However, in the case of Memories, I only enjoyed the first story.
Memories contains 3 different stories, which means the stories in this film are much longer compared to those in The Animatrix which had 9 different stories. So far I have watched 3 animated anthologies, the aforementioned The Animatrix, today's movie Memories, and the Netflix series Love, Death & Robots, and in every single one of them the first story tends to have better animation and/or plot than the average. I suspect this is a way to coax the viewers into continue watching the anthologies and prevent them from stopping early.
Anoche vi esta película de antología animada, y debo decir que fue una mezcla llamativa. Esta es la segunda película de antología animada que vi en los últimos días después de ver The Animatrix no hace mucho, y realmente estoy disfrutando esta forma de compartir historias. Sin embargo, en el caso de Memories, solo disfruté de la primera historia.
Memories contiene 3 historias diferentes, lo que significa que las historias de esta película son mucho más largas en comparación con las de The Animatrix, que tenía 9 historias diferentes. Hasta ahora he visto 3 antologías animadas, la mencionada The Animatrix, la película de hoy Memories y la serie de Netflix Love, Death & Robots, y en cada una de ellas la primera historia tiende a tener mejor animación y/o trama que la media. Sospecho que esta es una forma de persuadir a los espectadores para que sigan viendo las antologías y evitar que se detengan antes.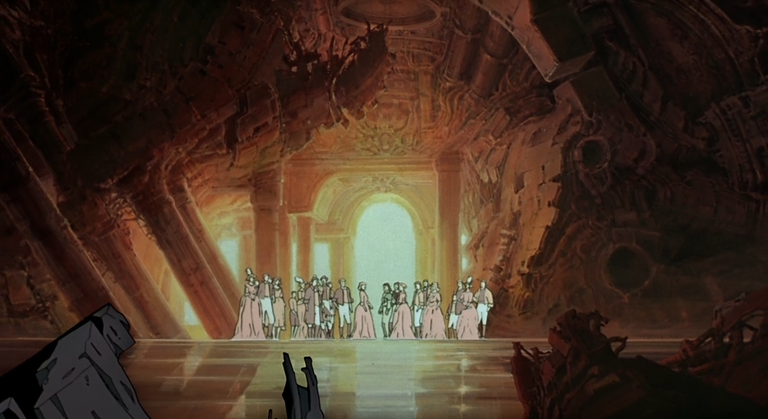 The first story in Memories, Magnetic Rose, is one of the best stories I have ever seen in animation. That's how good it was for me. The story begins with a space crew receiving an SOS signal from a very remote region. There shouldn't be any living human in that region but they confirm the signal and decide to risk their lives and provide the necessary help.
Once they arrive 2 members of the crew go to check the ship where the signal originated from. What they found inside is hard to comprehend, parts of the inside of the ship look like a very fancy palace. With pretty decorations, elegant paintings, and even food that looks delicious. Everything looks good but there is something dangerous going on in the background. I loved the story, it's very dark, dramatic, and with cool scifi.


The second story is called Stink Bomb, and the name itself makes it clear this is a silly story. What happens is that by accident, a guy turns himself into a type of experimental biological weapon and unintentionally causes a lot of funny chaos. No massive farts are directly involved in the story though.
La primera historia de Memories, Magnetic Rose, es una de las mejores historias que he visto en animación, así de buena fue para mí. La historia comienza con una tripulación espacial que recibe una señal SOS de una región muy remota en el espacio. No debería haber ningún ser humano vivo en esa región, pero confirman la señal y deciden arriesgar sus vidas y brindar la ayuda necesaria.
Una vez que llegan, 2 miembros de la tripulación van a verificar la nave de donde se originó la señal. Lo que encontraron adentro es difícil de comprender, partes del interior de la nave parecen un palacio muy elegante. Con bonitas decoraciones, cuadros elegantes e incluso comida que se ve deliciosa. Todo se ve bien, pero hay algo peligroso en el fondo. Me encantó la historia, es muy oscura, dramática y con ciencia ficción genial.


La segunda historia se llama Stink Bomb, y el nombre en sí deja en claro que es una historia tonta. Lo que sucede es que, por accidente, un tipo se convierte a sí mismo en una especie de arma biológica experimental y sin querer provoca mucho caos divertido. Sin embargo, no hay pedos masivos directamente involucrados en la historia.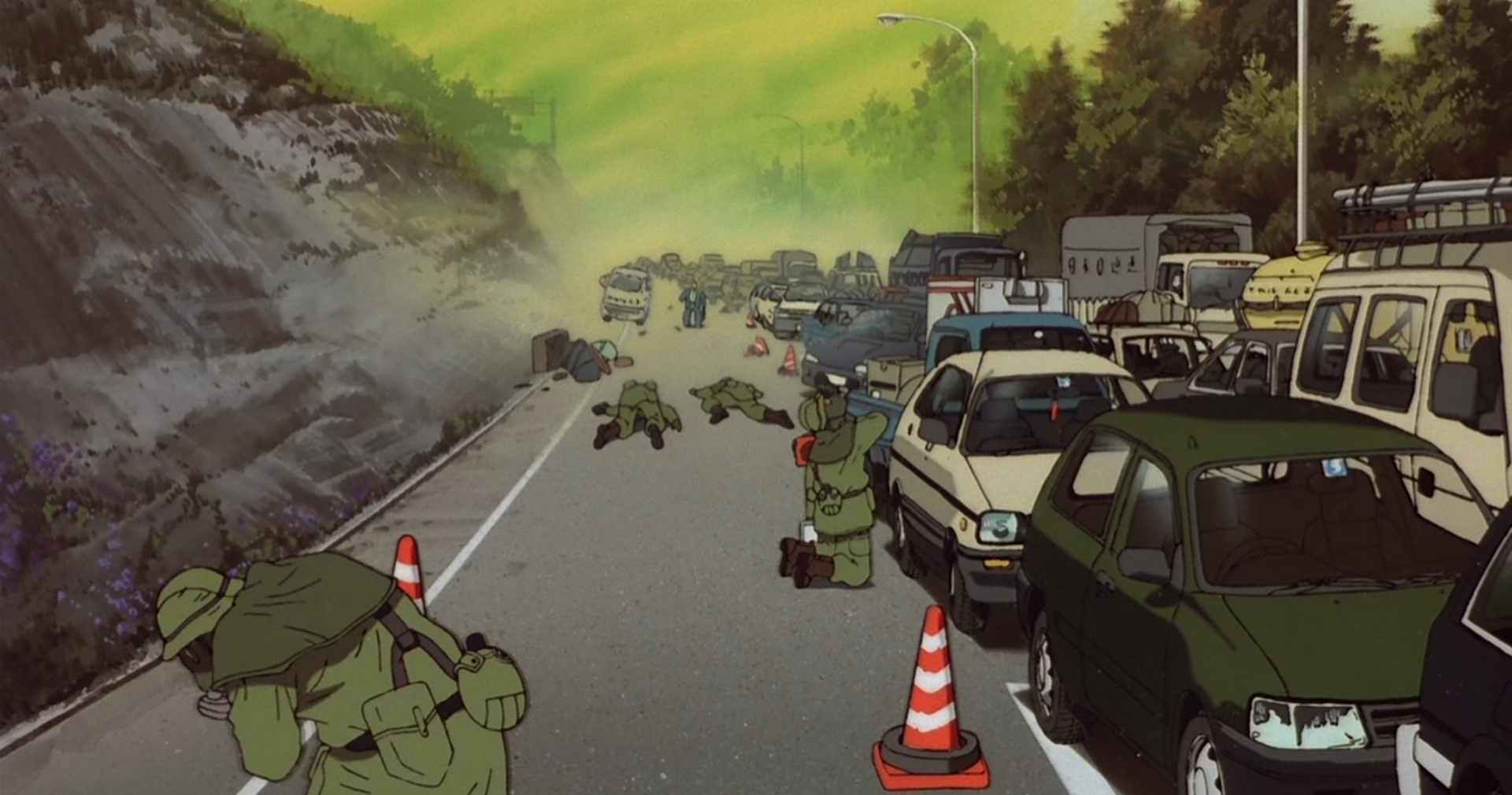 The last story is called Cannon Fodder, it takes place in a massive construction that I guess could be considered a mega building with a huge cannon. Virtually everyone's work is related to the cannon, the men operate it and the women work in a factory. The most important event in everyone's life is firing the cannon at something. Apparently, there is a moving city and they need to destroy it but we never really see this enemy city. Everything is militarized and people seem to have very miserable lives.


Even though I would have preferred not to watch the second and third stories, it was all worth it thanks to the excellence of the first story. I only recommend watching that one if you are looking for awesome scifi. If you want comedy, then check the second story, and if you want a bit of a worrisome portrayal of a totalitarian society that could have easily been written by George Orwell himself, then check the third story. This movie covers different genres and most people will probably find something enjoyable in at least 1 of these stories.
La última historia se llama Cannon Fodder, tiene lugar en una construcción masiva que supongo que podría considerarse un mega edificio con un enorme cañón. Prácticamente el trabajo de todos está relacionado con el cañón, los hombres lo operan y las mujeres trabajan en una fábrica. El evento más importante en la vida de todos es disparar el cañón contra algo. Aparentemente, hay una ciudad en movimiento y necesitan destruirla, pero nunca vemos esta ciudad enemiga. Todo está militarizado y la gente parece tener una vida muy miserable.
Aunque hubiera preferido no ver la segunda y tercera historia, todo valió la pena gracias a la excelencia de la primera historia. Solo recomiendo ver ese si estás buscando ciencia ficción increíble. Si quieres comedia, mira la segunda historia, y si quieres un retrato un poco preocupante de una sociedad totalitaria que podría haber sido escrita fácilmente por el propio George Orwell, mira la tercera historia. Esta película cubre diferentes géneros y la mayoría de las personas probablemente encontrarán algo agradable en al menos una de estas historias.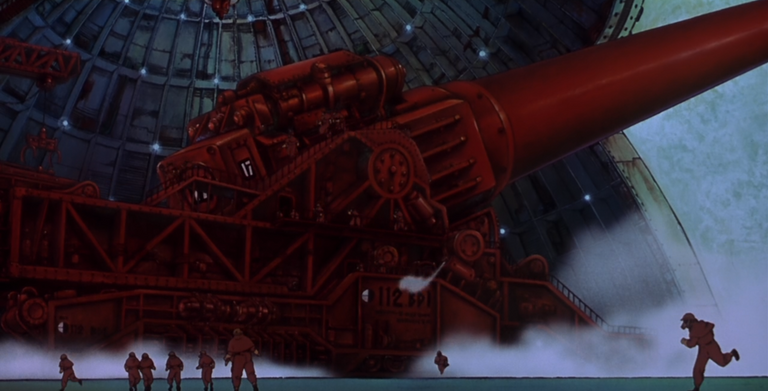 The Best
Lo Mejor
The first story was great scifi.
La primera historia excelente ciencia ficción.
---
The Worst
Lo Peor
A lot of stupid things happened in the second story.
The third story felt incomplete.
En la segunda historia sucedieron muchas cosas estúpidas.
La tercera historia se sintió incompleta.
---

Review: AAA
In numbers: 7.5/10

Crítica: AAA
En números: 7.5/10