I was channel surfing last afternoon and I stumbled on an old, classic Mel Brooks comedy, Robin Hood: Men in Tights. Not having anything else to do at the time, I decided to relax and watch one of my favorite childhood comedies and remember the old times, when I was a kid and we'd sit with my parents on a Sunday afternoon to watch a foreign family film on TV...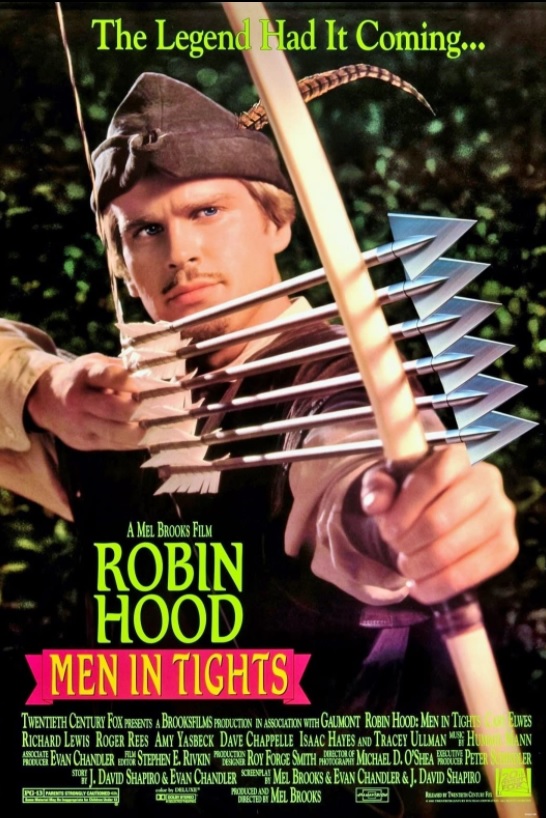 image from: https://www.imdb.com/title/tt0107977/mediaviewer/rm2738834432/
The movie
With a rating of 6.7/10 on IMDB (https://www.imdb.com/title/tt0107977/), Men in Tights is a musical comedy produced and directed by Mel Brooks, starring Cary Elwes as Robin Hood, Richard Lewis as Prince John, Roger Rees as Sheriff of Rottingham, Amy Yasbeck as Maid Marian and Patrick Stewart making a short appearance as King Richard. Basically, the movie is a parody of the classic Robin Hood story with a lot of mishaps, hilarious scenes and funny lines.
After escaping death by the skin of his teeth while venturing with Kind Richard to the Crusades, noble Robin of Loxley returns to England. With the kingdom in disarray, at the mercy of Prince John and his wicked right-hand man, Sheriff of Rottingham, Robin, Little John, and the Merry Men in tights must take matters into their own hands, and rid the realm of the hideous usurper. As the forces of evil, led by Don Giovanni, plot to assassinate Robin during the crowd-pleasing archery tournament of the Spring Festival, graceful Maid Marian, too, is on a challenging quest for freedom. Can Robin teach Prince John a lesson, free the land, and in the process, find love?
My review
A light watch, the perfect choice if you want to have some good laughs and pass your time. I love the clumsy characters, the witty lines, the satire, the typical Mel Brooks atmosphere... I think that it's getting harder and harder to find a comedy like this nowadays.
If you haven't watched it and you're looking for something to make you laugh and feel a little nostalgic of the '90s, then Men in Tights is a great choice!