CineTV COMMUNITY NEWSPAPER | #39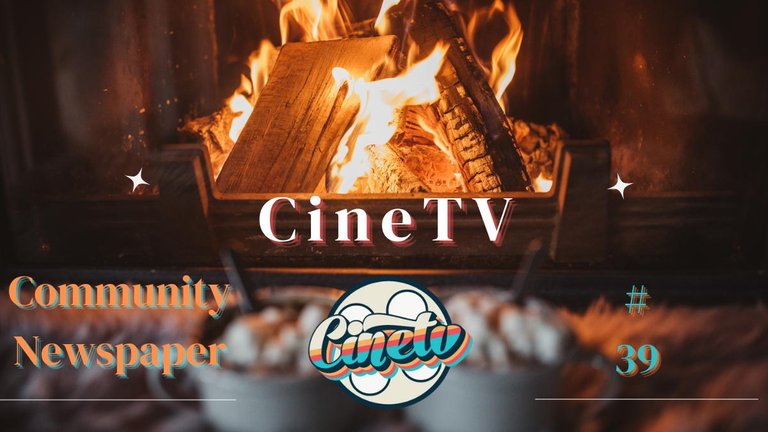 Image created with CANVA PRO


Welcome to this week's new CineTV Community Newspaper.
November has come, bringing with it the long-awaited rain showers. The drops clatter down steadily and color the paving stones dark with moisture. The temperature that rose to 25 degrees last week has dropped to about 12 degrees. Slowly it becomes noticeable that autumn has arrived and with the falling leaves you see that people are looking for fun again.
It gets dark early, which of course makes this weather ideal for organizing a few long movie nights, with a snack, a drink and good company is a perfect way to keep the autumn and winter depressions at bay.
CINETV COMMUNITY UPDATE
As far as community news goes, I can't help but be that broken record that sticks again... There's no Community News to report. So let's agree otherwise. We'll just skip this piece in the next newspapers until there IS news to tell. What do you think of that?
Of course we will keep to mention that we have #writingprompts that you can find on our TWITTER account. To find an interesting writing prompt to your liking, I would like to invite you to our Twitter account. You can use any writing prompt at any time, and of course this also gives an extra chance for curation.
Let's move on to our Contest!

CINE CONTEST UPDATE
How appropriate is the theme of the CineTV contest this week. I took a week off from work myself, and this week I'm carefully picking up work again. To watch a contest asking for my favorite movie about work. That is quite a coincidence. Or would it not all be so coincidental? Hmmm, that's one to think about too. Anyway... This week's contest is that we are looking for: Your favorite movie about work
Let your storytelling talent come to life, summon all the witches and convince us with eerily good emotions. If you already submitted your entry, GREAT! If you still have to write it, the submission deadline is The submission deadline is 8th November, 2022, 11:59 PM, UTC time.
As you know by now, We love to read your personal stories, not only blogs written for the contest. Why is that one movie or series so special to you? What impact has it had on you? Did a movie or series change your mind about certain things? Just to name a few examples.

Our Movie Star of the Week is the next part of the newspaper. The Movie Star of the week challenge is a challenge that is NOT intended to become a second wikipedia or IMBD. It is NOT meant to take info from the internet and reiterate this info in your own words in a blog.
This challenge is meant to let your personal opinion be heard.
If no blog or comment meets these conditions, then we will not distribute CINE tokens. We take the 100 CINE that would have been there for that week to the next week, and eventually the person who writes the comment, or the blog that does meet the conditions, has a chance to win a lot more CINE at once. But again, only comments or blogs that meet the condition have a chance.
And again, the only condition is that it is your own opinion. No biography about the actor or actress. No filmography of the actor or actress. No! We want to read your opinion.
So let's quickly take a look at what ya'll thought about Kate Winslet.
We had two blogs and one comment about Kate. And I was really happy to read the comment from @melinda010100 as it turns out that I was not the only one who wanted to be Kate when watching Titanic. For that comment Melinda earns 100 Cine. So guys, Do you see how simple it can be?
And yeah both the blogwriters, @kingobonnaya and @thunderjack will also be rewarded with 50 Cine each. So next week we have 200 CINE tokens to give away.
So let's move on to this weeks Movie STAR of the Week!
Now, of course, you all thought I'd like to know your personal opinion about Leonardo DiCaprio this week? LOL. So we're not going to do that. That would really be too easy.
The actor we're talking about this week has some impressive films to his name. In addition to impressive films, he also certainly had impressive movements. He could dance like the best, but I also thought he had a romantic soul. No stories about him of many relationships and divorces that turned into fight divorces. He was a man who always seemed 'reachable'. Didn't seem to walk beside his shoes and I also thought he looked good. I did like the "tough macho" look, where a small heart was hidden under the tough look.
Unfortunately, this actor left earthly life a number of years ago, but the films he has made happily continue to exist. And because of this, I can still enjoy Johnny's well-known beckoning finger with which he invites Baby to dance with him. Now I have to add that I have to watch the movie this happens in, Dirty Dancing, alone! If there's one movie my partner really hates, it's Dirty Dancing. He did like the movie Ghost a lot better, but not because of:
PATRICK SWAYZE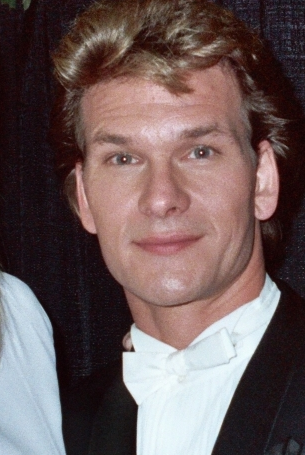 So you now know what to do. Leave a comment under this newspaper, or write a blog if you prefer. But as said, I'm not looking for biographies or filmographies. It's all on the internet.
What you have to do if you want to earn CINE tokens, is write a comment or blog with YOUR opinion. Why do you like Patrick Swayze or not. What appeals to you in him, or what repels you? Does he make you forget the world, do you see the person he plays or do you still see Patrick Swayze?
So we have 200 CINE tokens to give away next week. Do your best!
Please keep in mind that we're not going to give out the CINE tokens if your comment or blog has nothing personal.
If you're going to dedicate a blog towards our "Movie STAR of the week", don't forget to use the tag #moviestaroftheweek and link your blog here in a comments so we can easily find it!
As always, feel free to browse over all blogs written under the #cinetv tag. There are so many awesome blogs. We appreciate each and everone of you, who takes the effort to write up a unique, original blog with movie or tv-related content.



A UNICORN FOR CHRISTMAS
After Halloween, of course, we all slowly start looking forward to Christmas. And we are looking forward to seeking out the homely warmth indoors. A movie that makes you believe that Unicorns really exist makes you warm inside and isn't that exactly what you're looking for when you think of Christmas time?


ARMAGEDDON TIME
You won't get bored easily with a movie full of big names. Especially when you look at which themes this film touches. Themes that have always been, and always will be are touched upon in Armageddon Time. We are talking about Family and Friendship here, but also the many people who have gone and will go in search of the American Dream.


THE GOOD WITCH OF CHRISTMAS
A comedy where Christmas is on the line because all of Santa's reindeer have been chased away in a traffic collision? That sounds pretty vague, doesn't it? But it can be even vaguer! It takes a good witch to save Christmas, but this good witch just lost her memory. Will this be okay in time?


MOVIE & CELEBRITY GOSSIPS
One of my favorite parts of the weekly newspaper. The juicy gossip! I can't help it, I think it's one of the "guilty pleasures", which I will never admit after today. Because like everyone else, I always pretend that I'm not interested in that at all.


Hopefully you enjoyed this weeks Newspaper!

Enjoy your week
HAVE A GREAT WEEK AND WE WILL RETURN!

We like to point out the following note about plagiarism once again!
We have an entire team dedicated to finding AND reporting plagiarism and abuse. And be warned, we NEVER will tolerate plagiarized blogs. Not in plagiarized words, nor images!
We have seen some really great posts that failed to source their pictures and so we were not able to curate them properly. Remember to only post YOUR OWN words and to properly source the photos that you use that are not your own.
Plagiarism is THEFT and has no place in our CineTV family!
Thanks...we love you all!